The Art of Quarantine: Tierney Milne's Storefront Murals Spread Messages of Hope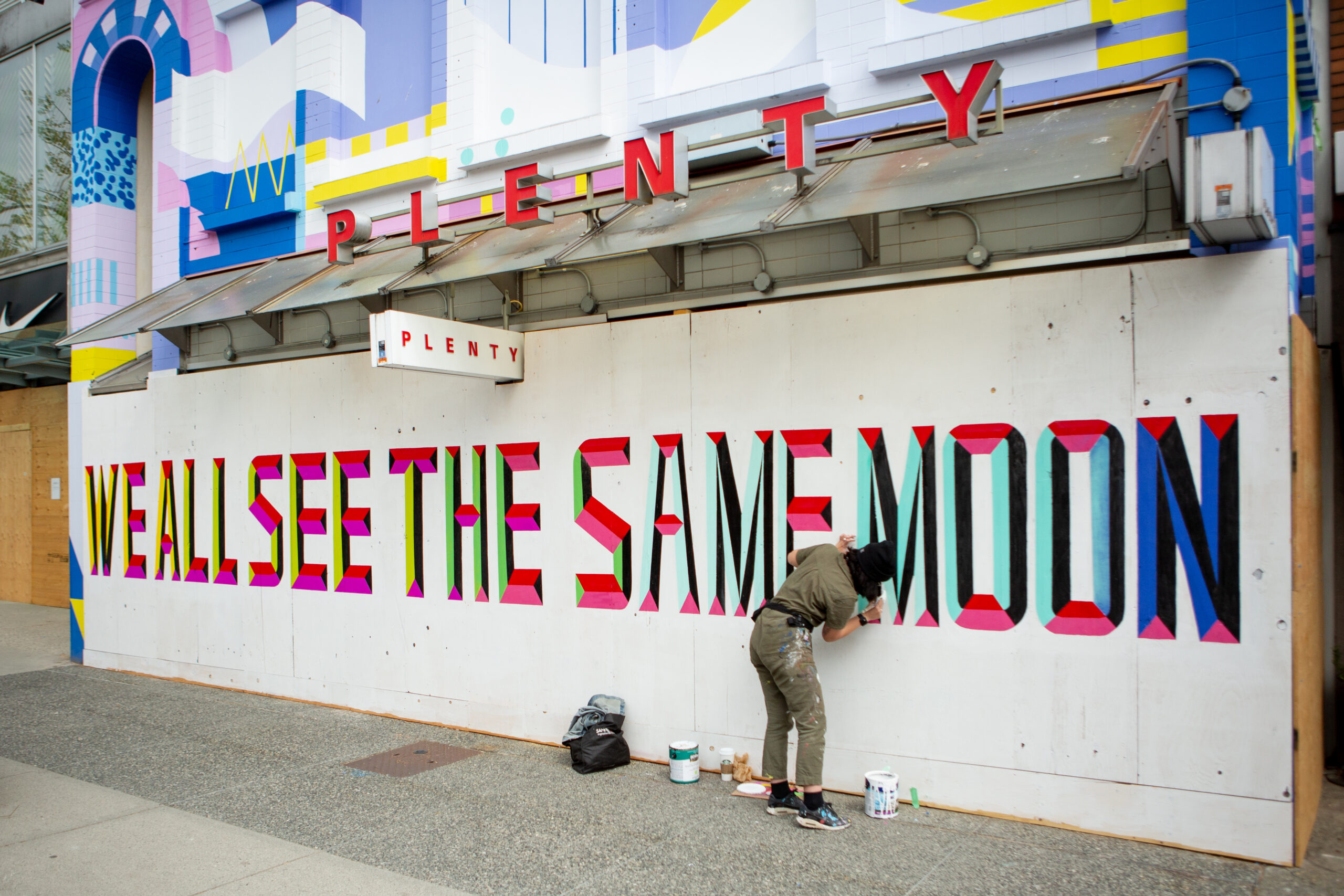 "We All See the Same Moon."
If you passed by the boarded-up storefront of Plenty clothing on Robson in Vancouver, these words would have flashed by you in a brilliant splay of painted typography. Though the mural—painted by Montreal-born artist and designer Tierney Milne—has been taken down, the words still hold weight in a quarantined world and, according to Milne, were inspired by a quote from Japanese writer Haruki Murakami: "We're both looking at the same moon, in the same world. We're connected to reality by the same line."
"Those words have resonated with me for years as they make me feel like I can look up at the moon and share an almost magical direct line with loved ones I'm separated from in other cities," says Milne. "The boarded-up shops were very apocalyptic, and ultimately I wanted to bring a little light, positivity, and sense of unity in my own little way."
Milne's mural is just one example of how artists have been expressing creativity while in quarantine, while responding to the uncertainty of living in a pandemic. With so much else on pause right now, art has been filling the gaps of normal life. Though many creatives have had dips in work, initiatives like Belgian Moon's #UnderTheSameMoon campaign have made strides in supporting artists by commissioning art projects across Canada, including Milne's mural, with messages of unity. "Not only do Canadians at large do better with artwork to remind them that we're all in this together, but creatives were/are especially hungry for opportunities when projects get cancelled en masse," says Milne of the experience.
Alongside the Robson mural, Milne has painted nearly 1,000 square feet of boarded-up storefronts during quarantine. "After a while of freaking out at home and feeling useless as the city became progressively boarded up, I saw that an artist friend in New York [Jason Naylor] was creating little posters to put up in his borough to promote love and positivity," she explains. "It instantly sparked something in me and I knew, as a muralist with a car full of extra paint and gear, I was uniquely positioned to reach out to local businesses and offer them free words of love on their exteriors."
With businesses slowly opening up around Vancouver and murals being taken down, Milne hopes that the messaging will still remain—at least as a reminder of a collective need for artists. "I hope that some of the shops that displayed temporary murals might find an interest in working with artists on a permanent piece, or finding unique ways to pivot and partner together as we all adjust to the new normal."
What does that look like for the art world? Without galleries, live shows, or festivals, artists have adapted to online methods of sharing and creating—but, as Milne points out, sharing art over Zoom just isn't the same as the feeling of exchanging creative energy in person. "I think it has, for me at least, shown how important it is to have a studio or artistic community you can lean on," she says. "As artists, we are often solitary loners already, but I found it completely invaluable to be able to go my studio and talk from a distance to my art family who were also going through the same thing."
Photos by @DylanHamm.
________
Never miss a story. Sign up for NUVO's weekly newsletter here.