Recipe of the Week: Stracciatella Alla Romana
A hearty recipe by chef Phil Scarfone, culinary director of Banda Volpi in Vancouver.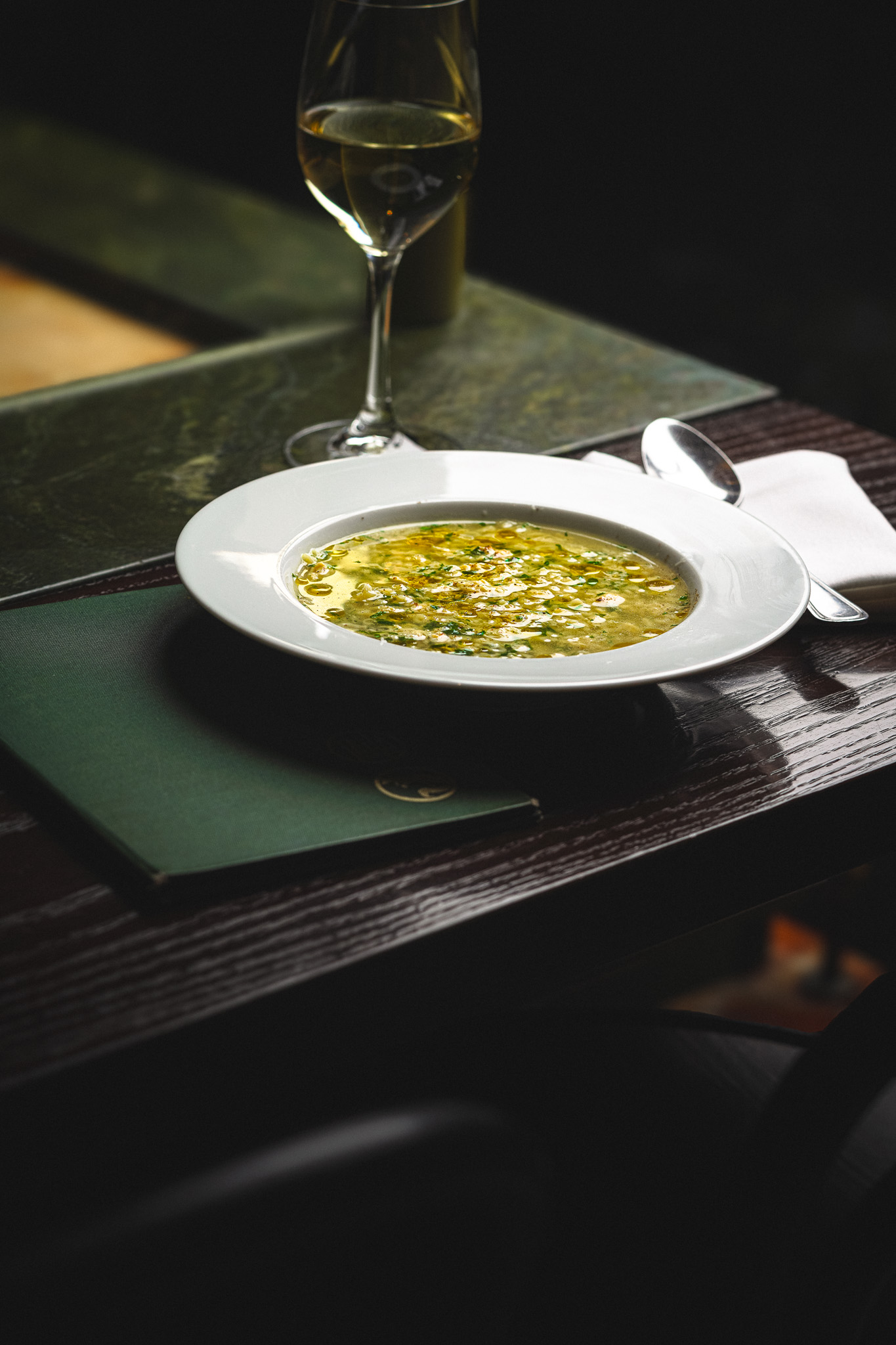 Stracciatella alla romana is a hearty, simple, and satisfying dish. Made with chicken broth and finished with pecorino, it is one of Italy's most comforting recipes. Originating in Rome hundreds of years ago, this egg drop soup was created by families to make use of the broth from cooking Christmas meats in the cucina povera tradition of "waste not want not." You can elevate this dish by saving and freezing chicken bones to make your own stock. Chef Phil Scarfone, culinary director of Vancouver's Banda Volpi, says, "For added depth of flavour, feel free to roast half of your chicken bones and your mirepoix before making stock."
This soup is best enjoyed on the coldest days of the year and makes a fantastic après-ski meal.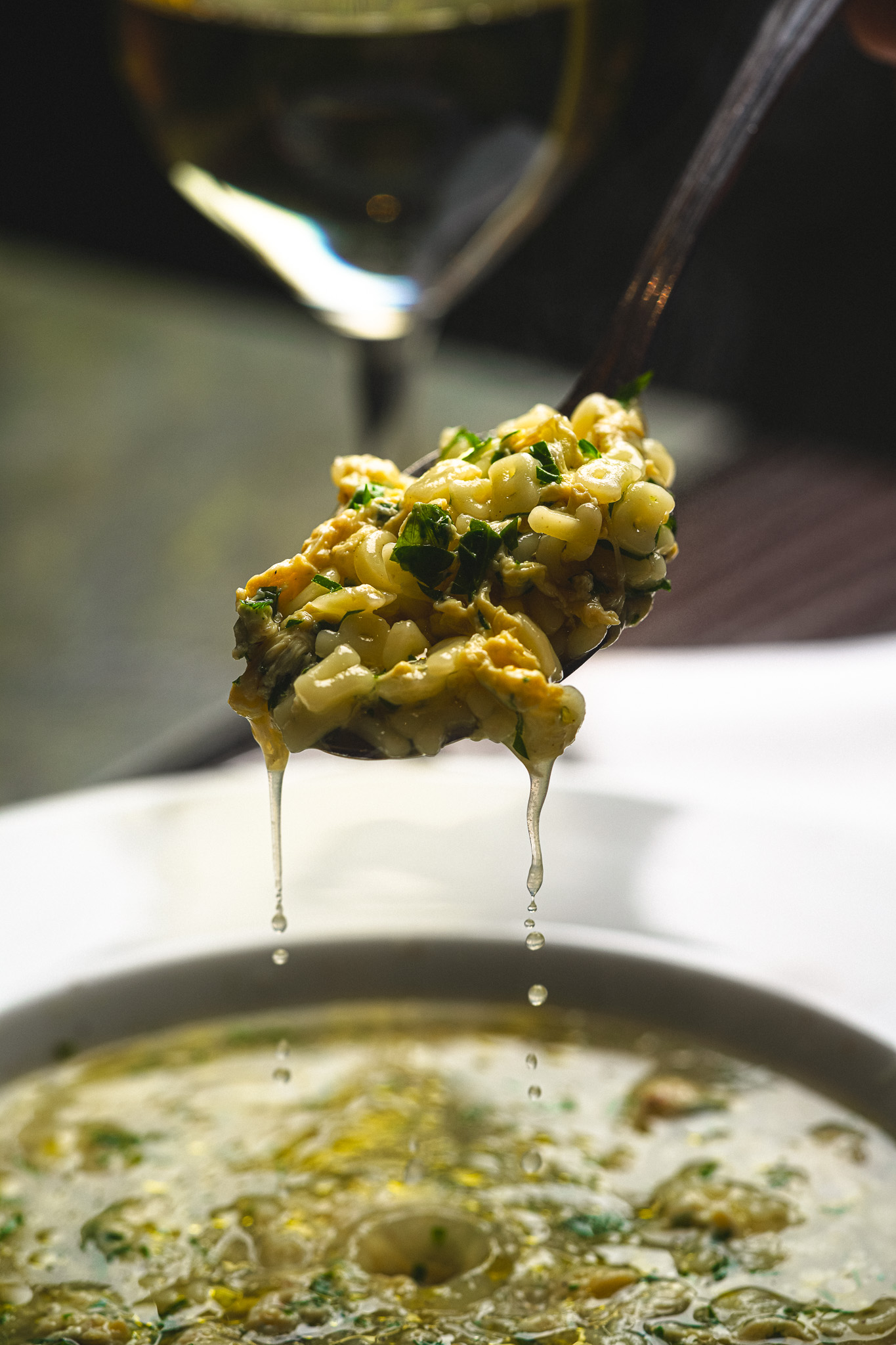 Stracciatella Alla Romana
Ingredients
4 cups chicken broth, low sodium or homemade preferred
Salt and freshly cracked pepper to taste
1 sprig rosemary (optional)
4 large eggs, room temperature
120 grams alphabet or stelline noodles, cooked
1/2 cup freshly grated Parmigiano Reggiano
1/4 cup fresh flat-leaf parsley, finely chopped
Nutmeg (optional)
1/2 cup freshly grated Pecorino Romano
2 tablespoons extra virgin olive oil, Volpi preferred
Method
In a medium-sized pot, heat the chicken broth over medium heat and bring it to a gentle simmer.
Season with salt and freshly cracked pepper to taste.
Optionally, steep a full sprig of rosemary in the broth while it heats and remove it before the next step.
In a mixing bowl, mix the eggs with a fork until well-beaten. Do not season the eggs with salt as it will change their texture from silky to rubbery.
Slowly add the grated parmigiano and chopped parsley to the beaten eggs, continuously mixing with the fork to create a smooth mixture.
Stir the broth with a spoon to create a swirling vortex.
Slowly drizzle some of the egg into the simmering broth, taking care not to add too much at one time.
Once the broth stops spinning, you can use a spoon to gently create another vortex and repeat the process until all the egg has been added.
Season the soup with salt and pepper to taste. If you like, add a pinch of nutmeg for extra flavour.
Run some hot water over the cooked alphabet or stelline noodles in a colander, then add them to the soup.
Bring the soup to a simmer again, then ladle into warmed soup bowls.
Sprinkle an abundance of fresh pecorino on top of the soup, as well as extra virgin olive oil.
Grate some nutmeg over top if you're feeling fancy.
Photography by Hakan Burcuoglu.