Northern Italy's Fine Chocolate Obsession
Chocolate maker Guido Castagna's factory outside Turin smells like freshly baked chocolate cake, roasted hazelnuts, and the chocolatey equivalent of a warm hug. Castagna and Milan's Pia Rivera are two of Northern Italy's most internationally awarded, technically skilled, and flavour-forward chocolate masters.
Northern Italians have long had a taste for chocolate. In the 17th century, European nobility melted chocolate drops in water and enjoyed a new luxurious drink. Then in Piedmont, cacao prices soared during the Napoleonic wars. Confectioner Paul Caffarel got crafty by combining local hazelnuts (some of the world's finest) with cacao to create what is now called gianduia. But it's former pastry chef Castagna who took it to award-winning levels.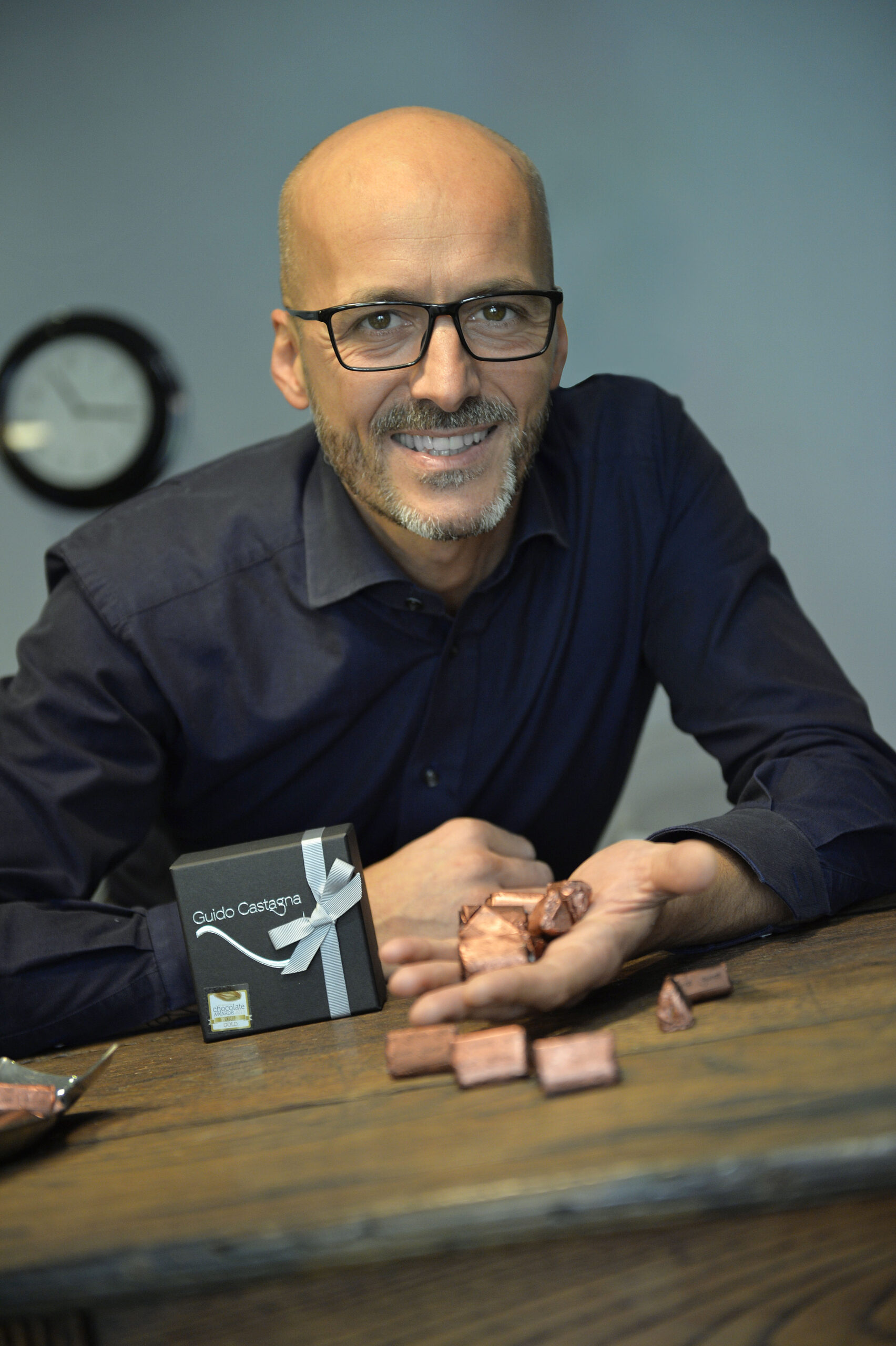 Torino's Sweet Superstar 
At Castagna's factory workshop, I'm with a dozen other chocolate-obsessed students working toward Level 3 Chocolate Tasting Certification through the International Institute of Chocolate and Cacao Tasting. Part of our education includes visiting some best-in-class, bean-to-bar makers in this corner of Italy.
Castagna is a chocolate, pastry, and confectionary superstar. It becomes quickly apparent as the tall, lean man with the kind face and brown eyes meticulously sorts through cacao beans that he's driven by quality. To the extreme.
Monica Meschini, co-founder of the institute behind our certification and a grand jury member for the International Chocolate Awards, says that apart from Castagna's technical knowledge, it's his attention to detail that puts him in a league of his own. "He chooses the best ingredients possible to create truly harmonious recipes," she explains.
One of those recipes is his giuniott, winner of six International Chocolate Awards. A blend of Venezuelan Chuao cacao and PGI Piedmont hazelnuts that produces a velvety, melt-in-your-mouth confection, these triangular-shaped, bronze-foil-wrapped chocolate hazelnut bites are extraordinary. You might even recognize the flavour profile from a homey jar of Nutella, the commercial version that Castagna thanks for introducing the world to a Piedmontese classic. His own spreadable version, Crema 55+, contains PGI Piedmont hazelnuts, Chunco Cuzco cocoa powder from Tesoro Amazonico, cane sugar, and cacao butter.
Meschini appreciates that Castagna uses Italian ingredients and traditions to create superlative products. Her favourites include his Italian liquorice truffle with its delicate anise-like flavour, and the MES Fen Vietnam dark chocolate bar that tastes like a rich Vietnamese coffee with dried fruit and nut undertones.
Understanding flavour, Meschini says, is crucial to making good chocolate. Castagna is a Level 3 certified taster, and all his team have completed Level 1 so they can explain the products' flavour profiles to customers.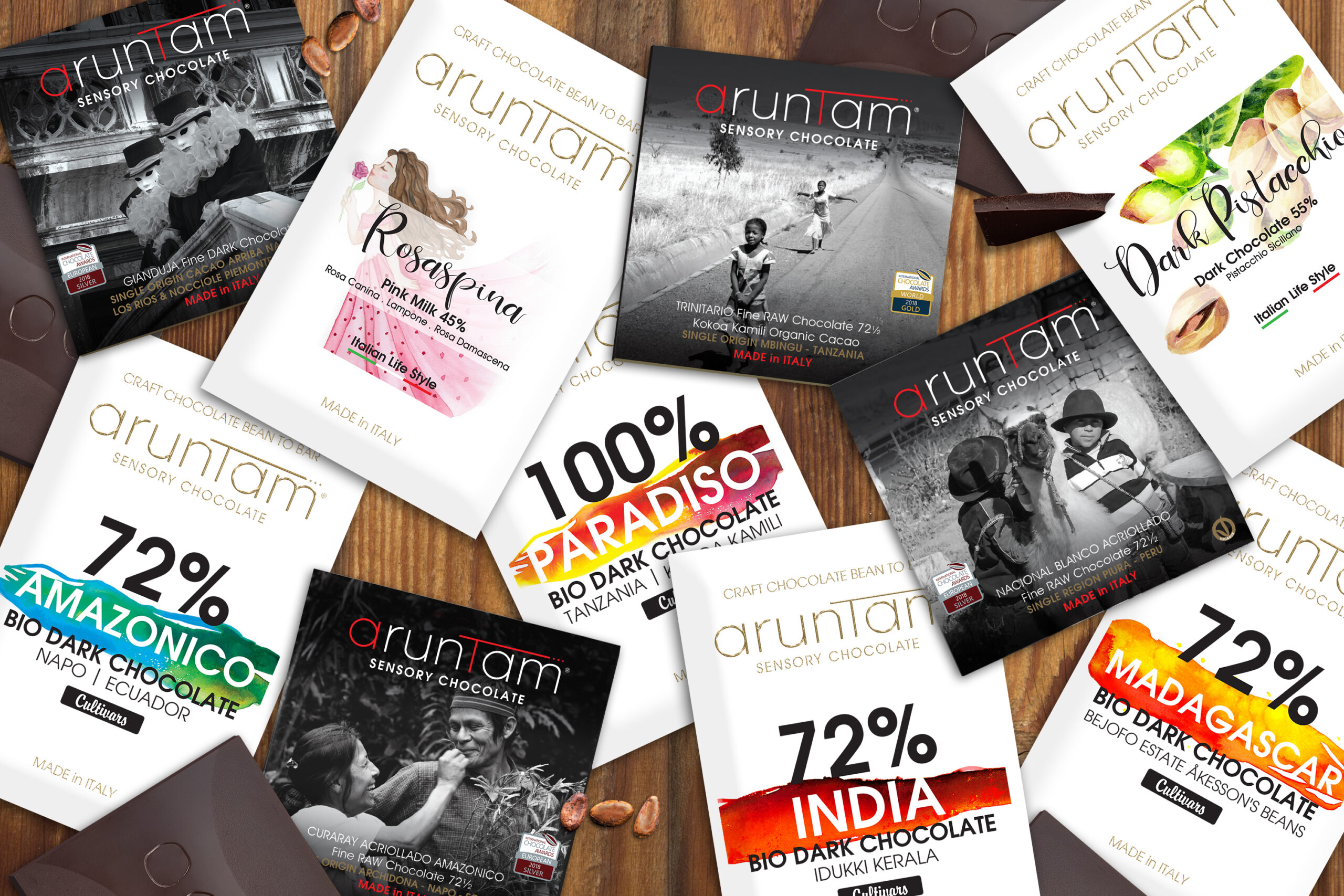 The Milanese Marvel 
Relying on your palate is crucial to producing a bar of chocolate, according to fine chocolate maker Pia Rivera. "We've been training our palates as a team here for years, and it's made all the difference," she says. It also requires getting the best raw ingredients, employing the correct technique, and developing recipes to create something spectacular. Rivera, who is now based in Milan but was born in Ecuador, named her Aruntam brand  after an Indigenous Ecuadorean tribe. Meschini calls  her a "pioneer of flavour" for using alternative ingredients such as coconut blossom sugar to create beautiful vegan and single-estate varietal bars.
Her Biancomangiare Bio White Veg 48% with organic Ecuadorian cacao butter, Filippo Cea almonds from Toritto, and lemon oil has won an International Chocolate Award for its subtle, not-too-sweet layers of flavour. And because Rivera is so partcular about her raw ingredients, the white chocolate doesn't have the off-putting, cloying sweetness of the version found on most grocery store shelves.
Purists will enjoy her single-estate varietals, which list the farm or cooperatives she works with to source her beans. Meschini notes that the 100% Paradiso Bio Dark chocolate from Tanzania, featuring beans from the Kokoa Kamili cooperative, is exemplary because Rivera knows how to work with the beans to arrive at a flavour that represents the fruit-forward cacao.
And that's, what good chocolate should be: mouth-wateringly delicious, made with pristine raw ingredients by craftspeople who know how to bring out the best. Northern Italy has that in spades.