Who says eco-friendly boats have to look bulbous and bland? The newly launched motor yacht Kinda flaunts a sporty profile and unrivalled onboard luxury.
Talk about my Kinda yacht.
The newly launched motor yacht Kinda is the fourth hull in Tankoa Yachts' successful 50-metre, all-aluminum series designed by the multitalented Francesco Paszkowski. It's also the second yacht in the series to feature hybrid-electric propulsion. But there's a lot more to this stunning vessel than just ultralow emissions and high-tech engineering, and that becomes apparent the moment you step aboard.
Where some eco-yachts put the emphasis on the "eco" part and are happy to cede luxurious appointments to achieve sustainability goals, that's not the case here. On the contrary, the emphasis on Kinda is on luxury, with its innovative hybrid propulsion system the icing on a thoroughly mouth-watering cake.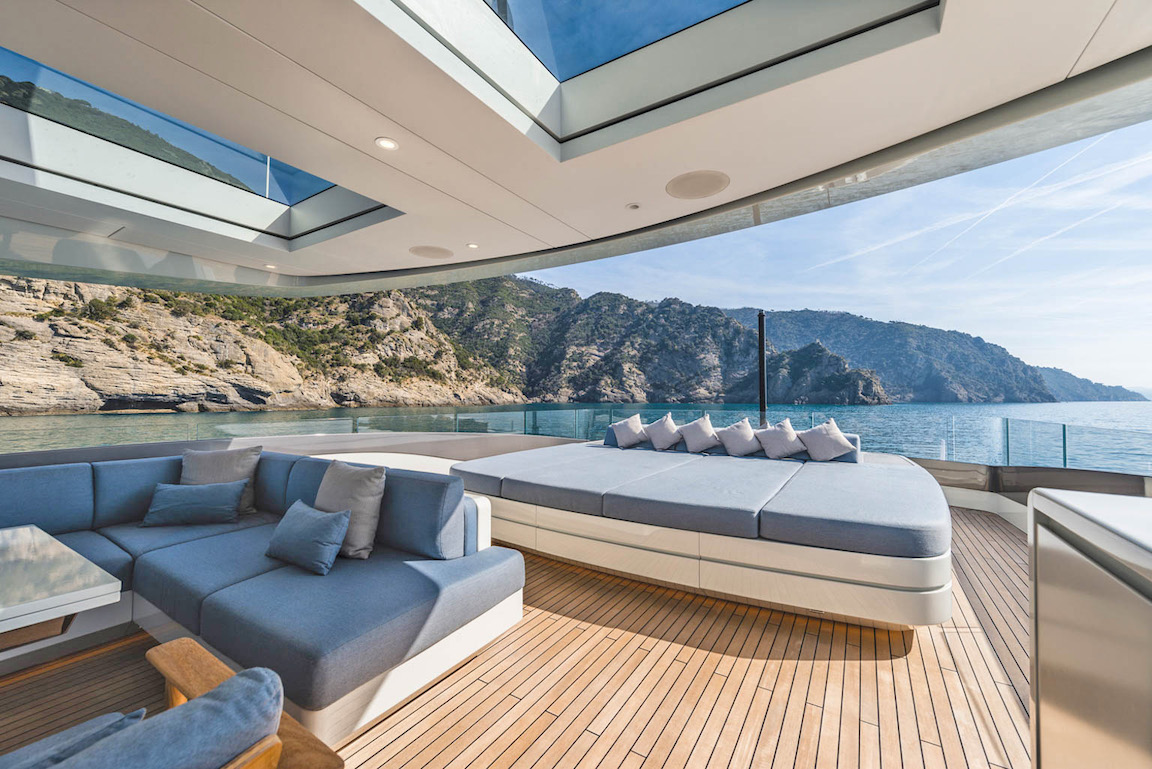 Kinda builds on sister yacht Bintador's novel hybrid propulsion system, developed in collaboration with German engineering giants MAN and Siemens, to provide three cruising modes: straight diesel mechanical, hybrid diesel electric, and 100 per cent emission-free full electric. In the two latter modes, the yacht is virtually silent when underway, allowing it to anchor at the night with no noise or emissions. Most importantly, the eco-friendly nature of Kinda's hybrid propulsion means this vessel can access ecologically protected areas other yachts cannot.
For all of its eco credentials, there's nothing Prius-like in its bold exterior look. Paszkowski's exterior treatment is sleek, sporty, and a bit ferocious all at once, the flowing lines and near-plumb bow evoking a fresh and contemporary feel that's still faithful to classic superyachts of the past.
Of course there's an extensive aft swim platform for enjoying the sea, which expands at the push of a button, the transom door opening out and down to reveal a hidden beach club. Look carefully at the stern, and you may even spot the side-loading tender garage neatly hidden on the port side. Full points here to Paszkowski for maintaining the yacht's shapely lines while accommodating these important features.
A flight of steps to each side of the beach club leads up into the spacious main deck cockpit. It's an inspired design, with a near full-beam sun pad facing a huge U-shaped lounger to create not only an incredibly inviting space for relaxing, either out in the sun or under the protection of the overhanging hardtop, but an unbeatable outside dining space as well.
Step into the salon, and huge windows maintain that connection to the outdoors. A magnificent L-shaped settee facing free-standing club chairs creates an ideal environment for relaxation, conversation, or hanging out with friends over a bottle of wine. A reflective ceiling treatment and the enormous side windows create a tremendous sense of space here, making this yacht feel even larger and roomier than it is.
Forward of the salon is Kinda's formal indoor dining space, featuring an enormous smoked-glass table with seating for 10. Large windows to each end carry that outdoor connection right through the evening meal, inviting an evening passeggiata on the yacht's broad promenades.
Heading forward on the main deck past the galley and pantry, a nearly full-beam VIP cabin spoils guests with its magnificent king bed, ensuite head with his-and-hers sinks, 55-inch HDTV, and cavernous wardrobe spaces.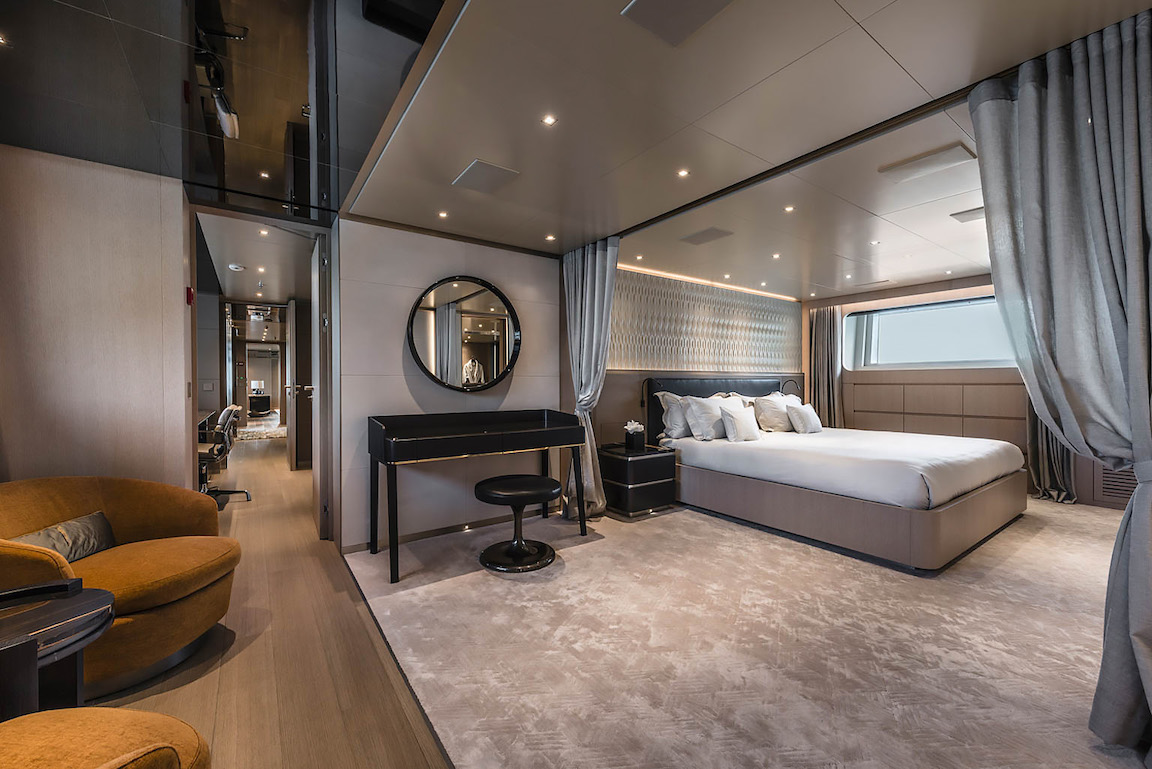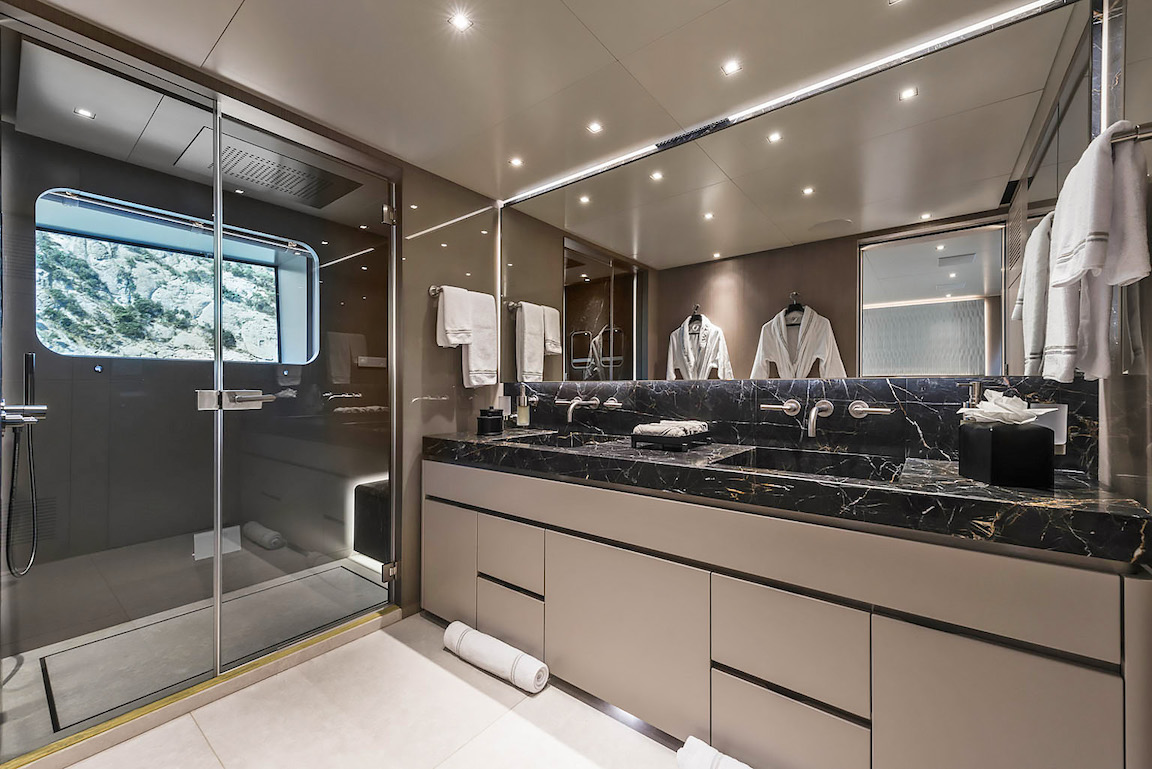 Farther forward on the main deck is the full beam owner's suite, with a king bed, enormous walk-in closet, and generous ensuite head with his-and-hers sinks and a shower for two. There's also a starboard-side seating area with a table.
Four further guest cabins in the lower deck include two double and two twin suites, each with its own private ensuite head and walk-in shower. Farther forward, ahead of the main galley area, multiple crew cabins afford direct access to the bridge.
A standout feature is the majestic main staircase with wooden steps supported by a central pillar of polished stainless steel and banister. The upper deck provides an outdoor dining space that delivers 360-degree views while still enjoying the protection of a hardtop. An attractive upper-deck salon provides a space to escape the wind while underway, while far forward there's a huge lounging area adjacent to the yacht's 5,000-litre foredeck swimming pool.
Open-air areas include a very large sofa arrangement the main deck aft, the forward lounge area and swimming pool, dining for a full complement of guests on the upper deck aft, and the spacious sundeck equipped with sun pad forward, al fresco galley, pop-up tables, and sun loungers. Up yet another level is the sundeck, with further sunning and lounging options, once more protected by an overhead hardtop.
With its dual focus on luxurious accommodation and sustainable operation, the motor yacht Kinda represents a new age in yachting that will resonate with potential buyers all around the world. Who said being green meant being kinda nerdy? The motor yacht Kinda makes it all kinda cool.