How to Make an Italian Feast as Served at Destination Villas
5 recipes from the Thinking Traveller.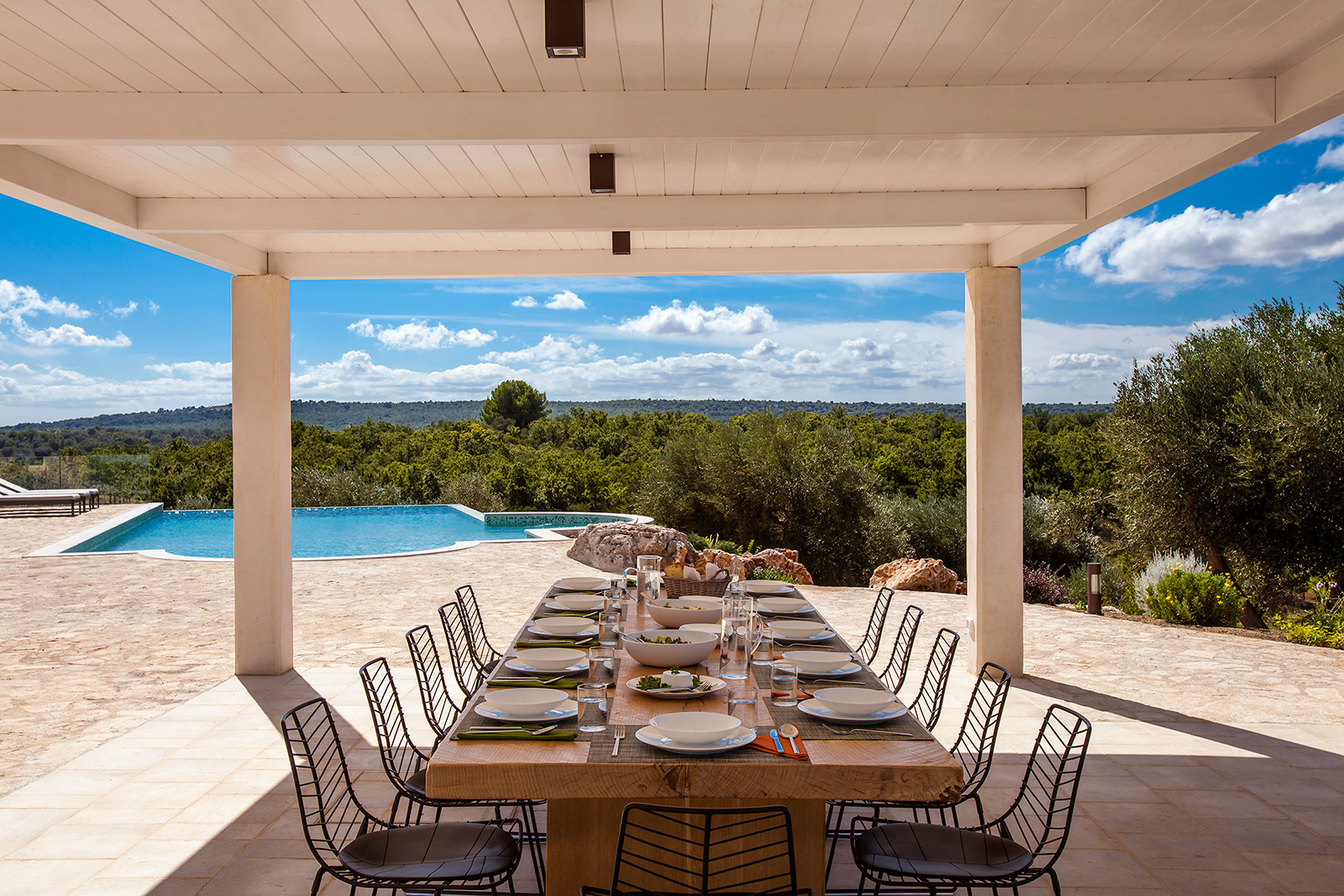 Some places never get old or go out of style. Italy is one of those places, and the nation has become a bucket list destination for most, especially food-oriented, travellers. Deciding where to go in Italy is like having to decide which of your children is your favourite. The country is made up of so many parts—picturesque towns, scenic countryside, enamouring cities, and breathtaking coastlines—but no matter where you go, there is always an abundance of good food.
Italy is all about approaching life through food in a beautiful setting. Parmigiano Reggiano, pasta from Gragnano, Tuscan olive oil, lentils from Norcia, Sicilian oranges, Neapolitan pizza, San Marzano tomatoes, balsamic vinegar from Modena, bistecca Fiorentina, apples from Trentino, truffles from Alba, gelato, Bronte pistachios, polenta, pesto Genovese, Bufala Campagna mozzarella, Pugliese olives, and Sicilian cannolo march across menus and taste buds like an Italian parade. But how to choose?
Enter the Thinking Traveller, a luxury villa operator whose property portfolio are authentic destinations where you can enjoy the surroundings and revel in the pleasure of good food. Sicilian-born Rossella Beaugié and her British husband, Huw, set up the Thinking Traveller in 2002 to share their knowledge of Sicily with other travellers. Their expertise and devotion has enabled their roster to grow to over 200 properties in select Mediterranean destinations—Sicily, Puglia, the Greek Ionian and Sporades Islands, Corsica, and Turkey.
Each villa has staff that prepare meals each day for dining in the cinematic scenery. At Don Arcangelo all'Olmo, the resident cook, Graziella, prepares authentic cucina siciliana. Cakes are baked in the early morning hours before sunrise; the fruit, in season, is plated decoratively; the arancini and fiori di zucca are fried only minutes before they are served; the fish is selected from the fisherman that visits casa L'Olmo daily with the morning-caught pesci. From a traditional Sicilian meal of pasta incrostate to an eight-course banquet, dinners are always family style and whether served on the wisteria-covered terrace or, on cool nights, at the dining table adorned with hibiscus and bougainvillea as table runner—Graziella's cooking is a master class in the excellence of simplicity.
During this time of COVID-19-related travel restrictions, take an imaginary trip to Sicily and Puglia and bookmark the Thinking Traveller for your next visit to the regions. In the meantime, try your hand at preparing a five-course Italian meal with authentic Italian recipes that have been passed on for generations.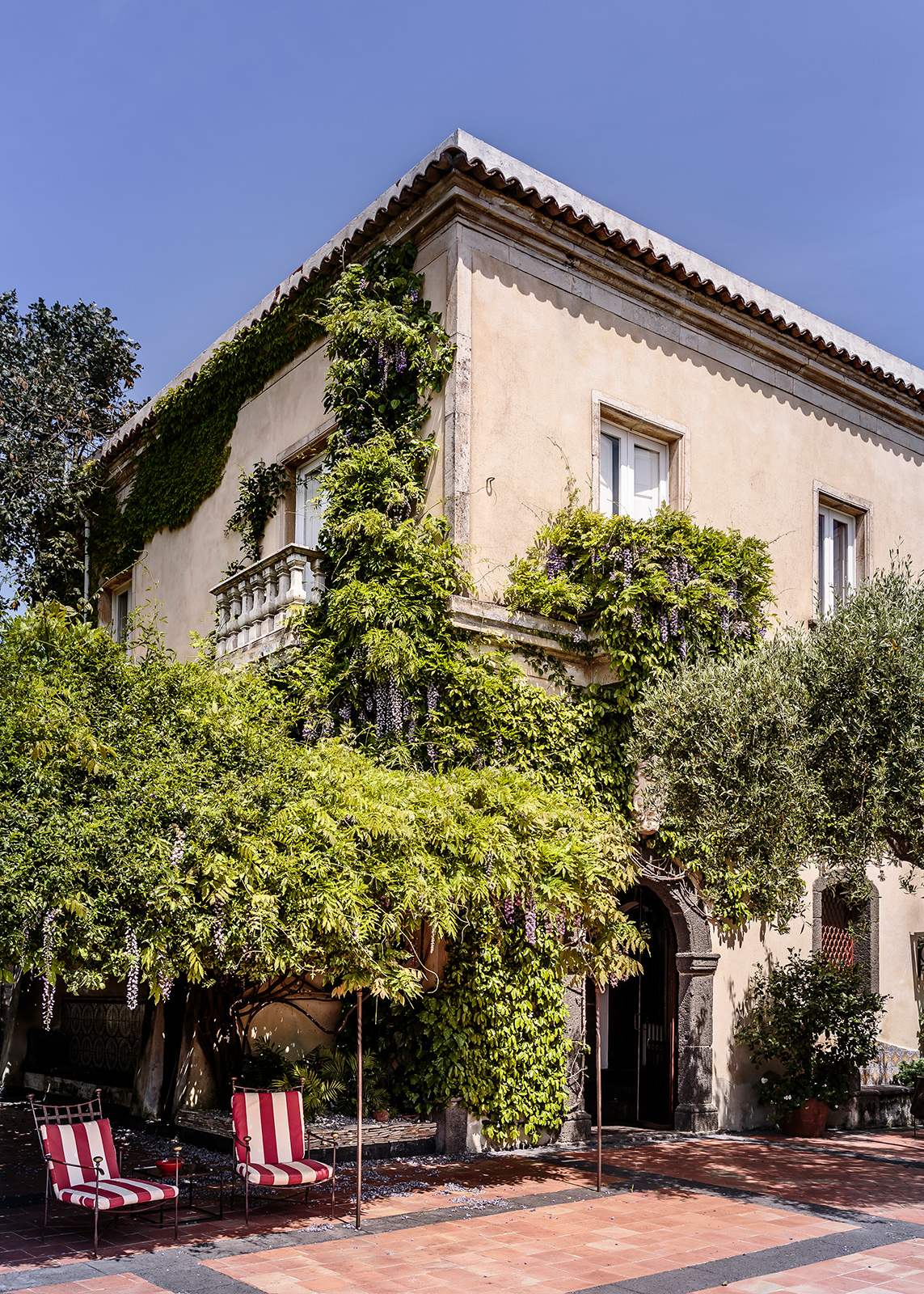 Arancini all'Olmo
Ingredients:
For the rice:
1 litre salted water
200 ml milk
500 grams arborio rice
1 cube of vegetable stock
1 sachet of saffron
Pinch of cinnamon
50 grams butter
50 grams grated Parmigiano Reggiano
For the thick, elastic béchamel sauce:
25 grams butter
25 grams flour
200 ml milk
Pinch of salt
For the classic béchamel:
25 grams butter
25 grams flour
250 ml milk
A grating of nutmeg
Pinch of salt
100 grams diced prosciutto
100 grams diced Provola or other tasty cheese
For the arancini:
250 grams durum wheat flour
3 beaten eggs with a drop of milk
300 grams breadcrumbs
Vegetable oil
Method:
For the rice:
In a large pan, bring 1 litre of salted water and 200 ml of milk to boil.
Add the 500 grams of arborio rice and the vegetable stock cube.
Mix frequently, and once the rice is half cooked, add the saffron.
When the rice is slightly al dente and dry, add the cinnamon, 50 grams of butter, and the same quantity of grated Parmigiano.
Leave to cool.
For the thick, elastic béchamel sauce:
While the rice is cooling, prepare the white elastic béchamel sauce that will bind the rice together.
Melt 25 grams of butter, add 25 grams of flour, and mix well to create a thick roux.
Remove from the heat and gently add 200 ml of milk little by little, stirring constantly.
Add a pinch of salt and then put back on the heat, stirring until it thickens to a sticky, elastic paste.
Then add to the rice, mix well, and flatten the mixture on a large plate to cool.
For the classic béchamel sauce:
While waiting for the rice mixture to cool, prepare a classic béchamel sauce with 25 grams of butter, 25 grams of flour, 250 ml of milk, a grating of nutmeg, and a pinch of salt.
Follow the same method used for the elastic binding béchamel sauce and, when ready, add the diced prosciutto and Provola cheese.
For the arancini:
When the rice is cool, take a small, flat palmful, add a little of the prosciutto and Provala béchamel mix, then fold the rice around it while adding a little more rice to fully enclose the filling.
Put the rice balls on a plate, and when all are done, place in the fridge to cool.
When you are ready to fry the arancini (which should now be cold), take out of the fridge and roll them, first in flour, then in a beaten egg and milk mixture, and finally in breadcrumbs.
Heat some vegetable oil in a large pan and add the arancini one by one. Don't add too many at one time as this will bring down the temperature of the oil.
When golden brown, remove and place on greaseproof paper. Serve hot.

Primo as served at Montaltini in Castellana Grotte, Puglia

Linguine With Pesto and King Prawns
Serves 6
Ingredients:
500 grams of linguine
14 medium-sized prawns (8 of which will be used to prepare the prawn cream)
2 tablespoons pine nuts for garnish
For the broth:
4 cups of water
Prawn heads
1 tablespoon of oil
Pinch of salt
For the prawn cream :
2 tablespoons of extra virgin olive oil
Half a clove of garlic
8 prawns, cut into small pieces

For the pesto:
100 grams of fresh basil
Half a glass of extra virgin olive oil
1 garlic clove
1 tablespoon of grated Parmigiano Reggiano
1 tablespoon of pine nuts
Salt to taste
Method:
Clean, shell, and eviscerate the prawns.
To make the broth:
In a saucepan, prepare a broth by adding 4 cups of water, prawn heads, a tablespoon of oil, and a pinch of salt.
Bring to boil and cook for 5 minutes.
Allow to cool and filter with a strainer.
To make the prawn cream:
In a pan, sauté half a clove of garlic with 2 tablespoons of oil.
Add 8 prawns previously cleaned and cut into small pieces.
Steam with a cup of the broth. Cook for about 5 minutes.
Set aside a third of this preparation and blend the remaining part with an immersion mixer.
If the cream is too thick, add a little more broth.
To make the pesto:
Put in a blender basil, oil, garlic, grated Parmigiano, pine nuts, and salt.
Blend until you get a smooth and homogeneous cream, then put in the refrigerator.
To make the linguine:
Toast 2 tablespoons pine nuts in a small non-stick pan.
Cook the remaining 6 whole prawns in a pan with a little broth for about 10 minutes.
Boil water for the pasta and cook the pasta al dente.
Drain and transfer the pasta to a pan.
Season with the cream and pieces of prawns previously prepared, sauté, and finally add the pesto.
Mix and serve with a whole prawn on the side of the plate and a teaspoon of toasted pine nuts.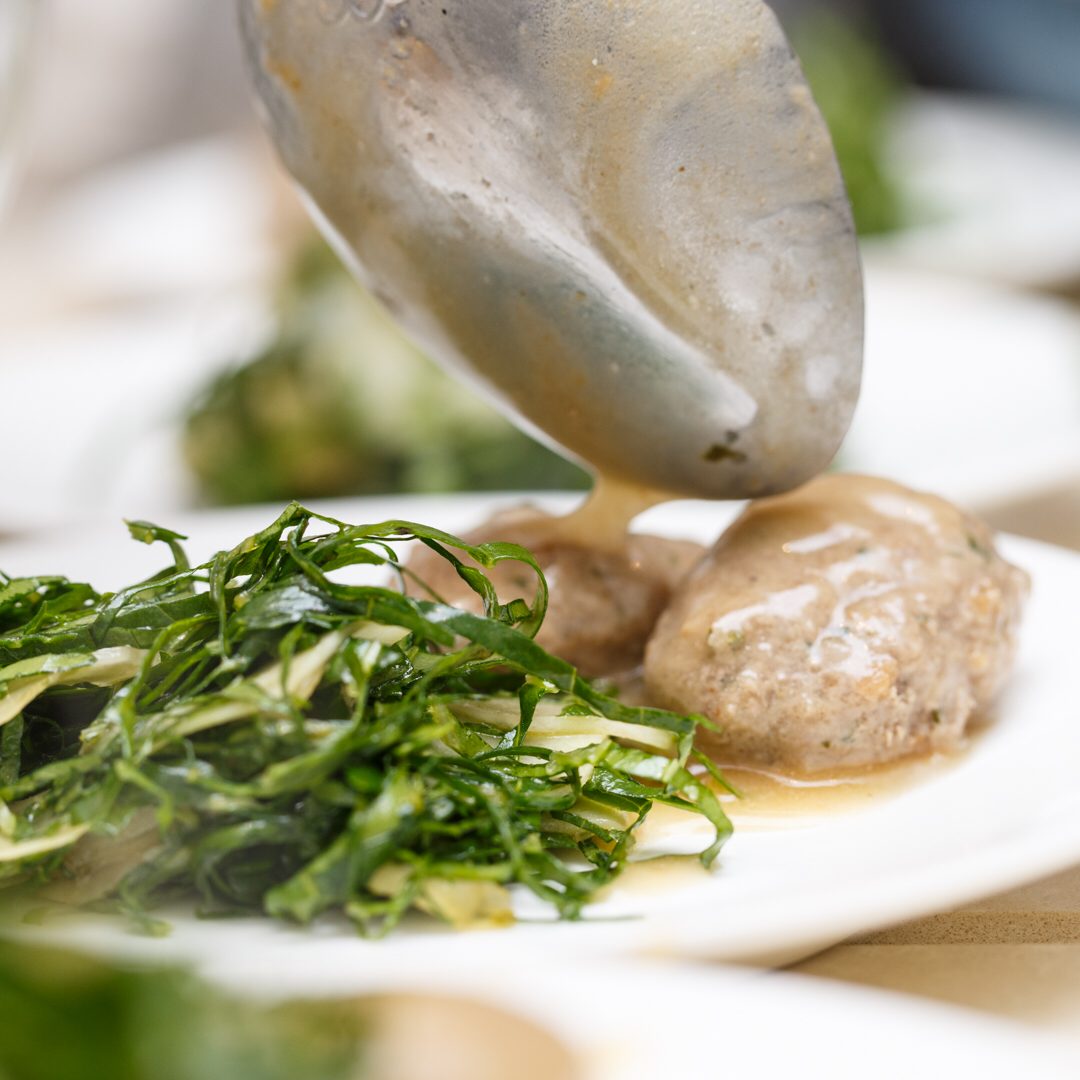 Polpette al Limone (lemon-glazed meatballs) and Raw Spring Kohlrabi Salad
Serves 4 to 6. Makes approximately 30 meatballs.
These incredibly light and tasty meatballs are a staple food at Rocca delle Tre Contrade as prepared by resident cook Dora. The addition of milk and lemon zest gives the meatballs the tenderness and taste of something your grandmother would make, with all the hallmarks of rustic, homemade, and wholesome gratification.
Ingredients:
600 ml full-fat milk
750 grams minced veal
1 egg
10 grams salt
10 grams finely chopped parsley
Zest of 3 large lemons
20 grams lemon juice (freshly squeezed)
60 grams grated Parmigiano
Black pepper to taste
Vegetable oil
For the lemon glaze:
700 ml water
50 ml lemon juice (freshly squeezed)
1 tablespoon potato flour
Salt to taste
2 tablespoons butter
For the salad:
2-3 young purple kohlrabi shoots (bulb and leaves)
Extra virgin olive oil
Vinegar
Salt and pepper to taste
Method:
Put some of the milk in a small bowl and add the breadcrumbs to soak them.
In a separate larger mixing bowl, add the veal, egg, salt, parsley, lemon zest and juice, and work together well by hand.
Add the soaked breadcrumbs, the rest of the milk, and the Parmigiano, then continue to mix together with your hands to form a sticky mixture.
To shape each meatball, use one tablespoon of meat mixture and, with your hands, gently shape it into an oval ball, without pressing it together. We wish to achieve a loose consistency.
Place on a plate or baking tray until you have shaped all the meatballs. You may wish to rinse your hands once in a while to make it easier to shape them.
Add vegetable oil to cover the bottom of a wide pan, place it over medium heat, and gently fry the meatballs on all sides until cooked through (4-6 minutes). If you are preparing the meat balls in advance, you may now leave them to cool until you are ready to serve.
To make the lemon glaze:
Mix water and lemon juice, add potato flour and salt.
Melt 2 tablespoons of butter in a wide pan on medium heat and let it brown slightly. When the butter foams, add the lemon mixture and bring to a quick boil.
Add the meatballs, and as the starch thickens the sauce, cover the meatballs gently with the glaze until they have warmed through, no more than a few minutes.
Serve with roast potatoes and raw spring kohlrabi salad.
To make the salad:
If you can get young shoots of purple kohlrabi from your local vegetable supplier, both roots and leaves are incredibly tasty and healthy, and they combine to make a crunchy and refreshing salad. The Sicilians only know kohlrabi in its early stages of maturity and only eat it raw like this.
Separate the kohlrabi leaves from the roots, and keep only the most tender pieces.
Clean and trim the roots, remove the skin, and use a mandolin to cut into very thin, almost transparent slices.
Chiffonade the leaves crosswise with a sharp knife to make thin shreds, and mix into the kohlrabi slices.
Season with olive oil, vinegar, salt, and pepper.
Side as served at Montaltini in Castellana Grotte, Puglia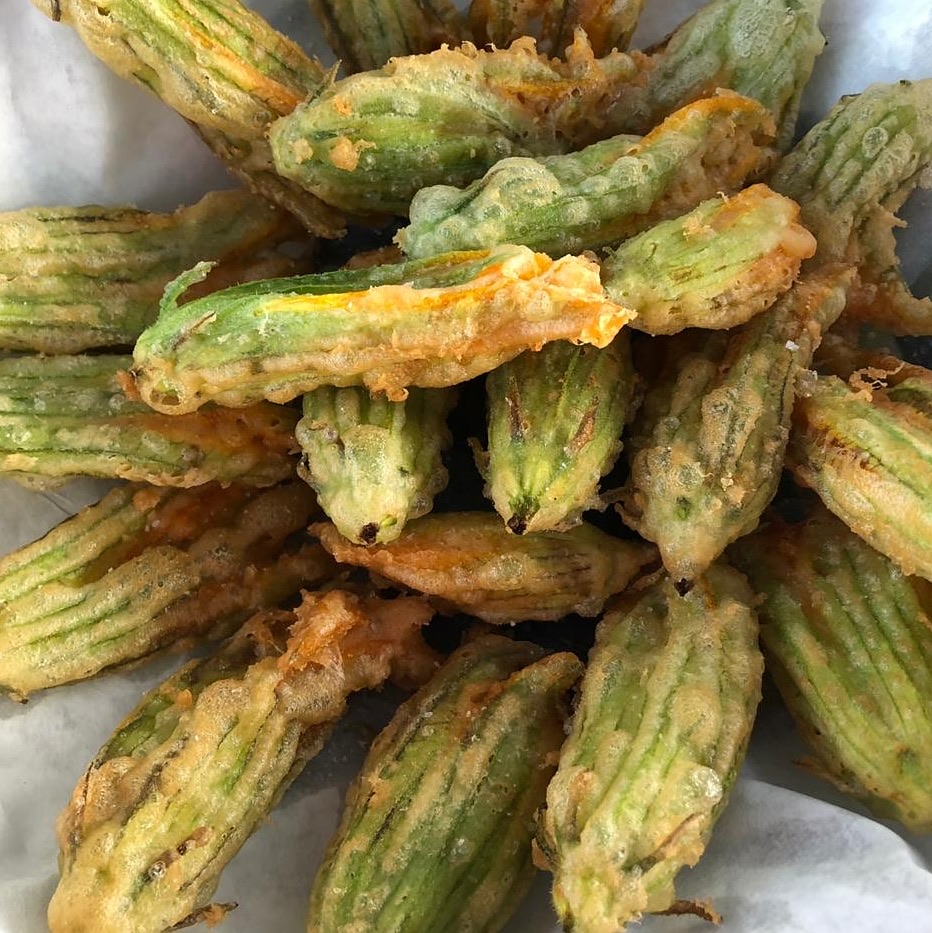 Courgette Flowers
Makes about 2 dozen
Ingredients:
Vegetable oil (for frying)
1 1/4 cups all-purpose flour
1 teaspoon kosher salt
12 ounces of lager-style beer or club soda
Zucchini blossoms (stamens removed; about 2 dozen)
Sea salt
Method:
In a large pot, heat about 2 inches of oil over medium heat.
Combine flour and salt in a medium bowl, then whisk in beer until almost smooth (some small lumps are welcome—don't overwhisk or you'll deflate the batter).
One by one, dredge the blossoms in the batter, shake off the excess, and gently lay them in the oil, without crowding the pan.
Cook, flipping once with a slotted spoon, until golden brown, 2-3 minutes total.
Transfer to paper towels to drain. Sprinkle with sea salt and eat while hot.
Dessert as served at Trulli Andrea, Ceglie Messapica, Puglia
Vanilla Panna Cotta With Fresh Berries
Serves 6
Ingredients:
8 grams
500 ml fresh double cream

200 grams caster sugar
300 grams mixed fresh berries
40 grams icing sugar
1 lemon
6 mint leaves
Method:
First let the gelatine sheets soak in cold water for 10-15 minutes.
In a saucepan, mix the cream with 80 grams of sugar and put it on a low heat.
Add the seeds of the vanilla pod and, just before the mixture boils, add the squeezed gelatine sheets.
Continue cooking for a few minutes, stirring with a wooden spoon, so that no lumps form.
Take 6 glass jars, fill them with the panna cotta, and put them in the refrigerator for 4-5 hours.
In a saucepan, add the berries with sugar and lemon juice. Cook for 20 minutes.
Take the cooled panna cotta jars, add 2 tablespoons of cooked berries and a mint leaf on top of each.
For a different presentation, put a large mint leaf with fresh berries on the side of each plate, the jar with the panna cotta on the other side, and sprinkle everything with icing sugar. Serve cold.
________
Never miss a story. Sign up for NUVO's weekly newsletter here.