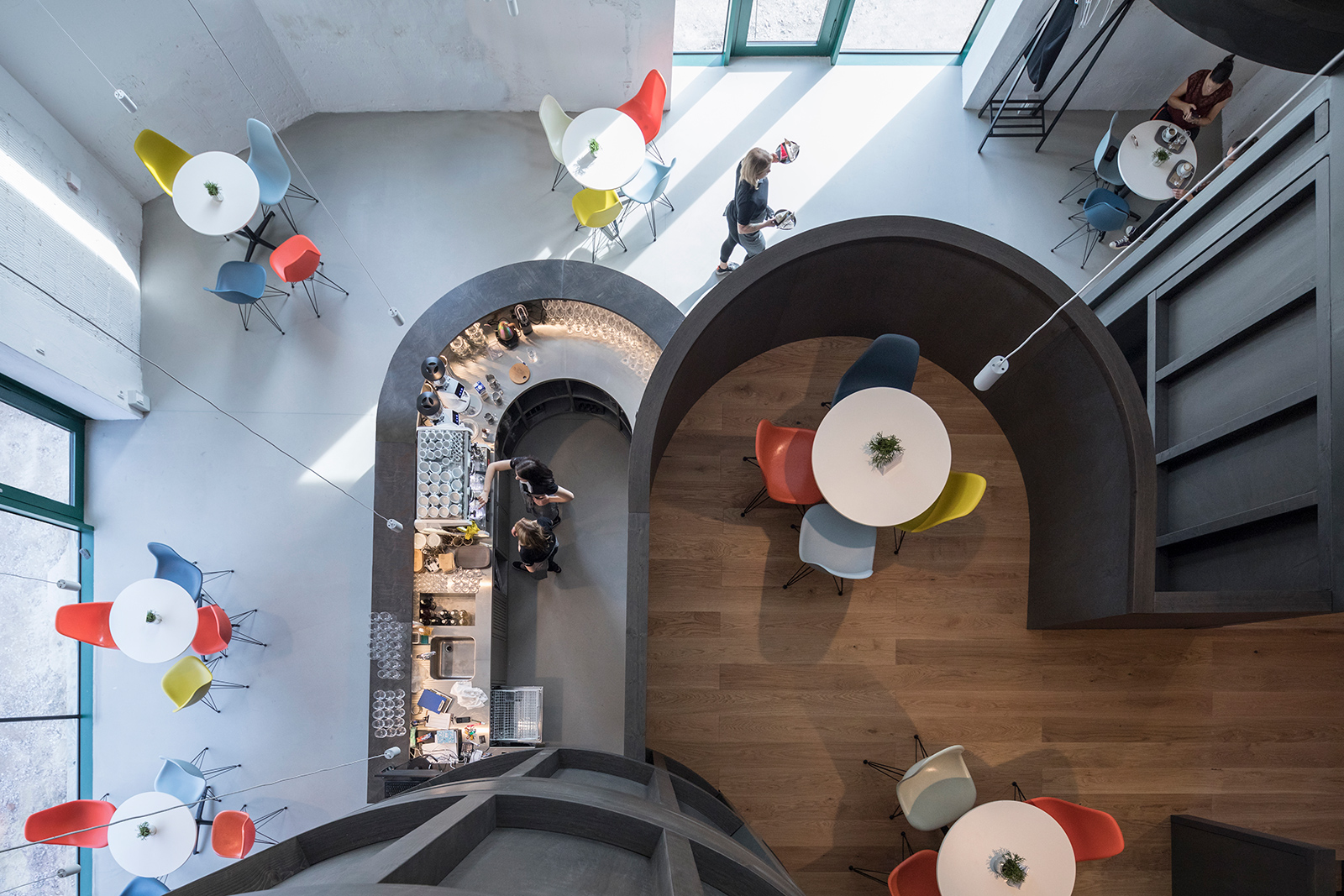 The House of Wine is a tasting room for the Lahofer Winery, located in the city of Znojmo, a medieval town in the Czech countryside. The Moravian region, which is named after the river that runs through it, has a long history of wine production that can be traced back to the Roman Empire.
CHYBIK + KRISTOF, an architecture firm led by Ondřej Chybik and Michal Krištof, took on the challenge of updating an existing brewery from the 1800s, as well as a barebones and unattractive extension from the 1970s.
With offices in Prague, Brno, and Bratislava, CHYBIK + KRISTOF has deep ties to the area, and wanted to respect the region's history in their intervention. "We immersed ourselves in the town's heritage and landscape, while establishing the House of Wine as a part, a reconciliation, and a continuation of its architectural history," says co-founder Ondřej Chybik of the renovation.
The extension was gutted and treated as an empty shell for a new tasting room, while the existing brewery was updated and improved following a more traditional preservation approach.
However, the lighting was an issue. Previously an opaque structure, the team began by punching new large, asymmetrical windows that bring light to the space and provide views of the surrounding countryside and a 9th century Gothic church.
The tasting hall's tall structure gave the designers room to insert a series of semi-circular platforms into the space, creating three tiers on which visitors can sit. The rounded, playful forms of these mezzanines were based on the layout of wine cellars, which are traditionally built as underground vaults.
They contrasted the dark wooden paneling of this structure with colourful chairs and light tables, which make clear the splash of playful postmodernity brought by the team without fundamentally altering the style of the restoration.
At the street level, a large storefront opening creates a connection between the tasting room and the city. "Revealing exterior views to a building that has seldom acknowledged them, the windows invite visitors to engage in a dialogue with the region and its landscape," said CHYBIK + KRISTOF.
In the historic part of the building, the re-design is much less noticeable; the team focused on improving functional aspects of the space, while preserving the character of the old brewery. "Restored – and preserved – to retain its original essence" they say, "the 19th-century brewery is treated as a heritage site."
CHYBIK + KRISTOF are also involved with another project for the Lahofer Winery, on the vineyard itself. The new building will be used for the actual wine production, but will also incorporate a tasting room and visitor's center, expected to open this spring.
________
Never miss a story. Sign up for NUVO's weekly newsletter here.