Hinter's Natural Model for Hotels in Vermont's Northeast Kingdom
Slowing down time through architecture.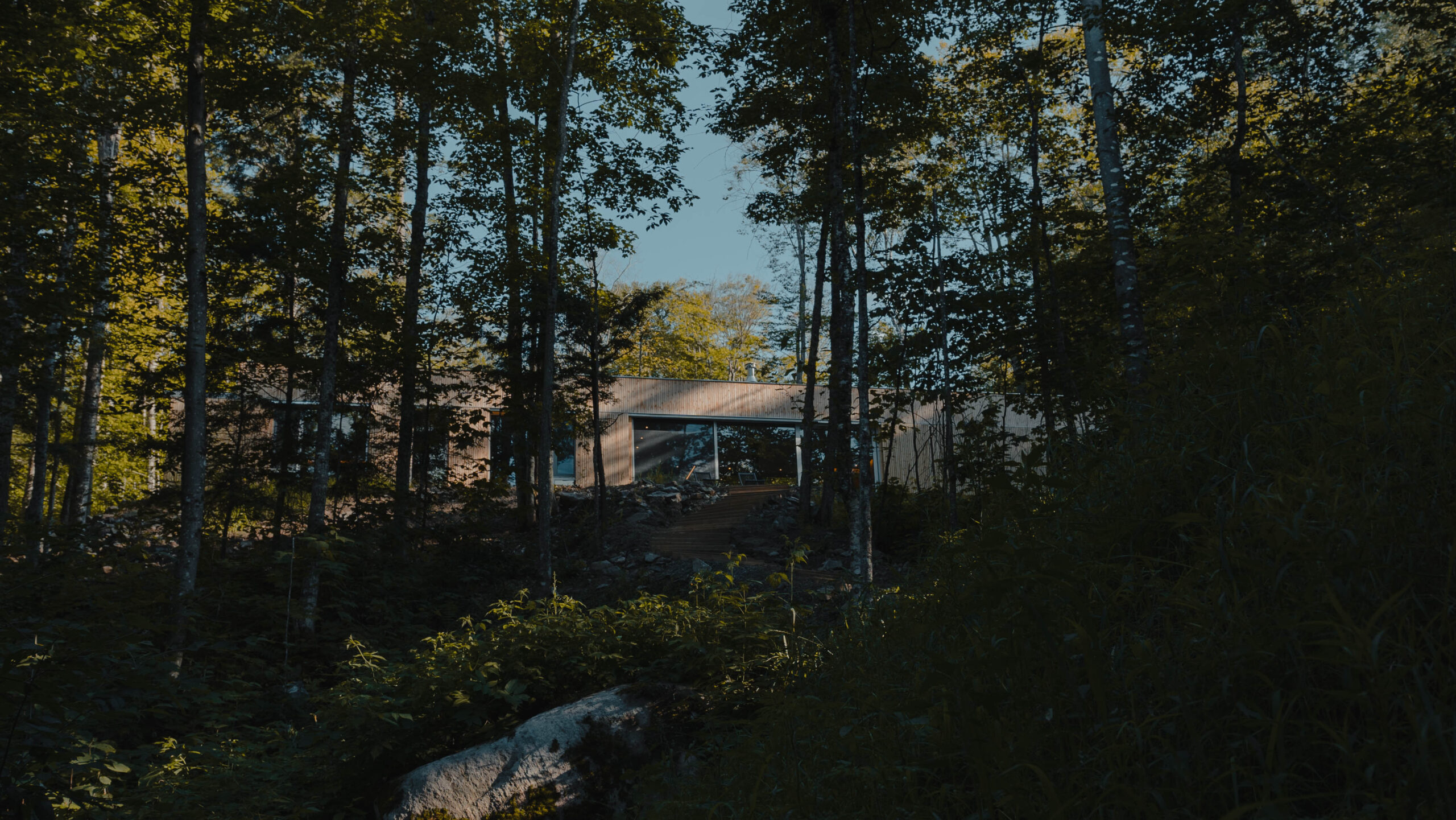 Known for its minimalist hideaways and holiday homes that embed guests directly in nature with secluded short-term rentals, Hinter has set its sights on evolving its model with the creation of the brand's first hotel.
Situated on a 30-acre plot of land in Vermont's Northeast Kingdom near East Haven, the Outpost will build off Hinter's solitary offerings of the past with a new collective approach.
Unlike Hinter's past focus on seclusion, eight to 12 structures will encircle a central pavilion designed by the Montreal architect Jean Verville. This structure will be less of a reception area and more of a central, multifunctional space for gatherings, workshops, retreats, and more. "We partnered with Jean because he is considered to be one of the most experimental architects in Canada," says Hinter's founder, Mauricio Padilla. "We want to create things that have not been created before. Jean is the right person to achieve that."
Regarding how Verville's sense of play will address Hinter's mission surrounding how hospitality can coexist with nature in 50 years' time, respecting both wilderness and local communities, Padilla says, "It's about building structures that age gracefully with nature, business models that give more than what they take, and creating spaces that bring community in."
Taking inspiration from solar punk aesthetics, Padilla explains that the project is designed to slow down time through architecture, positively affecting guests both indirectly and directly. "If you start playing with light and elements properly—from shadows from trees on floors to water reflected on walls or having stargazing rooms—time starts behaving differently as we aim our attention into the things that calm us down. I'm aiming to bring nature inside buildings and slowing down time through that."
On a given day, Padilla sees local producers being invited to sell their wares for food but says the site also has potential for a food forest to supplement guests' meals. The idea is to take permaculture to a larger scale by providing guides for what to eat and where to find it, which in turn provides teachable moments on sustainable agriculture and healthy living in a high-end setting. "I think there's a niche in the future of hospitality where shared economies—in this case, short-term rentals and the stability of a brand—can mix," he explains.
The location was chosen for what Padilla considers the wealth of untapped forests, a rich landscape for exploring, and what's become a mecca for mountain biking in the U.S. over the last decade. "Vermont and Maine are beautiful places in the northeast with a lot of culture growing under the radar," he says, noting how the Outpost aims to offer what's currently and mostly found in other regions like the Catskill Mountains.
"We're going into a sort of Hinter 2.0. As we've been working on a more residential level, [we ask ourselves] how could we create the future of what we think hospitality could be like with a core focus on sustainability?"
Breaking ground in spring 2024, Hinter's Outpost is projected to open in summer 2025.