Hana Kyō-Kaiseki: Can Aburi Climb Any Further?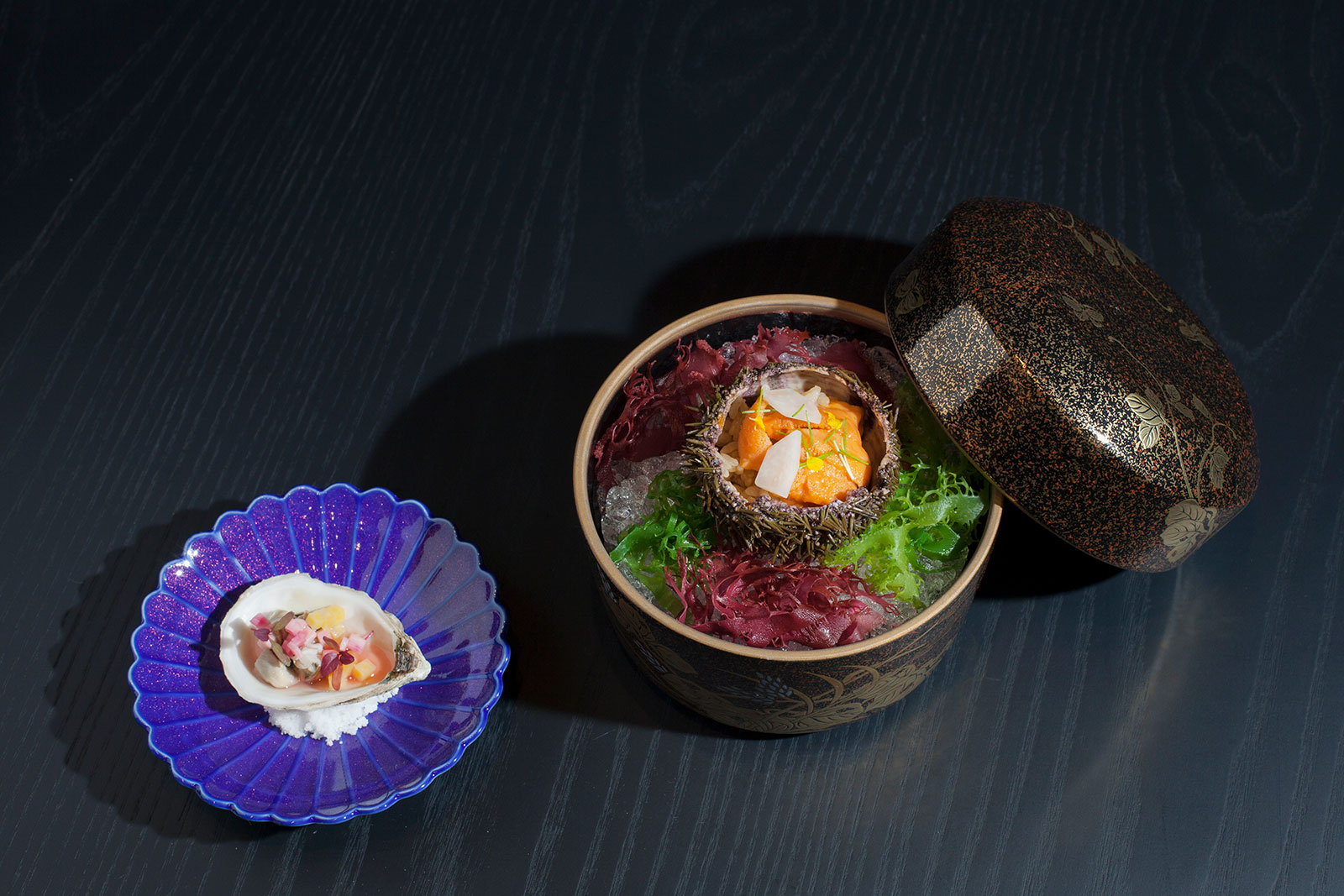 A decade ago, Hana Kyō-Kaiseki would never have worked in Toronto. Located in a subterranean space at a ritzy Yorkville address, the just-opened Japanese restaurant serves modern kyō-kaiseki fare—Kyoto-style cuisine. Over the span of two and a half hours, executive chef Ryusuke Nakagawa hands 15 meticulously prepared courses across the counter to diners. Straddling the line between tradition and innovation, this kaiseki experience is a far cry from your typical omakase meal. But back in 2010, Canadians were only just stretching their palates to accommodate aburi sushi.
Sushi of the flame-seared variety—aburi sushi—came into Toronto's consciousness when Vancouver transplant Miku opened in 2015. Miku immediately struck a chord with increasingly educated diners who were hungry for the new; and yet, when flame-seared sushi debuted in Vancouver five years prior, the embrace was a bit chillier. "When we launched aburi sushi in the market, the initial stage was really tough—people didn't understand," says Kazuya Matsuoka, COO of Aburi Restaurants Canada, the group behind both restaurants. While diners were attached to the concept of traditional sushi, the company M.O. has always been to push the limits. Slowly, slowly, interest in this Vancouver-made take on sushi blossomed, eventually hopping across the country to Toronto.
Kaiseki haute cuisine dates back centuries in Japan and now sits at the tippy top of the culinary mountain. Originating as part of a traditional tea ceremony, the meal has evolved from a relatively simple set of dishes to the elaborate multi-course experience it is today. Always on the hunt for the next restaurant concept, the Aburi restaurant folks met master chef Nakagawa in Kyoto and realized he was doing more to push Japanese cuisine than they were. Chef Nakagawa had received his kyō-kaiseki tutelage courtesy of two masters of Kyoto-style cuisine: Kotani Akihiro, and three Michelin-starred Kikunoi's Yoshihiro Murata. "In Japan, the young Japanese traditional chefs stick with the traditional cuisine," Matsuoka says. "Chef Nakagawa did—but now he's pushing himself to create the next Japanese cuisine." Nakagawa was lured to Canada with the promise of heading up Aburi Hana's kitchen, an innovative space that would never be found in Kyoto. "Without chef, this restaurant wouldn't be possible," Matsuoka says.
The Aburi Hana experience begins with a piece of sushi, which kaiseki traditionalists would recognize as a step away from the expected. Nakagawa serves a mound of rice cradled by a slice of tangerine-hued o-toro—the fattiest and most succulent part of the tuna—that's been marinated in dashi shoyu sauce. The night unfolds from there. It's worth noting that much of the seafood is Ocean Wise certified.
Dictated by nature, a traditional kaiseki meal is meant to embrace extreme seasonality. At Aburi Hana, Nakagawa riffs on tradition, stacking the flavours of Kyoto between those closer to home. The freshest Hokkaido uni is presented in two parts. Patrons open a painted ceramic box to uncover the flame-coloured sea urchin peering out from its spiky home. To the side, a Lucky Lime oyster from P.E.I. is dolled up with tri-coloured beets. Nakagawa advises us to slurp back some urchin first, and then scoop the oyster's contents into the urchin's shell, yielding a brand-new dish.
A plate or two later, Nova Scotian lobster appears, tenderly transformed into tempura sat on some tofu-skin sheets, spooned with soy milk sauce, and sprinkled with mushroom powder for an indulgent symphony of flavours and texture. Later, wagyu appears twice—once torched—and o-toro makes a reappearance, this time in a temaki roll alongside a mound of Beluga caviar.
But of all the fussy and fancy dishes  Nakagawa serves, he's most proud of his dashi stock. "Dashi is the most important element of kaiseki," Nakagawa says. A major building block of Japanese cuisine, dashi broth is responsible for adding that essential umami flavour to all sorts of dishes—creating the base for soups, flavouring rice, takoyaki. Nakagawa notes that most chefs tinker with their dashi for 10 years, striving for perfection; he took five to nail his. Flavoured with clams and tuna, chef adapted his dashi broth to the local palate after much research, noting that Canadians require a more robust flavour profile due to the prevalence of meat in our diet. At Aburi Hana, the dashi hides away in everything from the chawanmushi to the tempura batter on the lobster.
All the details beyond the food have been oh-so-carefully attended to. The tranquil space designed by Vancouver's Ste. Marie Design is dotted with ikebana floral arrangements, imperfectly perfect works of art that would cause lovers of symmetrical 12-rose-bouquets to blush. Arita plateware has been not only imported from Japan but also handpainted specifically for Aburi Hana. Some ceramics feature artful fish pictorials; others come finished in glitter. While the chef's counter lets diners ogle as the their dishes are prepared, a series of private dining rooms are also available for parties of up to eight.
The two-and-a-half-hour meal winds down on a refreshing note. Sous chef Aiko Uchigoshi, who deserted her popular post at Miku to join Aburi Hana, is responsible for the desserts. "I tried to infuse more Japanese ingredients into my French dessert technique," Uchigoshi says of her elegant bavarois. Centered on silken tofu, the bavarois is topped with sake foam, yuzu cream, and pomelo for citrus, with rosemary crumble adding notes of pine to the dish.
At Aburi Hana, chef Nakagawa takes diners on a magical culinary journey, blending the flavours of Kyoto with those of Canada, delivering authenticity while painting outside the borders of tradition.
________
Never miss a story. Sign up for NUVO's weekly newsletter here.