Carlo Rinomato's Glass House Inspired the Design of His Luxurious Chalets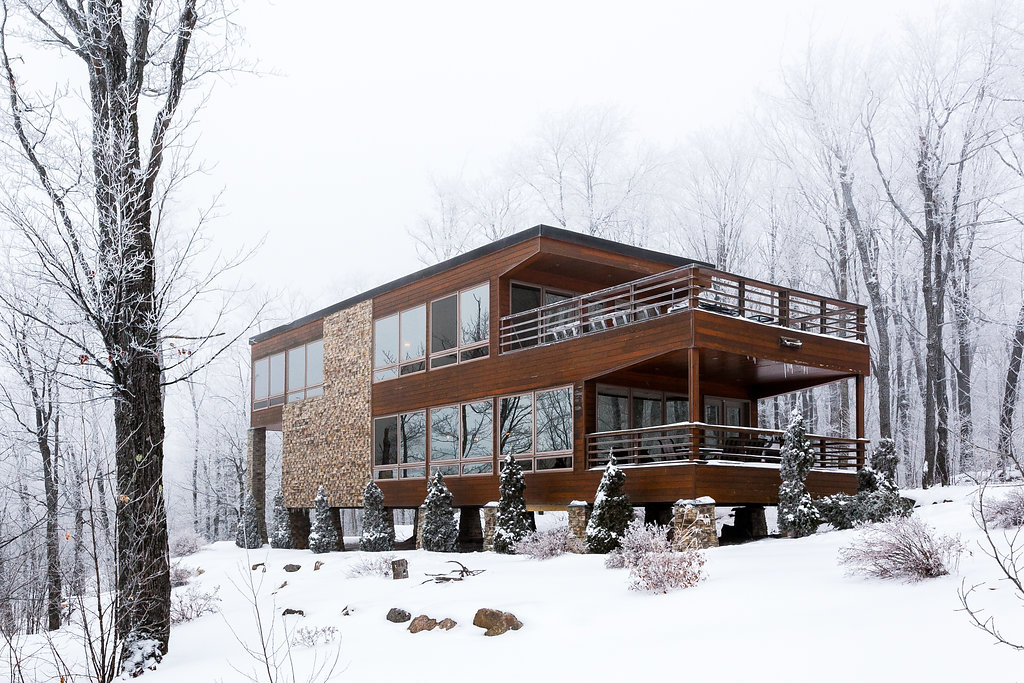 "I was driving throughout the Laurentians planning on doing some backcountry skiing, when I drove up this mountain," Carlo Rinomato recalls. "I couldn't believe the view—it was the most breathtaking landscape I had ever seen in my life. That same day I bought it."
An impulsive purchase? Not to those who know Rinomato, president of the Carlo Rinomato Made in Italy brand. His love for nature means buying a mountain was a question of when, not why.
For 25 years, Rinomato has looked for ways to make each project a work of art. As a child, he spent time at his grandparents' home overlooking the Adriatic. Living in Italy, you couldn't help but develop a love of nature and recognize that art was as central to living as breathing, he says. "I started to see things differently, and it piqued my imagination. Italy brought me a sense of passion, and it made me understand and appreciate all the little things in life," he explains. "My designs are pure passion. It's not just a design. It's how do I feel when I walk into the space? What am I seeing? It's the feeling I create."
Rinomato carefully curates his vision, leaving nothing to chance. And when his design nestles into the landscape, the connection becomes clear. "As far as I'm concerned, people and nature are one full circle. We have to live in harmony."
In the Laurentian Mountains, Rinomato is literally on top of the world at the top of Mont Blanc. His home helped spur his newest project, building luxury chalets on one-acre lots at the top of the mountain overlooking Lac-Supérieur on Mont Tremblant's north side.
"I started this project with the intent of giving people something different," Rinomato says. "That doesn't mean building cookie-cutter chalets. Instead, I wanted to give these homeowners an experience."
Influenced by the midcentury designs of architects like Frank Lloyd Wright and Pierre Koenig, and industrial designers Ray and Charles Eames, Rinomato says, "These houses are inspired by an international style of modernism, and it suits this location perfectly."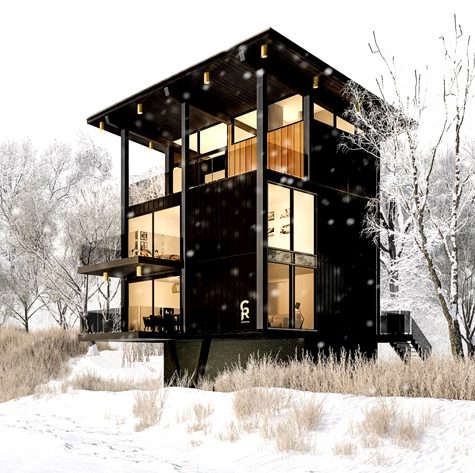 His own glass house was a point of inspiration. Imagine two rectangular structures stacked one on top of the other in such a way that the upper one makes a cross as it connects to the bottom one. The overhang on top is perfectly poised as decks. So now you're 20 feet in the air, with nature as your backdrop.
The new homes will be composed of steel and wood. Interiors will exhibit clean, simple lines with exotic- wood floors and Douglas fir planks on the ceiling. Floor-to- ceiling bronze glass window will soar 10 feet from ground level. Homeowners can embrace minimalist living as they take in the breathtaking views curated by Rinomato. He wanted every view in his glass house, from the bedrooms to the living room, to frame nature. "It truly is a paradise for all seasons," Rinomato says.