The Mid-century Dome Rises in Popularity for Destination Travel
Luxury retreats bubble to the surface.
Camping (or lately, glamping) has long connected travellers with remote destinations, but another solution, the geodesic dome, is popping up to push boundaries even further. But the design behind these domes is nothing new.
The hemispherical dwellings, like bubbles with a triangulated framework, were the brainchild of Buckminster Fuller, the architect and environmentalist behind the Biosphere's globe-like frame in Montreal. They were designed as a self-sufficient home long before the concept was dubbed smart, prized for their eco-friendly construction (they require minimal material), overall efficiency (their cornerless interiors ensure continuous ambient airflow), and most importantly, relatively easy construction (perfect for out-of-reach places).
Every decade or so, geodesic domes resurface in residential and commercial developments. But lately, experiential hoteliers hoping to bring high-design, low-impact architecture into untapped destinations have found a new home for the dome. Here's where it's heading.
Dômes Charlevoix, Quebec
At the doorstep of Charlevoix, Dômes Charlevoix occupies a forested hillside in Petite-Rivière-Saint-François with three luxurious domes.
Designed by Quebec's Bourgeois/Lechasseur, the domes embrace the seasons, whether blanketed in snow or enveloped in foliage. They are oriented toward the changing scenery and surrounded by spacious decks complete with outdoor hot tubs (not to mention WiFi), while views of a nearby river are never out of sight, and guests can soak in nature without stepping on its toes. Inside, each cantilevered dome includes a clean-lined kitchenette, heated concrete floors, a wood-burning stove, and an interior bathroom complete with a rainfall shower.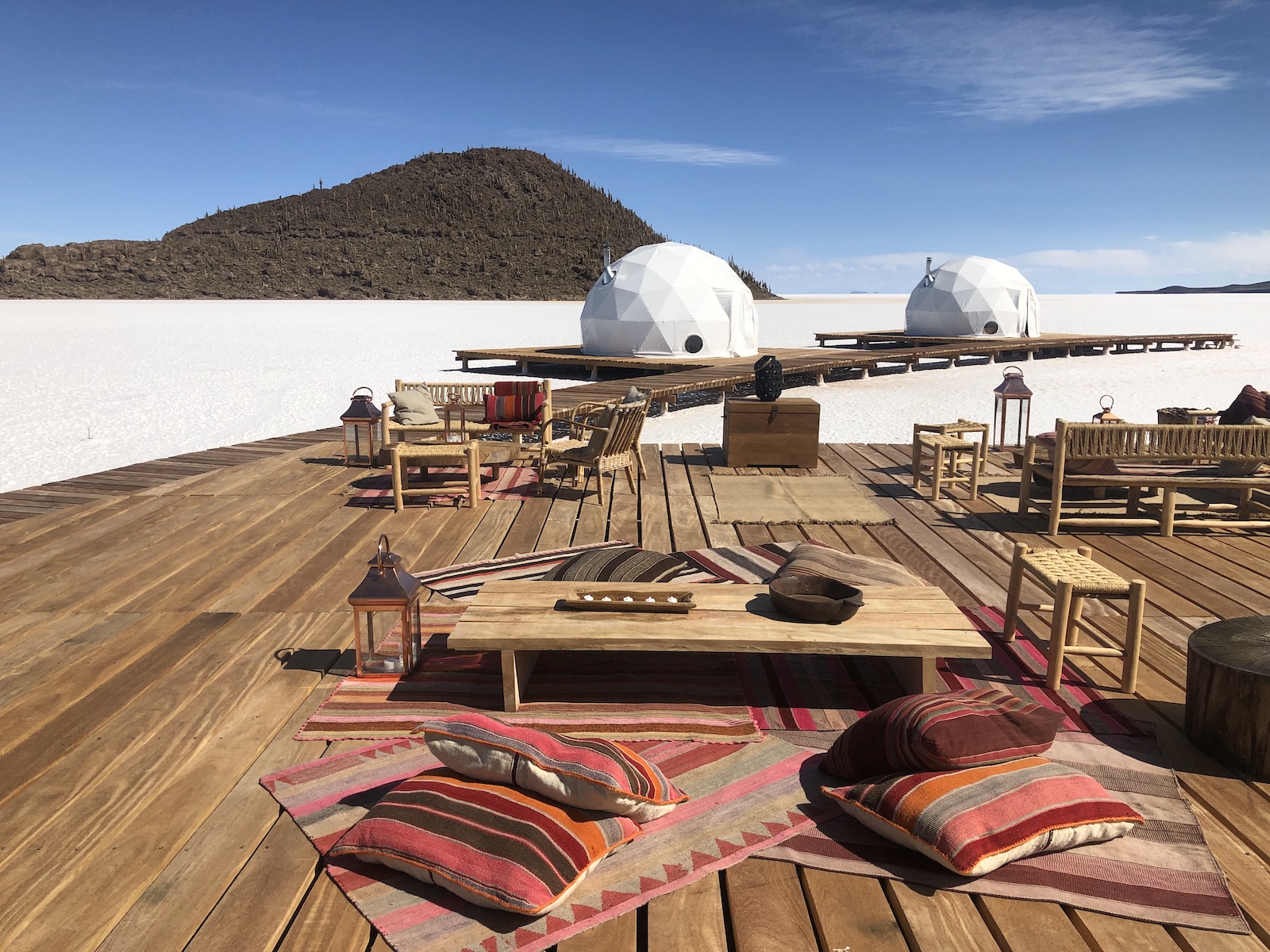 Kachi Lodge, Bolivia
In the midst of Bolivia's Salar de Uyuni, Kachi Lodge looks like a lunar landing: six domed suites rest on the world's largest salt flat, a terrain so level that it's used by NASA to calibrate distance measurement technology for satellites.
These domes are part of the first luxury experience to open directly on the flat. Their interiors are by Swiss decorators Marina Cardis and Marine Luginbühl, who include local craftsmanship in the design, such as vibrant paintings by Bolivia's Gastón Ugalde, handwoven blankets that mix llama and alpaca wool, tables made from Bolivian wood, and lamps crafted out of reclaimed cactus wood (a nod to the cactus island adjacent to the camp). At 3,660 metres above sea level, however, the main attraction is up in the air: over the bed, a transparent window frames some of the best stargazing in the Southern Hemisphere.
Whitepod, Switzerland
The Swiss Alps aren't exactly untapped, but Whitepod, among the first contemporary hotel concepts to tap Fuller's Earth-friendly vision, brings a fresh perspective to the geodesic dome.
Here, 18 pods, pocketed within the canton of Valais, perch at an altitude of nearly 1,400 metres and capture crisp views of the Dents du Midi mountain range. And while each pod is equipped with cozy amenities (pellet stoves, large wooden terraces), the brand-new Zen pod suite ups the ante, blending fluid architecture with Japanese minimalism. Designed by Santa Monica-based Montalba Architects, the suite pops with natural elements—curved wooden walls, a Furo soaking tub—to create a transformative experience connected with the surroundings.
________
Never miss a story. Sign up for NUVO's weekly newsletter here.