First Look: The Myriad in Kentucky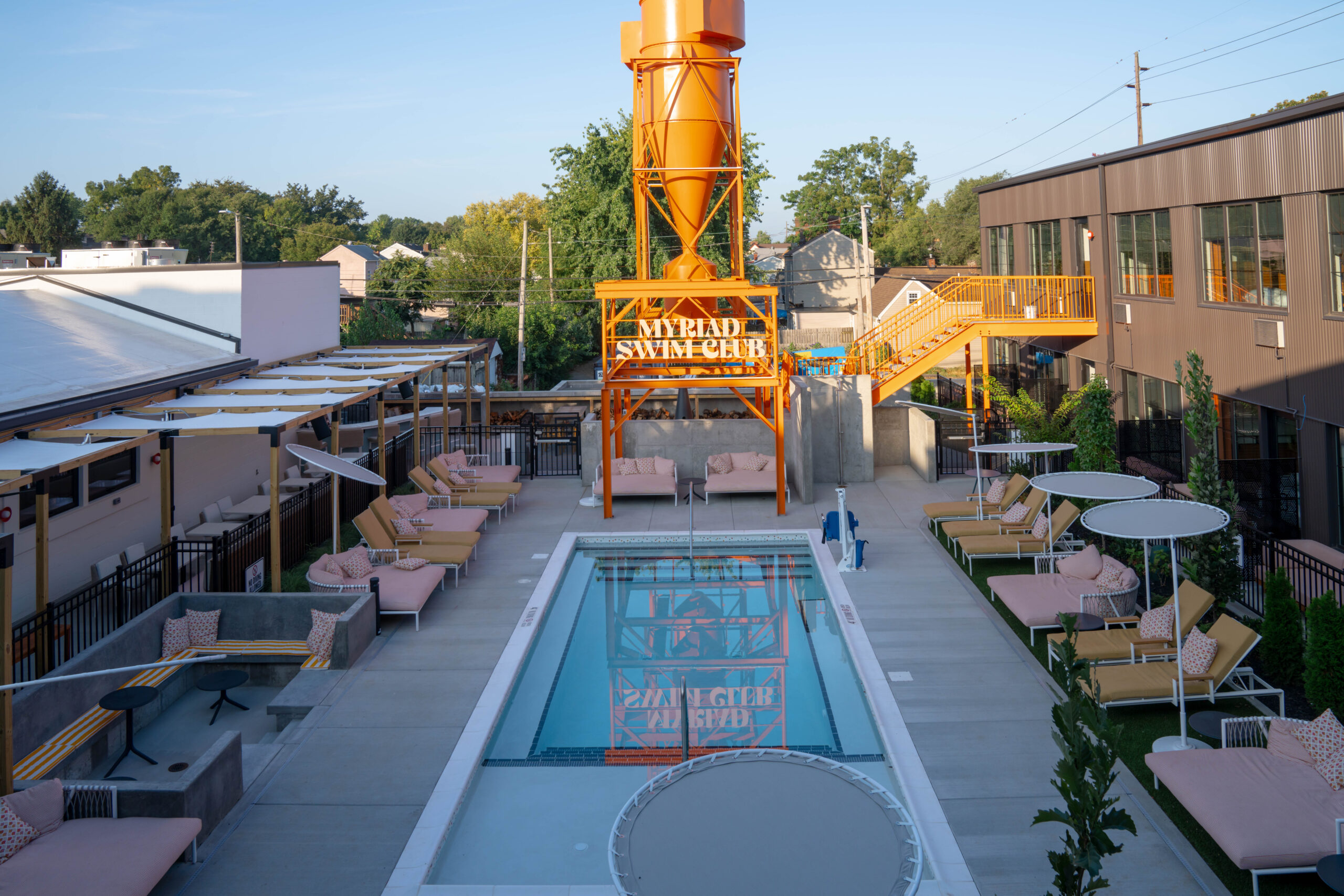 Home to Louisville's restaurant row, artsy boutiques, and nightlife, the Highlands neighbourhood has a new boutique accommodation: The Myriad, the latest addition to the Kentucky-based Common Bond Hotels Collection. Created within a former disco ball factory, this 65-room hotel features an eclectic mix of vintage-inspired, industrial, and contemporary style with a historic red-brick exterior.
Designed by New York's WORKac alongside Ashlyn Ackerman, head of design for development partner Weyland Ventures in Louisville, the Myriad features 15 room options to accommodate a range of guests from multigen groups to duos wanting a getaway to explore the charms of this southern city.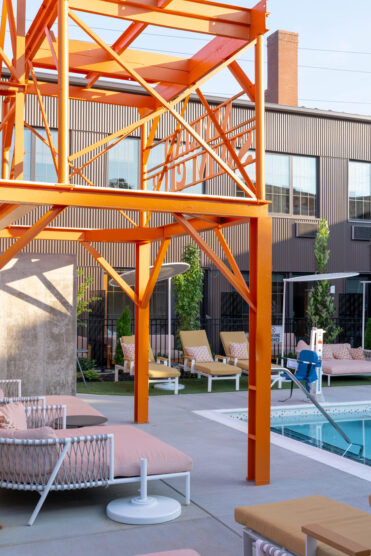 The lobby features disco balls and a gallery of local art by Kentucky artists, as well as laid-back seating with white and yellow tables. Rooms channel an industrial vibe with exposed pipes, painted cement-block walls, polished concrete floors, and sleek built-in casegoods, including the bed's headboard, wardrobe, and bathroom storage, paired with matte black lighting and handles.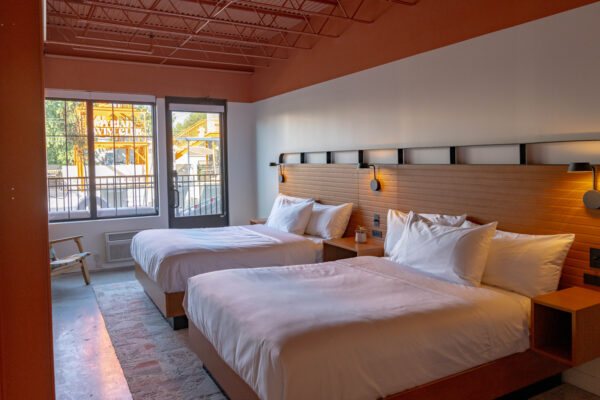 There are three colour schemes: pink/coral rooms, which face the Myriad Swim Club; blue rooms, which are in the former telephone company offices, and green rooms, in the former disco ball factory area. Amenities include a minifridge, a custom orange pill-shaped mirror from Spacia Group, and Fellow bath products. King suites feature a solarium with colourful woven lounge chairs and the playful wallpaper Tattoo Flash O1, created by tattoo artist Liam Sparkes for Feathr. Other Kentucky touches in the minibar include Woodford Reserve whisky and craft bourbon cocktails from PonyboySlings.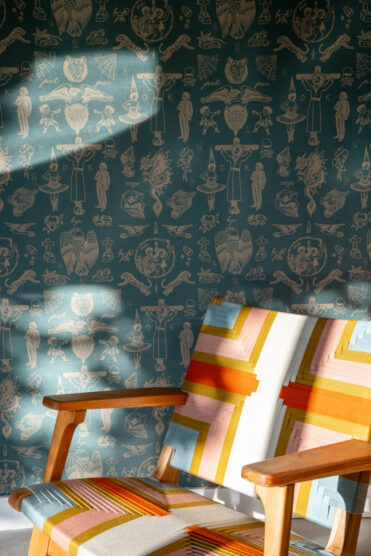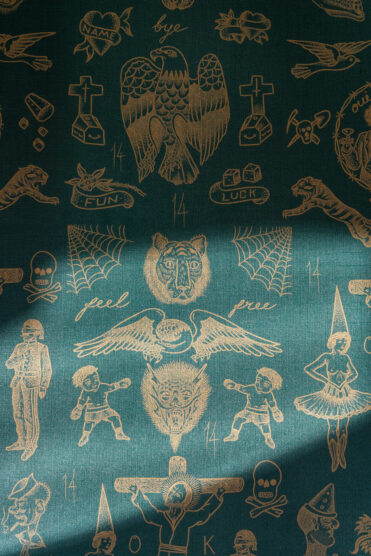 The Myriad Swim Club is at the heart of the hotel, with pink and coral poolside daybeds and chaise lounges and circular sun shades. The relaxed seating areas are idyllic for a dose of vitamin D and at night transform into a lounge with pink outdoor couches. The fire pit offers another area for gathering. Day passes can be purchased for nonguests to access the swim club.
Switchboard is the hotel's café, the on-site source for coffee and small bites, located in the former telephone company offices. In the evening, it's a casual cocktail bar, where one can perch on custom orange-fringed chairs beneath light strands.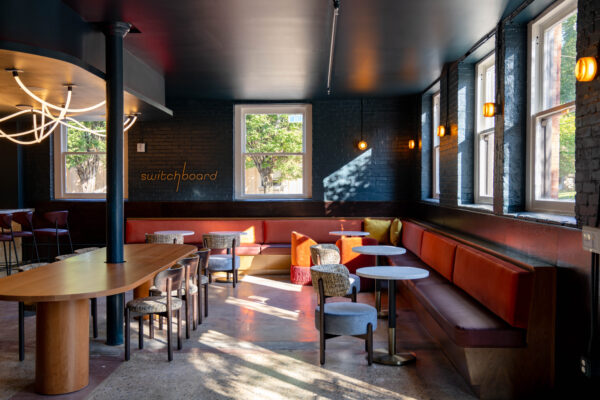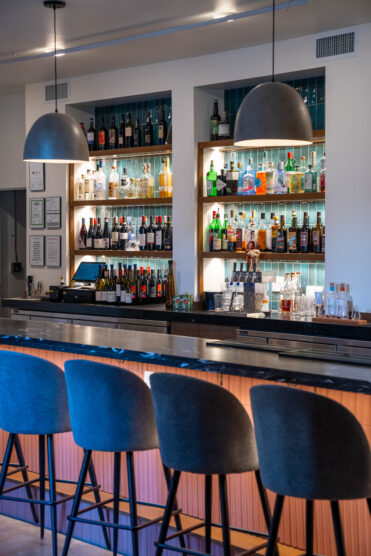 Executive chef Jeremy Frederiksen also oversees Paseo, with a dinner menu inspired by southern European cuisine, regional ingredients, and wood-fired techniques. Diners will sit among a plethora of tropical plants and chairs. For guests, Myriad's Bar Keep is a retail space that offers distinctive bar accessories and a private event space for up to 32 people.