First Look: Le Château Réal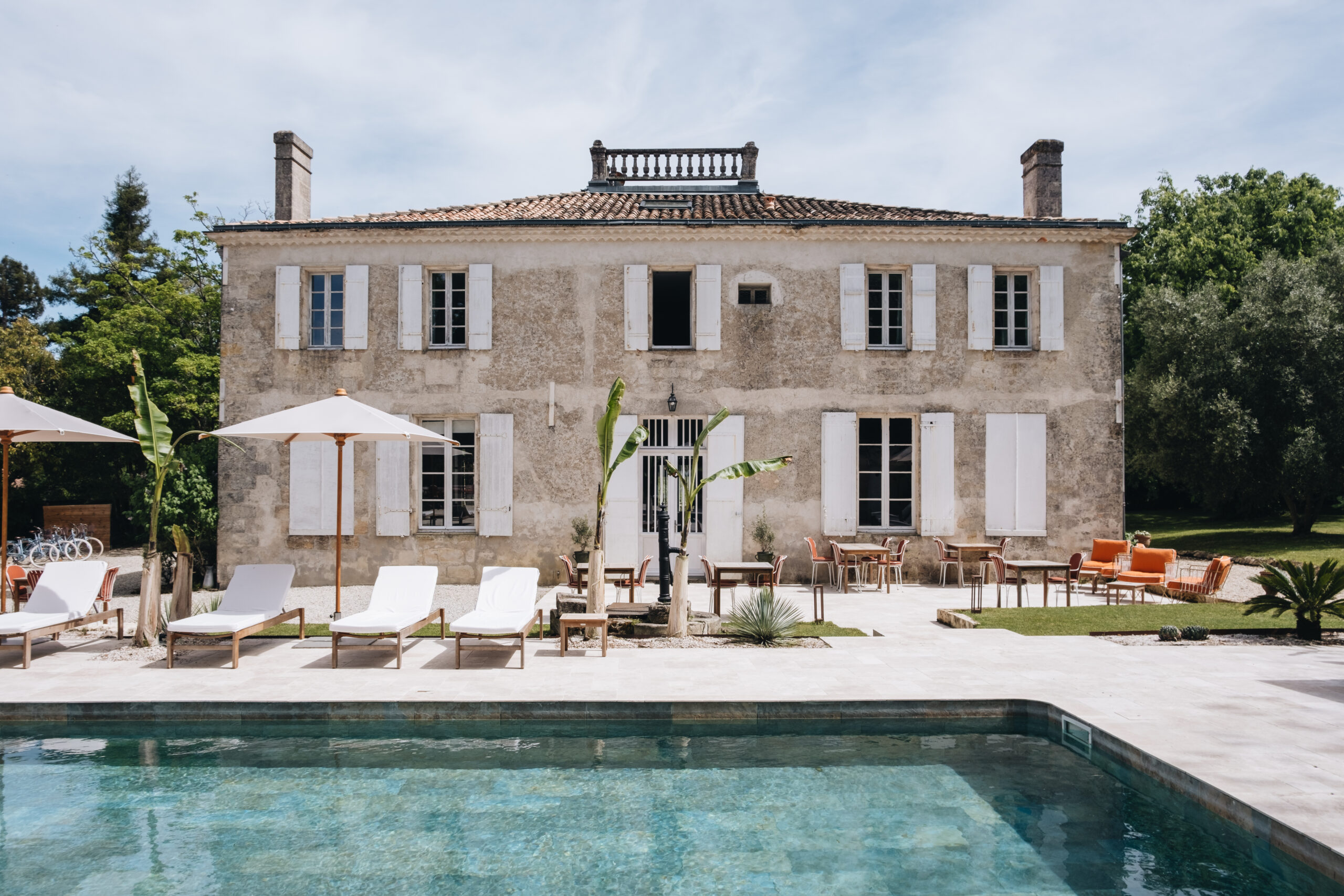 On Bordeaux's wine route, a historic residence has been transformed into a relaxing haven with a panoramic view of its vineyards and the Gironde Estuary: Le Château Réal.
Owners Kelly and Elian Travaini have spent the past three years meticulously enhancing this 19th-century building, overseeing every detail, including small ones such as "Réal" and "R" embroidered on château linens in gold thread, a nod to the original owner. Guests will find several options for accommodation, whether for a solo road trip or a multigen family getaway (and can benefit from using the wicker totes provided for excursions or renting bicycles to explore the neighbouring vineyards).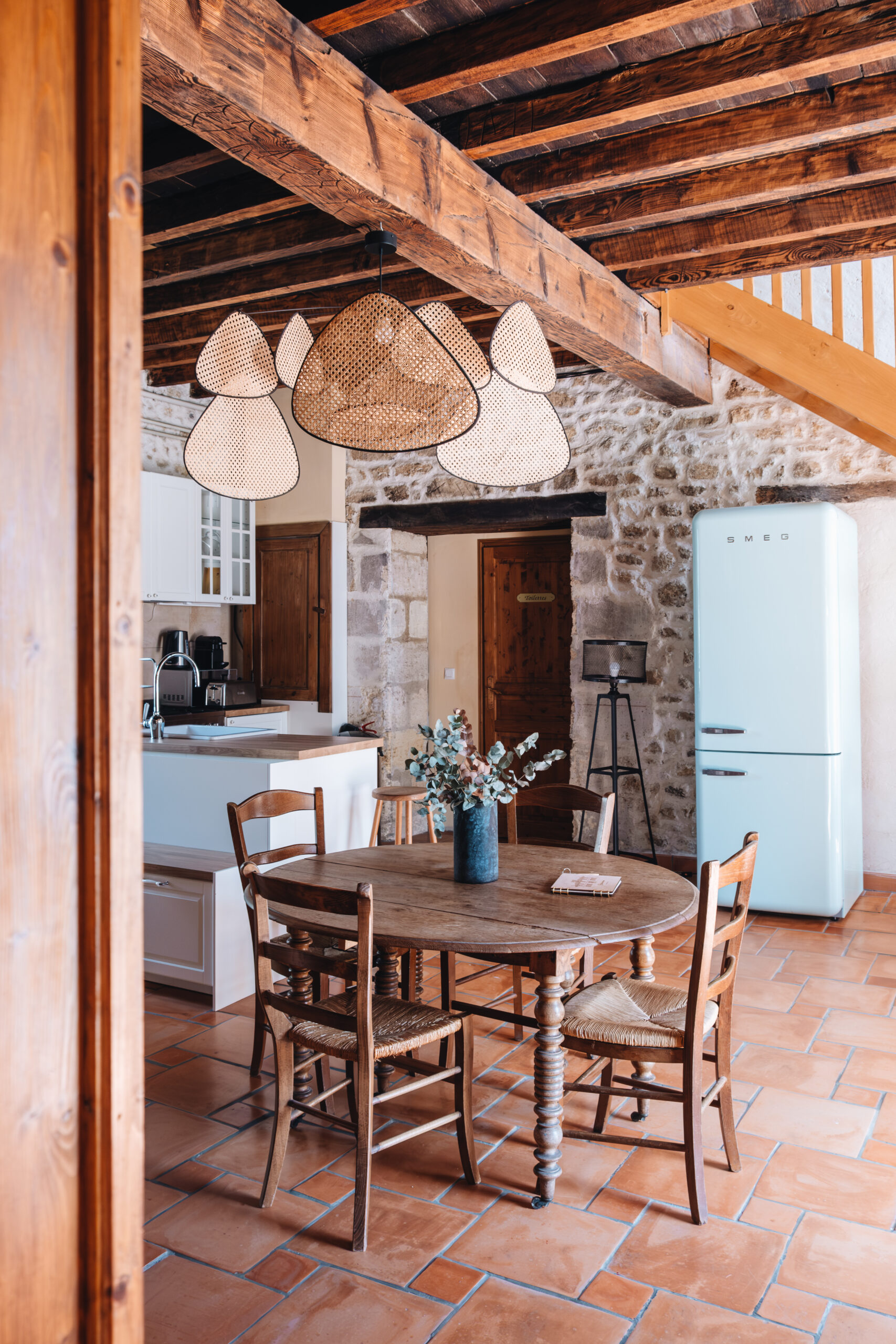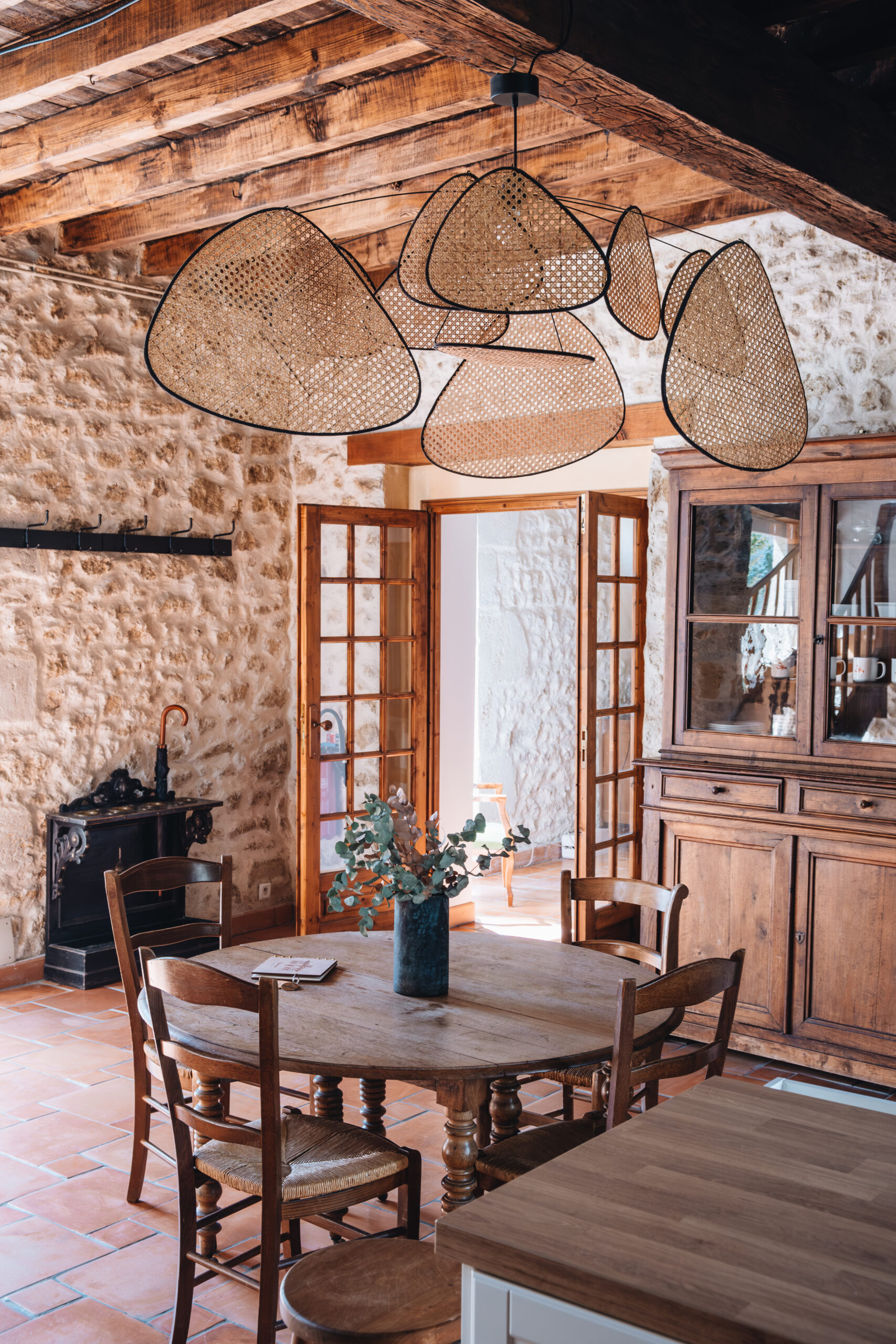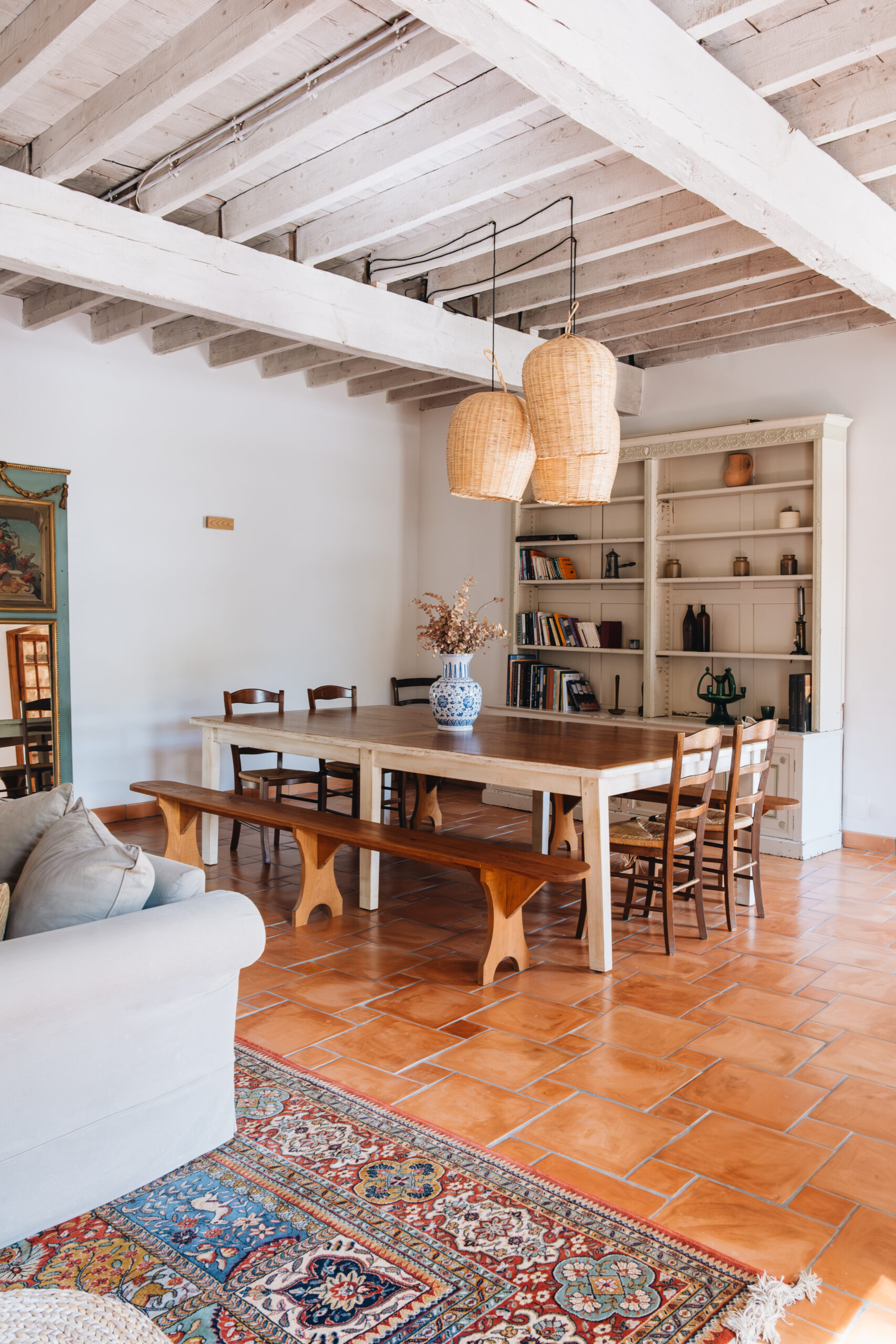 La Dépendance du Château Réal is a two-storey stone cottage celebrating farmhouse chic. The interior is a calming palette of white and natural hues, with exposed stone walls and wood beams, and populated with vintage wood furniture, rattan pendant lighting, antique decor items and a few patterned rugs on tile floors.
The main floor includes a kitchen, living/dining room, and bathroom, while the spacious upper floor has two bedrooms with queen and twin beds, a mezzanine with two single beds, and three baths. Upper-floor windows with Juliet balconies allow natural light and gentle breezes.
The mansion's entry features original Gironde floor tiles in cream and terra cotta. The breakfast room's oversized windows illuminate the custom-painted ceiling, café chairs, herringbone oak floor, and one of the château's six original marble fireplaces. There's a royal blue sofa with two chairs for lounging, illuminated by an oversized raffia-and-gold ceiling light, and circular rope-and-iron wall lights.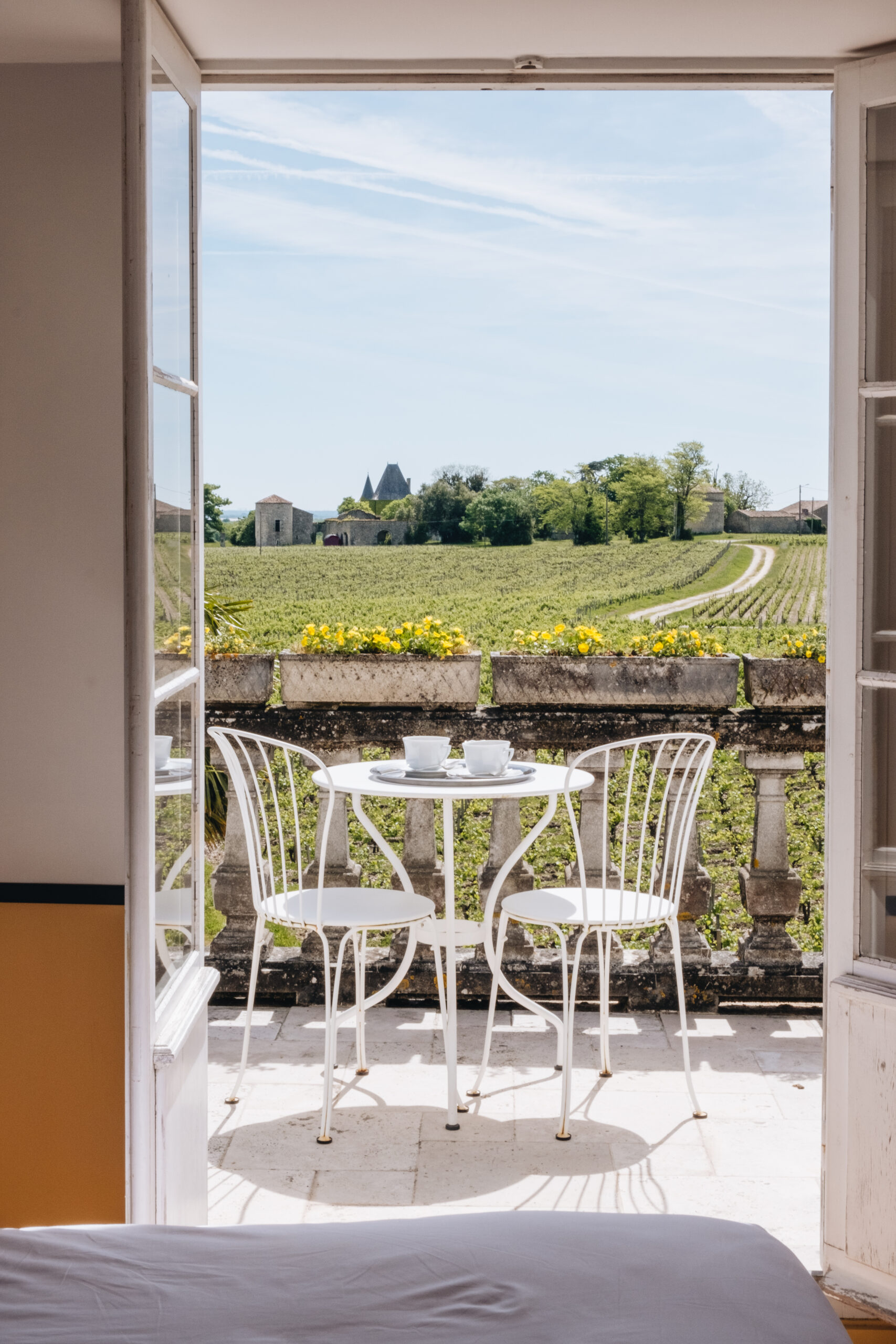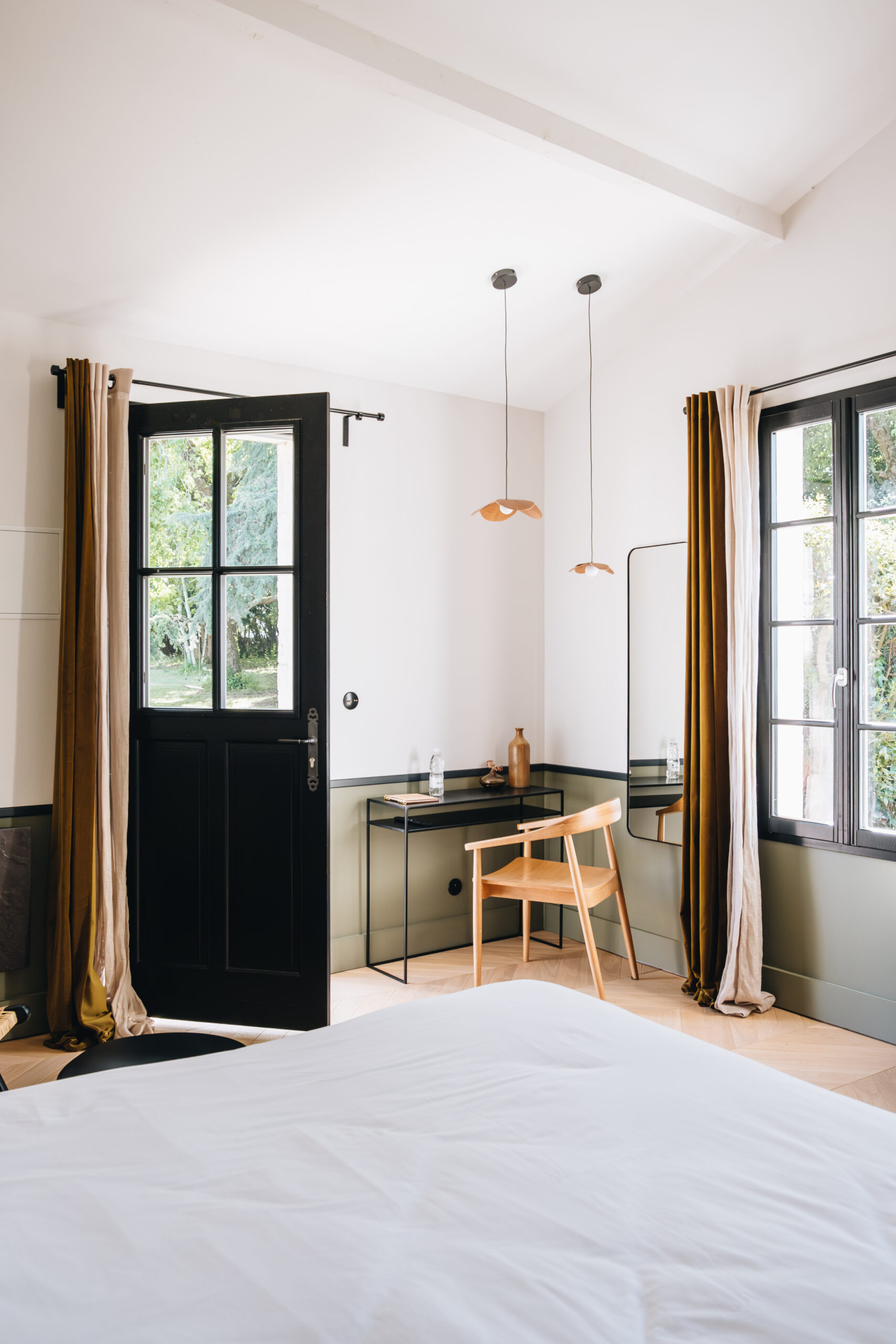 The five suites include king beds, walk-in closets, lounge areas, large bathrooms with locally sourced organic toiletries, distinctive wallpaper headboards, and daily breakfast. The natural-wood staircase with black railings painted leads upstairs to the Mr. Réal Suite, named for the first owner of the manoir. As well as a private terrace overlooking the vines, guests can enjoy the spacious bathroom with oversized tub, glass brick allowing natural light, and a spacious bedroom and lounging area, with Mauritius, a palm tree–patterned wallpaper in black and white from Pierre Frey, behind the bed.
The Ms. Tronquoy Suite is the former master bedroom. Decorated in white, black, and shades of orange, it includes a marble fireplace, herringbone-tiled marble shower, a pair of marble sinks, and a free-standing tub. The wallpaper is Ithaque by Nobilis, a modern take on traditional toile de Jouy, showing mythical creatures in the sea.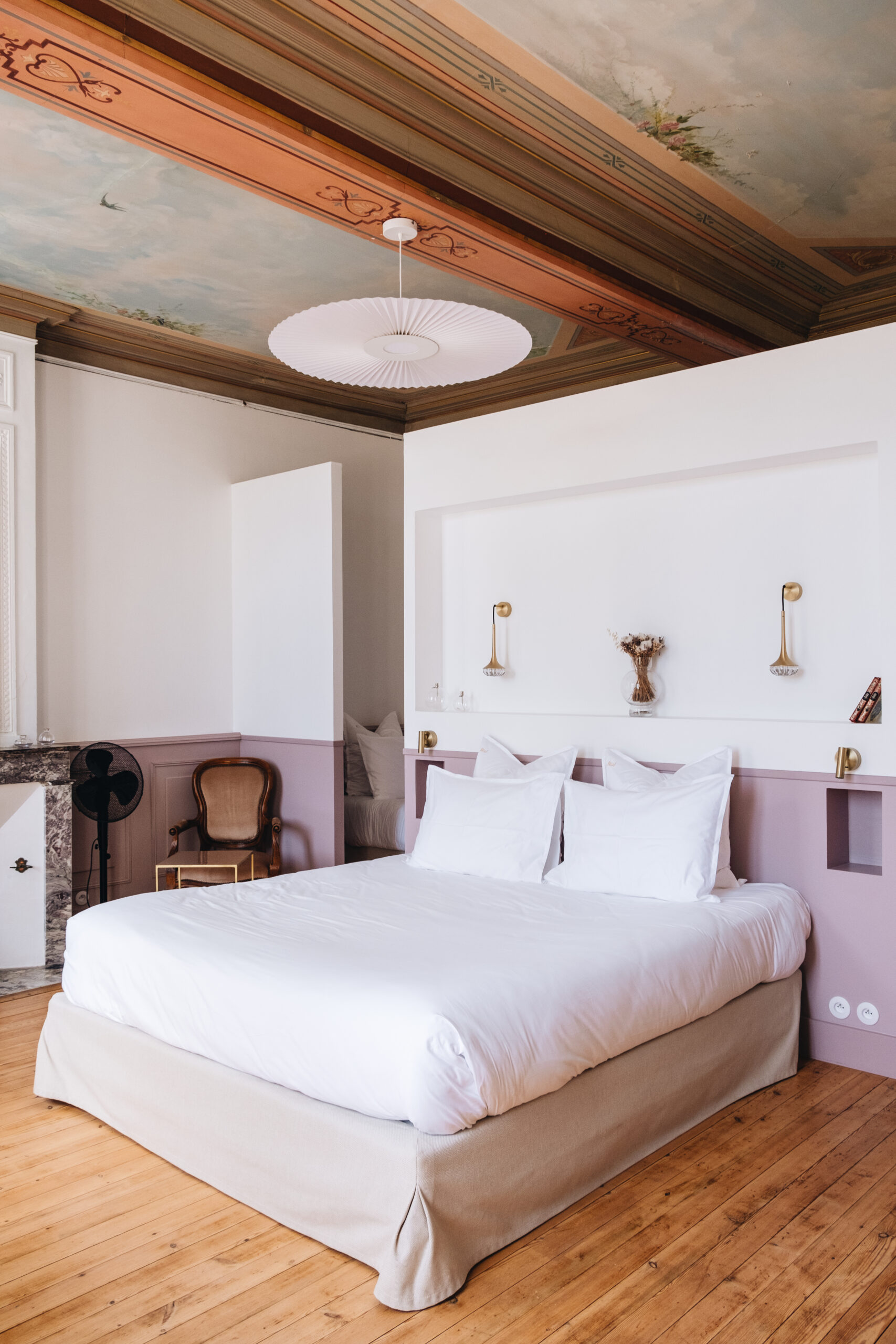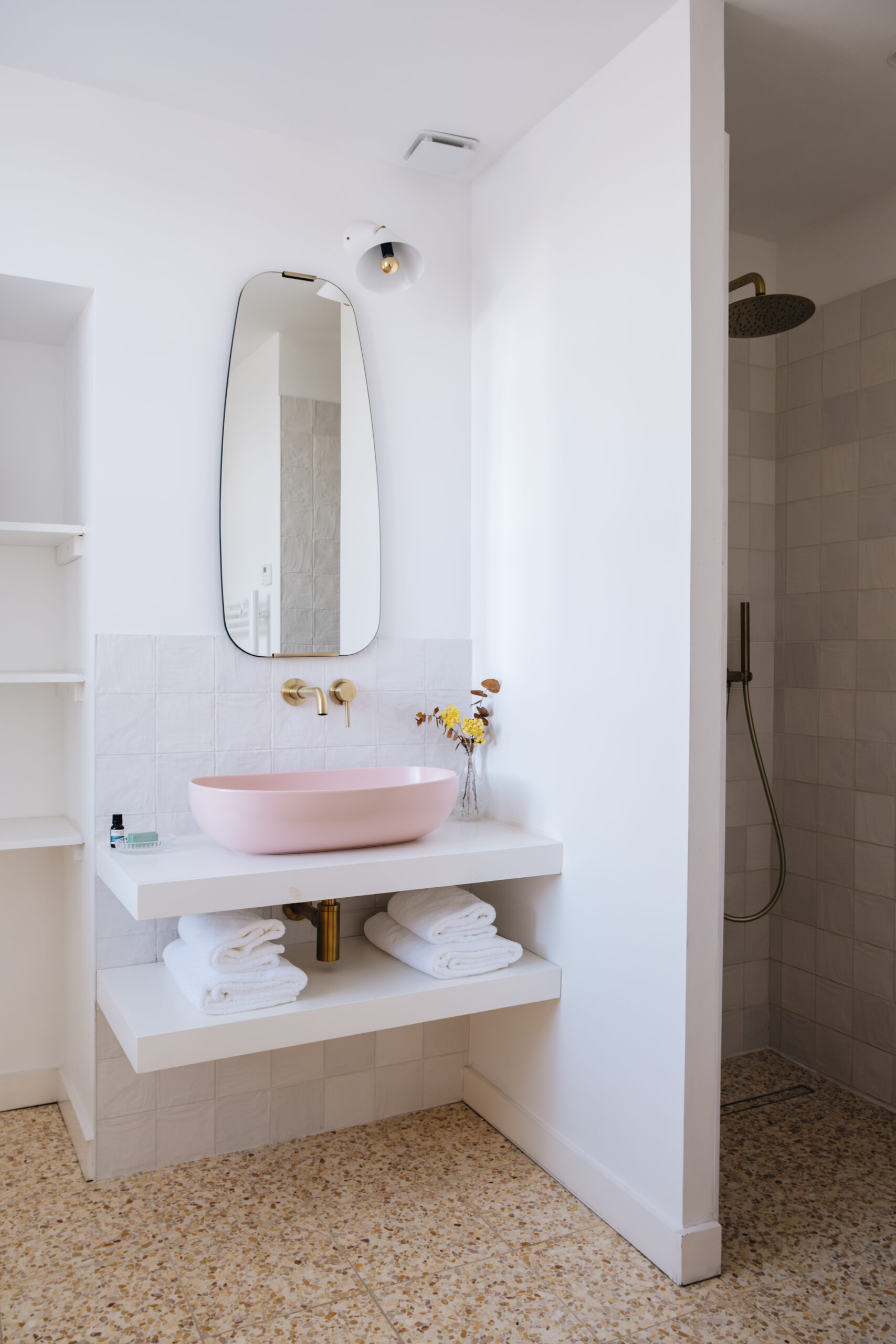 The Sunset Room is adorned in shades of pink with black and white: a pale-pink sink and the pink painted on the lower half of the wall. Welcoming the sunset nightly, the wallpaper, Brazilia by Nobilis, depicts palm groves.
The Pyla Room embraces natural textures, a grey-blue tone on the walls, black-framed headboard, and another eye-catching wallpaper: Arnaud from Mues Design. There is a pair of black Cairo sconces designed by Studio Mullan above the bed and a couple of soft-grey chairs for relaxing.
The Family Suite can easily welcome four people. Decorated in lavender, black, white, and brass, it includes two elegant sconces above the bed designed by Émilie Cathelineau for CVL and a brass-framed mirror above the fireplace.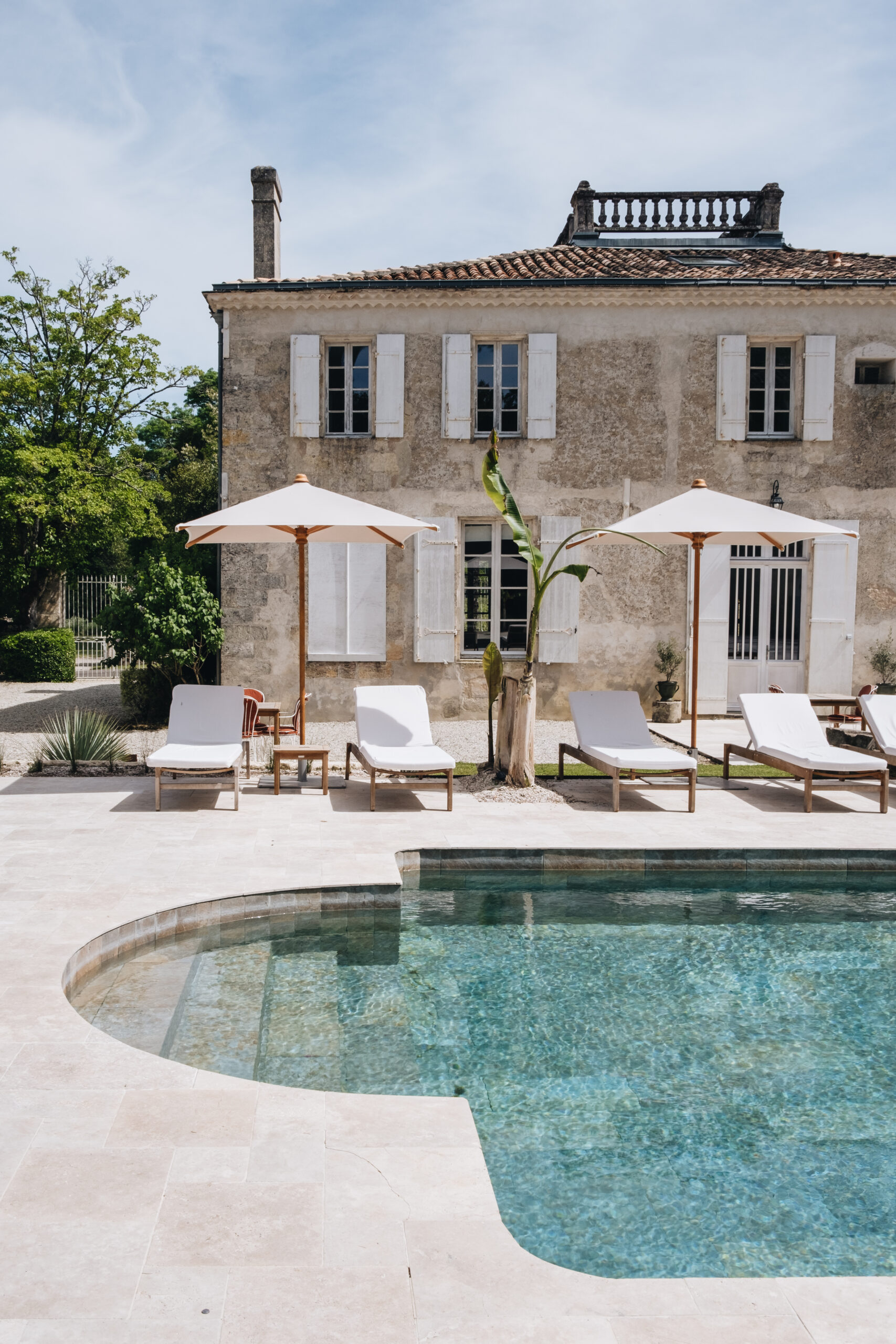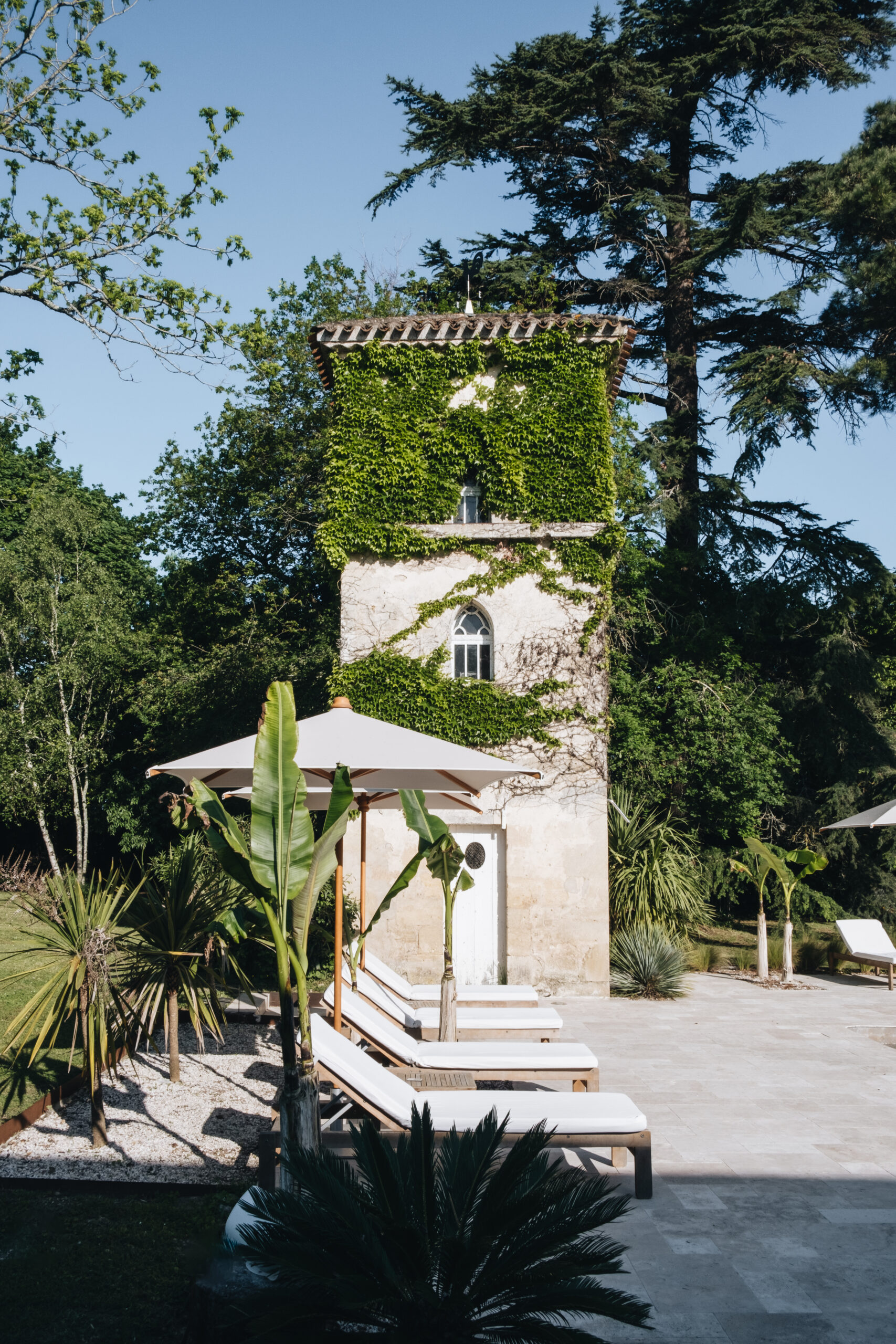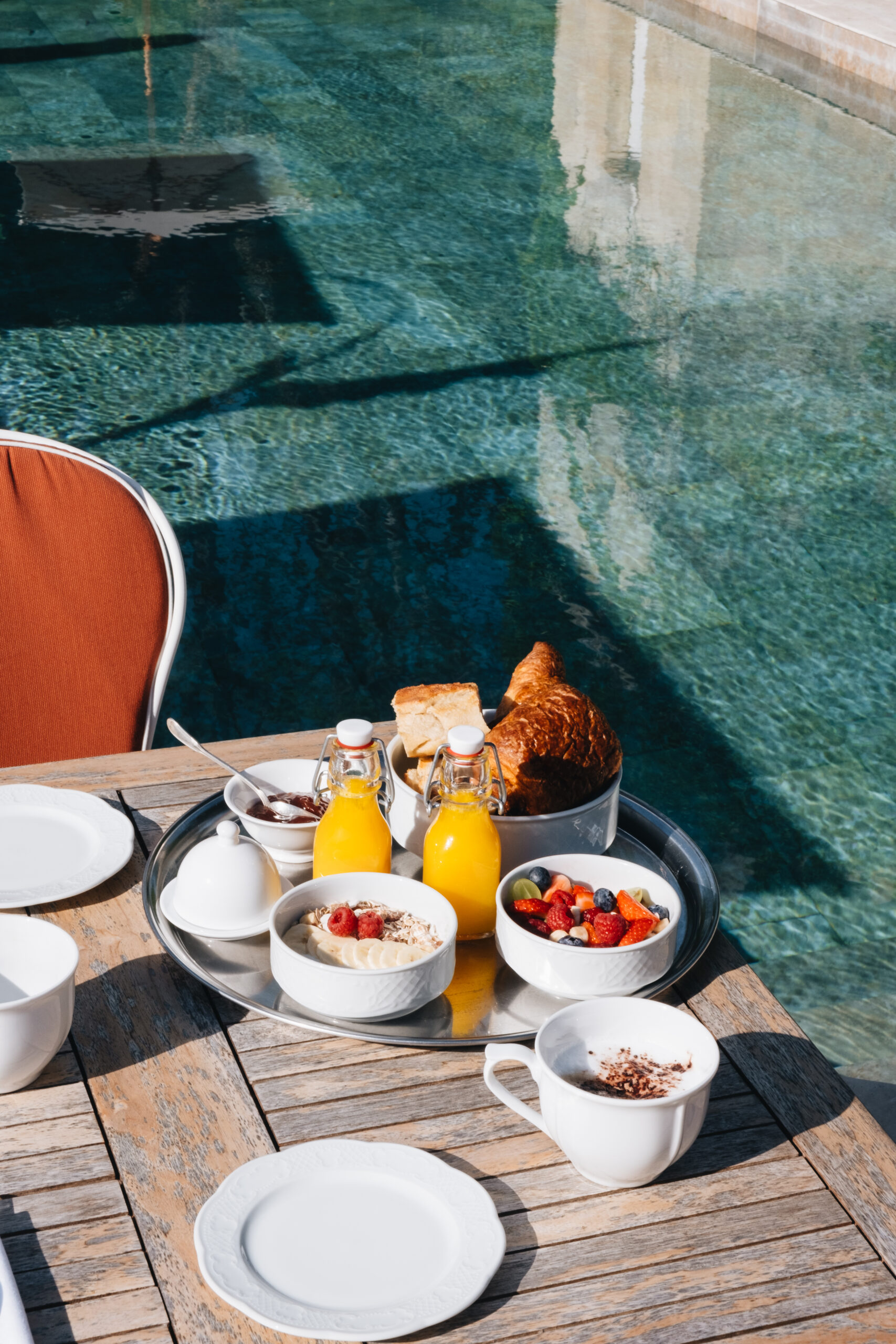 This summer, Château Réal has added a new option, the Montalivet Room, an outbuilding on the mansion grounds with a private terrace and beside a 100-year-old pine tree. Featuring Fairy Tale Castle wallpaper by Rebel Walls behind the king bed and loden green on the lower walls, the room will inspire putting pen to paper at the contemporary desk.
All guests have access to the stone-lined pool and deck, with lounge chairs, dining areas, and additional seating in the shady garden. And for those who appreciate the decor mix of history, antiques, and modernity, the château owners are to open a design agency next year.

Photography by Charlotte Bron.