Espresso Manhattan From Vancouver's Whiskey Guardian
A decadent twist on a beloved classic.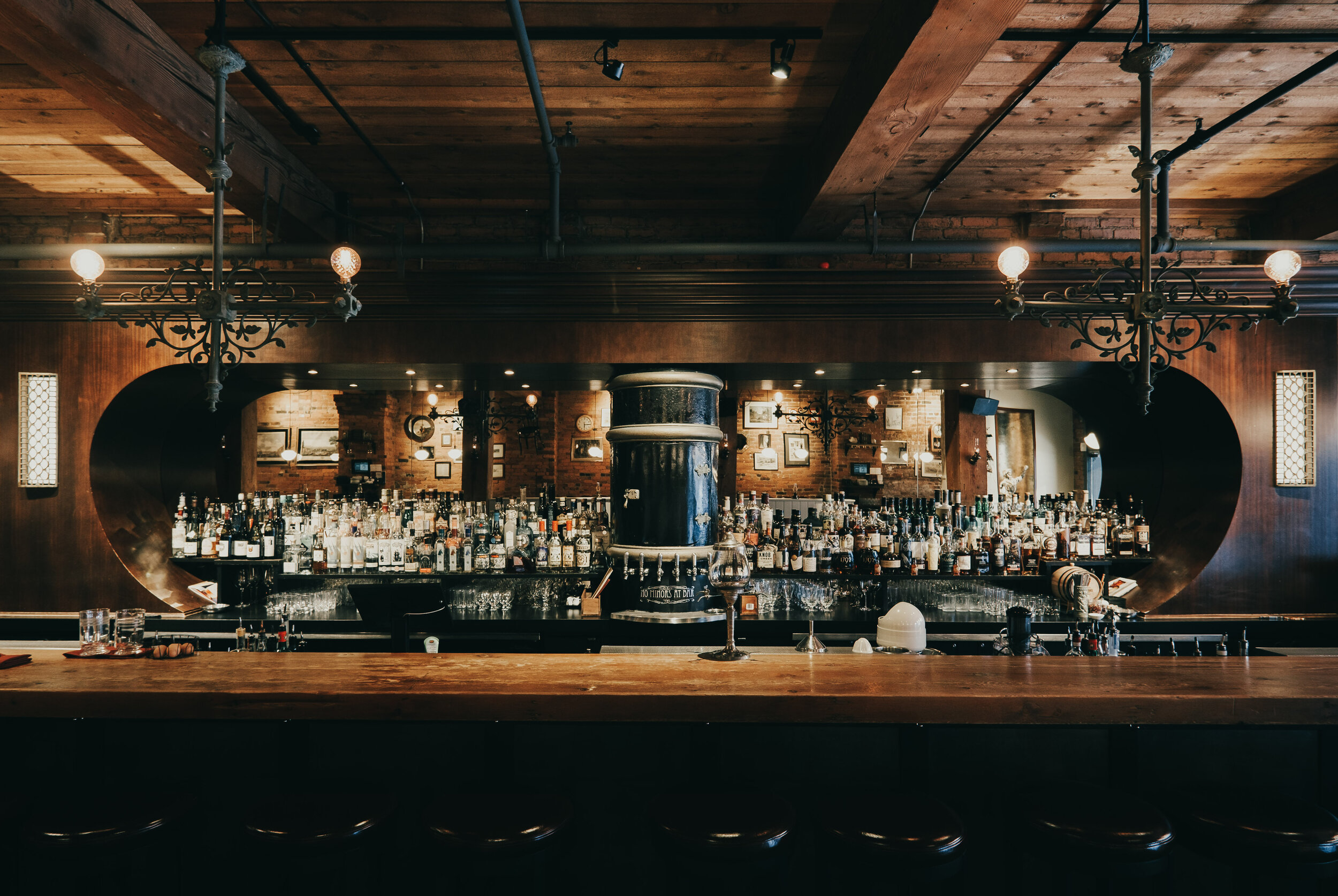 By now, you have surely heard of or indulged in the espresso martini. The mix of coffee and liquor creates a timeless and robust drink perfect for happy hour or as a nightcap. Shockingly, given its popularity, I had yet to come across unique interpretations of the cocktail—until a visit to Vancouver's downtown restaurant and cocktail bar, Pourhouse. In the heart of Gastown, Pourhouse provides guests with a quaint atmosphere that radiates character and charm. The century-old space is decorated with antique furnishings and a 38-foot bar made from 120-year-old reclaimed planks of Douglas fir.
I took my seat at the bar and was greeted by the friendly face of Adam Domet, otherwise known as a "Whiskey Guardian," an expert on all things whisky and a representative for Louisville Distilling's Angel's Envy whisky. We got chatting about Pourhouse's extensive selection of speciality whiskies and handcrafted liquors, Domet educating me on their origin, flavour profile, and ultimately, what makes them so darn good. He then mentioned the espresso Manhattan, and I knew I had to try it. An espresso martini with a twist, the espresso Manhattan is made with Angel's Envy whisky and complemented with chocolate bitters and cherry brandy. The best way to describe the flavour is like a rich chocolate cake: decadent and smooth. I have never had anything like this cocktail so I had to share it with our readers. Domet wrote it out by hand at the bar so you at home can experience this take on a favourite. And of course, you can always visit Domet at Pourhouse for his personalized touch.
Ingredients
For the café de cerise:
100 millilitres cherry brandy
100 millilitres coffee liqueur
100 millilitres ruby port
For the espresso Manhattan:
45 millilitres Angel's Envy Kentucky Straight Bourbon
20 millilitres café de cerise
45 millilitres fresh espresso
10 millilitres simple syrup (1:1 sugar and water)
2 dashes of chocolate bitters
1 teaspoon cocoa powder, for garnish
Method
For the café de cerise:
Combine cherry brandy, coffee liquer, and ruby port.
For the espresso Manhattan:
Add ice to a cocktail shaker.
Add all ingredients except cocoa powder to the cocktail shaker and shake hard for 6 seconds.
Strain into your favourite stemmed cocktail glass.
Garnish with cocoa powder.