Mont-Royal Residence by MU Architecture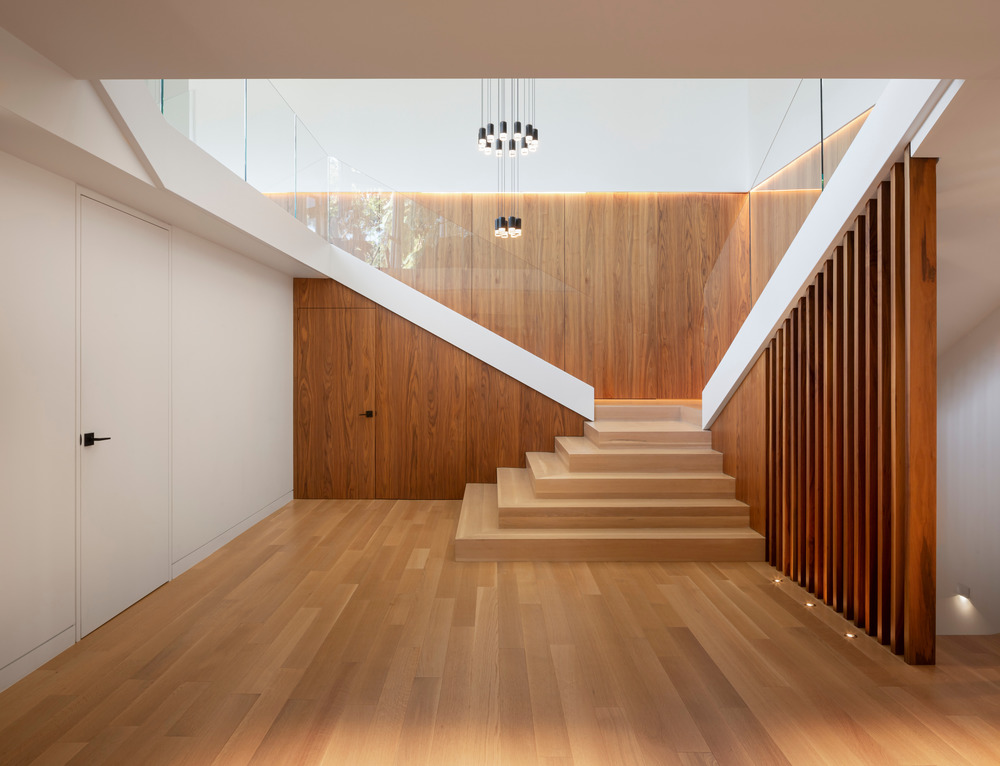 Architect Pierre Cantin originally designed this house at the top of Mont Royal in 1964. Now the residence, which clocks in at nearly 10,000 square feet, has been redesigned by ascendant firm MU Architecture. The result is a richly textured home of wood that animates the layered living spaces.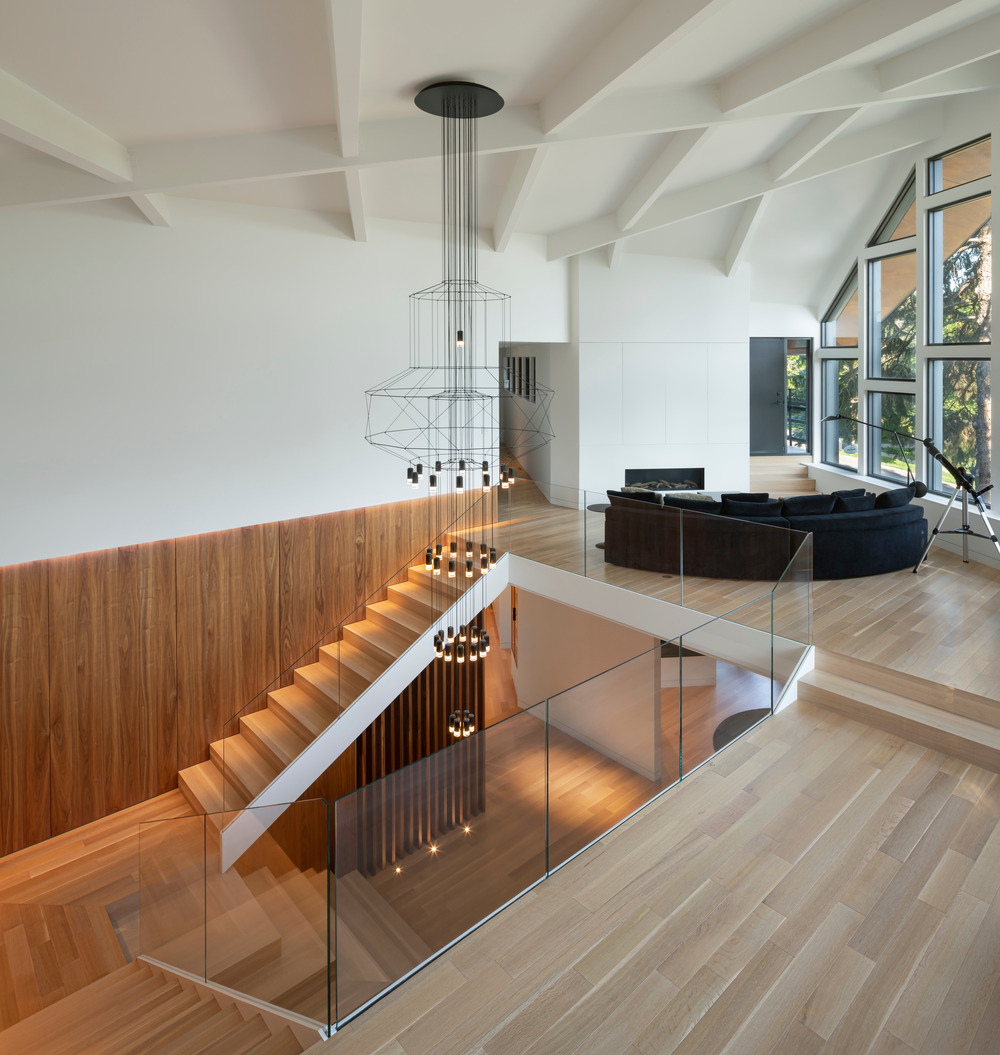 The centrepiece is a large atrium with a mezzanine. A sloped ceiling hatched with painted beams that appear skeletal supports a modern chandelier resembling the sketch of a Gothic space station. Two staircases with glass railings cascade to meet at the corner, framing the volume, which is lined with intricate walnut panelling, a material that continues throughout.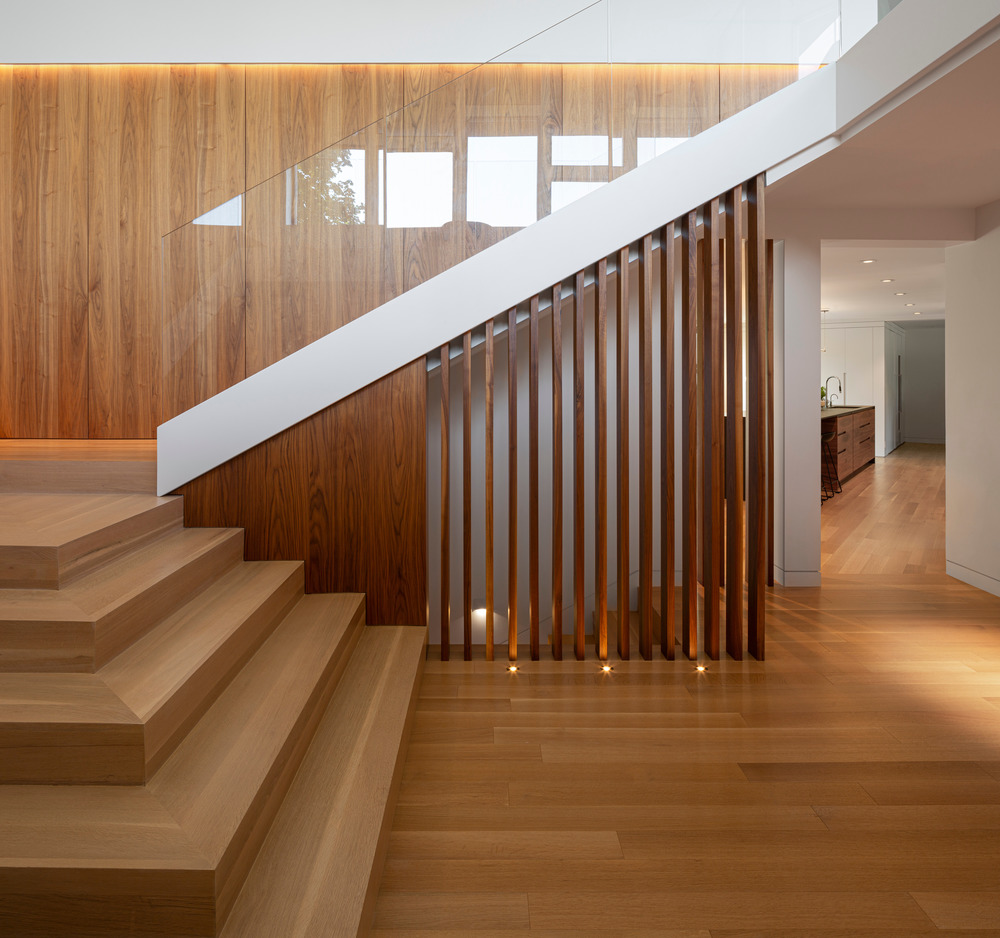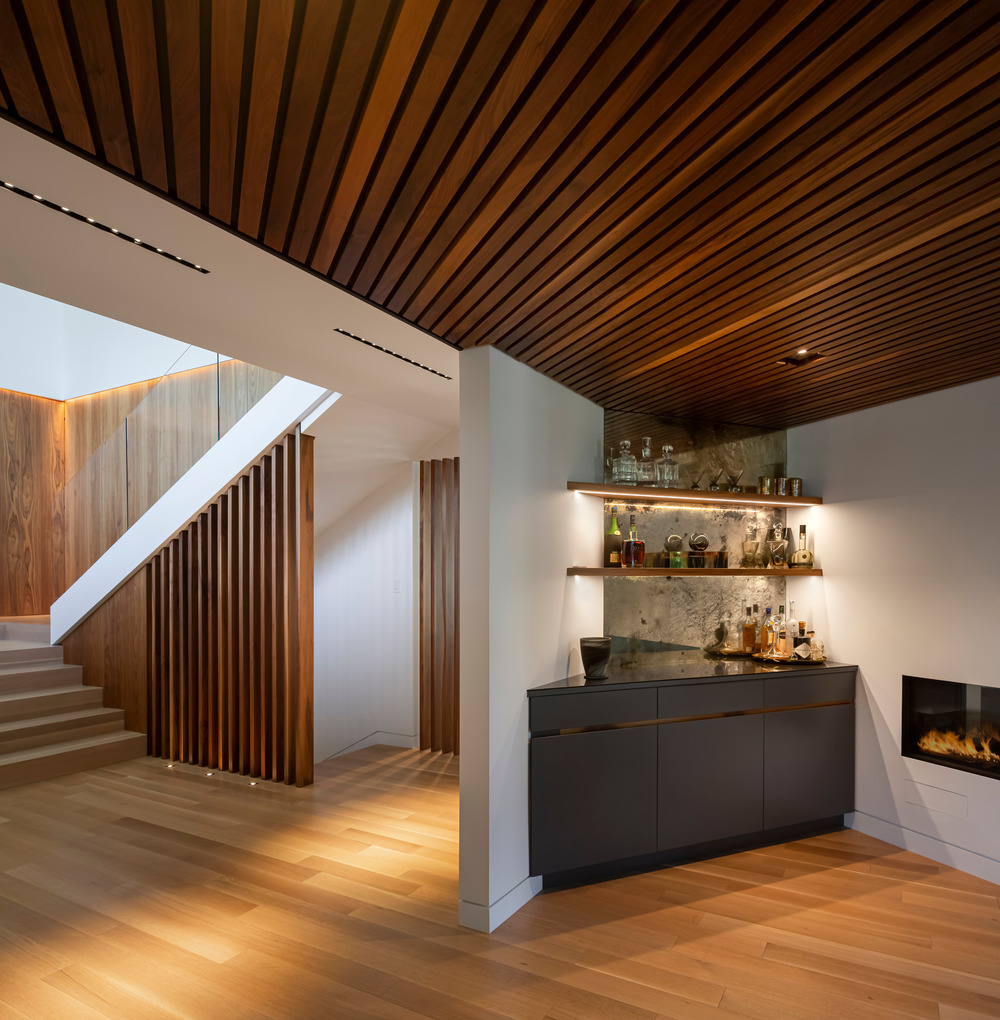 On the mezzanine itself, a lounge area with a fireplace includes a triangular wall of stacked windows providing views of Montreal. A hidden TV keeps the home minimal yet full of amenities, a nod to the technological sophistication of the original construction, which was an early example of a state-of-the-art heating in Montreal. This level also has a large playroom and three bedrooms for the children of the young family who commissioned the renovation. On the middle landing of the stairs, a large panel hides the door to the master apartment, which includes a bedroom, a walk-in closet, and a fully glazed master bathroom overlooking the courtyard.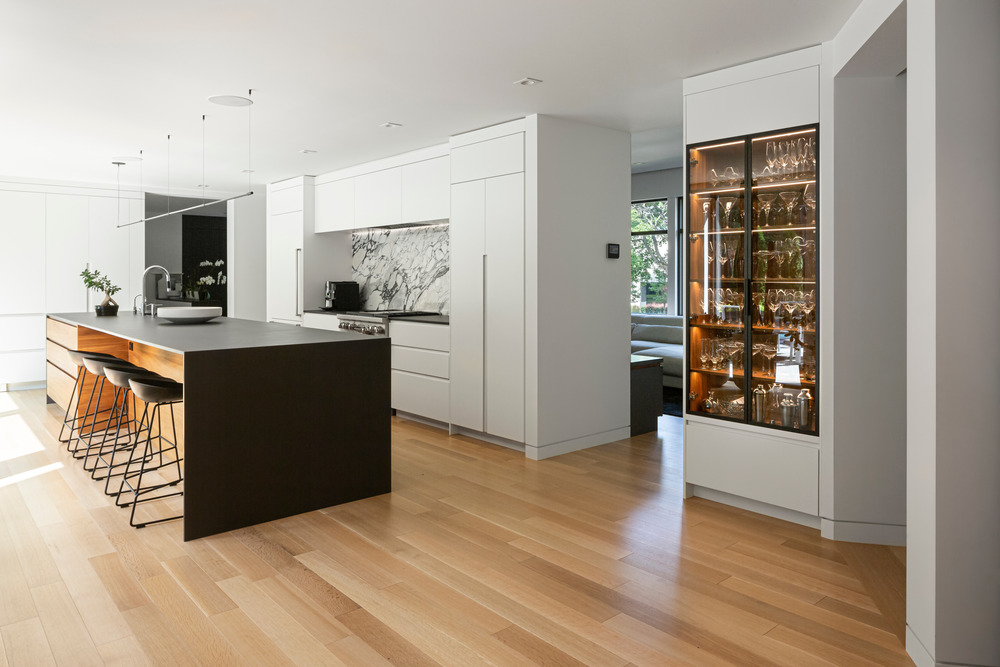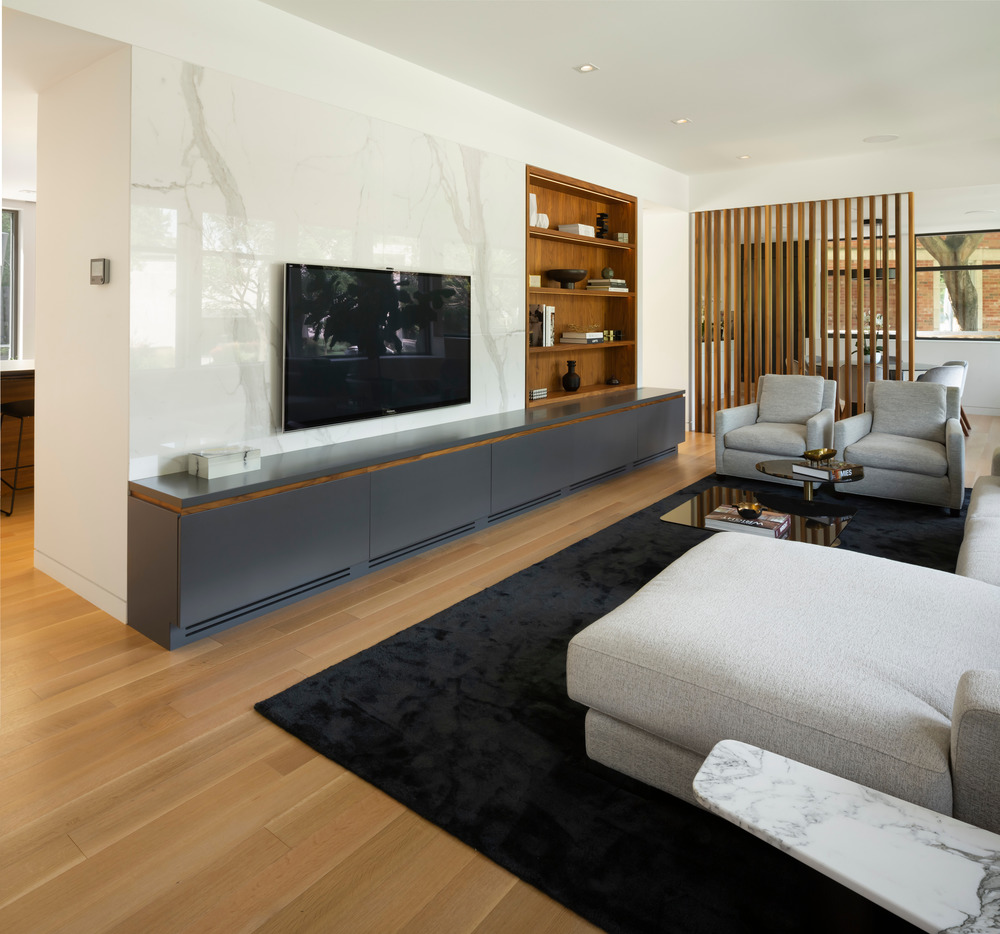 The design was carried out under the guidance of the City of Montreal heritage council so the spirit of the original midcentury modern home would not be lost. Primarily, the redesign opened up the spaces and lightened the 26 rooms.
The mezzanine leads down to a bar area next to the living room, which, along with the kitchen, is lined with windows and looks out onto a landscaped courtyard with a swimming pool. The kitchen and living room are separated by a tasteful modular partition, and simple white walls replace the walnut of the bar area and mezzanine. A small dinette leads to a private balcony overlooking the street.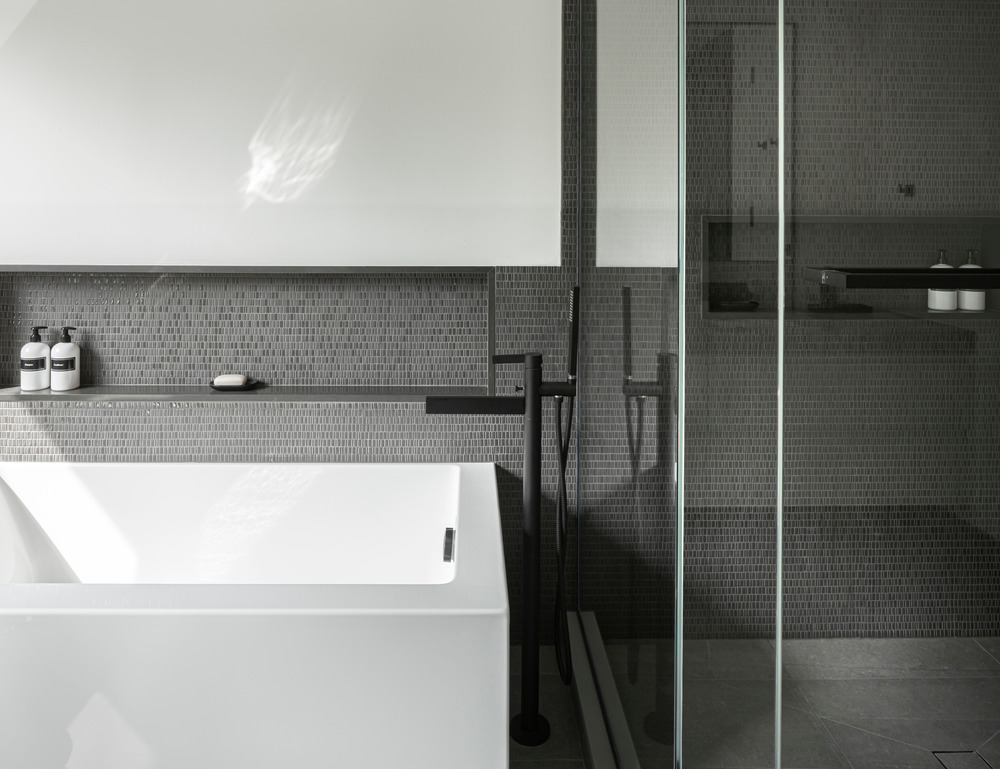 The complicated simplicity of the interior means endless fascination and privacy along with the openness of the atrium mezzanine, the linear kitchen, and the glazing that allows views of the city and ample outdoor spaces. From the centre, the home seems to branch out: the varying flows of wood panelling create rich juxtapositions with each other and with the white walls and ceilings. The contrasts make the moments of relaxation and peace even more pronounced.
Photography by Stéphane Groleau
—
Part of our Home of the Week series. Read more HERE.