Design Space: Giorgia by Studio Kiki
A jewel box of funky maximalism.
A jewel box of funky maximalism, Giorgia Trattoria Italiana doesn't take itself too seriously, staying focused on bringing a dose of Italy to Munich since its opening last summer. For Studio Kiki, the in-house creative team of ascendant restaurant group Big Mamma, the goal for the group's first foray into the German market was to transport diners to a perfect day in 1980s Milan. And indeed, the cozy restaurant is a world of its own. The colourful retro floral pattern adorning walls, banquettes, curtains, chairs, and stools is inspired by the fabric used in the '70s and '80s by Italian fashion houses, with oversized crimson flowers, smaller blue, yellow, and pink blossoms, and swirling greenery.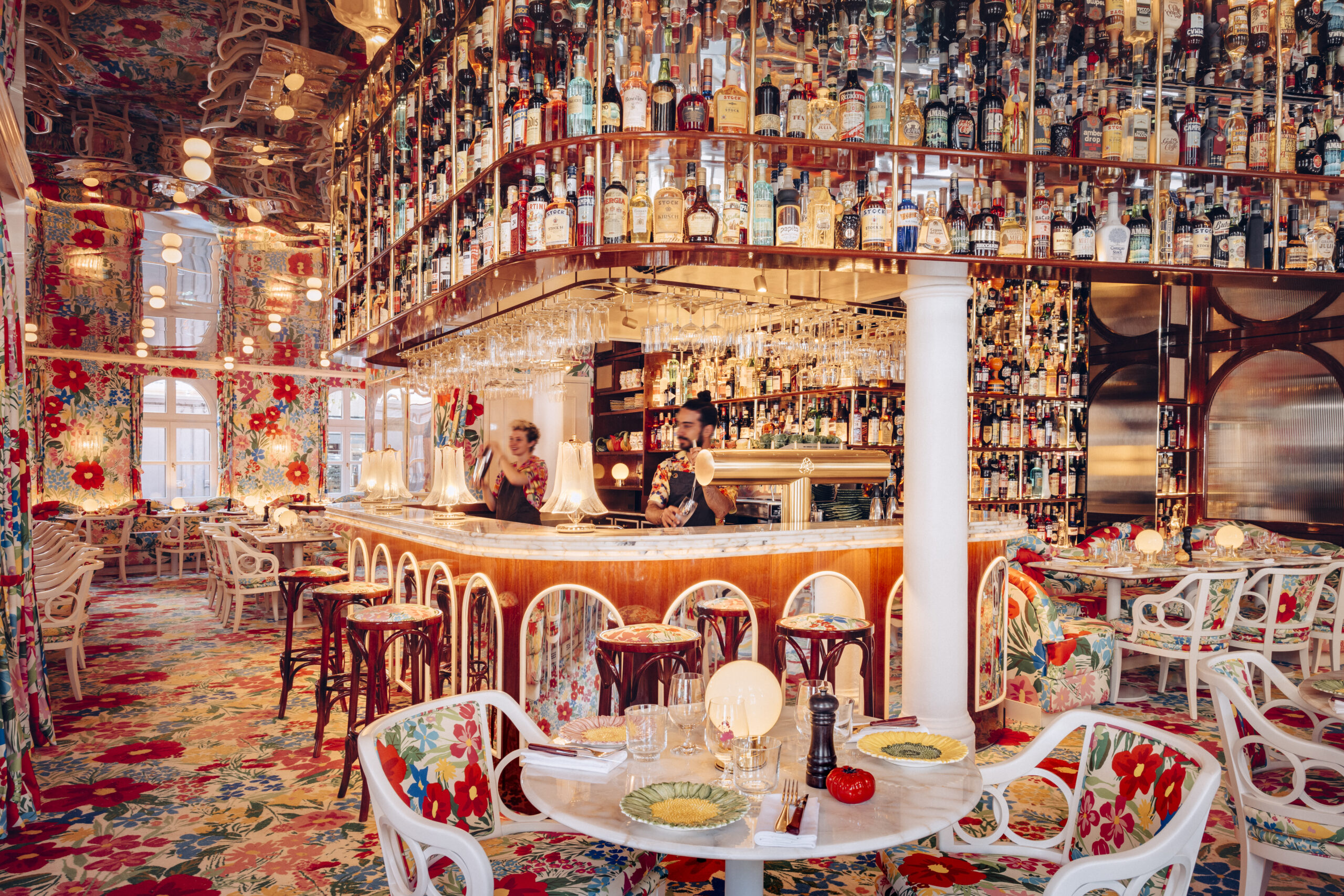 The banquettes, which wrap the perimeter of the 2,700-square-foot restaurant, feature wavy backrests. The table surfaces vary between rectangular and octagonal, and each is topped with a globe light and a pepper mill paired with a saltshaker in the shape of a fruit or vegetable. Arched windows edged with white imbue extra European charm to the 205-seat Milanese-style trattoria, and on the walls are vintage covers from San-Antonio books, the comical French crime series published from 1949 to 2000. The Studio Kiki team, based in London and Paris, scoured Italy to source the eclectic collection of antiques and items that give Giorgia its character.
The trattoria's kitchen, where the Giorgia team whips up a 100 per cent homemade mostly vegetarian menu using produce from Italy, is on display from the dining room, framed by sweeping wooden arches that reveal the hulking white pizza oven. The walls of the kitchen are clad in offset tiles in hues of pink.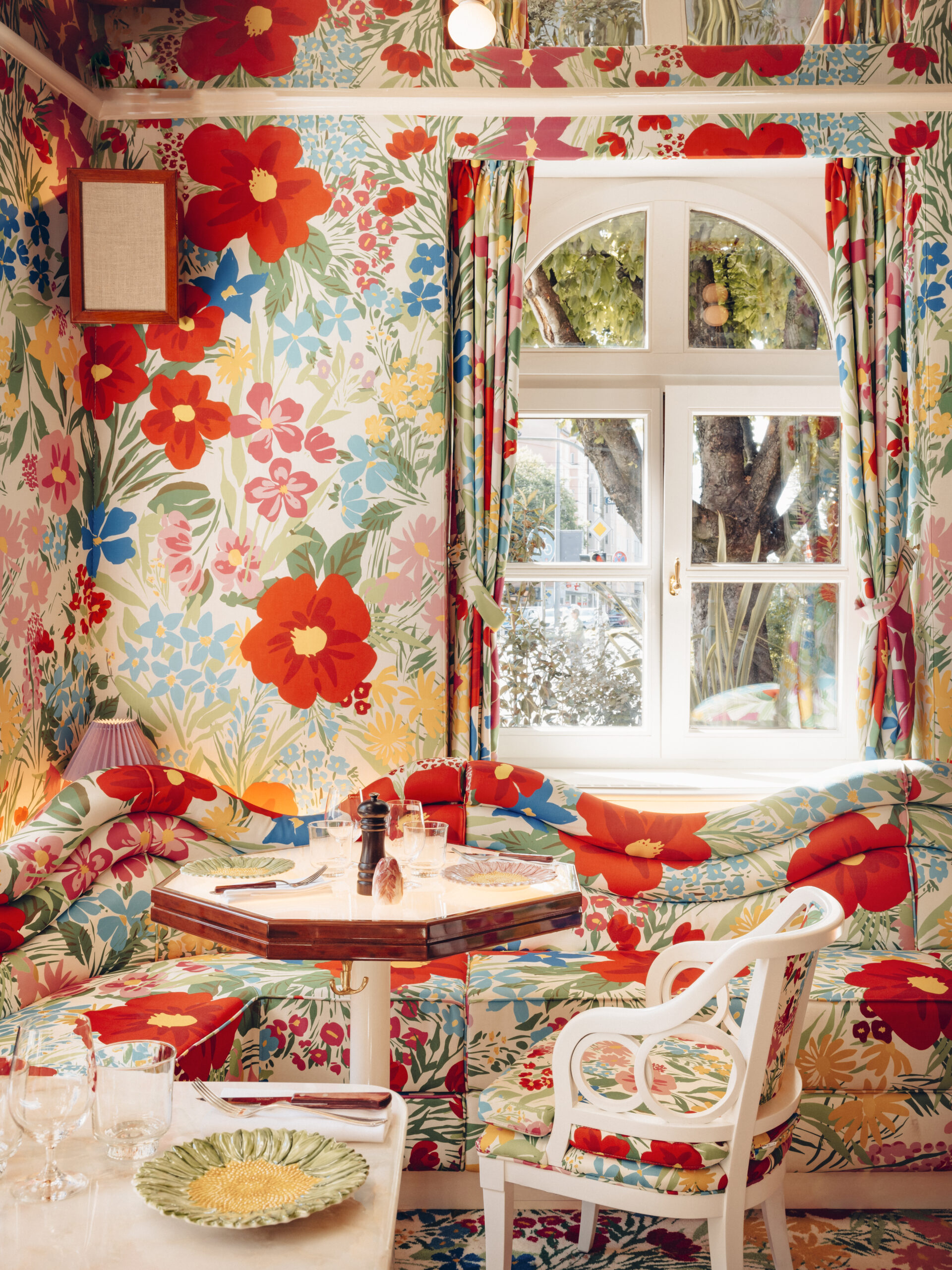 A vintage marble bar curves around a central portion of the restaurant, and wood panelling along the base is broken up with arched mirrors edged in white. Wood shelving behind the bar and overhead house 1,385 bottles found at a vintage bottle merchant in Italy.
Mirrors in unexpected places are a design throughpoint: on the ceilings, under the bar, and beneath the kitchen counter, adding levity to the cacophony of colour and texture and disguising the low ceilings.
The bathrooms depart from the floral pattern dominating the rest of the restaurant in favour of a glamorous Italo disco theme, with walls and counters covered in square mirror tiles, a ceiling crammed with disco balls, and purple lighting. In each corner and room, Giorgia exudes a joyful exuberance for the Milan of decades past, brimming with colour, texture, and funk.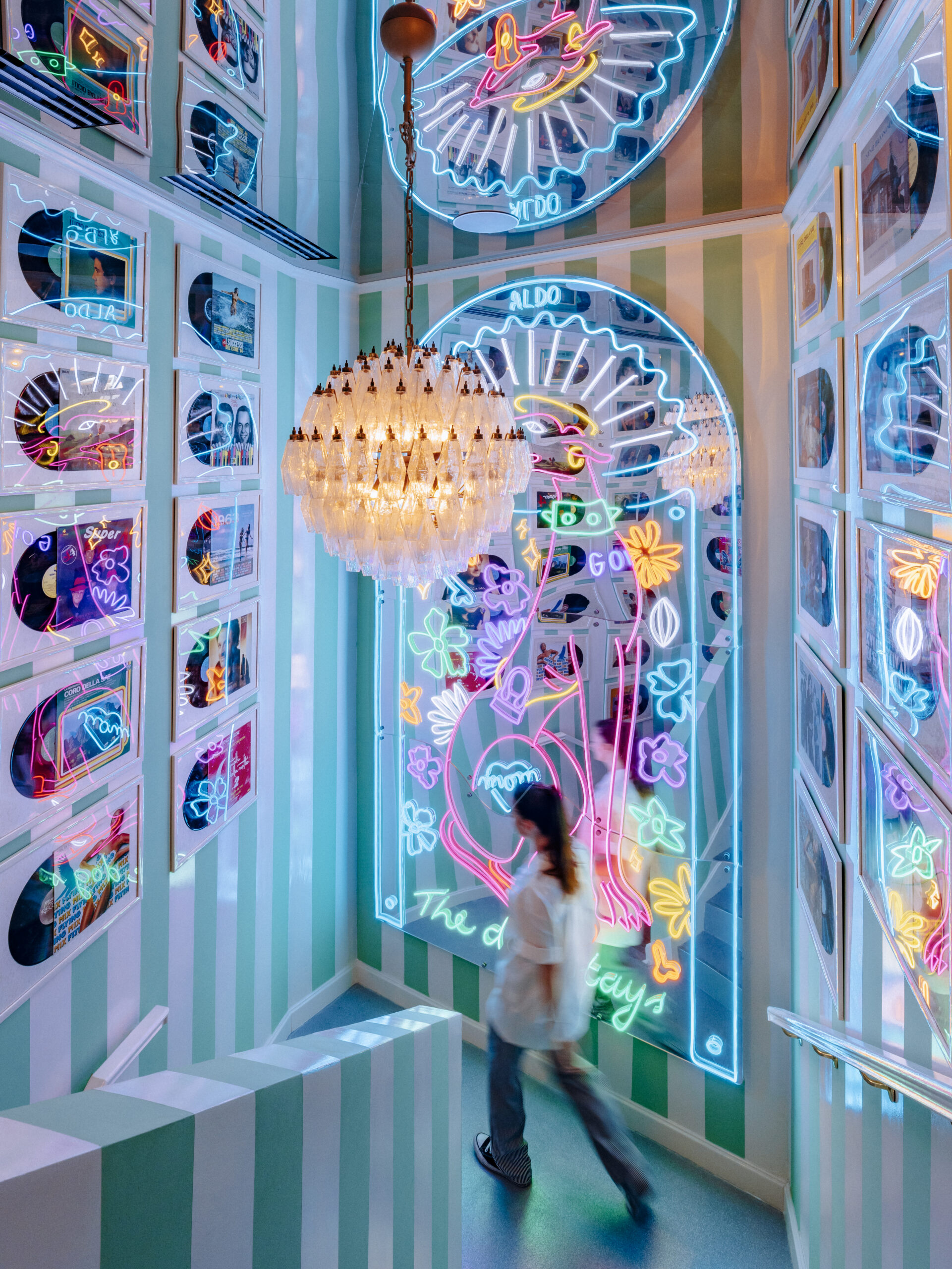 Photos by Jérôme Galland