Krokande, gelato, cacao, oh my!
Down a few seemingly one-way roads off the main street in Lumbarda, on the Dalmatian island of Korčula, sits a tidy little stone house surrounded by the sweet scent of lavender and freshly made cookies. This is the home and cooking school of Josipa Barčić and her family, who run the cooking school, catering outfit, café in town, and food-production enterprise known simply as Škatula. "My goal is to bring back the traditional tastes of our mothers, grandmothers, and great-grandmothers," Josipa explains. "These cookies and workshops preserve our traditions."
Her spry, 80-year-old mum, Jagoda, helps teach the making of a citrus-peel-flecked fritter called krokande or hrastule. Mother and daughter prepare the dough, which turns into crisp fried fritters, later dusted with a flurry of icing sugar and most commonly enjoyed on special occasions like birthdays, anniversaries, or weddings.
Once the housemade rose liqueur (the secret ingredient that gives these treats that special something) and lemon and orange peel are added, and the dough mixed, guests set about rolling a block under Jagoda's watchful eye. She demonstrates how to cut long strips of dough, and with a deft twist of her wrist, produces the correct shape, something like a single-looped bow. Those made by guests are not as picture perfect, but Jagoda is an encouraging teacher. Josipa takes the dough knots and expertly fries them.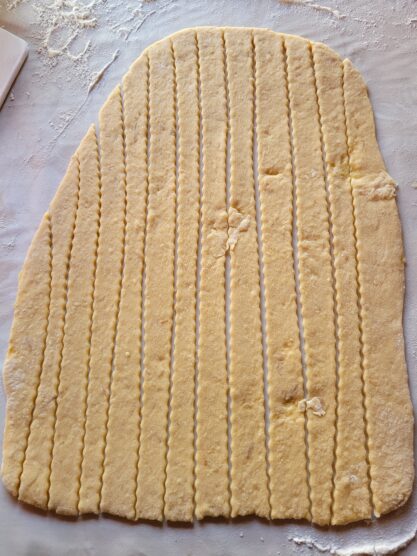 Along with the fritters, guests are encouraged to try other traditional sweets laid out on the table, including ones stuffed with Dalmatian figs that have undergone a Mediterranean salt-water rinse whilst drying and others, called mandolive, stuffed with citrus peel and sweet almonds. Nothing is too sweet, and everything is made with island-fresh ingredients, which give them an edge over bakeshop or boxed treats. And the café Josipa owns in town sells a rose liqueur brandy that's sublime, as well as dried figs and other treats to take home (her orange spread is gorgeous).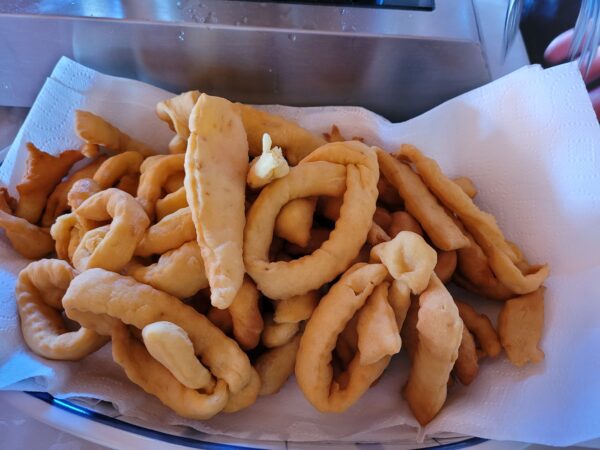 That's the thing about Croatian treats: they're sweet without being cloying, and the best are made with in-season fruit, herbs, and local ingredients that shine in every bite. Take, for example, the now-famous lemon-basil gelato made by aRoma Gelato Experience, which opened shop along the Croatian coast in 2022. Once Phil Rosenthal declared it a personal favourite on his Netflix show Somebody Feed Phil, locals and visitors alike have clamoured to try this gelato certified by Coppa del Mondo della Gelateria. This flavour is one of the gelateria's most refreshing combinations, especially on hot Mediterranean days or nights. There's no wrong choice here, but look for the lemon-basil. It's worth it.
Farther inland in Zagreb, former Croatian rapper-turned-cacao afficionado/master chocolatier Stiv (Steve) Kahlina and his marketing arm/partner in life Sanja Vladović (certified a Level 2 chocolate taster by the International Institute of Chocolate and Cacao Tasting) are the duo behind Taman Artisanal Chocolates. The name means "just right," because the founders wouldn't have it any other way.
In their small, pristine workshop, they offer a bean-to-bar tasting of their award-winning chocolates. As one of only two bean-to-bar makers in Croatia, they're working hard to build their own market there and, eventually, beyond.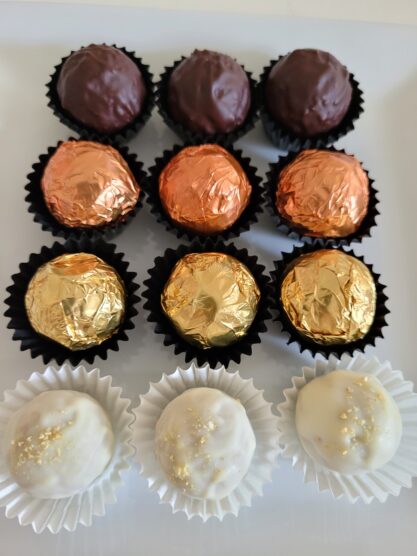 The tasting starts with 74 per cent Davao Mana special selection cacao from the Philippines, which also happens to be a 2021–22 Silver International Chocolate Award winner in Europe. This is one of the couple's favourite cacao regions because it is, as they say, "complex but very well balanced." This one's got big flavours that will appeal to chocolate lovers: raisins, dark rum, roasted almonds, and pecans. It's very smooth, with no trace of bitterness—ideal for anyone who says they don't like dark chocolate.
Next is a 73 per cent Madagascar Sambirano Antsamala single-estate bar, meaning the cacao came from one plantation. This is a unique example of cacao from this part of the world that expresses peppery, spicy notes before the usual fruitiness that this cacao is known for reveals itself.
Later, at Zagreb's interactive Chocolate Museum, the duo from Taman and a docent explain the origins of cacao, a treasured commodity once worth more than gold.
And after you leave, a Taman bar made with the flavours of Croatia's Dalmatian coast (rosemary, lavender, thyme, and sage) can transport you to the amber-hued sunshine, the many shades of blue and green water, the omnipresent scent of herbs, and the sweeter side of this country's limitless surprises.
Photography by Mary Luz Mejia.