White Chocolate Pistachio Gâteau Recipe
A dessert from Lesley Stowe.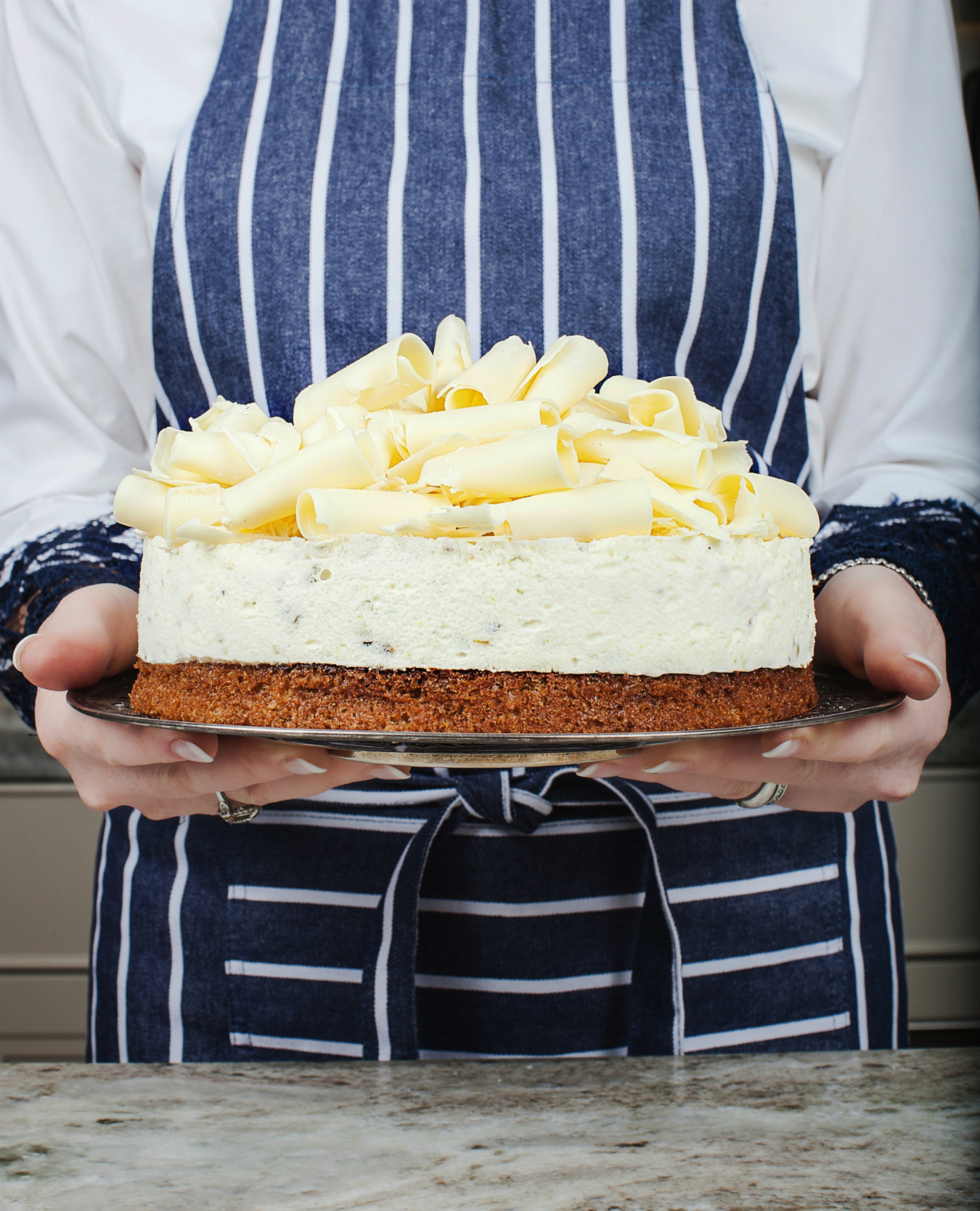 Lesley Stowe (of Raincoast Crisps note) published a new cookbook earlier this month, Desserts From My Kitchen, that is sure to inspire any holiday host with over 100 recipes for cookies, bars, tarts, cakes, and sweet sauces. This dessert features a feather-light sponge base with a white chocolate mousse topping and delicate white chocolate curls.
Ingredients
Sponge
¾ cup all-purpose flour
½ cup granulated sugar
¼ cup finely ground pistachios
½ tsp baking soda
¼ fine sea salt
¼ cup vegetable oil
½ cup freshly squeezed orange juice
1 tbsp freshly squeezed lemon juice
Filling
12 oz white chocolate
¾ cup heavy or whipping (35 per cent) cream
1 ½ tsp gelatin
3 tbsp water
½ cup chopped pistachios, toasted
1½ cups additional heavy or whipping (35 per cent) cream
White chocolate curls and confectioners' (icing) sugar OR Whipped cream and fresh berries
Method
Preheat oven to 350ºF/176ºC. Butter a nine-inch (23 cm) springform pan. Line bottom with a circle of parchment paper and then butter paper.
Make sponge: In a large bowl, combine flour, sugar, pistachios, baking soda, and salt.
In another bowl, whisk together oil, orange juice, and lemon juice. Pour the wet ingredients over the dry ingredients and stir until well combined (be careful not to overmix). Pour into prepared springform pan. Bake in preheated oven for 15 to 18 minutes, or until a toothpick inserted comes out dry. Remove pan from oven and place on a wire rack to cool completely.
Make filling: Meanwhile, in a bowl set over a saucepan of simmering water (make sure the water does not touch the bottom of the bowl), melt chocolate with ¾ cup cream, stirring constantly until chocolate is completely melted and the mixture is smooth. Remove pan from the heat and set aside.
Dissolve gelatin in a small bowl of water. Stir into melted chocolate along with the nuts. Set aside to cool to room temperature.
In a mixing bowl, using an electric mixer on medium-high speed, whip 1 ½ cups cream to soft peaks. Fold into chocolate mixture. Pour over the sponge base in the springform pan. Cover and refrigerate overnight, or for at least 3 hours.
To Serve
Run a sharp knife between the cake and the inside of the pan. Remove the springform pan ring. Garnish top of cake with white chocolate curls and confectioners sugar or with whipped cream and fresh berries.
Tip: To make white chocolate curls, place a one-pound (500 g) block of white chocolate on a plate and microwave on high for 20 to 30 seconds. Using a very sharp vegetable peeler, peel curls off the side of the block. You may find that you'll need to microwave the chocolate a little along the way to get it to the right consistency to peel. Peel the curls onto a piece of parchment or waxed paper and then mound onto the cake.
_________
Never miss a story. Sign up for NUVO's weekly newsletter, here.