Benetti's Delfino 95 Sits Squarely at the Top of Its Class
Viareggio, Italy's Benetti Yachts caused quite a stir with the 2018 introduction of its delightful Delfino 95–to the point that the uber-luxury builder has sold about a dozen of the 29-metre yachts to date. That may not sound like a whole lot, but in a world where endless customization frequently drives selling prices into the eight-figure range and it can take a year to build one of these vessels, that's the yachting version of selling like hotcakes. So it's high time we took a closer look at just what it is about the Delfino 95 that gives it such dramatic appeal.
With a striking exterior designed by Giorgio Cassetta, Benetti's Delfino 95 sits high on the water with its GRP hull and carefully defined, carbon fibre superstructure casting a look of strength and power. The all-new hull design is deep and wide, providing more interior space than that of the prior Delfino 93 that this yacht replaces. Sweeping contours, sinuous external lines, oversized windows and a distinctive three-tiered foredeck set a tone of classic elegance long before one steps onboard.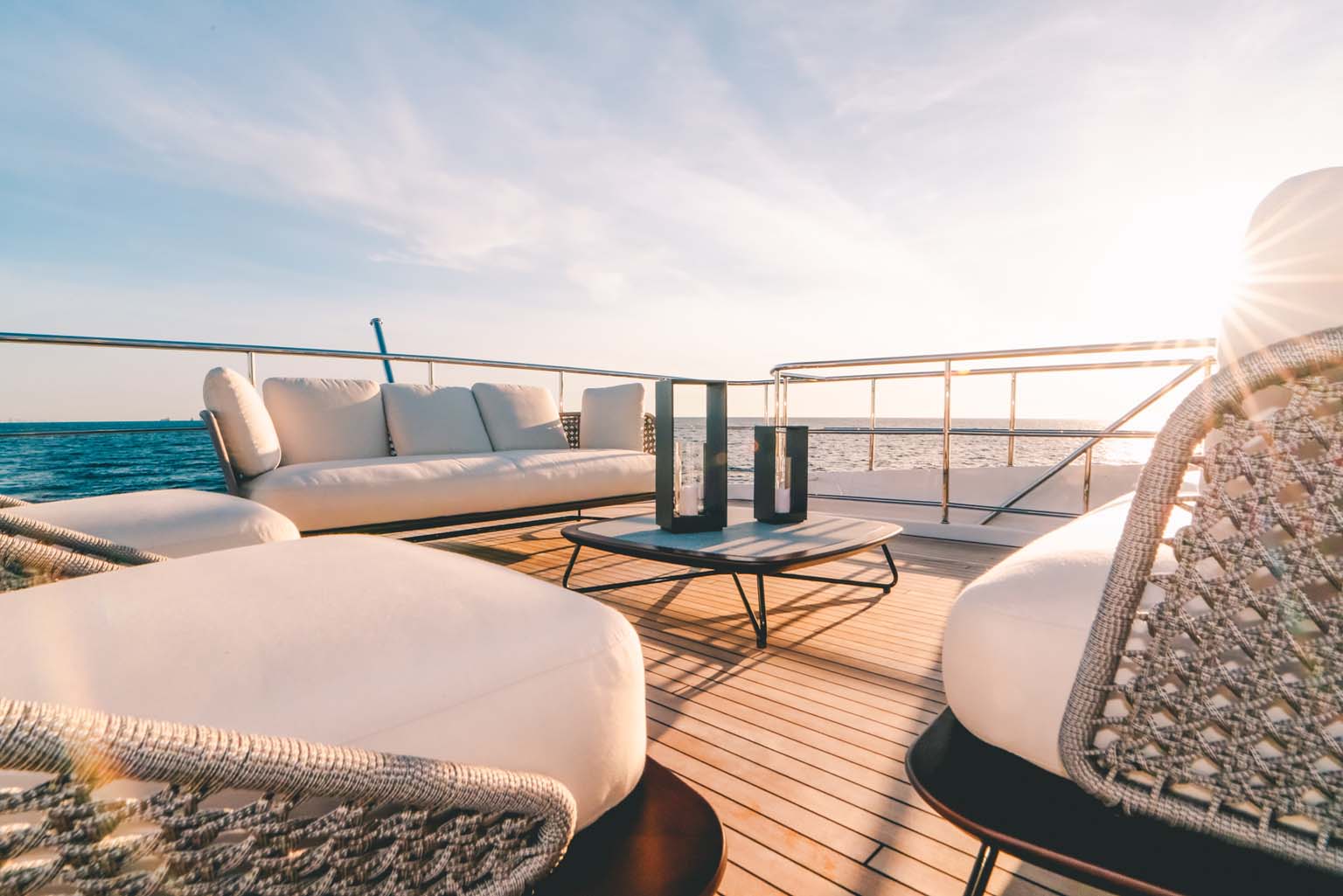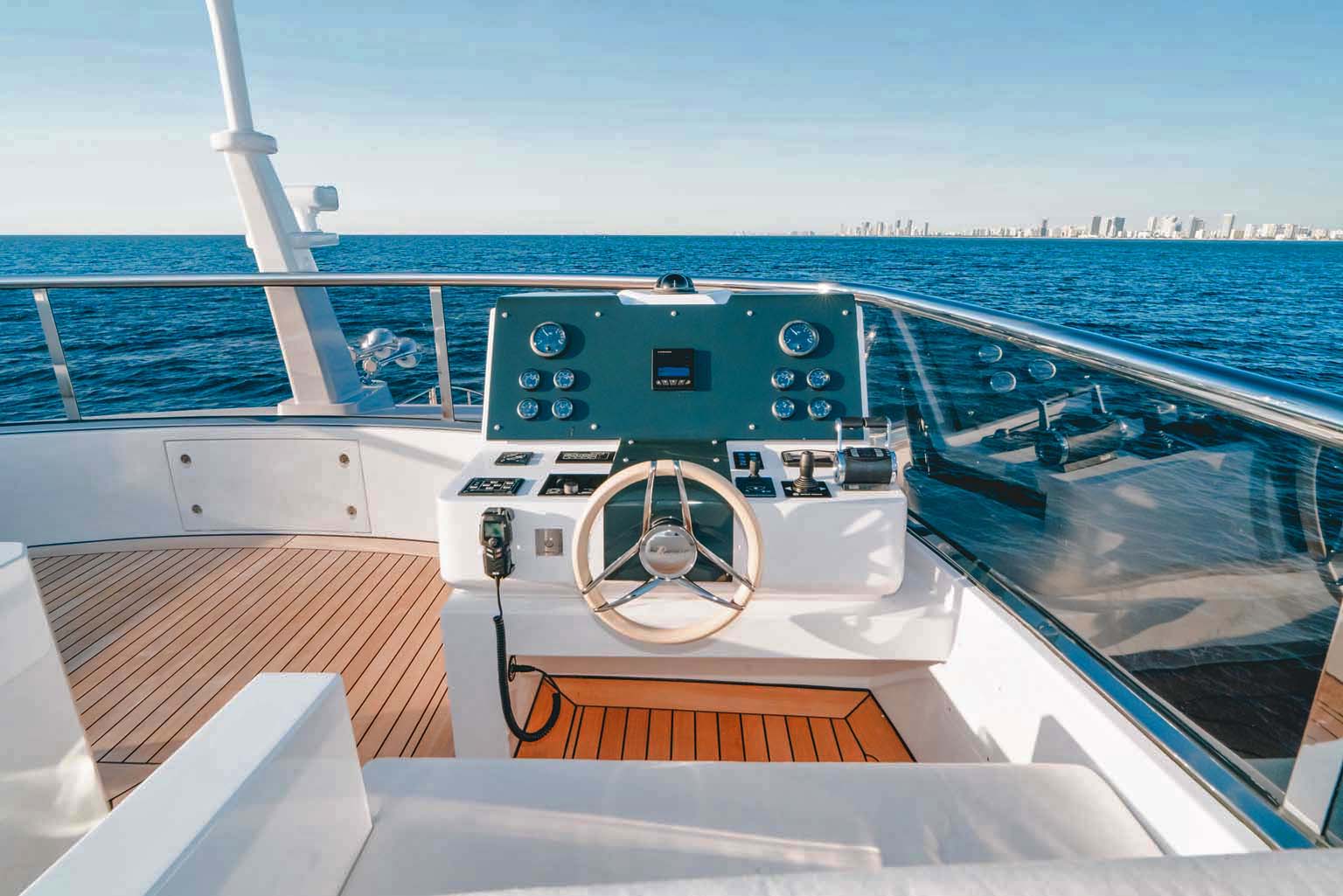 The main deck cockpit, where a plush settee faces freestanding deck chairs, inviting one to sit, relax, and unwind with a glass of bubbly. A pair of pedestal-mount teak tables with folding leaves can be set up as a single huge table for dining al fresco. An overhead hard top provides protection from the midday sun, or the threat of an evening shower interrupting dinner, while looking anywhere but straight ahead yields panoramic vistas of the surrounding water.
From here, twin promenades lead forward to the bow where a staircase to port leads up to the bridge deck, and wide cockpit doors that open fully to the open-plan salon.
Thanks to this design and the massive side windows, the main deck salon is bright and airy, with light fabrics and décor treatments enhancing the feel of open space. A large settee and love seat to port face free-standing club chairs, which can be moved as desired to face the huge HDTV that drops down from the salon ceiling.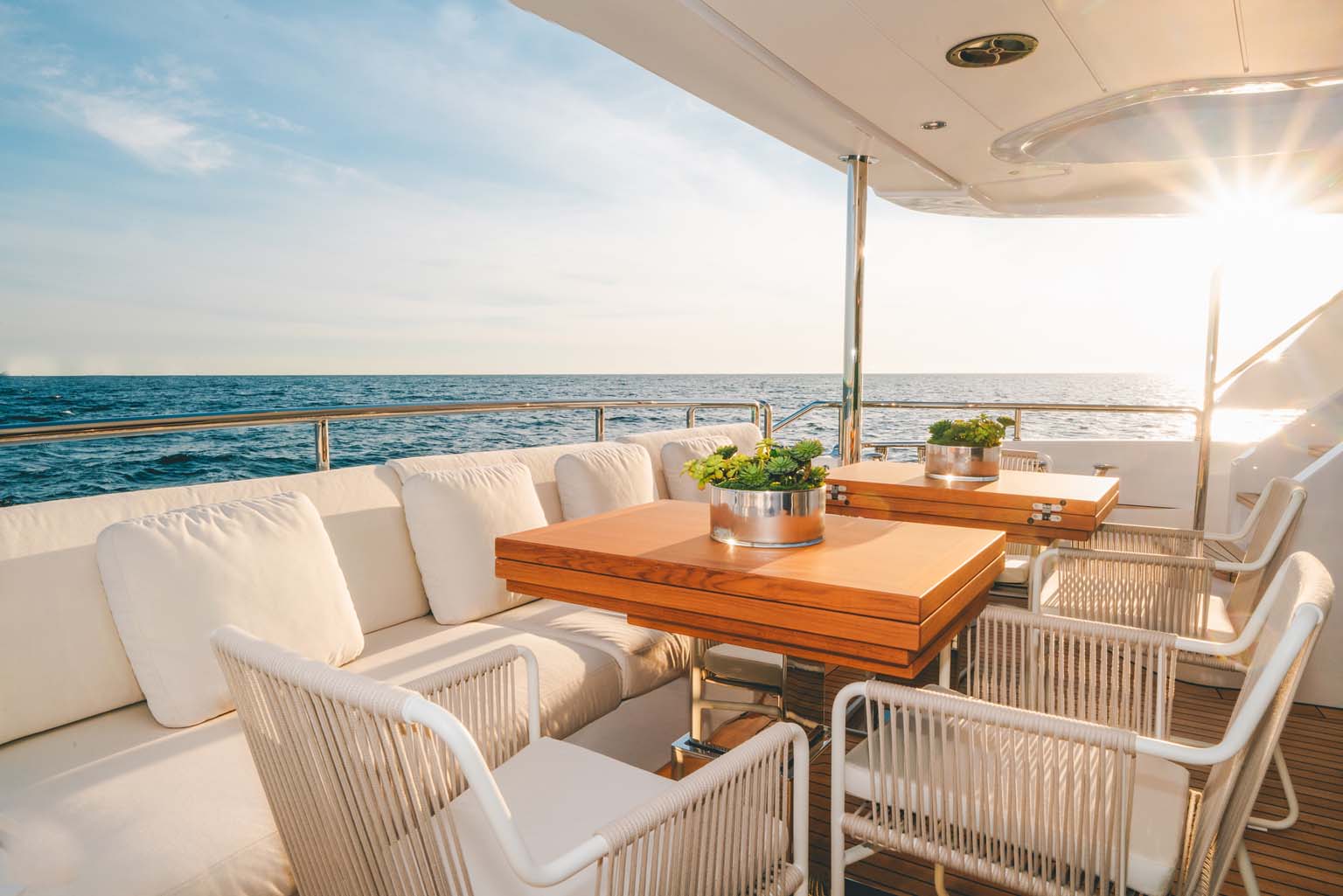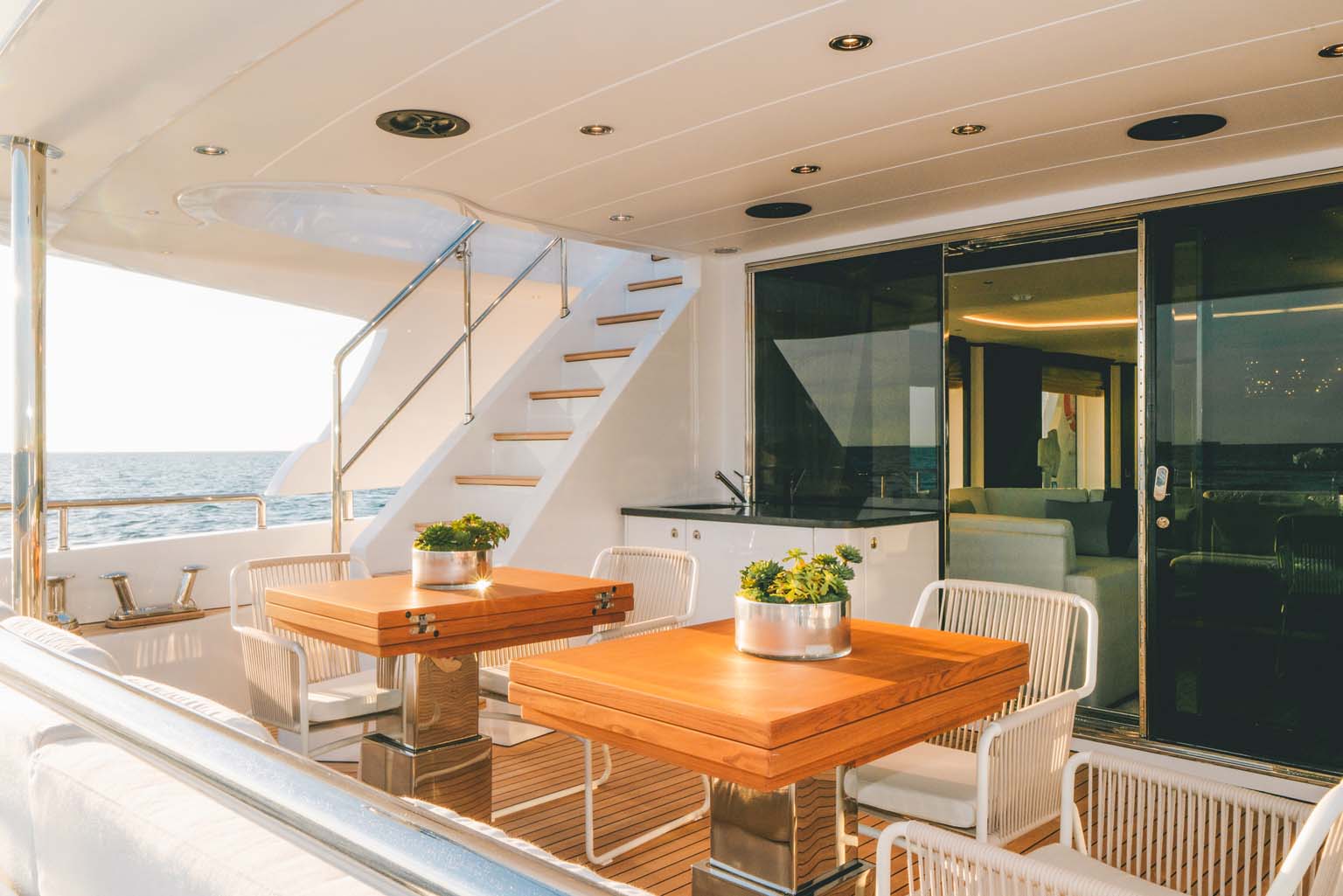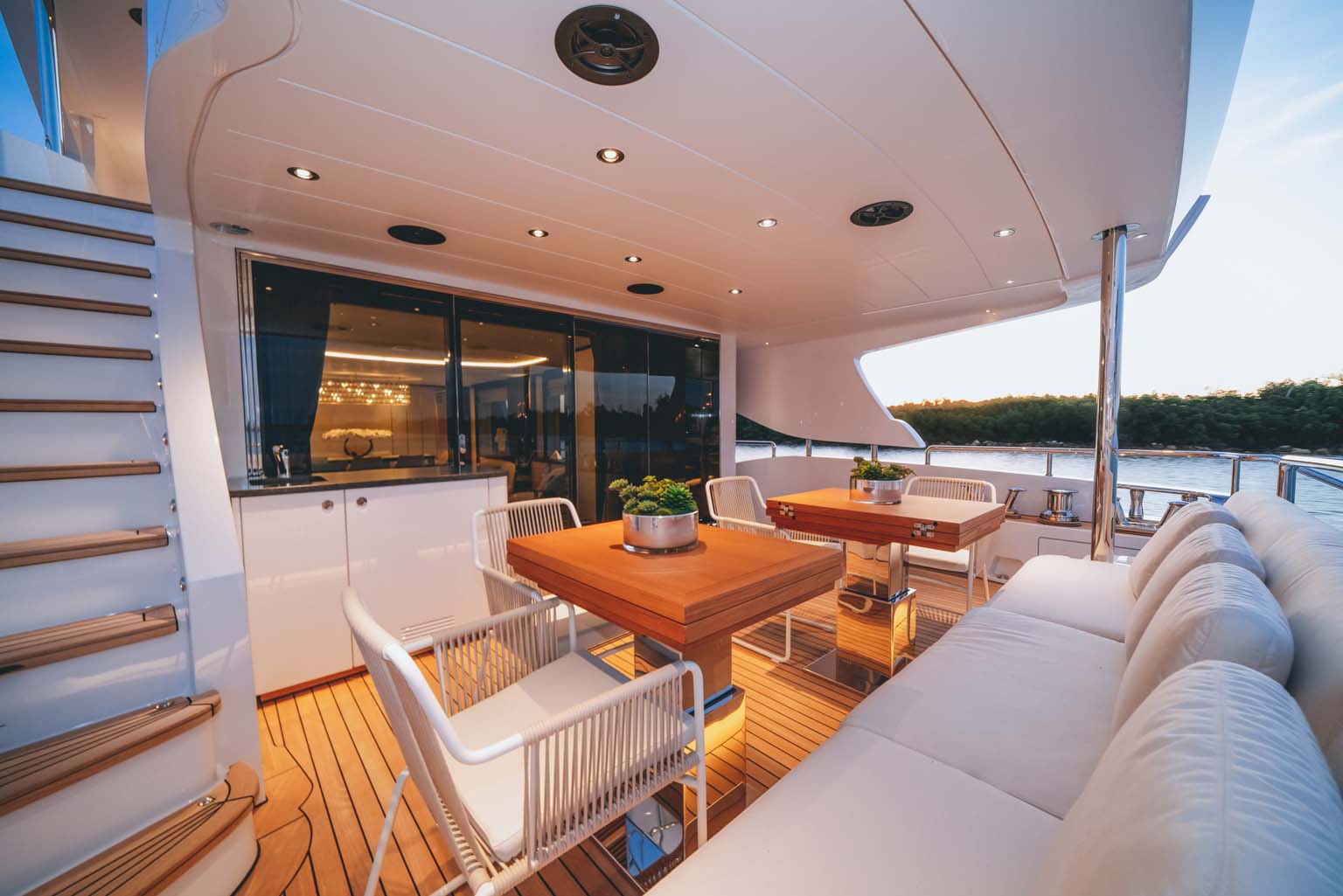 The forward end of the salon holds a formal dining room, beautifully lit by expansive side glass and a magnificent overhead fixture.
Further forward still lies the full-beam owner's suite, spanning an enormous 21-square-metres to make it truly palatial accommodations for a vessel of this size. Luxurious amenities abound, including a large bathroom with a spacious shower, a walk-in closet, and a lovely side seating area.
Guest accommodation in the form of four spacious staterooms–typically set up as two doubles and two twins–awaits on the lower deck, allowing the Delfino 95 to accommodate 10 guests in all, along with five crew members in their own separate quarters.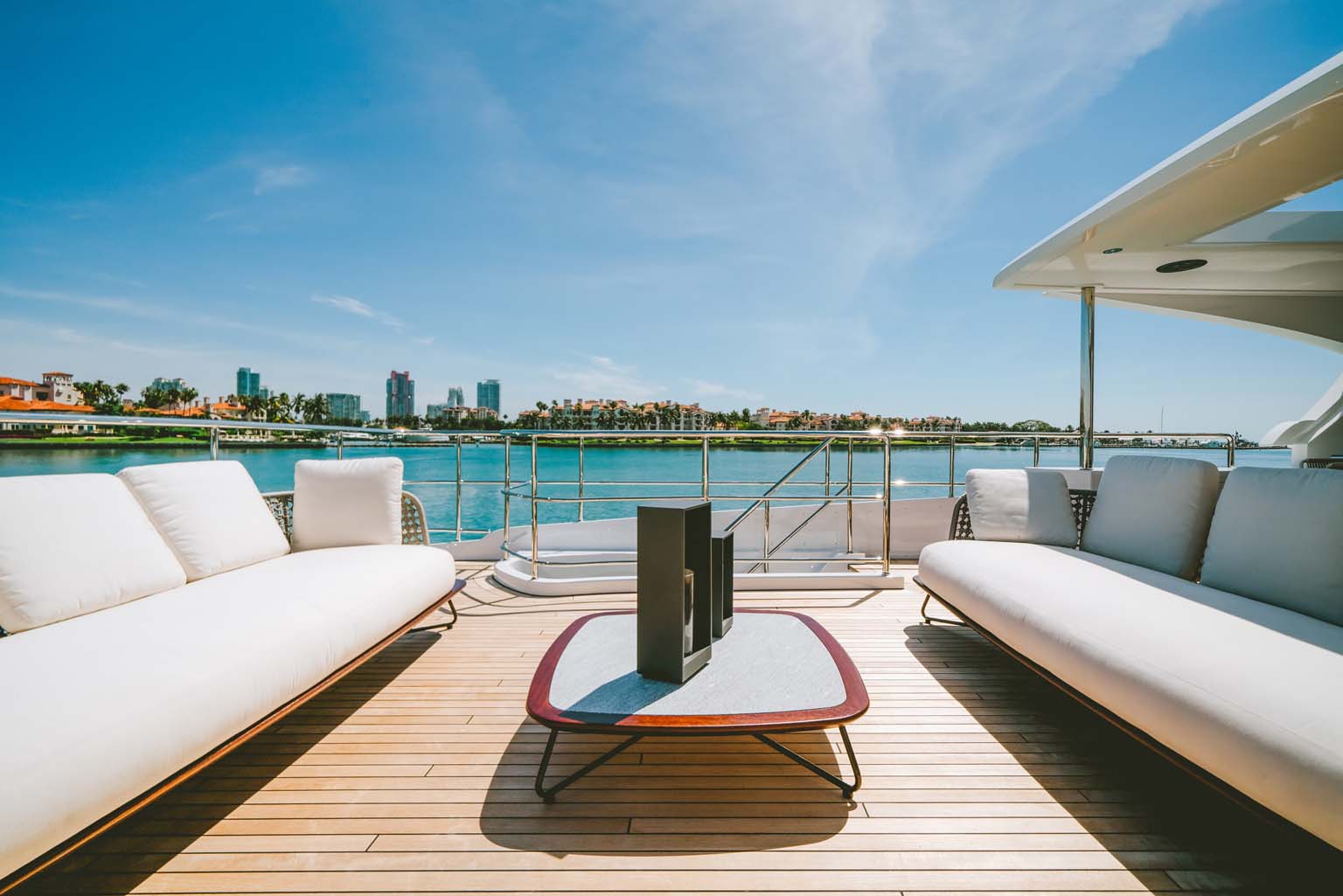 Returning outside, the bow of the Delfino 95 stands out with its unique three-level profile, providing an abundance of sunbathing space and room for a private spa pool. There's a comfy lounge space on the bow's upper level, a jacuzzi a one level down, and the fo'c'sle on the lowest level. Stretch out your arms, channel your best Celine Dion and go for it.
Heading up the staircase from the main deck cockpit brings one to the bridge deck, where an even larger, more open sunning space awaits. Two facing settees surround a long island table, creating a perfect spot for after-dinner drinks while taking in near 360-degree panoramic views. Further ahead, a secondary dining space sits under a retractable top, perfect for both a snack in the shade or dinner under the stars.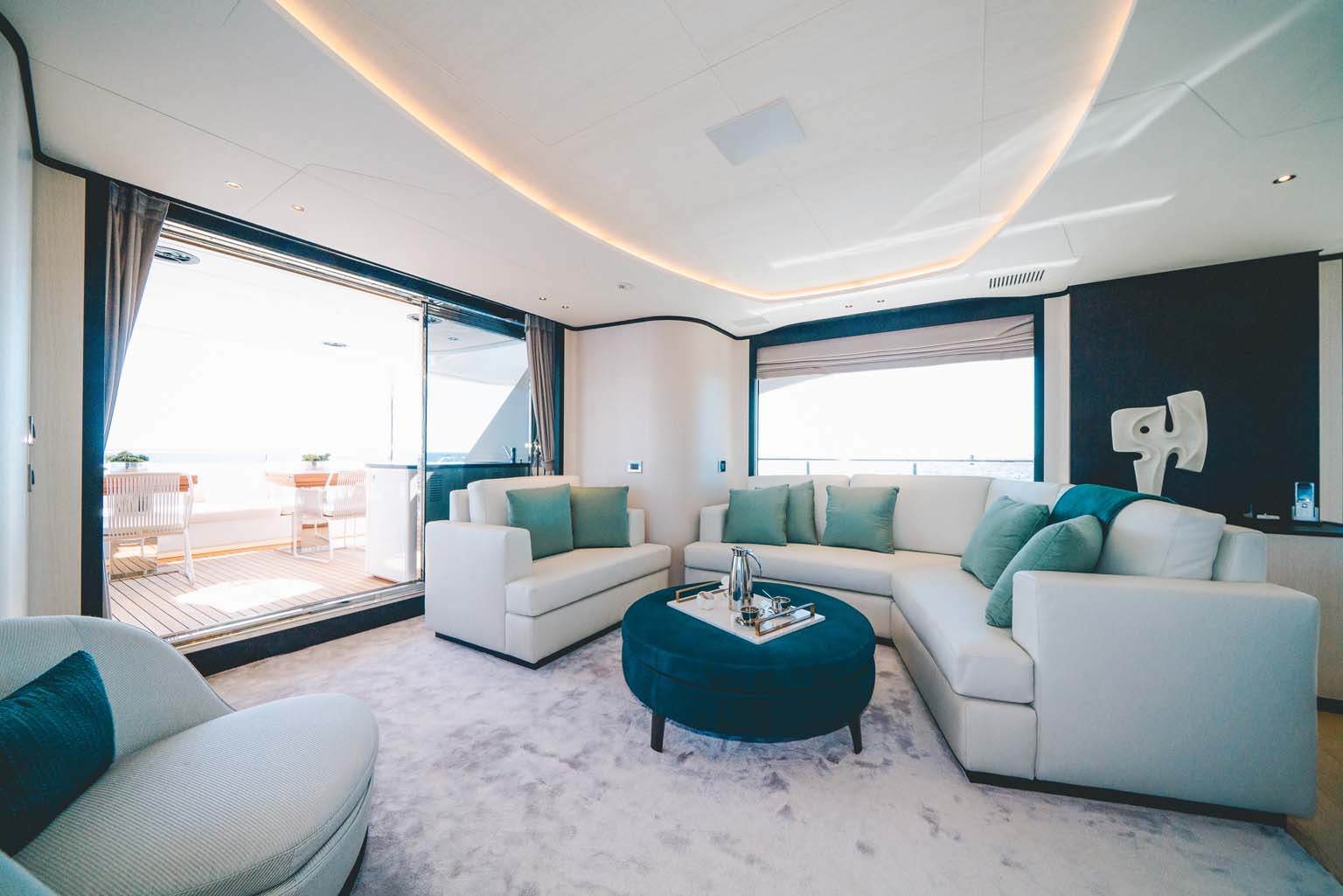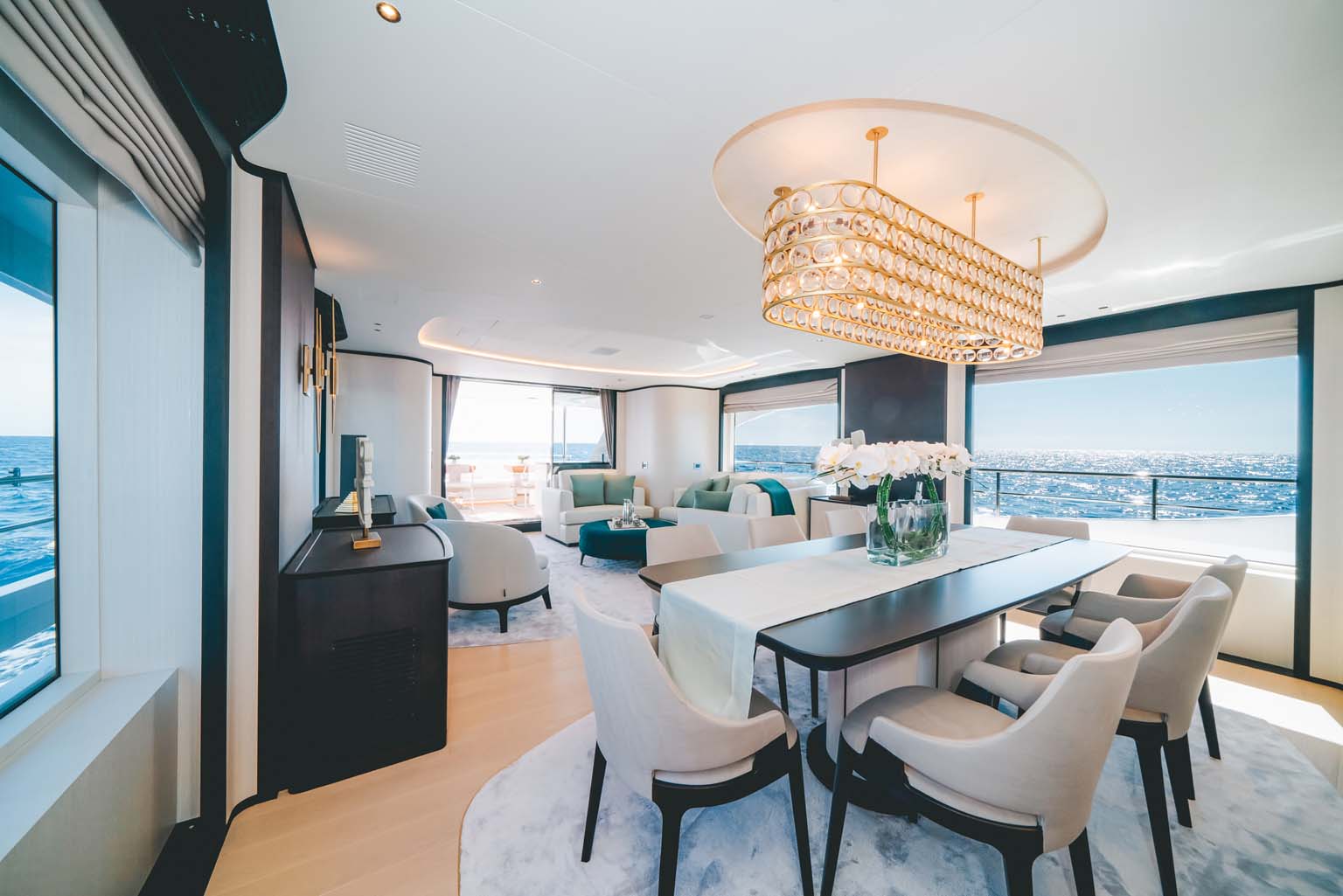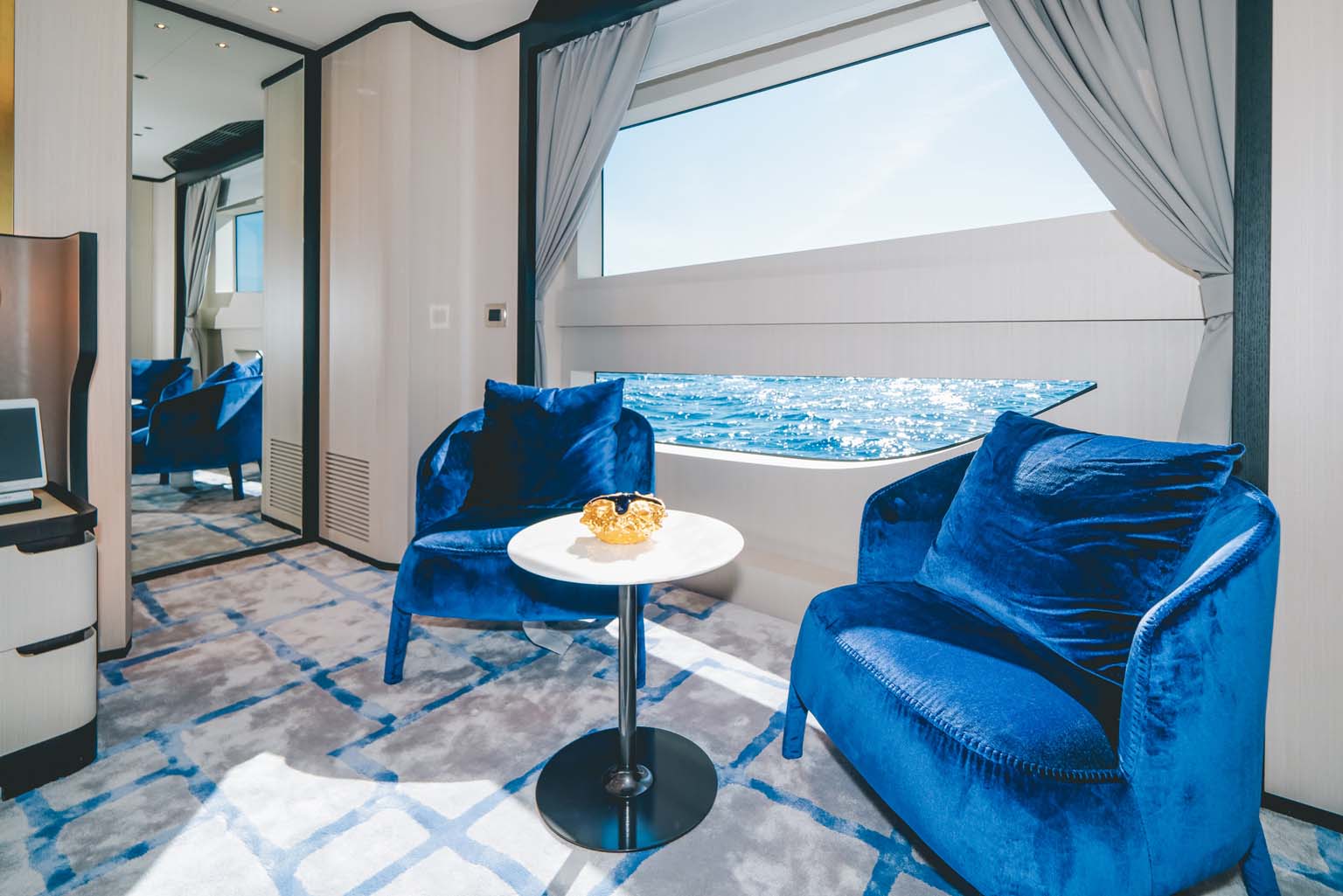 Forward of the bridge deck cockpit lies the bridge itself, with its elegant helm station featuring a full glass cockpit, a wonderful helm chair with flip-up bolster, and a port-side lounge with a table for hanging out while underway.
Another staircase leads up to the Delfino 95's sky deck, an open outdoor space with an elevated upper helm station and another delightful space for stretching out in the sun. This additional level of privacy is said to be a first for a yacht in this size class, and it's truly impressive.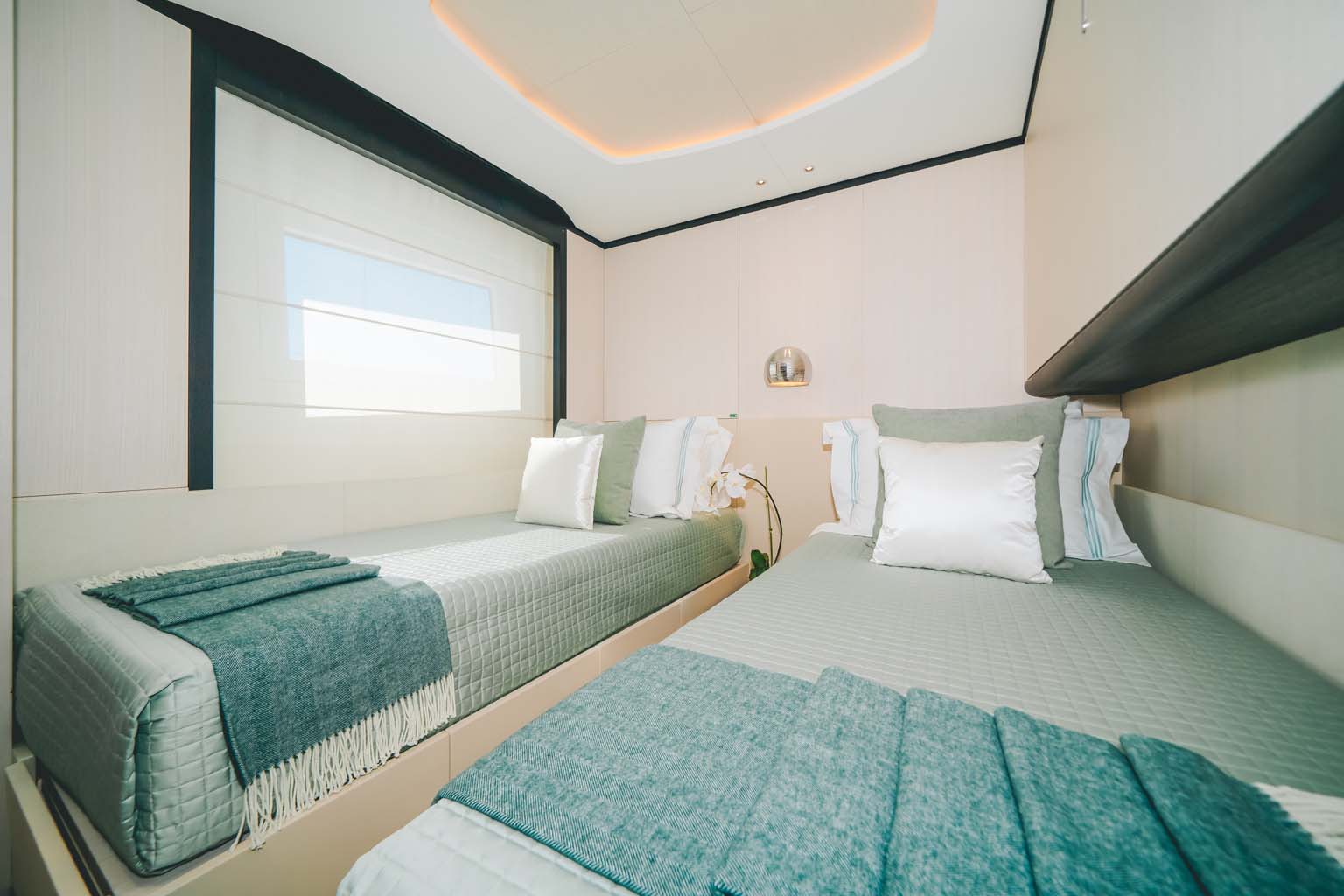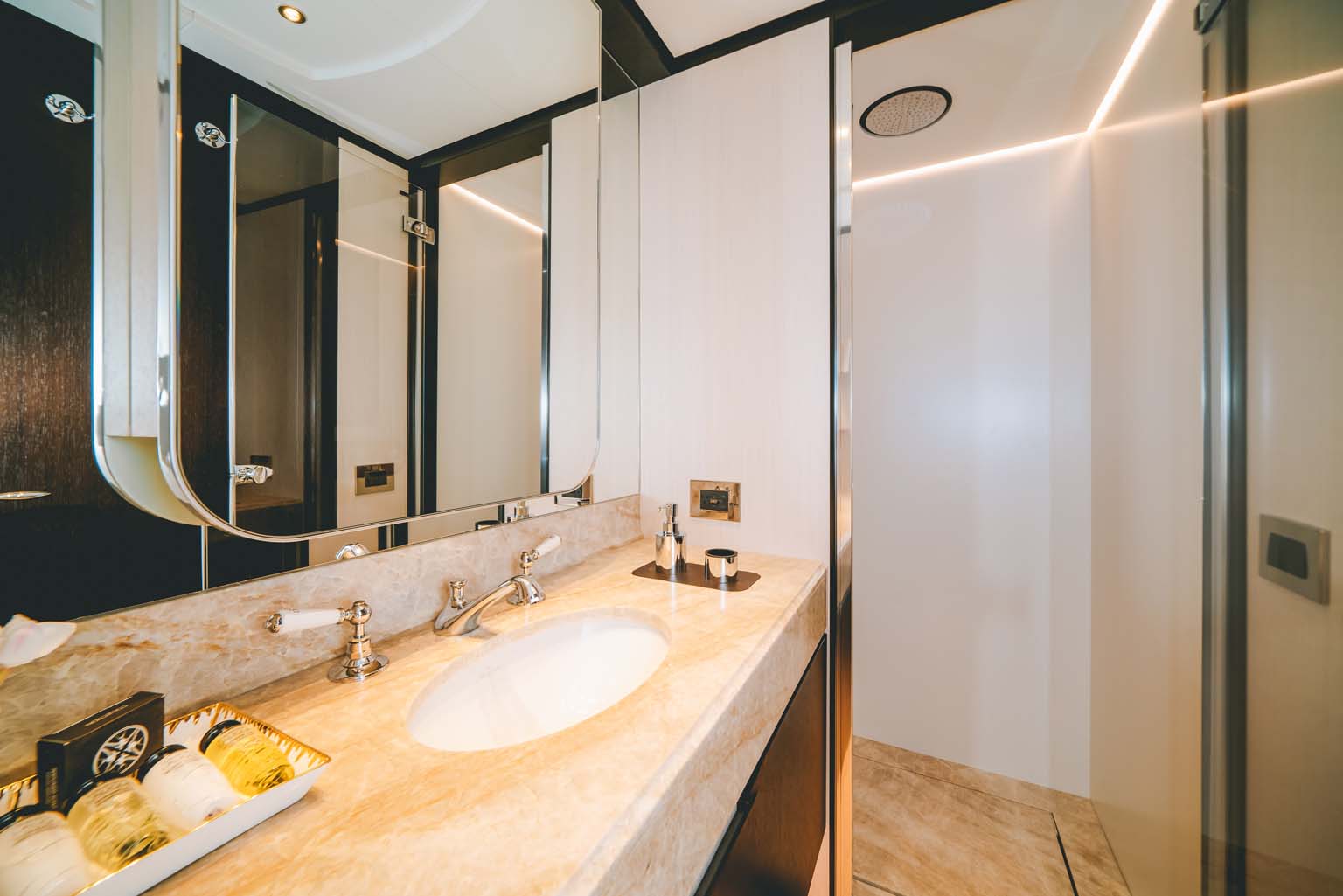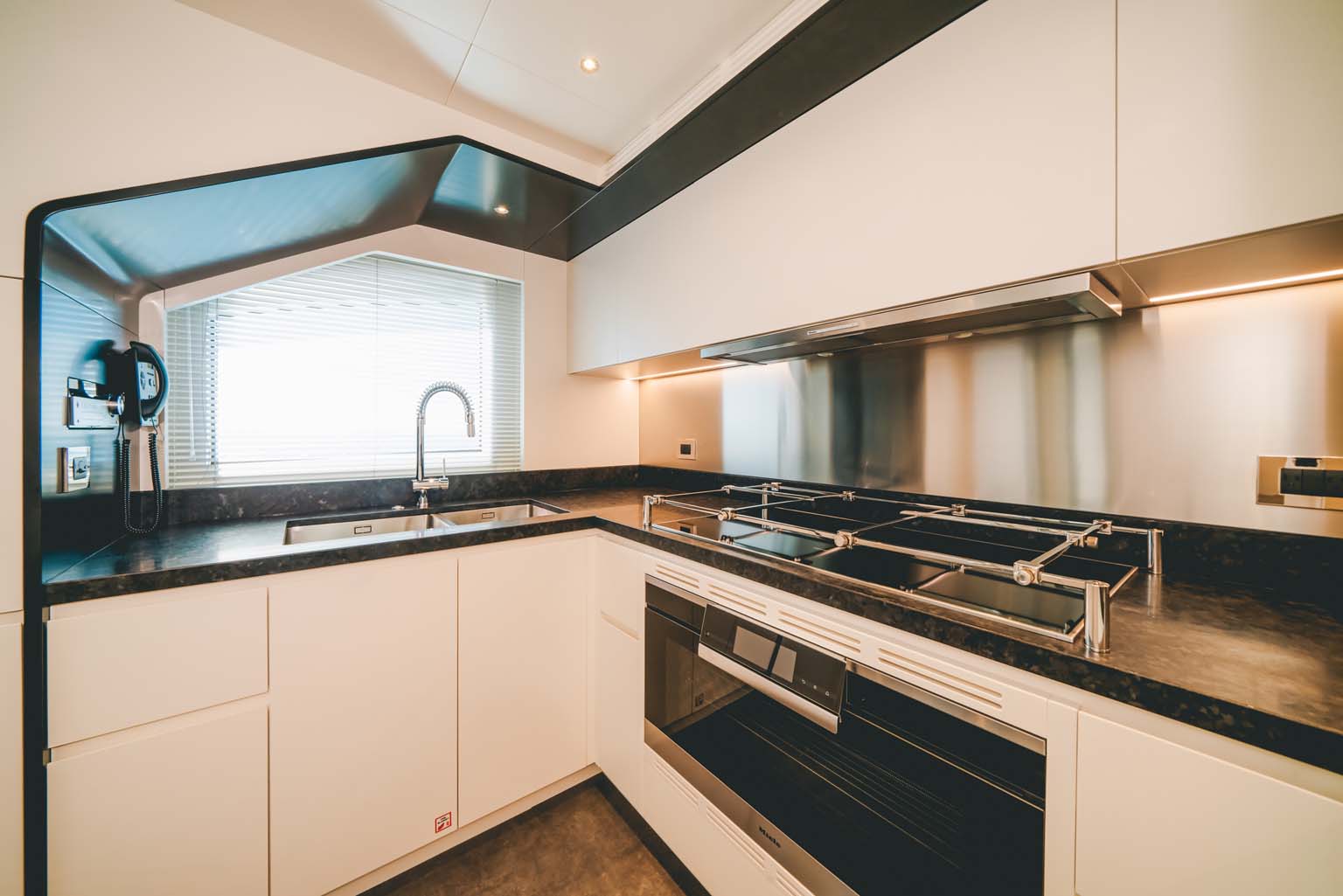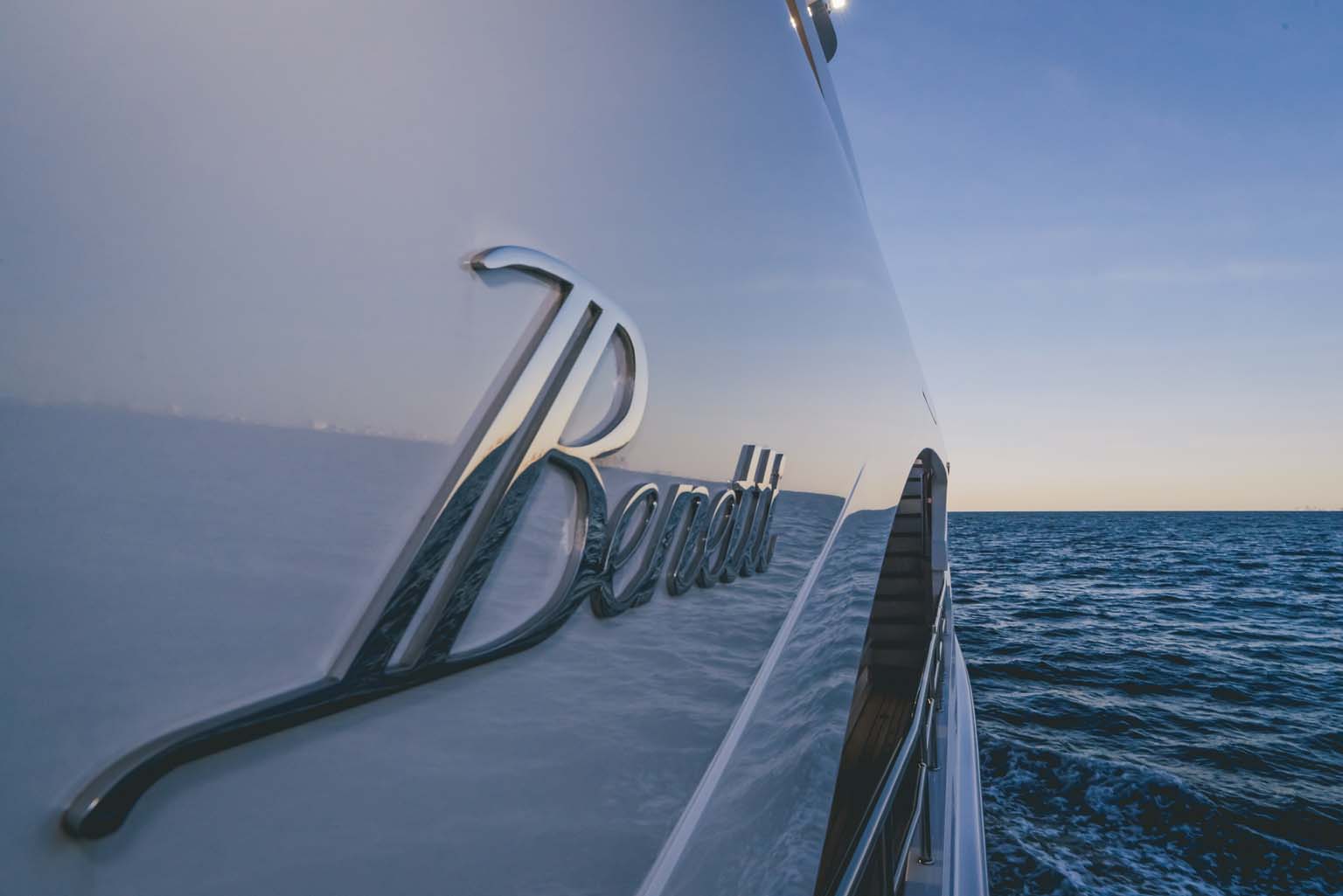 The Delfino 95's twin MAN 1,000 horsepower diesels provide exceptional performance. Designed to cruise between 10 and 11.5 knots, the Delfino 95 is exceptionally fuel efficient, consuming between 70 and 80 litres of fuel per hour, depending on sea conditions. That is extraordinary performance for a 7-metre wide yacht that weighs in at around 140 tons.
Benetti has earned a global reputation for exceptional quality and brilliant engineering–all of which is on full display in its lovey Delfino 95. Little wonder that the company has received such a strong response to this utterly remarkable yacht, pushing it to the top of its class.