Banff Gets Bold With Brazen
Banff's newest restaurant pays tribute to its intrepid locals from the past.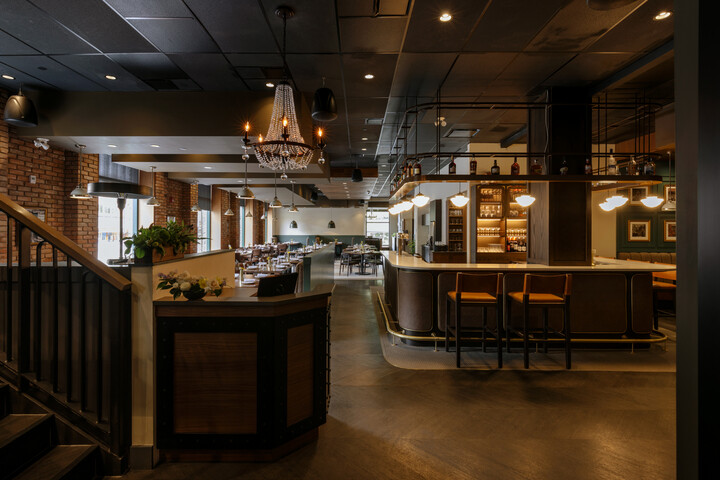 In the early 1900s, locals and visitors to Banff would gather at the Mount Royal Hotel's Alberta Bar. They included Ebenezer William "Wild Bill" Peyto, one of Banff's first wardens; photographer and naturalist Mary Schäffer Warren; and Bill and Jim Brewster, who offered guided excursions in the Canadian Rockies starting in 1892.
Today, Brazen occupies this historic drinking hole's spot. This restaurant from Pursuit Banff Jasper Collection pays homage to its past as a gathering spot for adventurers—thus its name—while highlighting its contemporary aesthetic. The space, most recently a Tony Roma's, features a handsome white marble bar with traditional pendant lights above and a brass foot rail below. A chandelier sparkles by the entrance, and throughout the space, black-and-white photographs from the Whyte Museum of the Canadian Rockies show the bar's infamous, rough-around-the-edges clientele: Peyto is said to have once come to the bar with a live lynx draped around his neck, which he let loose so he could have the bar to himself. "The Mount Royal Hotel is at the centre of Banff at a busy intersection. It's a gathering place for people, and we wanted to retain its historical side while also making it elegant and classic," says Philip Slawsky, Pursuit Banff Jasper Collection's senior director of food and beverage.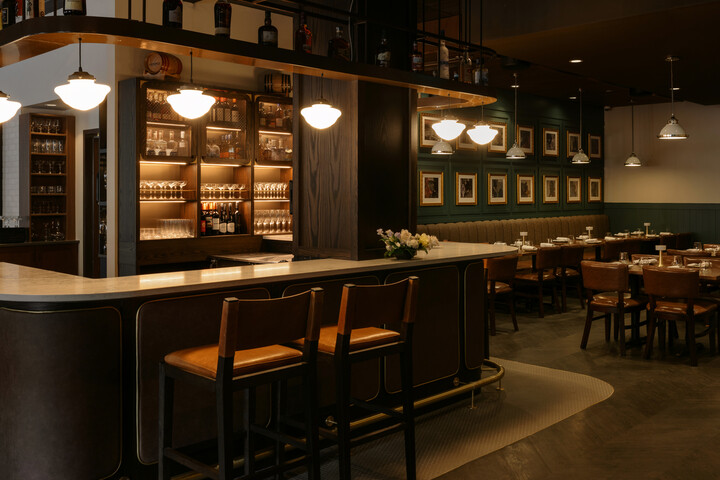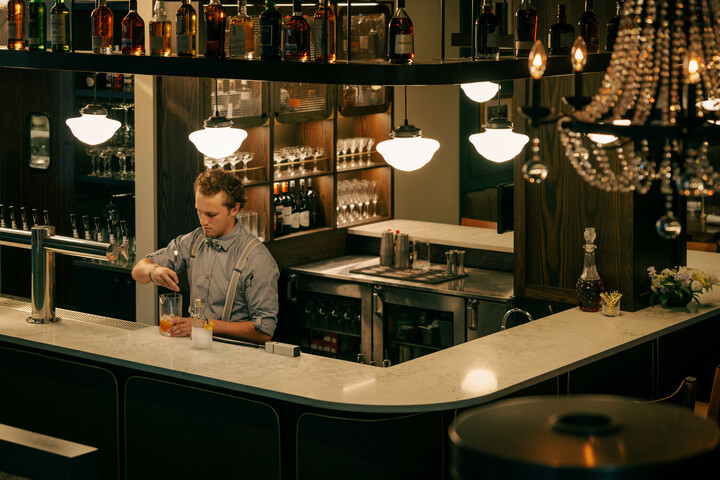 Building on the Alberta Bar's rough-and-tumble history, Brazen has the vibe of a contemporary saloon. Dark woods are softened with throw pillows and sumptuous banquette seating, and the colour palette includes cozy creams and forest greens. Servers sport dark denim paired with grey dress shirts, suspenders, and bowties, much like a barkeep from 1910.
The menu takes a bold turn as well. "Think strong flavours, old-school dishes with a current twist," head chef Dan Jiricka says. One of the most popular dishes, ginger beef, Brazen's take on the Chinese Canadian dish that originated in nearby Calgary, arrives at the table sizzling and wonderfully fragrant, surrounded by blistered shishito peppers and onions. Another beef dish (we are in Alberta, after all) is equally confident: smoke barrels out dramatically as the server lifts the lid off the smoked beef tartare with cognac, garlic aïoli, pickled onion, and truffle oil. For vegetarians, mushroom caps are stuffed with miso butter and wasabi peas, and the pickled devilled eggs are filled with saffron mousse and dill.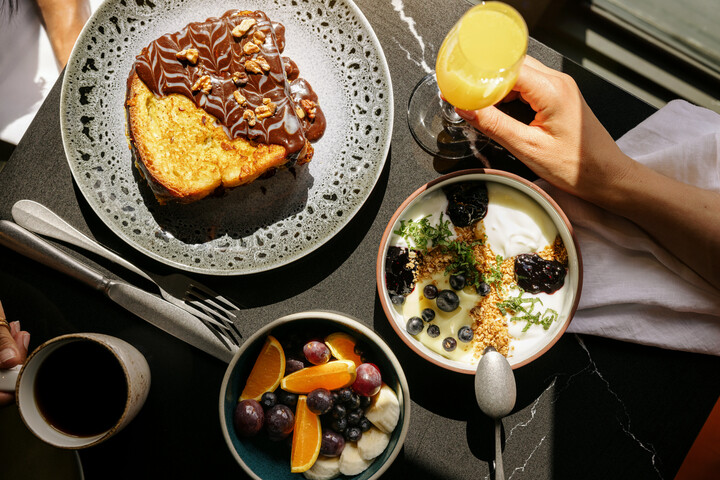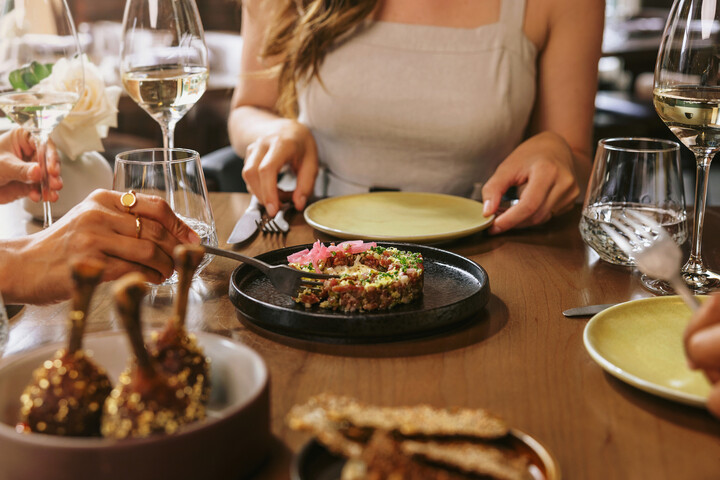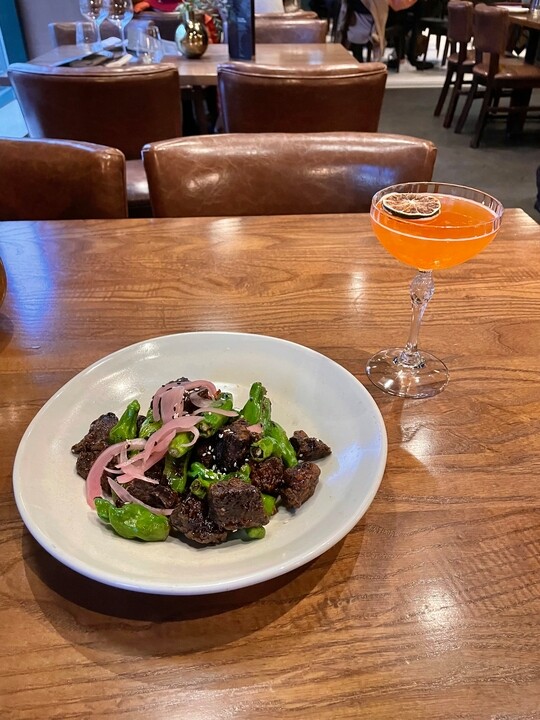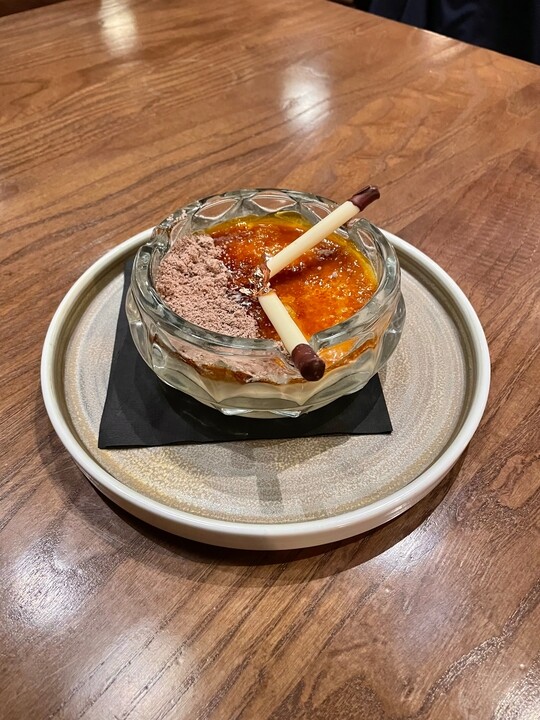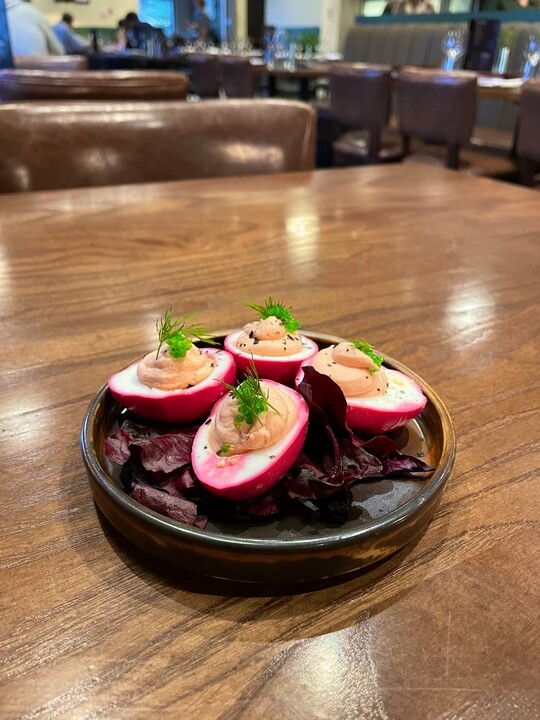 As a historically rowdy tavern, Brazen has a drinks menu that doesn't pull any punches. Flavours are used like hammers: bold yet in synergy with the ingredients from the kitchen, says Darren Fabian, Pursuit Banff Jasper Collection's director of beverage and bars. The alcoholic cocktails are divided into two sections: Shäffer's Selection, more botanical and balanced, and Peyto's Preference, spirit-forward and shorter or on the rocks. From the latter, Whiskey Creek combines a syrup made from the preserved cherries used in the desserts with Eau Claire's Rupert Whisky, walnut bitters, lime, and egg white. A cedar plank is smoked, with the smoke filling the glass, then mixed with the ingredients and released in front of you. "You definitely know you're drinking when you have one of those, for sure," Fabian says. Peyto approved? Without a doubt.