A Journey Aboard the Rocky Mountaineer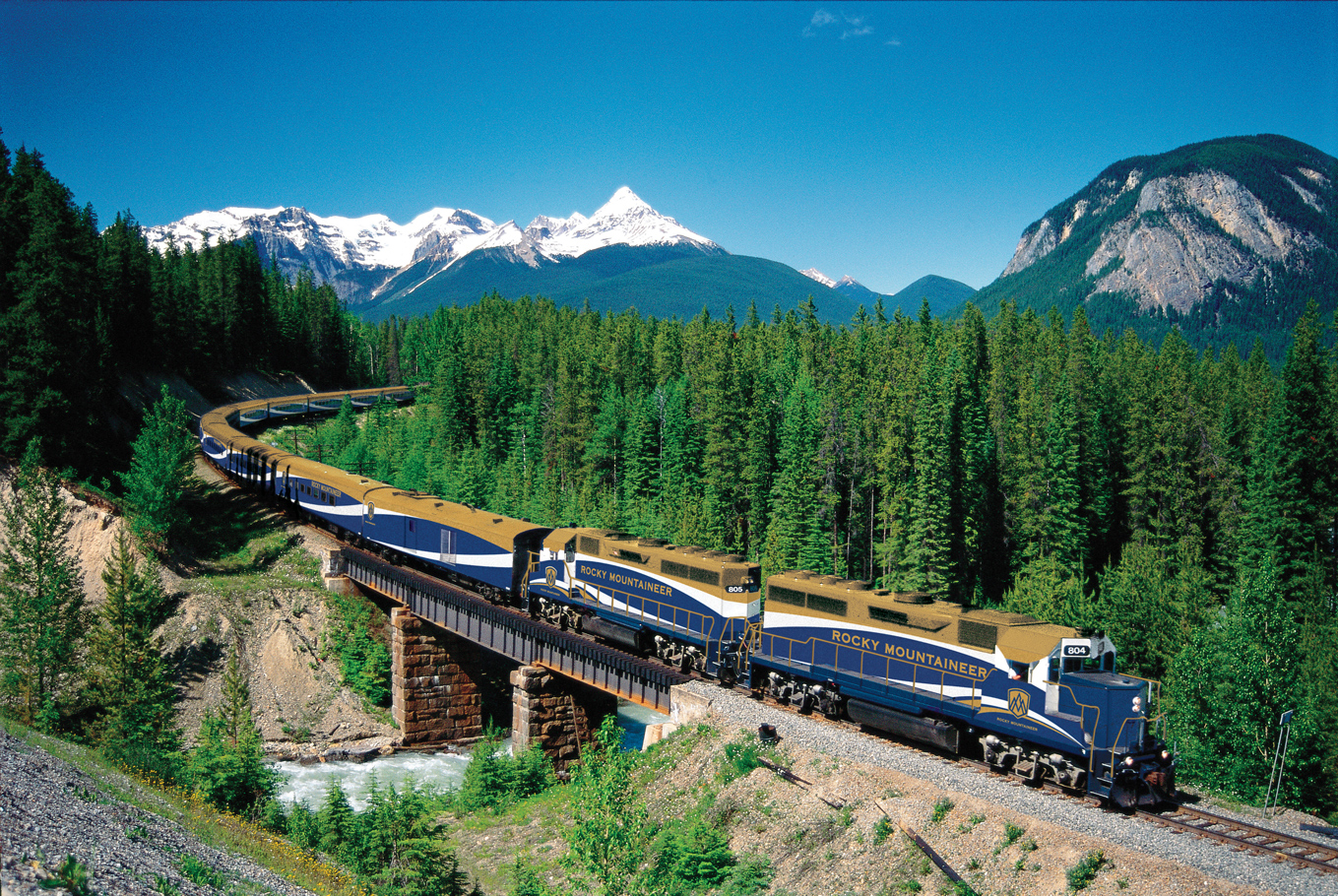 The hills outside my window are awash with bruise-y hues of purple and red—the result of mineral deposits in batholithic rock. They're also alive with bighorn sheep, who trip around lightly despite their heavy-looking heads, and, I'm told, rattlesnakes, who come here to mate. Although the landscape could be mistaken for that of the American Southwest, this is Canada, and these are the Painted Bluffs, Kamloops—just one of the many scenic vistas guests aboard the Rocky Mountaineer may observe as the luxury tourist train winds its way through the Rocky Mountains from Vancouver, B.C., to Banff, Alberta.
Since its inception in 1990, guests aboard the Mountaineer (the world's largest private luxury railcar) have begun their journeys early in the morning, sluicing through Western B.C.'s pine forests and into interior's sagebrush-scented air along the cloudy-blue Thompson River. The two-day trip is punctuated by an overnight hotel stay in the small town of Kamloops B.C., and resumed the following morning as the train pulls into the thick, feathery firs at the foot of the Rockies and towards the dramatic mountains beyond.
Sitting in the Rocky Mountaineer's glass-domed, bi-level coaches feels like being in an observatory; all one has to do is relax, drink in hand, and stare dreamily out the window while listening to the onboard team of hosts. These young, upbeat storytellers share tidbits about one's surroundings, and the history of the railway itself (such as how Lady Agnes Macdonald, wife of first Canadian Prime Minister Sir John A. Macdonald, enjoyed occasionally strapping herself to the train's cowcatcher to ride down hills as if on a roller-coaster). Elk, bears, sheep, eagles, osprey, and mountain goats are common sightings along the tracks, and an open-air observation deck allows one to safely get close.
The team aboard the Mountaineer ensures your trip will not only be a visual feast, but a literal one, each day. Meals aboard the train are served at fully set, white-linen tables in the dining carriage. An adjacent kitchen is so small it's baffling that executive chefs Jean Pierre Guerin and Frédéric Couton and their teams are able to produce the bounty they do. Breakfast begins with fresh-baked cinnamon scones and preserves; from there, a rotating menu sees a bevy of options from light yogurt and compote parfaits to spinach and egg soufflés, maple crème–topped French toast, and stacks of blueberry pancakes. For lunch: a delicate, prawn-topped garlic risotto, vegetable curry, beef brisket, burgers… with accoutrements from ketchup to warm bread to desserts homemade on board, no less. Snacks of Canadian cheese and fresh oatmeal cookies may find you at your seat while you inevitably doze between meals, lulled by the train's sway. "Sometimes we joke that this is the world's most expensive nap," laughs one of my hosts as I startle awake and bashfully wave back at the welcoming committee of Rocky Mountain employees who greet our arrival to Banff with broad smiles.