Bar Bello: An Italian Social Club in Montreal's Little Italy
Importing the aperitivo experience from the streets of Milan to Montreal's Little Italy, Bar Bello is the latest bar from Kevin Demers, the head of Montreal mixology standard-bearers like the Coldroom, El Pequeño, and Bisou Bisou.
Named for Demers's business partner, Benny Bello, the new project was influenced by establishments such as New York's Café Dante, London's Bar Termini, Milan's Bar Basso, and Hong Kong's Bar Leone, Demers says. The main goal here is to serve a proper introduction to Italian cocktail culture. "Escapism is something I appreciate and love doing in our spaces, where you feel transported while working with the community," he explains. "I wanted the look of an old Italian social club, something you'd find in Brooklyn in the 1950s, as well as touches of Italo disco."
The former shows in the bar's blend of warm leathers, wood panelling, marbled tabletops, checkered tiles, and softly glowing wall sconces, while the latter's reinforced by exposed speakers, turntables, and plush, dark-blue banquettes to sink into with music and drinks.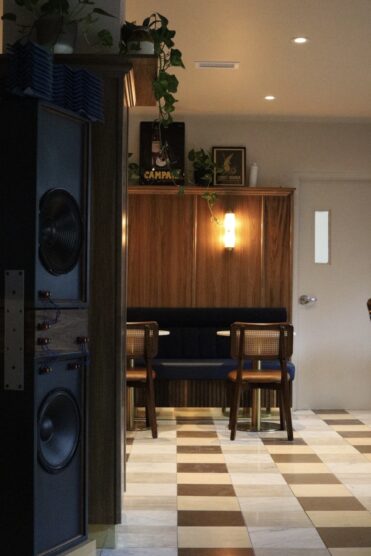 For the design, Demers enlisted Amlyne Phillips of La Chambre Design & Co., whose commercial interior design profile includes everything from setting the atmospheric standard for the modern steakhouses of Mignon to the executive private wine cellar of Le Parloir in Griffintown.
The space gravitates around a long bar that serves classics ranging from spritzes, Milano-Torinos, and bellinis as it does cocktails that recreate the flavours of dishes like tiramisu, caprese salad, and gnocchi with brown butter and sage. There's one feature, however, that pays homage to the bar's conceptual focus: a 1980s coin-operated Coca-Cola machine, retrofitted to dispense negronis and negroni variations that are bottled daily.
With plans to invite Italians both local and international for food and beverage programs, Demers says the project will serve as an opportunity to expand Montrealers' understanding of what he calls the "liquid culture" of Italy and how its cultural exports are meant to be served properly.
Bar Bello is at 6740 Saint-Laurent Boulevard.
Photography by Matt Baker.