Adidem Asterisks Introduces Streetwear to a New Era
In its latest collection, contemporary streetwear label Adidem Asterisks taps into its creative stoicism with a bold new chapter.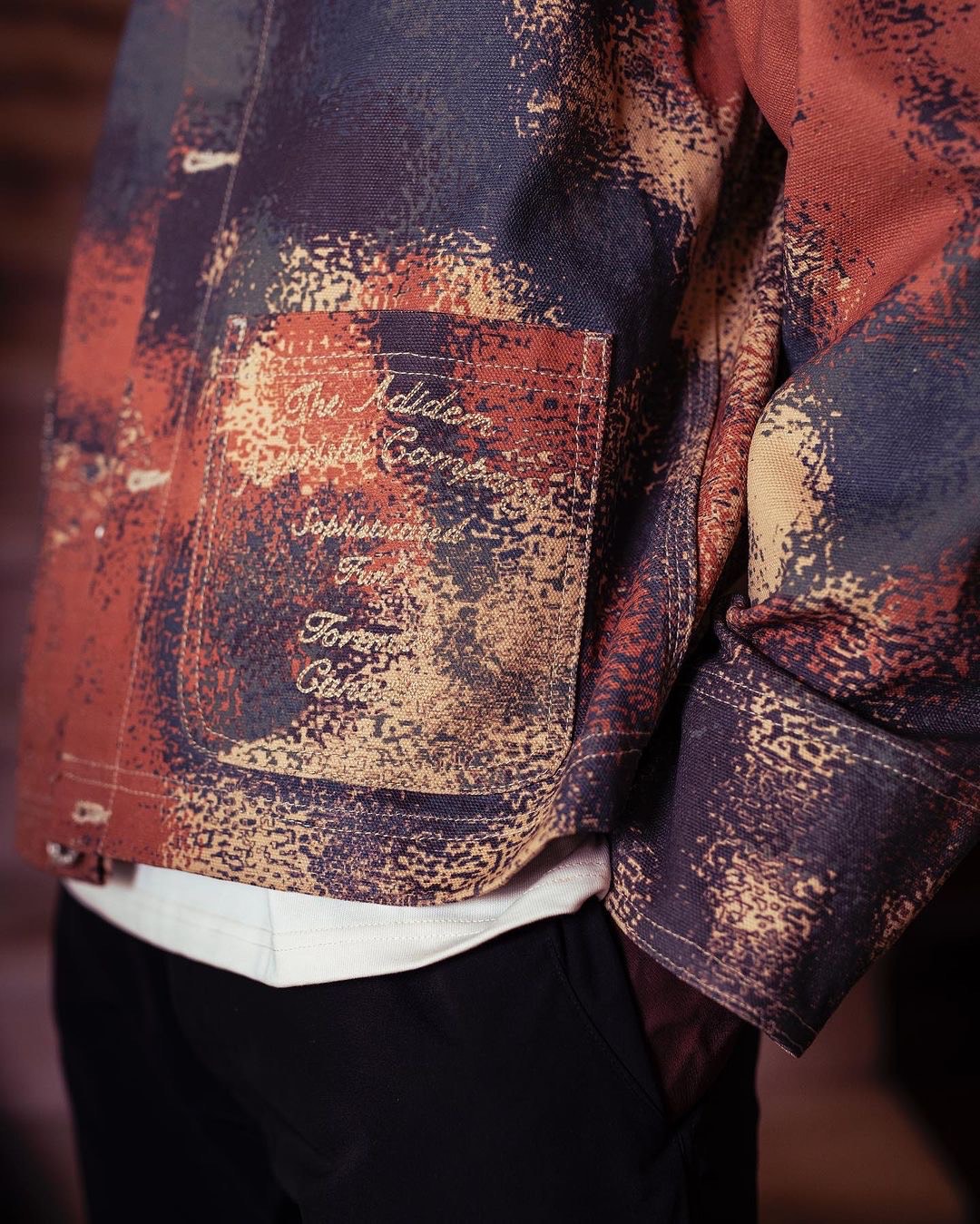 Walk down any street in Toronto, and you'll inevitably come across at least one piece from Canadian streetwear label Adidem Asterisks. It might be a pair of Dancing Crepe Shorts on their way to Lula Lounge or the brilliant Gradient Mohair Cardigan waiting on the patio of Mandy's Salads. Surely, you've walked past Adidem's iconic New Era fitted ballcap, the design that first popularized the brand.
Of course, in the ever-saturated world of streetwear, such stark recognizability is a dream to most. Yet Adidem founder Nicholas "Nicko" Bruno and his creative partners, Xavier Miller and Nick Collini, don't chase familiarity. Instead, Adidem is focused on the next chapter, however that might manifest, be it new themes, inspirations, or a bricks-and-mortar expansion.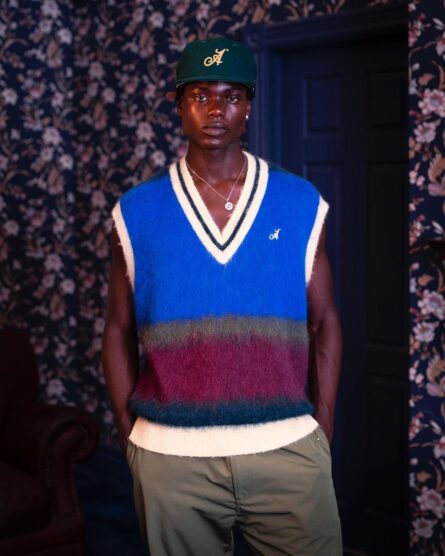 For its fall/winter 2023 campaign, "Sophisticated Fun," Adidem Asterisks drew inspiration from classic menswear silhouettes and blended them with bold contemporary prints, a twist that has become a staple of the brand. Playful takes on ready-to-wear pieces include the Waxed Work Jacket in a reimagined "camo" design that, ironically, stands out against any backdrop.
When asked if there's any fear of diverging from what fans have come to expect from a brand that made its mark in streetwear, Bruno doesn't even have to consider. "Never," he says instantly. "We don't design for anyone but ourselves. If we're talking about sustained [creativity], I don't think there's any other way. If you're trying to please everyone, you're being constantly distracted. There's really not enough space to be swayed by what others think."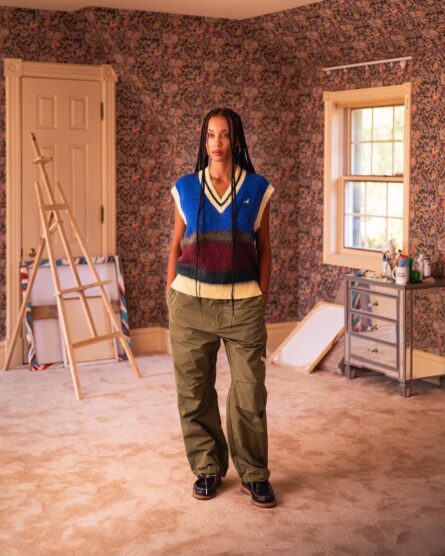 There's a unique confidence required to voluntarily stray from past successes the way Adidem has done in its latest collection. Despite becoming common in the pregame tunnel entrances of NBA stars such as Jaylen Brown and Zion Williamson over the past two seasons, the Toronto label takes the publicity with a grain of salt.
"At first, it's hard not to buy into the hype. I won't lie," Bruno says with a laugh, recalling the earliest memories of seeing his clothes on NBA players. "To see what was initially just meant to be a small drop grow into something that stretches to the league, that's a pretty crazy concept. But we never really get caught up in the hype. Put enough work out into the world and you realize pretty quickly that if you're going to put stock in being validated by one person, you have to put the same stock into being invalidated by another. I don't care if one person is in the spotlight and the other is typing comments on their phone. Both people are investing in your work, so you either let them sway you equally or just keep working."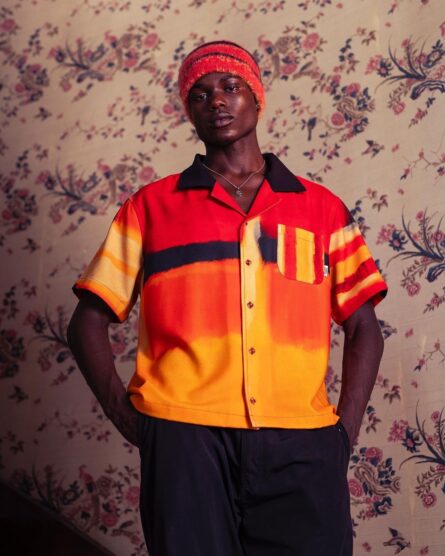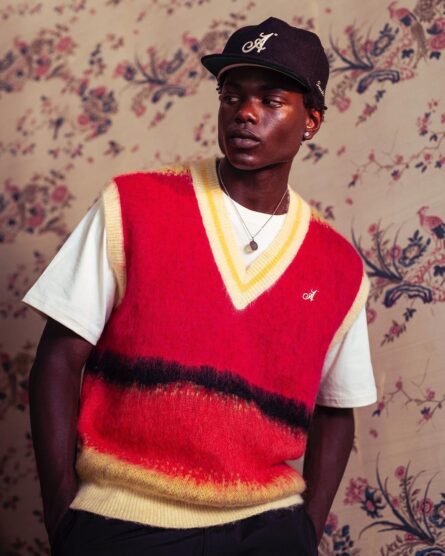 Even when recalling Adidem's capsule collaboration with Roots last year, Bruno and his team don't get swept up with pride. "We're so grateful," he says. "I mean, being Toronto-based, Roots is near the top of the mountain. But it's like everything, man. There [are] positives and drawbacks. I don't think we'd ever want to get that big as a company. I have all the respect in the world for Roots. But we're not a corporation. When you do a partnership like that, as much opportunity as it offers, you also start to understand just how different the creative process has to be at that large a scale. I think if we grew to that size, we'd lose the flow. I don't want to outgrow ourselves."
This creative stoicism is what allows Bruno and his team to continue taking risks to produce singular pieces like its M.R Printed Mohair Vests or its brilliantly vibrant selection of Camp Collar Shirts without fear of the label losing its identity. Why? Because Adidem's identity is constantly evolving, much like the voices around its founders.
Bruno explains that, in an ideal world, when the team mocks up a design, one cohort of his team would love it and another would hate it. "I love playing in contrasts," he says. "Okay, so you love this particular element of the piece. And someone else hates it. Cool. Then we go back and forth until we meet somewhere in the middle. Every opinion outside of that room is just noise. But the people you bring on board help realign the vision. That's a collective responsibility for us."
Adidem Asterisks' next chapter, whether it's a reinvention of "Sophisticated Fun," another collaboration with a legacy brand, or a fresh rollout of ballcaps, is anyone's guess. Regardless of how it manifests, Bruno and the team will remain grounded in the same creative stoicism that's always anchored the label.
Not too high on the highs, not too low on the lows.