Design Space: Sushibox by Future Simple Studio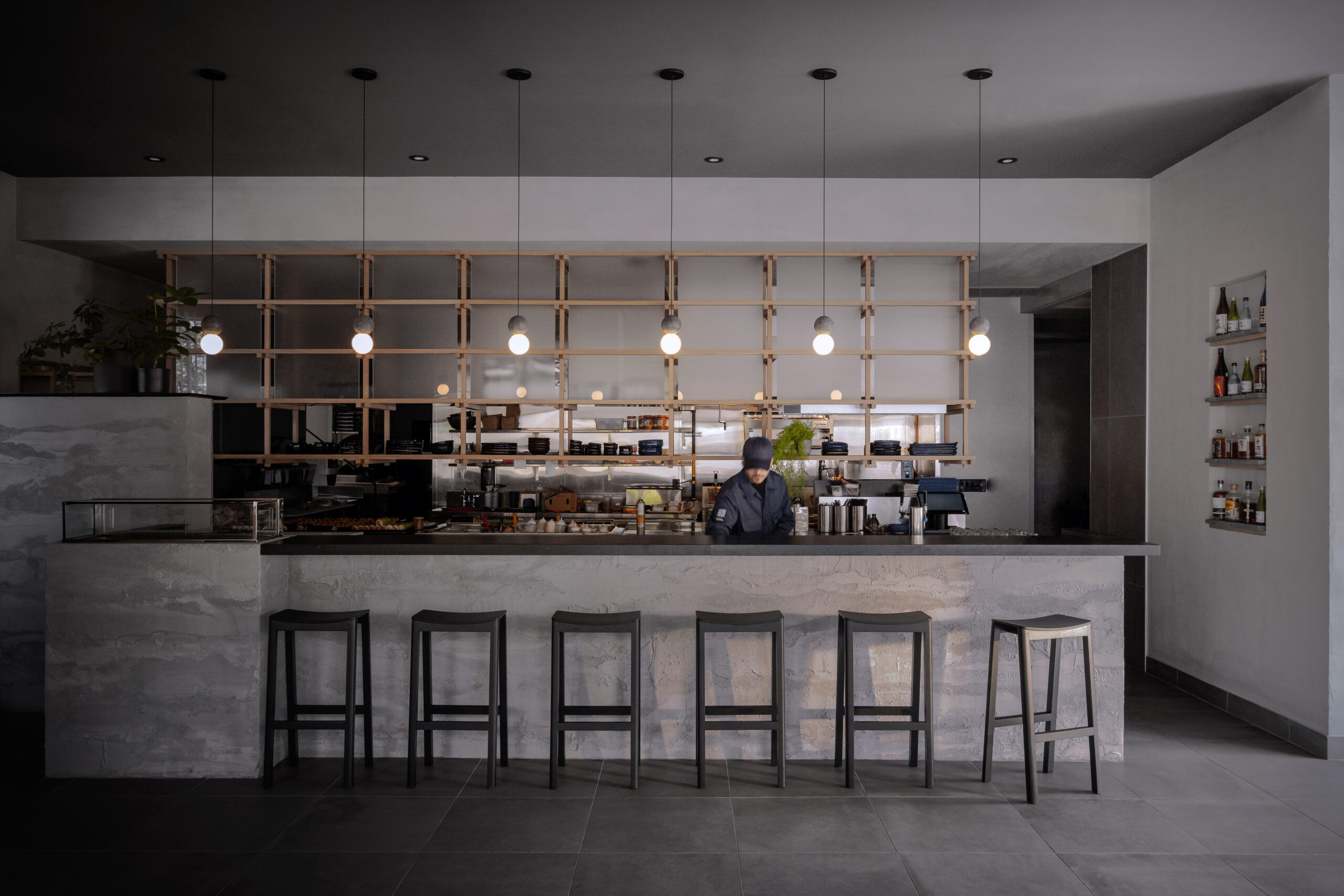 A sushi restaurant turned exceptional sensory experience was top of mind for the redesign of Sushibox in Quebec City by Montreal-based architecture office Future Simple Studio. Founded in 2018, the firm of architects and designers emphasizes attention to detail, inventive space planning, and harmonious materials guided by a minimalistic approach. This recent project, Sushibox, led by chef Patrick Landry, celebrates Japanese traditions with high-quality locally sourced seafood and produce.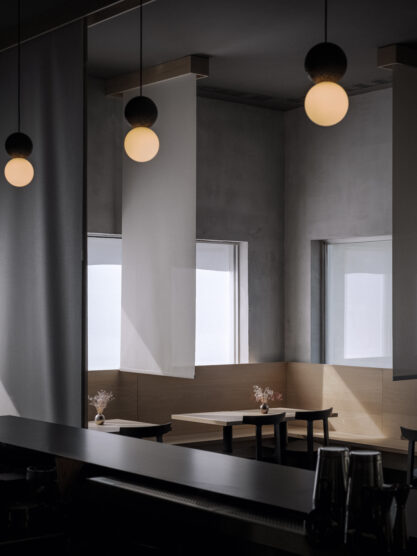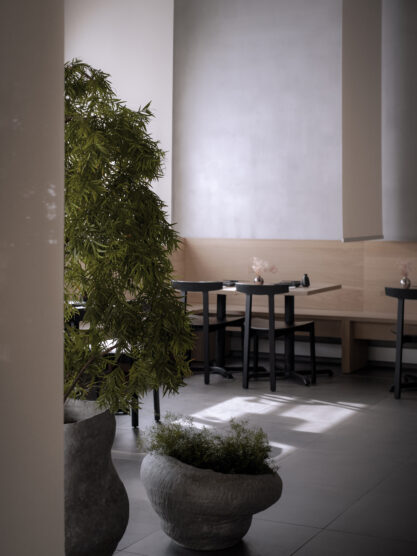 Combining handcrafted elements with natural textures and tones, and uniting strong lines with a serene atmosphere, Future Simple Studio strived to elevate the Sushibox dining experience and highlight the colourful cuisine. Completed earlier this summer, the 3,500-square-foot restaurant has a separate takeout area and an expanded dining room.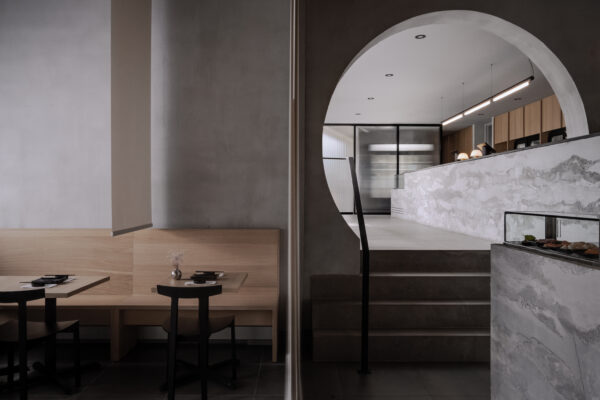 Beyond the restaurant's fluted glass vestibule, a massive concrete counter handcrafted by artist Zian Miscioscia welcomes diners to the takeout area. Bright lighting and sunshine glimpsed through the vertical blinds evoke a quiet, calm atmosphere, and white oak millwork contrasts with the rough-textured ceramic floor tiles and concrete-finish walls.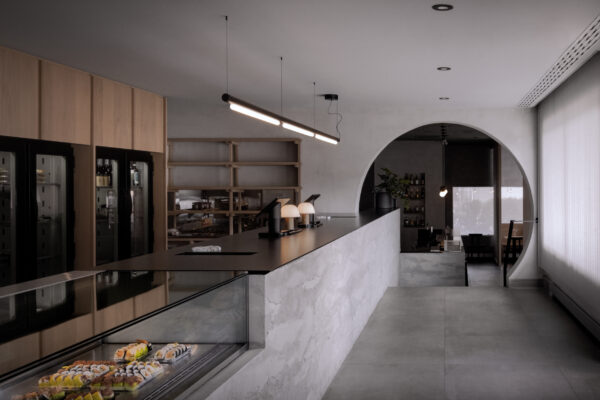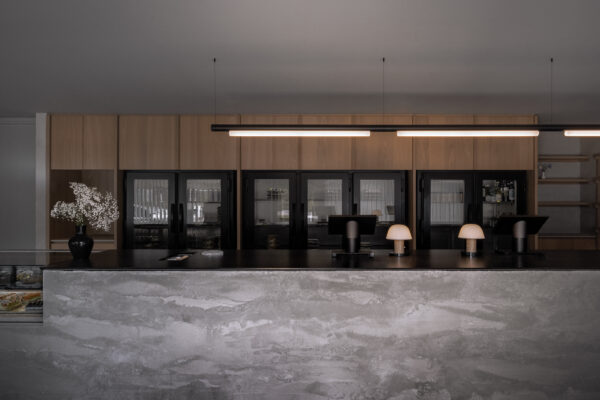 At the end of the counter, a large circular opening leads down a few steps from the takeout area to the dining tables, set between two large-scale lush planters by Edith Sevigny-Martel. Those sitting at the bar have a full view of the sushi-in-the-making in the open kitchen, where a custom stainless steel counter is backed with white-oak shelving and frosted panels. The end of the bar counter showcases the restaurant's sake and Japanese whisky choices, and each bar seat is dotted with a lava stone pendant designed by David Pompa. Above, hanging sheer panels encourage privacy and reconfigure the seating area as needed.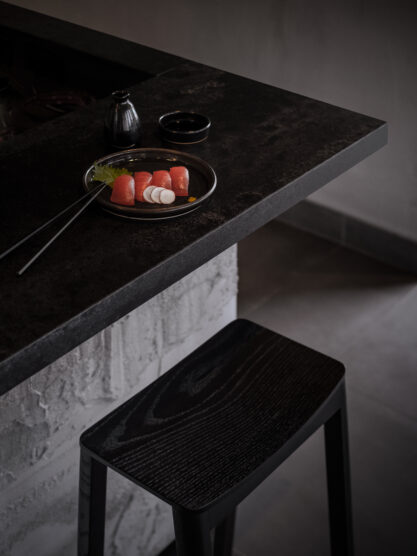 "With their redesign, Future Simple Studio merged functionality with artistic brilliance in an awe-inspiring way," says Thomas Casault, owner of Sushibox. "They understood the essence of our mission of creating an environment that transcends boundaries and leaves a lasting impression on everyone who steps through our doors."
Photography by Félix Michaud.