7 Places to Eat in Canmore, Alberta
Summer dining in the scenic town.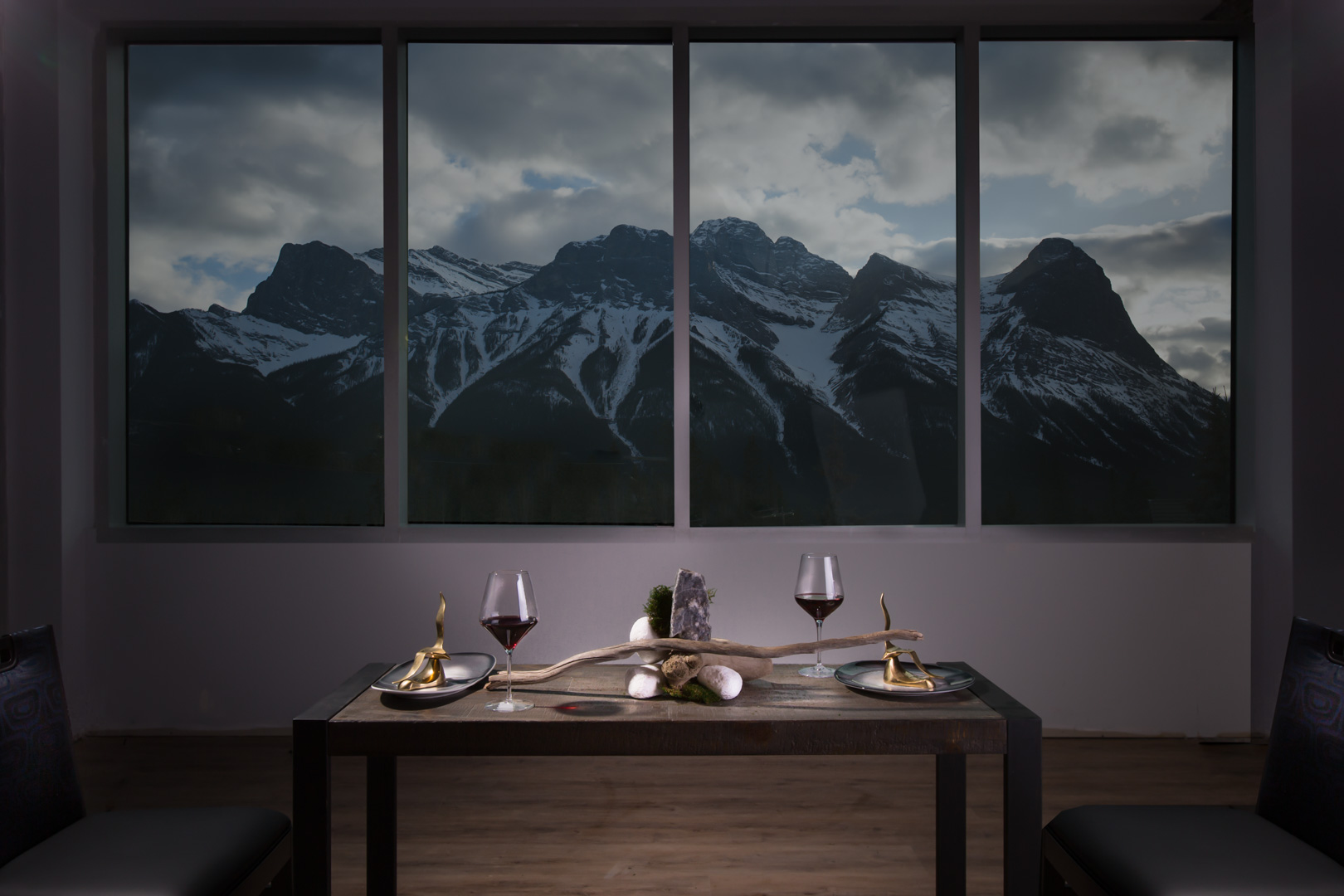 Canmore may be small (population 14,000), but its culinary landscape is quite the opposite. With rugged flavours, smoky accents, and experiential presentations, the town's gastronomy is a nod to its well-known Rocky Mountain hospitality and rustic elegance.
Home to one of Alberta's most celebrated food and drink festivals, Canmore Uncorked, the town has been warmly welcomed onto the map as a culinary destination. It's the home of some of the province's leading chefs, who aim to charm you with their creativity and captivate you from the moment you enter their dining rooms.
Whether you're in it for the unmissable views of the Rockies or indulgent menus, or alpine façades, here are seven bustling restaurants that include them all. Make sure to pay them a visit next time you visit this town for hiking, camping, mountain biking, or just scenic-driving through.
The Sensory and Wit Bar
Canmore's newest fine dining experience, the Sensory aims to surprise and delight with its two-component space. Located upstairs, it utilizes artistic and upscale dishes, playing on the concept of forage and feast. Head chef Tracy Little is an expert at foraging, and she works to incorporate all the ingredients she collects on a daily basis, adding a unique edge to her cooking style that you won't find anywhere else in Canmore. Try the rotating seven-course tasting menu inspired by the current season's harvest.  As you make your way down the grand spiral staircase, you'll come upon part two, a warm, more relaxed space called the Wit Bar. Here, you will find shareable snacks and farm-to-table small courses, along with comfortable seating, soft lighting, and innovative cocktails created by celebrated mixologist Kristin Winbald.
The Trough Dining Co.
Cozy and intimate is exactly how one would describe the ambiance of this charming nine-table, family-run eatery. You'll want to make a reservation well in advance, as it books up quickly—and for good reason. Taking fine dining to an incredible new level, the mother-and-son team aims to personalize the experience through delicately prepared dishes featuring local ingredients, robust flavours, and creative pairings, all representative of their Rocky Mountain surroundings. The attention to detail is what will set you off on an intense and unique culinary journey.
Sage Bistro and Wine Lounge
At this spot, situated in an all-Canadian log cabin with memorable views of the mountains, you can dine in the bistro downstairs, enjoy a small plate paired with wine in the lounge upstairs, or eat al fresco on the captivating garden patio. A third-generation, family-owned operation, the people behind Sage are experts at sourcing from local purveyors and producers for their impressive and award-winning dishes, such as rosemary and port braised lamb shank, Alberta steaks, and their many fresh B.C. seafood features. Most of all, they're known for their PEI mussels, which they coat in a buttery garlic white wine cream sauce.
Table Food and Drink
This spot has character running through its veins, from the kitchen all the way to the Douglas fir tabletops, which were created from beams dating back to 1959. Head chef Tim Matsell prioritizes using the freshest ingredients in every dish, which is why the menu is a seasonal rotation based on what's currently growing in the restaurant's garden. Join them for happy hour, and enjoy live music, summer specials, and fresh mountain air out on the picturesque garden patio.
Where the Buffalo Roam Saloon
Located on Canmore's main strip, this intimate yet lively cocktail bar boasts exclusive mountain views and a charming interior filled with eclectic decor inspired by vintage Alberta. Roam in for their seasonal plates, created by chef Kris Lowes, which are globally inspired with a mountain twist and designed to be shared. You can pair with a Canadian beer or bold wine, but they specialize in cocktails incorporating rare, local spirits that pack an impeccable punch.
Crazy Weed
Combining the fancy and not-so-fancy elements of the Rockies, this restaurant is a local fixture (open since 1997) and emphasizes its convivial, eclectic, and fun dining atmosphere. Named during an impromptu flip through an Audubon book about wildflowers, the owners have worked to keep this heartfelt free spirit running through every vein of their establishment. With a focus on fresh, authentic ingredients, the menu is bright and full of wholesome food, each ingredient chosen to complement others and create a burst of flavour in every bite.
_________
Never miss a story. Sign up for NUVO's weekly newsletter, here.