Reimagining Cannabis Wellness
L.A.-based personal trainer Justin Williams stands atop the Malibu Hills, which dip down to the Pacific Ocean and melt into haze just past Santa Monica. "I can't find my Bliss," he says, fumbling in his pocket as hikers around us swig bottles of water and take in the view. We've hiked an hour up to this spot at a relaxed pace, thanks to the mellowing effects of a puff of cannabis at the base of the trail. Now we're ready for another. "Ahhh, here it is." Williams lifts a small white vaporizer pen labelled Bliss out of his backpack, puts his lips to one end, and inhales a smokeless vapour containing a 2.25-milligram dose of active cannabis ingredients. After three seconds, the flow ceases and the device vibrates to indicate it's finished administering the proper amount. I grab my Bliss and inhale too as the beautiful view seems to resonate even deeper with me, and my limbs feel slightly lighter for the trek back down.
The product we're using is by Dosist, a health and wellness company set on destigmatizing cannabis use, which is headquartered in California with offices in Canada. Dosist makes pre-loaded "dose pens" filled with cannabis formulations that provide both pain relief for what ails you, and pleasure, and are sold in slickly-branded, medical-grade plastic. Each pen encourages a different state of being, inscribed on their case: Bliss, Sleep, Calm, Relief, Arouse, and Passion. Reminiscent of wellness-targeted roll-on essential oils by companies such as Saje Natural Wellness or Escents, dose pen oils are blended with combinations of CBD (the non-psychoactive component in marijuana) and THC (the compound that gives a psychoactive high) in carefully measured quantities to provide a "tailored" high.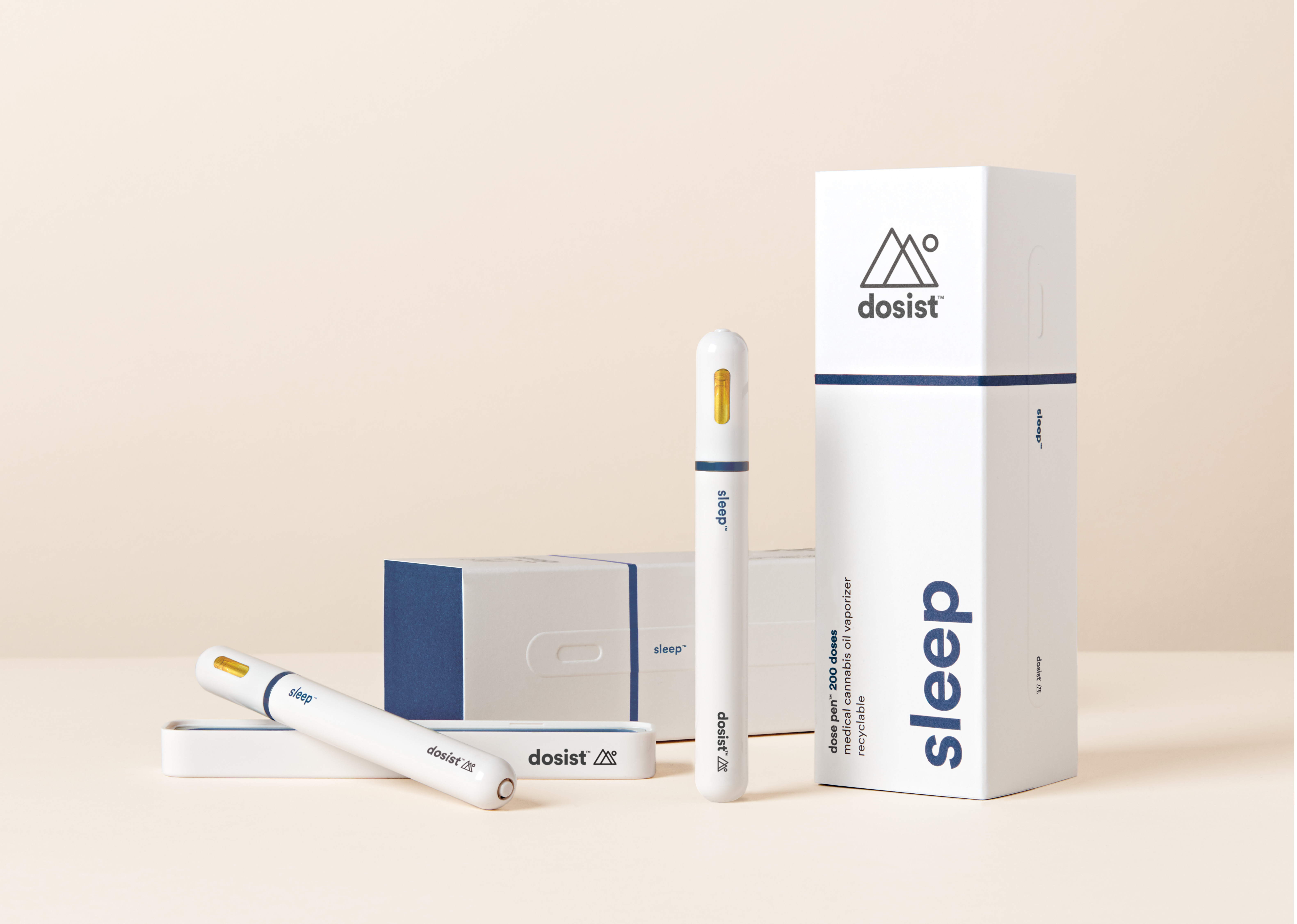 Want a full eight hours of rest? Try Sleep. Looking to spice things up in the bedroom? Puff on Passion. The product is all about control—removing the fear of finding oneself at the mercy of an unpredictable psychoactive effect and encouraging the user to administer per their own needs. And the dose pens themselves use strict temperature and airflow controls to do so accurately. Fast Company's World's Most Innovative Companies 2018 list named Dosist among them ("for taking the guesswork out of medicating with cannabis") and Time magazine called the dose pen, which is available in both 50- and 200-dose sizes, one of the best inventions of 2016—a strong statement to make about a product that is federally illegal.
So, is this the medical marijuana of the future? I ask Dosist president Josh Campbell, who has been with the company since 2017, but he stops me in my tracks: "At Dosist, we never say the words marijuana or weed. We say cannabis of course, but we really are a wellness company, first and foremost." Fair enough. When it comes to destigmatizing cannabis, semantics matter, especially in the age of legalization. Campbell would know—he was asked to speak, on behalf of Dosist, in Ottawa this past April before the standing Senate Committee on Social Affairs, Science, and Technology. (Born and raised in Erin, Ontario, Campbell now lives in Vancouver.) Canada's legalization of recreational cannabis is slated to come into affect this October, however the federal government is hesitating to legalize the use of concentrates and vaporizers, and has given themselves a deadline of one year from legalization to deal with the issue. As Campbell explains, "Basically, the current legislation, as proposed, doesn't allow for our product to come to market. Which we think is crazy. Our ask [to Senate was] that vaporizers and concentrates come into force on day one of legalization, rather than waiting a year."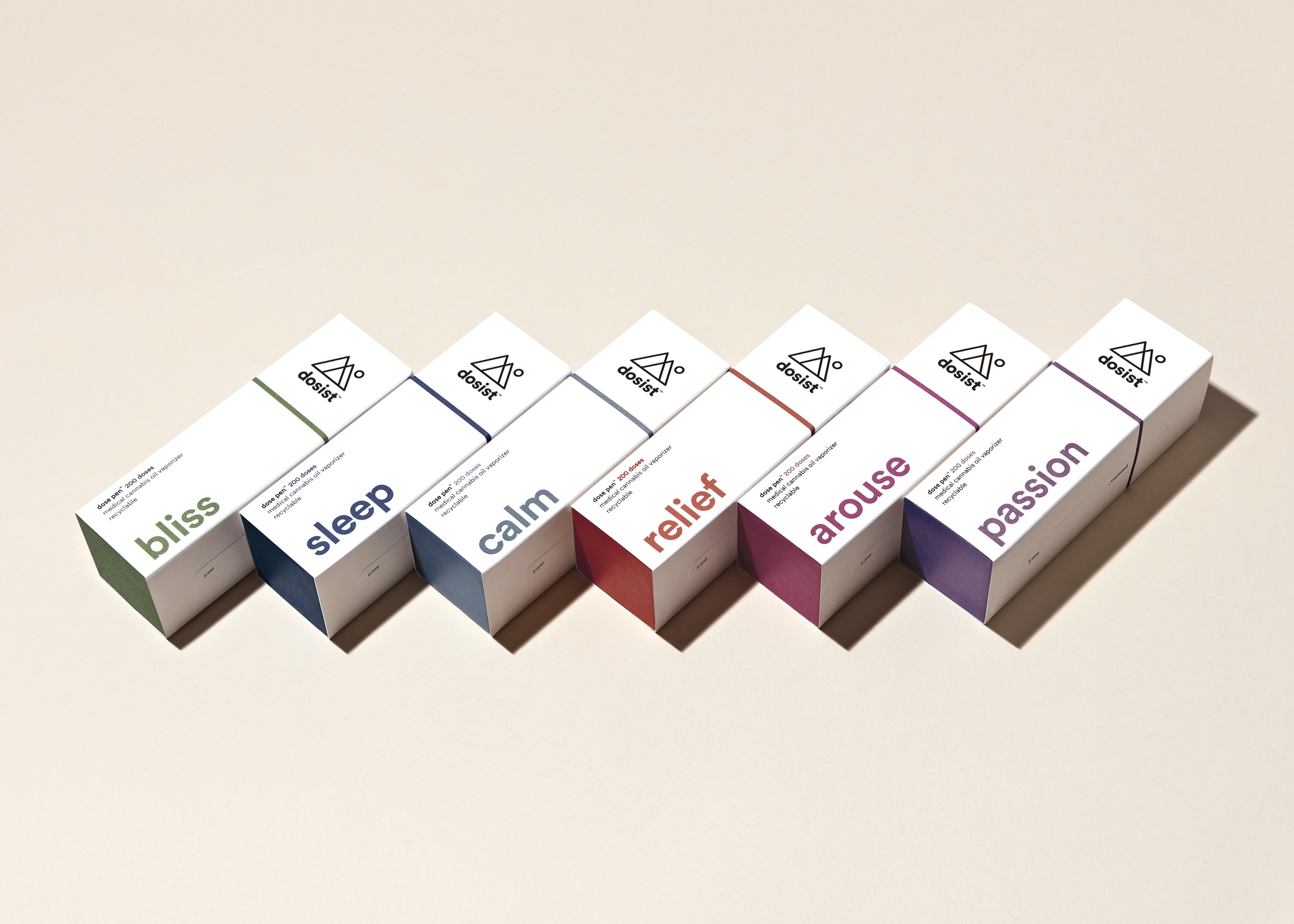 The benefits of cannabinoids on a multitude of health problems is well-studied by the medical industry. From relieving depression and anxiety to muscle spasms and addiction, cannabis' virtues have been extolled by many including Friedrich Nietzsche, who used it to relax, and Bill Gates, who has publicly backed legalization. Famed cosmologist Carl Sagan lauded cannabis for allowing him to understand human psychology better, and even wrote an essay all about it. "The illegality of cannabis is outrageous," wrote Sagan, "[It is] an impediment to full utilization of a drug which helps produce the serenity and insight, sensitivity and fellowship so desperately needed in this increasingly mad and dangerous world." Modern users are increasingly taking the drug as a lifestyle enhancer, a trend of which Dosist is keenly aware. "Cannabis isn't just about getting high and wearing 4/20 T-shirts anymore," says Campbell. "It's about, 'how do I sleep better?' or, 'how do I have more intimacy with my partner?'"
It sounds like an exact science—but does it work? If you already use cannabis, you already know the answer: different doses and strains affect every individual differently. I had a dose of Sleep before bed one evening and found myself, instead, staying up with my heady high; the following night, it had me sleeping like a baby. A puff of Bliss on top of the Malibu Hills proved uplifting, and encouraged a bubbly, social hike back down. Still, some weed traditionalists may feel contemporary vape pens are a sterile alternative to, say, walking to the local dispensary, browsing shelves laden with jars of Super Lemon Haze and Blue Dream, then grinding and rolling a joint by hand. But Dosist isn't for them. This is a pen for parents seeking to reap the benefits of cannabis subtly; for the socially-conscious urban millennial who wants a design accessory as much as a wellness product that's tested, regulated, plant-based, and locally-grown (when Dosist comes to Canada, all plants will be grown here). They are for people like Gwyneth Paltrow, who showed off her dose pen in an issue of Goop, her wellness publication; or Chelsea Handler, who was spotted with one on a chairlift at Whistler Blackcomb.
On the horizon, Dosist has plans to develop non-cannabis wellness products, too. "I can say that the products we have in our pipeline, no one's ever seen or contemplated them yet," says Campbell. "This is just the beginning."
_________
Never miss a story. Sign up for NUVO's weekly newsletter, here.