Exploring Italy's Painted City
Where la dolce vita and prosecco flow.
At Tavernetta Butterfly in Treviso, a glass of prosecco accompanies every patron's plate. It's a weekday at the neighbourhood seafood restaurant, which sits one block away from the walled city's ancient stone border, and tabletop platters overflow with calamari and mussels, scampi and wedges of lemon. Dressed for the workday, a young Italian couple still makes time for a three-course repast: primo is pan-fried cod on polenta, secondo is roasted artichoke hearts, and the final course is a quintessentially Italian end to a light meal—two fresh oranges, which the couple pare deftly with butter knives, thick rinds falling on the white tablecloth.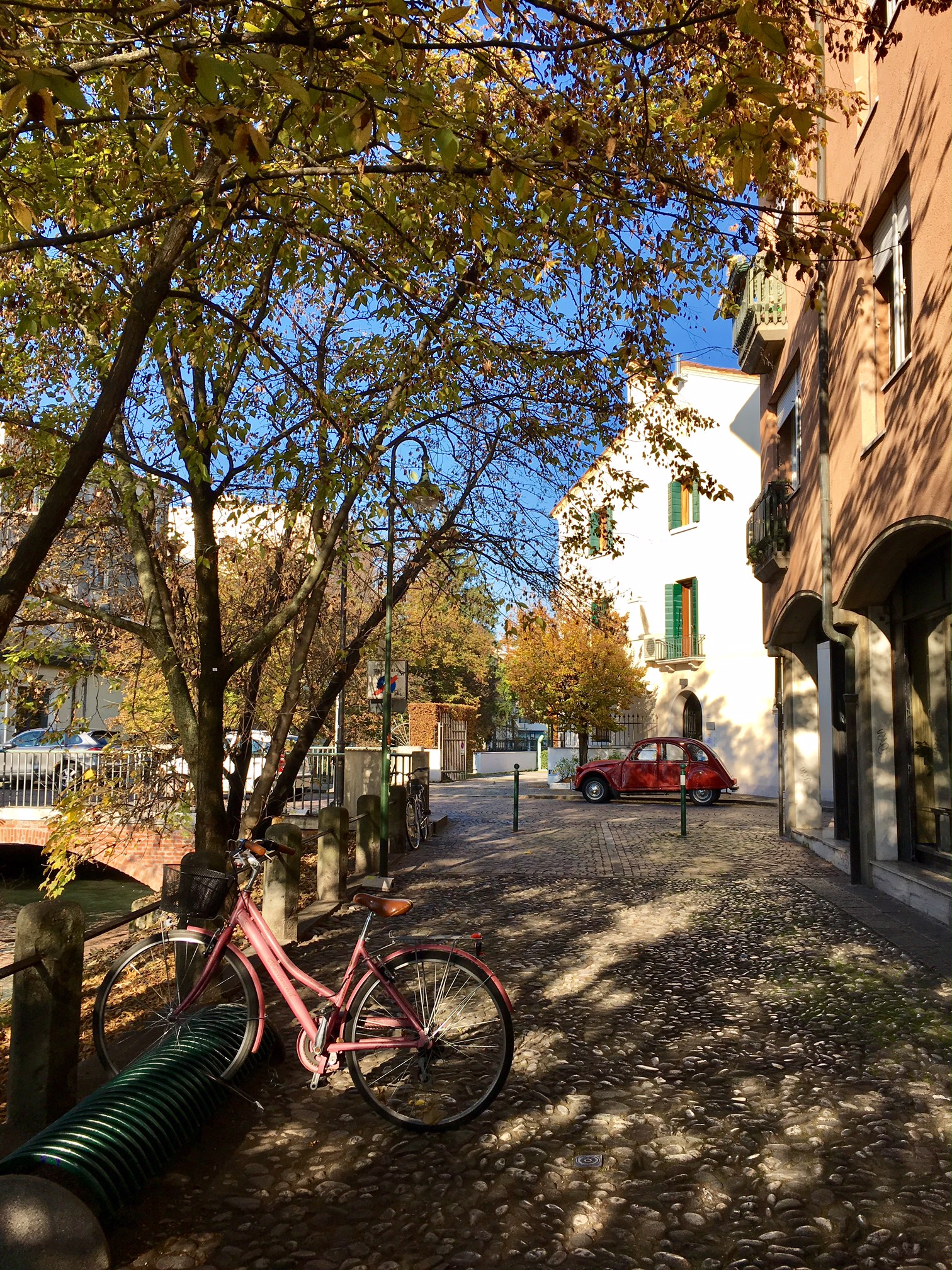 Things move slowly, artfully, in Treviso. Some say its residents have three (tre) faces (visi), and if you consider its three fashionable faces, perhaps this is true. The city is the birthplace of shoe company Geox, global fashion brand Benetton Group, and world-renowned Pinarello bicycles (the marque upon which Chris Froome won the Tour de France). Unsurprisingly, the city's 82,000 inhabitants appear immaculately dressed at all times.
Treviso's location, a 45-minute drive northwest of Venice, makes for an easy day trip or a home base from which to jump off into Veneto's famed prosecco region and Michelin-starred restaurants. Indeed, the city is a palate cleanser to neighbouring Venice, with streets that run far less frenetic. There's also a refreshing void of tacky tourist shops—authentic working markets are very much for food, fish, and flowers, not show-and-tell—and there are storied frescoes to be found everywhere, earning Treviso a nickname: "the painted city". Similar to Venice are the city's rambling walkways, winding canals, and restored marvels. Seek out the stunning Teatro Comunale Mario Del Monaco, an opera house that dates to 1692. Externally unassuming, its pink walls and ornate viewing boxes within recall a more opulent time. Across town, a former convent is now home to the Civic Museum, with mauve wisteria growing on the façade and frescoes by Tommaso da Modena inside. Like every city in Italy, there is a secret behind every doorway.
There's a refreshing void of tacky tourist shops, and Treviso's storied frescoes have earned it a nickname: "the painted city".
Through another modest door lies Trattoria all'Oca Bianca, the oldest restaurant in Treviso, open since 1921. On the menu here, goose is king—think speck, salami, tortellini, and soppressata—and the room itself is a step back in time with walls donning goose-themed paraphernalia from decades past. Treviso's other local specialities include tramezzini—pinwheel sandwiches typical of the region and filled with pâté, sardines, or egg—and ethereal all'onda (wavy) risotto, its description a reference to the rippling texture achieved by the Arborio grains. Also not to be missed is a visit to the open-air fish market, located in town in the middle of a small river island. Dating back to the Habsburg era, this working pescheria is a testament to the fact that Treviso's fare is prized not for its opulence, but for its quality.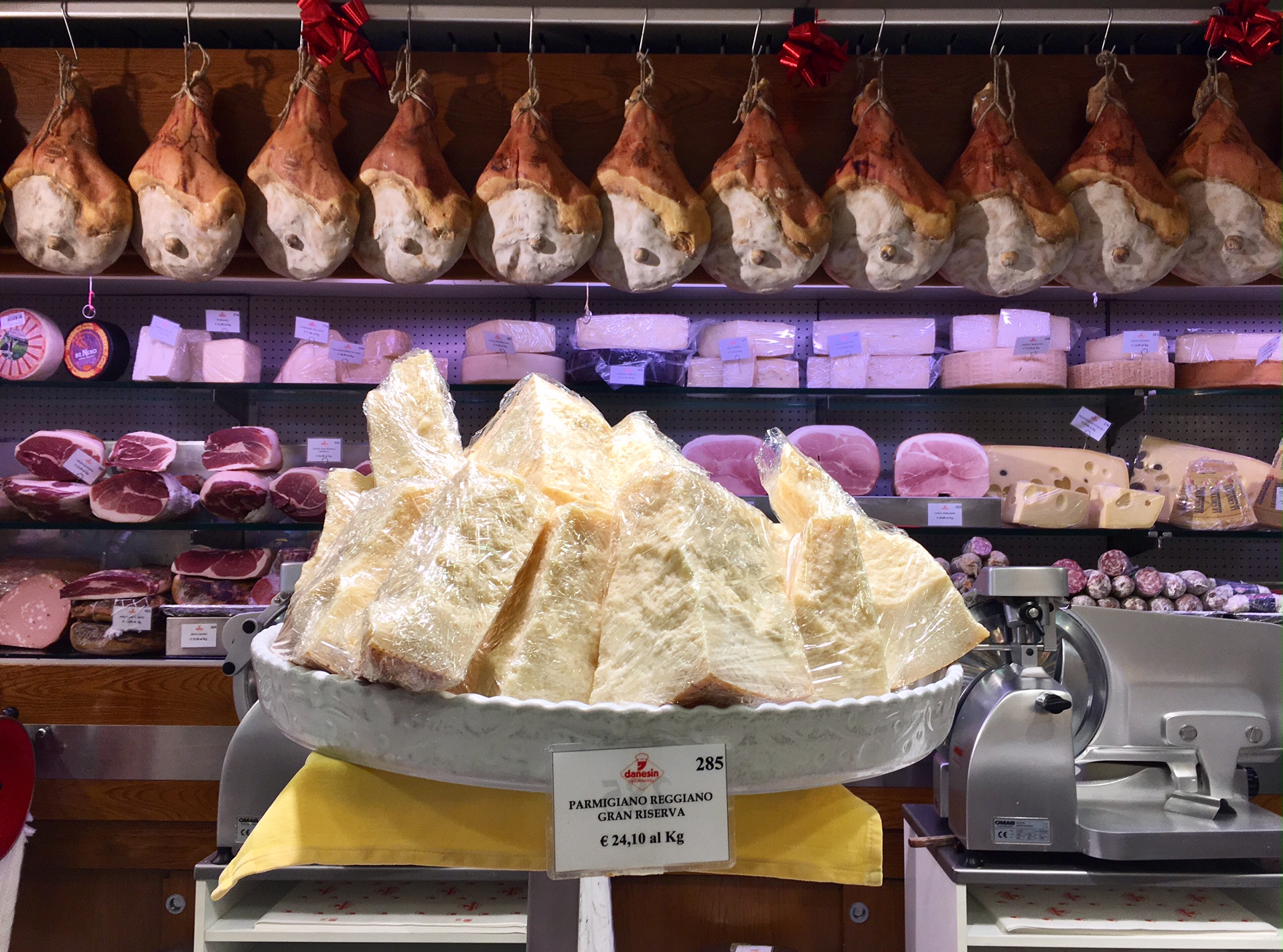 To work off the region's culinary delights, travellers can take on part of the new long-distance (560 kilometres) Munich-to-Venice bike route that winds through Germany, Austria, and Italy, with a stop in Treviso before culminating in Venice. The Veneto portion travels through the picturesque prosecco DOCG region, with undulating hills covered in glera grapes (used in prosecco production) at every turn. Whether exploring these scenic parts on two wheels or four, seek out the tiny countryside town of Follina, also on the prosecco wine route and nestled in the prealps. With a population of just 2,000, the town has a rare gem of an abbey that dates back to 1170 and is prized as one of the finest examples of Sistine and gothic architecture in the country.
Despite its small size, Follina is also home to about seven stellar restaurants. It is a must to book into the Michelin-starred La Corte restaurant at Villa Abbazia, a Relais & Châteaux property housed within a 17th-century palazzo. Prosecco flows freely here, pairing as easily with this intricate fare as it did with simple oranges in Treviso. The easy-drinking bubbly goes with everything, really, and the area is fortunate to have a seemingly unlimited supply. La dolce vita, this most certainly is.
_________
Never miss a story. Sign up for NUVO's weekly newsletter.