Destination craft breweries across British Columbia.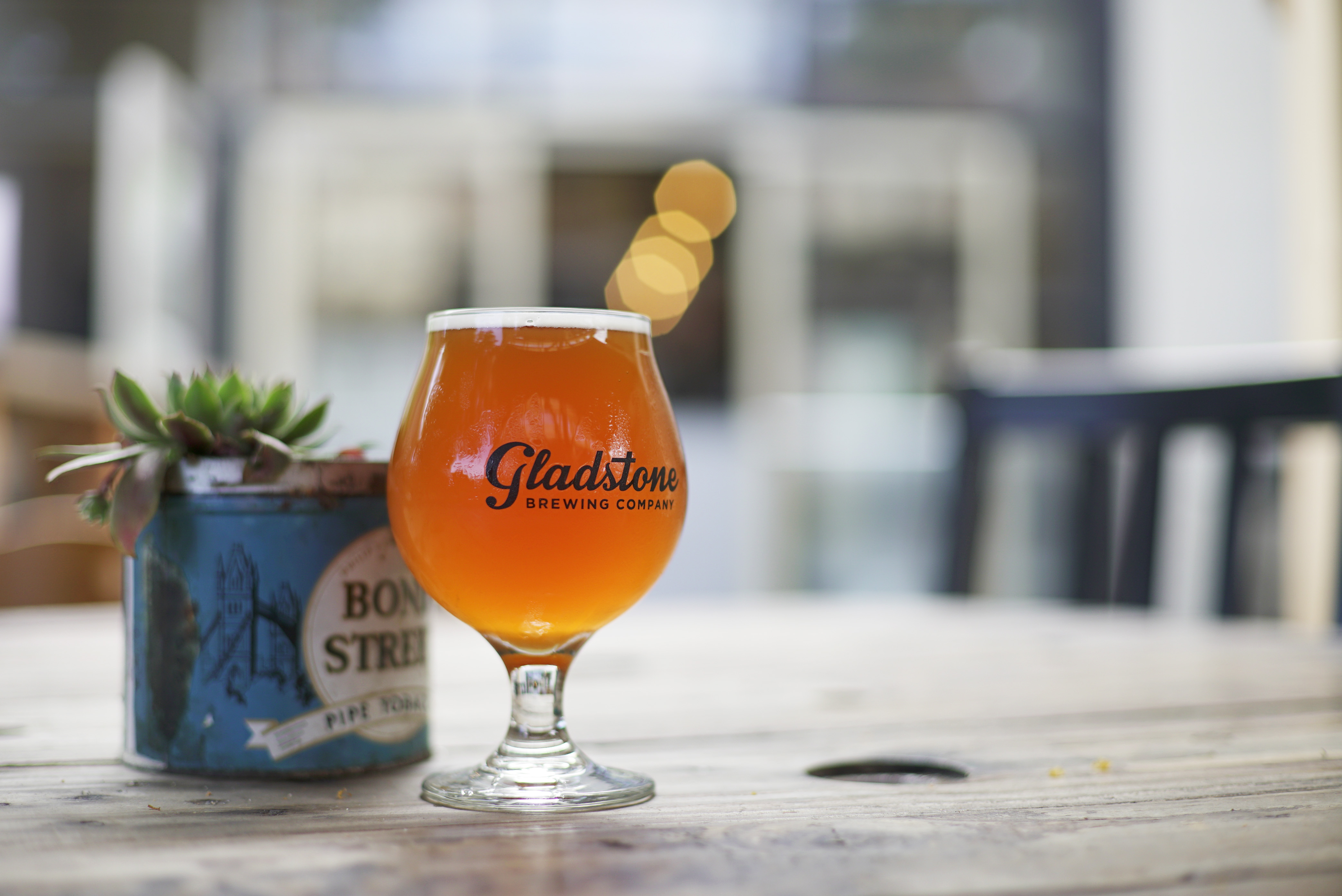 When I was a kid making mischief on Vancouver Island, local beer was nothing to brag about. There was Lucky, a lager that came in stubbies (and was actually owned by Americans, though brewed in Victoria at the time), and Kokanee, a lager that was marketed by a sasquatch. If you wanted to get really fancy, there was Molson, there was Coors… You get the idea.
Decades later, considerably more local beer options are available—the craft beer market has even seemed to reach an apex, with brewers making delicious beverages from regional produce, collaborating with friendly rivals, and increasingly barrel-aging their brews in spirit-soaked wood.
Well, what's an apex but something to surmount? Nature abhors an untapped market as much as I abhor an untapped keg, so the next twist has already arrived: beer tourism. Like destination vineyards in Napa or the Okanagan, breweries yearn to find themselves on an itinerary, and B.C. beer guru Joe Wiebe has obliged with not one but seven B.C. Ale Trails studded across the province. Wiebe has centred one self-guided tour in Victoria, his hometown and "the cradle of the craft beer revolution," but the other six, just recently established, range widely across British Columbia. I had the opportunity to explore two of them, which together form a circle tour from Vancouver up the Sunshine Coast (Part One) and across central Vancouver Island (Part Two).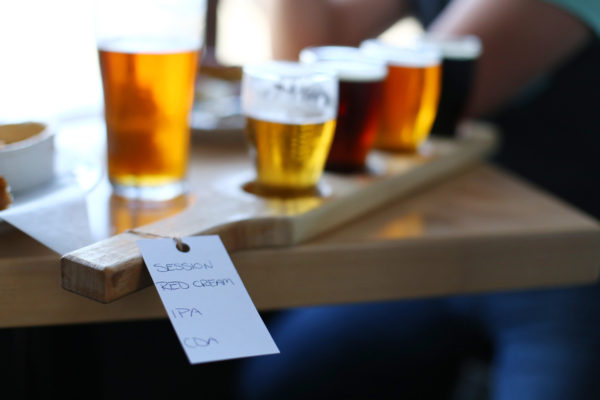 Wiebe, in collaboration with Destination B.C. and other tourism agencies, has picked the most promising craft breweries to visit along the routes. Having nothing but your best interest at heart, I was scrupulous in sampling widely at all of them, trying most of the beers at a dozen breweries along the way.
Somewhere around my fifth spin on Cascadian Dark Ale, several realizations struck me. The first being that the brewers of British Columbia make very, very good beer. I've visited many wineries across the South Okanagan, Vancouver Island, and the Lower Mainland, and without meaning to throw down, I say these breweries are making a more consistently excellent product now, in their infancy (the first craft beer appeared in this province in 1982) than B.C. wineries do yet—though bottle for bottle, there aren't nearly so many beer standouts as there are terrific wines. What I mean to stress is that the general bar is high, with duds few and far between.
The second was that these breweries are run by idiosyncratic small business people. No two Dry Stouts tasted alike, and no two tasting lounges had the same vibe. Some quoted Old Vail Chalet (Persephone Brewing); others, Eighties Disco (Chemainus's Riot Brewing Co.). Some offered nothing but cheese sticks; others, great food. (I won't bore you with the details, but the provincial government is to blame for the disincentive to cook nice dishes to enjoy alongside your beer.)
Thirdly, a spirit of optimism suffused the whole trip. This is such a young industry—at most of these places the paint is still wet. The owners and staff are young, passionate and happy to invite the curious back into the brewing area for a few samples drawn right off the line.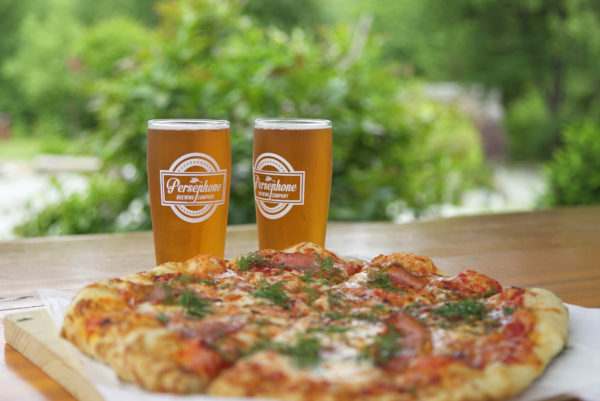 PART ONE: SUNSHINE COAST
GIBSONS  Persephone Brewing is part farm, part political statement, part lifestyle choice. Who cares what those nutty back-to-the-landers are doing, though, when the beers are so (as the slogan goes) "Farm Fresh". Order: Whatever's on tap. This is one of the few breweries with decent distribution, so focus on what isn't going into kegs you can try at the bar back home. Don't miss: Music all summer, the food truck out front, a visit to the chickens in the back. While you're there: Visit the Gibsons Public Market, a new collaborative venture with a decent cheese shop, Art Meets Chocolate, an eccentric and delicious artisanal offering from nearby Gambier Island, and a community commissary—think handmade jams for the farmer's market out front. New this summer is the Nicholas Sonntag Marine Education Centre, an ambitious catch-and-release learning centre.
POWELL RIVER  Townsite Brewing, in the city's old post office (built 1939), has recently expanded—interest among the townsfolk in hanging out there was, shall we say, reaching a critical point. This is in the historic part of Powell River (read: the mill end of town), so fair warning: it's a 10-minute drive to the restaurants in the newer downtown. Order: The Bière d'Hiver (a Belgian dubbel) or Charleston (tripel), if only because brewmaster Cédric Dauchot is from Brussels and knows his way around those styles in a way few British Columbians do. Don't miss: When I was there, they had both the Perfect Storm Oatmeal Stout and its barrel-aged brother on tap; a back-to-back tasting makes a nice night. While you're there: No one knows when the local barbershop quartet might show up, so dawdle in hopes, but if you get peckish, designatedly drive your way into town and dine at Coastal Cookery, a very smart, casual bistro perched overlooking the Malaspina Strait and, if you've timed it right, the ferry you'll take tomorrow to Comox. Doesn't it look nice? That brand-new Salish Orca is wrapped in artwork by Esquimalt painter Darlene Gait.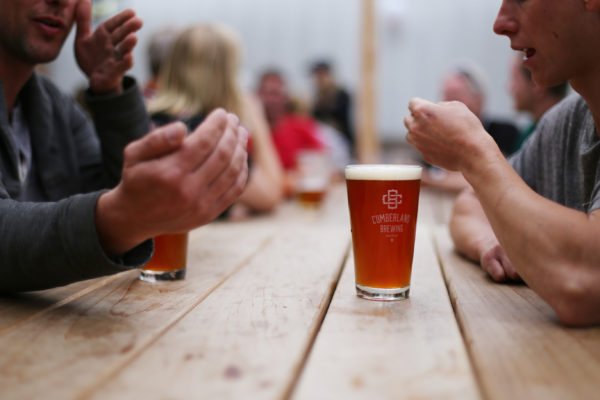 PART TWO: VANCOUVER ISLAND
COURTENAY  Gladstone Brewing was the site of Springtoberfest the day I stopped by, a 12-hour marathon of live music, continuous beer, and dogs and children everywhere. This leaves me with an especially fond regard for the place, but the beer really is delicious and in an impressive range of styles. Order: The Czech-style Dark Lager—just remember it's 6.3 per cent alcohol. Don't miss: The day I was there, they had a collaboration with Townsite on tap called Algerine No. 2, a tart saison that made the sun break through the clouds. While you're there: Way at the other end of town is Wayward Distillation House, a one-of-a-kind spirit maker that uses, as the base of its liquors, honey from Northern B.C. turned first to mead, then to vodka, gin, and various liqueurs. I was lucky enough to taste the next batch of Drunken Hive rum from the cask—unbelievably delicate and delicious.
CUMBERLAND  This former mining town is now a gateway for mountain biking and hiking, but make sure to replenish your calories while you're in town. There's tasty glazed doughnuts at the Village Bakery and a fancy chocolate shop—but who are we kidding? Cumberland Brewing has four beers on tap, all delicious and made even more drinkable when enjoyed alongside the heartily-dressed pies at (co-owned) Riders Pizza across the street. Bonus marks for the option to make any pizza "Pagan" with a gluten-free crust of potato and polenta. Order: The Just a Little Bitter, a light and gentle bitter to prime the pumps. Don't miss: Whatever peculiar creation is coming out of the Friday cask. While you're there: The 133-year-old Waverley Hotel looks better than ever after a spit-and-polish refresh to bar and bones. A surprising range (ska to punk to banjo) passes through; pray there's live music the night you're in town.
NANAIMO  We come to the end of our circle tour. From Nanaimo, it's down to Victoria and the ferry, or turn the car around and repeat all the way back. I did neither, preferring to nurse my head on the floatplane home. To cap off this amazing "ale-venture" (their words, not mine), visit Longwood Brewing, where brewmaster Harley Smith puts a quarter-century's experience to bear on a lineup of can't-miss beers. Order: I'm not one for cute flavoured drinks, but the Berried Alive Raspberry Ale and the Super G Cream Ale (ginger and ginseng) are restrained yet deliver full-on balanced flavour. Don't miss: Every summer, Smith releases his Quinceotica, a quince-based beer that has to be tasted to be believed. Ask nicely at the right time of year and you can taste the achingly puckery acidic juice that somehow brews into an easy summer sipper. While you're there: Do yourself a favour and head over to White Sails Brewing for just one more drink. A glass of the Mount Benson IPA with a shot of local Arbutus Distillery dry-hopped vodka (the ale shares those hops) dropped in is the perfect cap to this local tour. Now get yourself a Nanaimo bar to clear your head and start planning your next Ale Trail. Maybe Kootenay Rockies East? Hot springs, hiking trails, and a half-dozen breweries—what could go wrong?
Photos courtesy of B.C. Ale Trail.
_________
Never miss a story. Sign up for NUVO's weekly newsletter.