TAG Heuer and Porsche Announce Official Partnership With Special Chronograph
In a press conference Wednesday, Detlev von Platen, an executive at Porsche in Germany, joked that many people don't understand why he is so excited as they believe that Porsche and TAG Heuer have long been in partnership. Which, in a way is true: Steve McQueen wore the TAG Heuer logo on his jacket and the Monaco watch on his wrist during the filming of Le Mans in 1970 where he drove a Porsche 911 and the two companies jointly produced the TAG turbo engine that enabled the McLaren team to win three consecutive F1 world titles in the 1980s.
"TAG Heuer and Porsche have common history and values, of course, but more importantly, we share an attitude," says Frédéric Arnault, CEO of TAG Heuer. Arnault and von Platen both remarked on the disruptive tendencies of the brand and the need to ensure that releases and collaborations are not boring but conceptually provocative.
The new timepiece marking the partnership, which includes TAG's sponsorship of Porsche's exploits in tennis, golf, and auto-racing, rests on the Carrera watch, a natural choice as it is a model name that both brands share.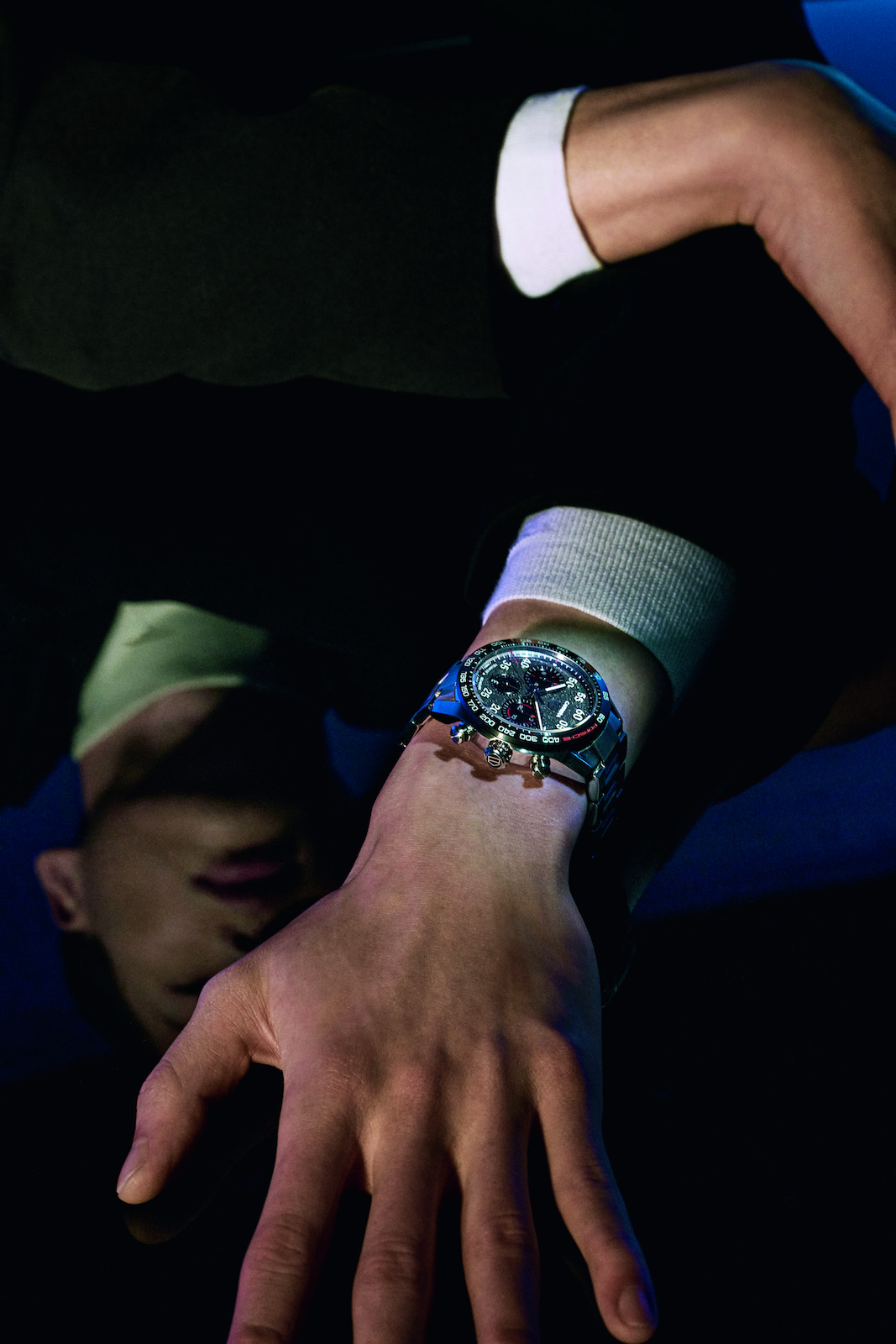 The TAG Heuer Carrera Porsche Chronograph has the soul of the classic automobile squeezed but not forced into an elegant, sporty silhouette. A Porsche inscription on the bezel resonates with the iconic red, black, and green throughout, and the transparent crystal case back shows the redesigned oscillating mass, echoing the iconic Porsche steering wheel.
With a grey face, the dial has an "asphalt" look, while the numerals resemble those on the dials of a Porsche speedometer. The metal interlocking bracelet option is nice, but real aficionados will go for the calf-leather band with stitching that matches that of classic Porsche upholstery.
Like many TAG Heuer watches, these are meant to be worn in action. More than that, this release signifies the movement of the brands themselves into a new and exciting partnership of historic brands—not everyone wears that on their wrist.