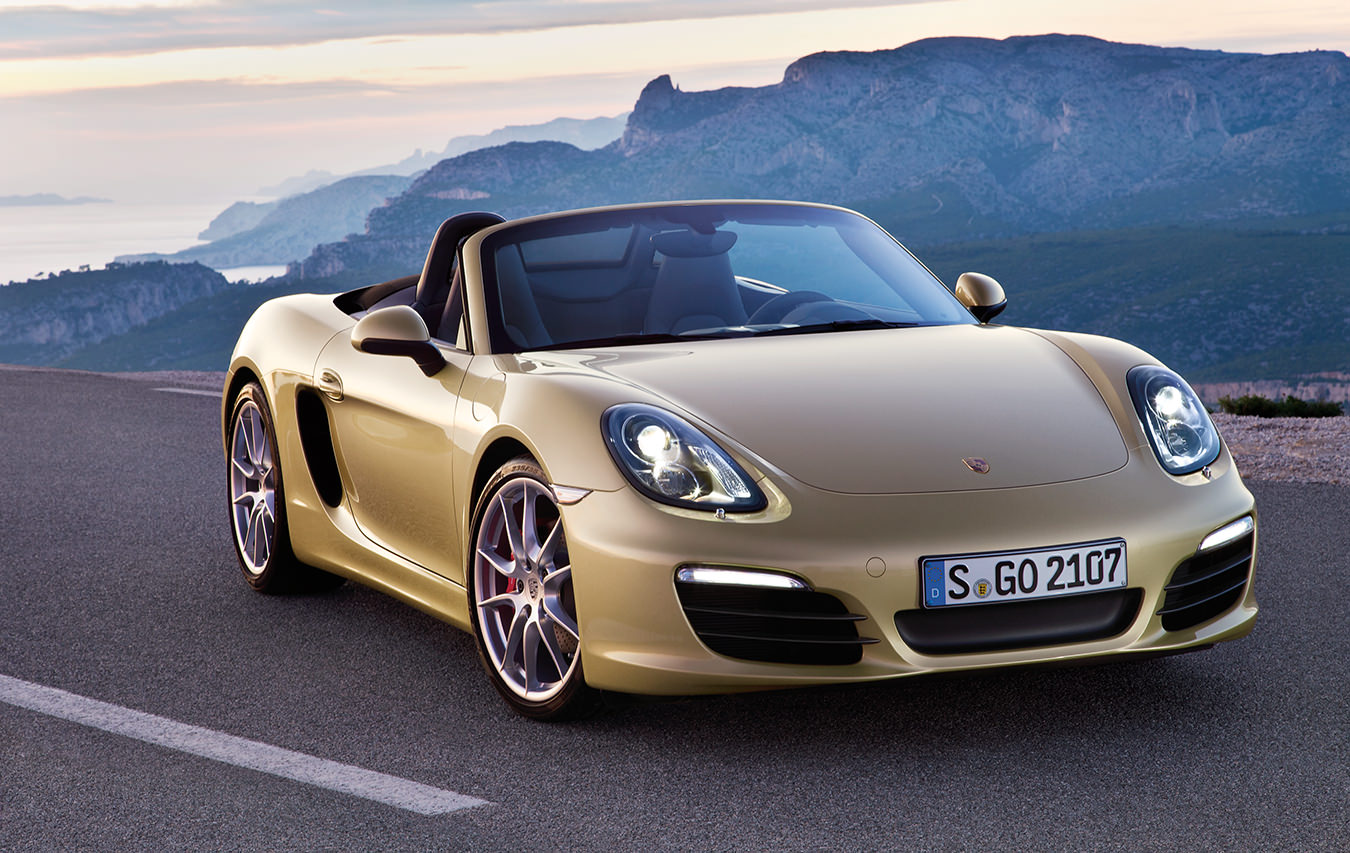 The walkie-talkie crackles to life as we clip along Vancouver Island's scenic (and surprisingly challenging) Malahat Highway, and Joschi Hildenbrand, a member of Porsche's dynamic driving team, begins to explain the finer points of his company's PSM system. This engineering feature, which stands for Porsche Stability Management, is standard equipment in the new Porsche Boxster, and basically monitors the progress of the car, and its driver, adjusting the drivetrain and brakes to compensate for any irregularities, and to provide optimum performance and drivability. Most people won't even notice it while they're driving, but PSM also acts as a safety feature—just one of a host of highlights on the latest edition of Porsche's most popular roadster.
But Hildenbrand doesn't really need to extol the virtues of the Boxster. It's understood that this is a lively, stable, and highly tossable alfresco sports car in the finest European tradition, and it arguably offers more driving kicks for the dollar than anything else on the road. It handles like a high-powered go-kart, has nosebleed-inducing brakes, and, well, goes like a bat out of hell. You can take it from a standing start to highway speed in less than six seconds, and it has an electronically governed top speed in excess of 260 kilometres an hour.
And for 2013, it's just a little faster and more powerful than before. Two versions are available: the Boxster and the Boxster S, and power output is up for both, with 265 and 315 horsepower, respectively. Transmission choices are a six-speed manual and Porsche's sequential Doppelkupplungsgetriebe (double-clutch transmission)—PDK for short—automatic, which allows the car to shift for itself or lets the driver choose gears via steering wheel–mounted paddles or buttons; the PDK is the most popular choice with buyers. Both Boxster versions feature Porsche's optional "launch control" mode. Designed for racers everywhere, this feature offers a racing start takeoff, combined with slightly quicker changes between gears for the maximum in street performance.
And that's not the only thing that's faster. This is a traditional two-seater roadster we're talking about here, and the Boxster has a slick power top that is on the receiving end of a revamp for the 2013 model year. It's now lighter than before, and quicker to deploy, taking just nine seconds from the time you pull up on the centre console–mounted lever until it's tucked neatly away behind you. Ditto for the reverse, and the whole thing can be done while the car is in motion. No need to pull over, put the car into neutral, apply the handbrake, undo latches, and wait for the car to make up its mind. If you're doing 50 kilometres an hour or less, you can put the lightweight top up or down faster than you can say Doppel… well, you know.
All the better to hear one of the sweetest exhaust notes in the business. As ever, the Boxster's engine is of the horizontally opposed or "flat six" configuration, and is mounted roughly in the middle of the vehicle for stability. Porsche has slightly altered the exhaust on the new Boxster; it now features twin chrome exhaust tips, as opposed to the collector box on the previous version. Most consumers would be surprised at how much time and energy car companies devote to exhaust systems, and this iteration of the Boxster is music to the ears.
To keep it all on the straight and narrow, the new Boxster also features electromechanical steering similar to its big brother, the 911 Carrera. In a nutshell, this system automatically adjusts the steering for any irregularities in the road surface and reduces the need for the driver to twitch the steering wheel to compensate for any understeer or oversteer. In addition, the slick rear-mounted spoiler pops up automatically at 80 kilometres an hour, and can also be manually activated by the driver.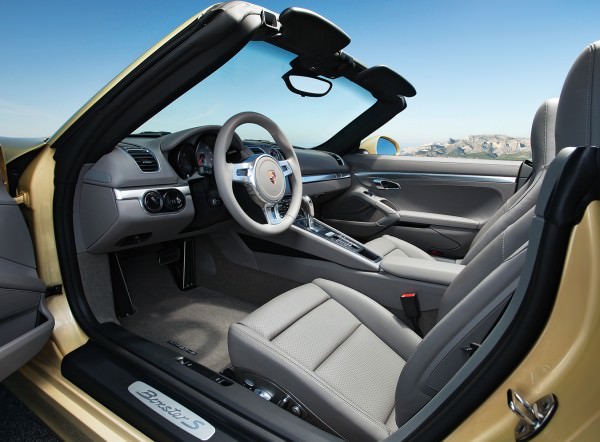 In order to handle the ups and downs of life, the Boxster also has active suspension, with two settings: Normal and Sport. The former is for everyday freeway and city duty, and the latter tightens things up and allows the suspension to adapt to more aggressive driving. This is where PSM comes into play, and according to Porsche, the Sport set-up ensures that the car "doesn't skimp on driving fun". Larger and more powerful brakes, with 18-, 19-, and 20-inch wheels and tires, and an electric parking brake, make sure the Boxster has its feet on the ground. And for 2013, it has a redesigned interior, with a revised seating position, recontoured seats, and a new instrument cluster and monitor. Depending on the model, heated and/or ventilated seats are available, and there are three sound-system choices.
Admittedly, there isn't a lot of cargo room in the Boxster. Yes, there are trunks fore and aft, but if you're a golfer, for example, carrying your clubs to the course is not an option; the most you can stuff into the storage compartments is a soft bag or two. Zero elbow room inside, needless to say.
But storage is the last thing on my mind when driving Highway 4, the tight two-lane road that runs from Coombs to the Tofino-to-Ucluelet intersection: high- and low-speed corners, spectacular scenery, photo ops galore, and plenty of local colour. For example, during a lunch stop at the Tigh-Na-Mara Resort in Parksville, we stumble upon a gathering of Austin-Healey owners—dozens and dozens of the classic British roadster festooning the parking lot.
The drive from Victoria to Tofino was also where Porsche chose to unveil its new Boxster, not only to automotive journalists, but to a small group of Porsche owners, as part of the Canadian launch of its new travel arm: the Porsche Travel Club. It is elegant in its simplicity: If you own a Porsche—or just wish you did—you can, for a fee, join a small group of enthusiasts at Porsche-organized driving events, and steer one of the Zuffenhausen speedsters to your heart's content. You take care of your own travel arrangements to and from the event, and Porsche handles everything else, including route guidance, on-hand minders—Hildenbrand, for example—and all meals and accommodations.
Not to mention supplying a brand-spanking-new Porsche for your driving pleasure. Although this particular event took place on Vancouver Island, the Porsche Travel Club operates globally with drives throughout Europe, including tours in places like Burgundy, Andalusia, Côte d'Azur, the Dolomite Mountains, and even northern and South Africa. Whatever the location, everything is first class. All you've got to do is bring your driving gloves and show up on time.
This Travel Club event on Vancouver Island was a Boxster drive, but 911s, Panameras, Caymans, and Cayennes are also on the menu, depending on the locale. The Porsche Travel Club also organizes driving "camps" aimed at honing the skills of the people who drive them, and had recently concluded a winter driving event at the Mecaglisse racetrack in Quebec. This event, known as Camp4 Canada, had participants hurtling around in 320-plus-horsepower 911s and Caymans in the dead of winter, learning the ins and outs of driving on snow and ice at the hands of Porsche's own driving instructors.
You can also mix and match while driving. In our case, Porsche supplied six Boxster S models with PDK transmission, some of which featured shift paddles while others had shift buttons, and journalists and customers alike swapped cars along the way. For my money, the S, with its rocket-ship acceleration and spectacular handling, offers the more satisfying driving experience than the garden-variety Boxster.
And so does the road less travelled. I've done this run before, but no matter how many times I drive it, as soon as I catch that first glimpse of the blue Pacific Ocean flashing through the trees, with those sparkling white breakers racing toward the shore, I've arrived. I'm exactly where I want to be, in precisely the car I want to be driving.