Daytona days & Talladega nights.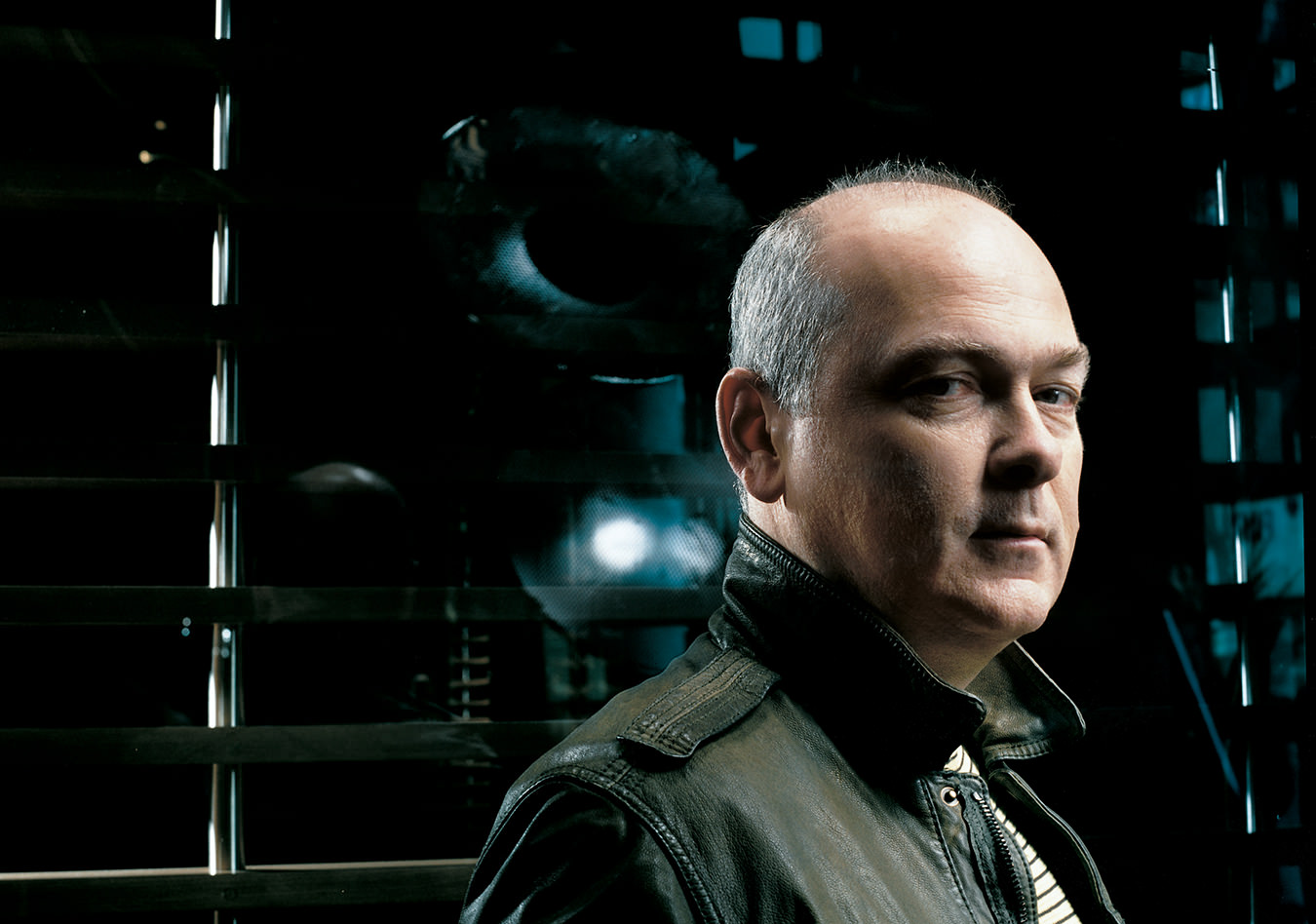 Traffic. High gas prices. Construction delays. While going for a drive used to be a relaxing, enjoyable activity, roadways of the past were not, presumably, filled with nearly as many inconveniences and obstacles as today's roads. For many now, driving is a chore, a hassle; the part of your workday when you listen mindlessly to the radio, daydreaming your way to work and curtailing your temper when the guy ahead of you cuts you off. Not so for Pierre Bourque, who is in his element on the road—especially if that road is a circuit of the National Association for Stock Car Auto Racing, also known as NASCAR.
As far as Pierre is concerned, bring on the piercing whine of engines, gruelling corner manoeuvres, brutal g-force of acceleration, exhausting heat, intense braking, gas fumes and sweat. His car is a sleek, white Dodge Charger, No. 29, which could definitely add to the love this man has for the raceway. Yet, paradoxically, his demeanour is palpably calm and cool, very cool. He listens, he watches, and when he speaks, it is with precise consideration.
Pierre holds the auspicious position of being Canada's only full-time driver in the esteemed 2006 NASCAR Busch East series. "Besides me," says the Ottawa native, "there was one Australian—everyone else was American." He tidily finished in 13th place; with just over one year's experience racing stock cars, this is an impressive feat, indeed.
Pierre's precision and skill also helped him endure the Rolex 24 Hours of Daytona, where he placed 12th in the GT class. For a change of pace, he drove a Porsche 997, car No. 67, and he was awarded the Hard Charger Award. (Hard charger? "For the most passes in the race," he explains.) Definitely no stranger to the racing wheel, he has been an open-wheel competitor in formula races like the Formula 3000, Formula 3 and Formula Atlantic in his late teens to early thirties. And although Pierre concedes that at one time he had no use for stock cars, he's now clearly switched lanes.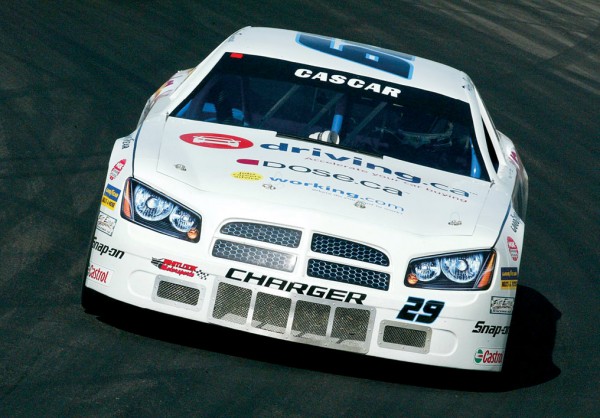 Moreover, Pierre has garnered a top-notch Canadian automotive website, Driving.ca, to share the pit with him as primary sponsor. And Canada.com, Working.com and Dose.ca collectively have his back as secondary sponsors. Pierre Bourque's star is rising.
He is acutely aware that the job of branding Pierre Bourque is not to be taken lightly. The fact that all four of his sponsors are part of the media behemoth that is CanWest Global Communications Corp. is clearly a source of pride, and, let's face it, darn good fortune. "Motor racing is a very unique blend of business and sports," says Pierre. "NASCAR has taken business to its ultimate marketing degree. I mean, you can likely figure out how to compete in tennis at the Rogers Cup without a sponsor. But without key sponsors, there's no NASCAR." He's not kidding. Even though sponsoring companies keep their figures close to their chest, it's been reported that in NASCAR's top racing series, the NEXTEL Cup, teams attract between $10-million and $20-million (U.S.) for primary spots on their cars. That's some noteworthy cash flow, but then, NASCAR is popularly regarded as the number one televised motor sport in North America, and some sports pundits claim it attracts more bucks than baseball. And statistics show that one in four Canadian adults is a fan. As for drivers' winnings, in the early 1960s, Daytona 500 winners took home a cash purse of just over $20,000 (U.S.); this year the prize was about $1.5-million.
"Stock cars" originally referred to cars produced for everyday use, as opposed to racing cars, and the term is linked to NASCAR's intriguing history. During the Prohibition era, bootleggers used speedy cars to smuggle and transport moonshine. These rebels were often caught up in high-speed chases to outrun the police, and the drivers eventually began to stage races amongst themselves. When Prohibition ended, the now out-of-work bootleggers found themselves with a lot of money, some wickedly fast cars, and a great deal of free time on their hands. The races that predictably resulted garnered an audience, and stock-car races became popular entertainment.
The cars of today's races are an unorthodox breed of vehicle. Take a regular car, like a Chevy, Ford or Dodge, and drastically morph its chassis and carapace into a racing animal, as specified by NASCAR rules. In the process of reconstruction, the four- or six-cylinder engine is swapped for a mighty V8 that drives the rear wheels. There are no opening doors (often they were welded shut in earlier eras), so the driver is obliged to pop off the steering wheel to climb in through the glassless window. The paramilitary interior, a quintessential example of how form follows function, reveals a carefully engineered system of toggle switches, gauges, wires and steel rods. Finally, trompe l'oeil headlights and grill decals are carefully positioned, and the venerated sponsor logos applied.
"My goal is always to finish the race, and to finish it as well as possible. And that entails using your head, which a racing driver with a certain degree of age and experience can do."
Driving a sealed and souped-up speed demon could make any driver, Sunday or speedway, at least a tad uneasy, but the safety factor is paramount. Pierre's racing uniform, entirely custom made of flame-retardant materials, illustrates this point. "Over my Calvin Kleins I wear long johns, my three-layer quilted racing suit, a balaclava, and when in the car I'll put on a carbon fibre HANS device, a neck brace that connects from underneath the safety belt up to the helmet to prevent whiplash. And the laces stay on the inside of my suede racing shoes," says Pierre.
"We practise getting out of the car, because if you crash, and there's a fire, you want to get out fast—unplug everything, undo your belt and get the microphone wires off your helmet." Does he ever consider the possibility of injury—or worse—before starting his engine? "When I'm going to the race, I do. Once I'm there, I don't think about it."
Over the past year and a half, Pierre has been laying Canadian rubber on oval-track speedways including Nashville, Winchester, Trois-Rivières, Montreal, Talladega, Lakeville and Daytona Beach. When asked about the highs and lows of driving an endurance test like the Rolex 24, Pierre says, "My first-ever 24-hour race was a great experience. The drivers and the entire team—a manager, a crew chief, a couple of mechanics, a tire expert, an engineering expert—spent several days testing for it. We had a great combo of personalities and experience levels."
The real payoff for Pierre was that he got the thumbs-up to race the final laps. "We knew who was going to start, the sequence of the four drivers, that we would each spend an hour in the first rotation, two hours in the second rotation," he explains. "After that, it depended on the vagaries of the race. If there was a long caution during the course of the night, or rain, we might rotate faster or slower, depending. With an hour left, I got into the car. And it was my responsibility to make sure that I didn't make a stupid mistake at the end of the race. But I finished and drove under the checkered flag," says Pierre proudly.
Unfortunately, life in the fast lane doesn't always work out like that. "I had a chance to race at Talladega Superspeedway, one of the greatest speed tracks, like Daytona, which, in a stock-car racing context, is pure speed. Just get out of the pit and go flat out all the way around. But during practice, prior to qualifying, I had a tire blow. I was doing about 187 miles per hour, and the force of the explosion of the tire blew out the right rear panel of my car. They patched it up. But your car has to be extremely streamlined at that speed. Driving the two-and-a-half-mile track, any tiny nuance on the body can slow you down. So I didn't qualify. That was my biggest disappointment of the year. Now, in the grand scheme of things, there's always another race," he says sensibly. "But I'd been really geared up for that one."
He also reflects on the outcome of the final race last October at the NASCAR Busch East Championship, at Lime Rock Speedway, near Lakeville, Connecticut. "The whole championship consisted of 12 races, and I finished 19th in points. I had been running eighth, with two corners left in the race. But I got bumped from behind going into a corner, and went off the track and into a wall. I didn't actually finish the race, but once the lead lap car passes the start/finish line, it's over, so I was considered 13th. Even though I was running eighth when I hit the wall. But that's racing."
Pierre, who counts famous F1 driver Gilles Villeneuve among his heroes, maintains a positive and enthusiastic approach to racing. "My goal is always to finish the race, and to finish it as well as possible. And that entails using your head, which a racing driver with a certain degree of age and experience can do. Think through what you do, as opposed to just using gut instinct," says Pierre. "Deep down, I want to win everything."
Top photo: Pierre wears John Varvatos leather jacket and knit top. Styling: Laura Minquini for judyinc.com. Grooming: Michelle Rosen for judyinc.com. Shot on location at Chez Victor restaurant, Hôtel Le Germain Toronto.