Jaycow Millinery Is Bringing Back Classic Hat Styles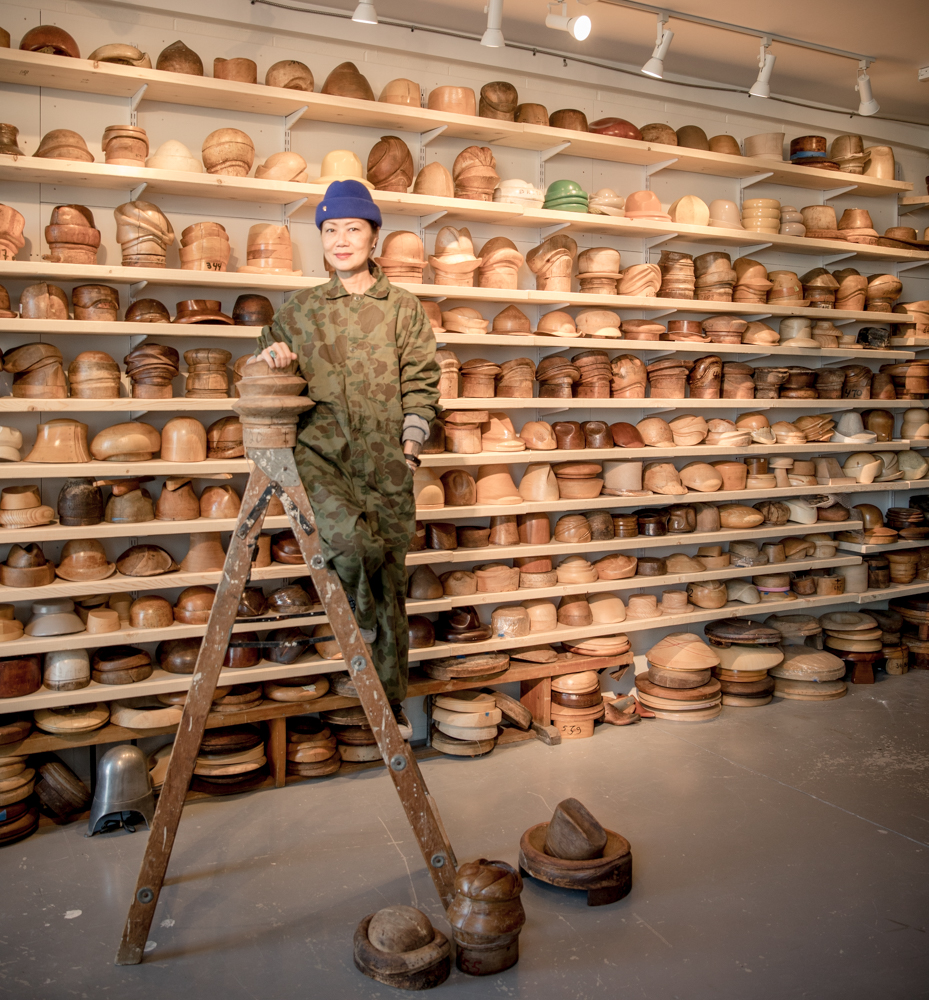 Jay Cheng, owner of Jaycow Millinery, comes onto the screen smiling, wearing a hat of her own design. After countless video calls in the last year, it's unusual to be struck by the setting in the background of a call. But this time is different. Behind Cheng is wall of hat blocks that stretches to the ceiling with myriad shapes and sizes, colours and materials. She refers to it as a library, and it is, in the fullest sense, a documentation of the changing styles and sizes throughout the years. Cheng has collected collected hundreds of these blocks from around the world: on eBay, at auctions, from operas. You can tell a lot about people by the hats they wear.
"A lot of the block-makers are actually unsung heroes," she says, because names or insignias wore off long ago or there's no record of the maker. Still, she insists, the blocks have a sort of spirit. Each country has a different wood, a different material and method, giving each block design an idiomatic touch.
Raised in Hong Kong, Cheng first fell in love with wooden hat blocks while taking a course in millinery at London College of Fashion. She was taking a break from her high-powered creative director and stylist roles after a bad breakup, and exploring the romanticism of learning a new craft.
"Everything just fell into the right place when I walked into that room," she says. "[The blocks] are all one behind the other, stacked up, and you go in and it's like a treasure hunt for the right shape that speaks to you."
Her passion for hats only grew. Starting her own company, she began making fancy high-fashion hats to cater to the royalesque clientele associated with Hong Kong's immensely popular horse-racing scene. Inspired also by the fabric hats of Japan, she quickly became the preeminent custom hatmaker in Hong Kong, creating styles for performances as well.
After years of success, Cheng and her family moved to Toronto, where part of her extended family has lived since the '80s. She quickly realized that she had to pivot, and returning to her love of wood blocked hats seemed like the best option.
"Fancy stuff is totally not for Toronto. At least not now," she says jokingly. But there is truth to what she says, and her collection of already iconic hats, Block Common, is becoming popular in Toronto's vibrant streetwear fashion scene. Cheng's goal of making hats for the "common people" relies on statement shapes and colours that can be custom fitted but that have few frills. She had to make durable hats that worked with the harsh constraints of Ontario's weather.
"I want you to be attracted to the hat and the hat alone," she says.
Her collection features the ultrasimple Lo Hat, which channels the hipster toque, as well as the Zo Hat, a contemporary take on a classic fedora. All of the hats are customizable in fabric and sizes.
Cheng's catering to a wider audience of fashion-forward young people recalls the fashion of a hundred years ago, when the streets were full of hat-wearers. Wood blocks were always common in Canada because of the fur trade, Cheng explains. Which brings up the question: why did people stop wearing felt hats all the time?
One of the main reasons is the prevalence of the automobile in 20th century. People were more protected from the weather in cars, and tall hats didn't fit inside. Styles such as the baseball cap became more popular.
Now, however, the more structured hats of yesteryear are having a comeback; and the success of Jaycow is evidence of that. Whether or not this resurgence is due to the decline in car culture in the new generation can only be speculative. Regardless, the popularity of hats like these is interesting, and it is a trend that Cheng is more than happy to nurture.
In the coming years, once COVID passes, she hopes to open an official school so that people can use her library of blocks and her steam machines, under her learned eye, of course. She hopes to continue working with contemporary block-makers to innovate new styles and to spread the expressive potential that hats can have in everyday life.