4 Surprising and Sustainable Leather Alternatives
Faux leather is not a new phenomenon. One of the earliest examples—a paper-based textile called Presstoff—was invented in late-19th-century Germany when true leather was rationed during wartime. And when plastic emerged as an inexpensive and abundant material in the 1960s, artificial leather began to incorporate a polyvinyl chloride (PVC) or polyurethane coating. Today, these petroleum-based polymers are known carcinogens that not only threaten human health but also that of the planet. Lucky for us, several eco-minded brands have developed a wealth of stunning, sustainable faux leathers made from materials that may surprise you—banana-leaf backpacks, anyone?
Bark & Leaf
With a commitment to minimizing waste and empowering communities through fair wages, Bark & Leaf makes timeless handcrafted pieces for the conscious consumer. Based in Thailand, Bark & Leaf collaborates with a collective of 40 indigenous women whose techniques have been handed down for generations. They harvest discarded banana, lotus, and bamboo leaves from forest floors and use natural jute, organic cotton, and recycled materials to bring these durable bags to life. Coloured by nature (or dyed with plant-based inks), every tote, clutch, and backpack is unique—a wonderfully original accessory that will last for years, then biodegrade when the time comes.
Adriano Di Marti's Desserto
The Adriano Di Marti Company launched Desserto just last year, so its gorgeous shoe and handbag prototypes aren't yet ready for retail. But the future is bright for this innovative enterprise (and the rest of us, too). Desserto is a hyper-sustainable leather alternative made from nopal (prickly pear), a cactus endemic to Mexico. It's especially eco-friendly because the cactus does not require much irrigation, relying exclusively on rainwater and mineral-rich soil to grow organically and in great abundance. Only mature leaves are used to create Desserto, which keeps the plant intact and ensures a new harvest in just six to eight months. The resulting product is a soft, pliant, and breathable fabric that is likely to expand beyond the fashion industry and into the realm of automobiles and home furnishings. Stay tuned.
Kantala
Kantala's handbags are made with a distinctive blend of pineapple leaf, coconut shell, and hana (agave) rosette fibres—which is fitting, as "kantala" is the Sanskrit word for the hana plant. Inspired by a 300-year-old indigenous weaving technique, Kantala employs 22 weavers in Henavala, Sri Lanka, fusing traditional knowledge and modern fashion with an ardent fair trade ethos. Oeko-Tex 100 and ISO certified reactive dyes—as well as natural dyes—create Kantala's characteristically vibrant colours, and the variety of styles is wide enough to suit anyone's taste.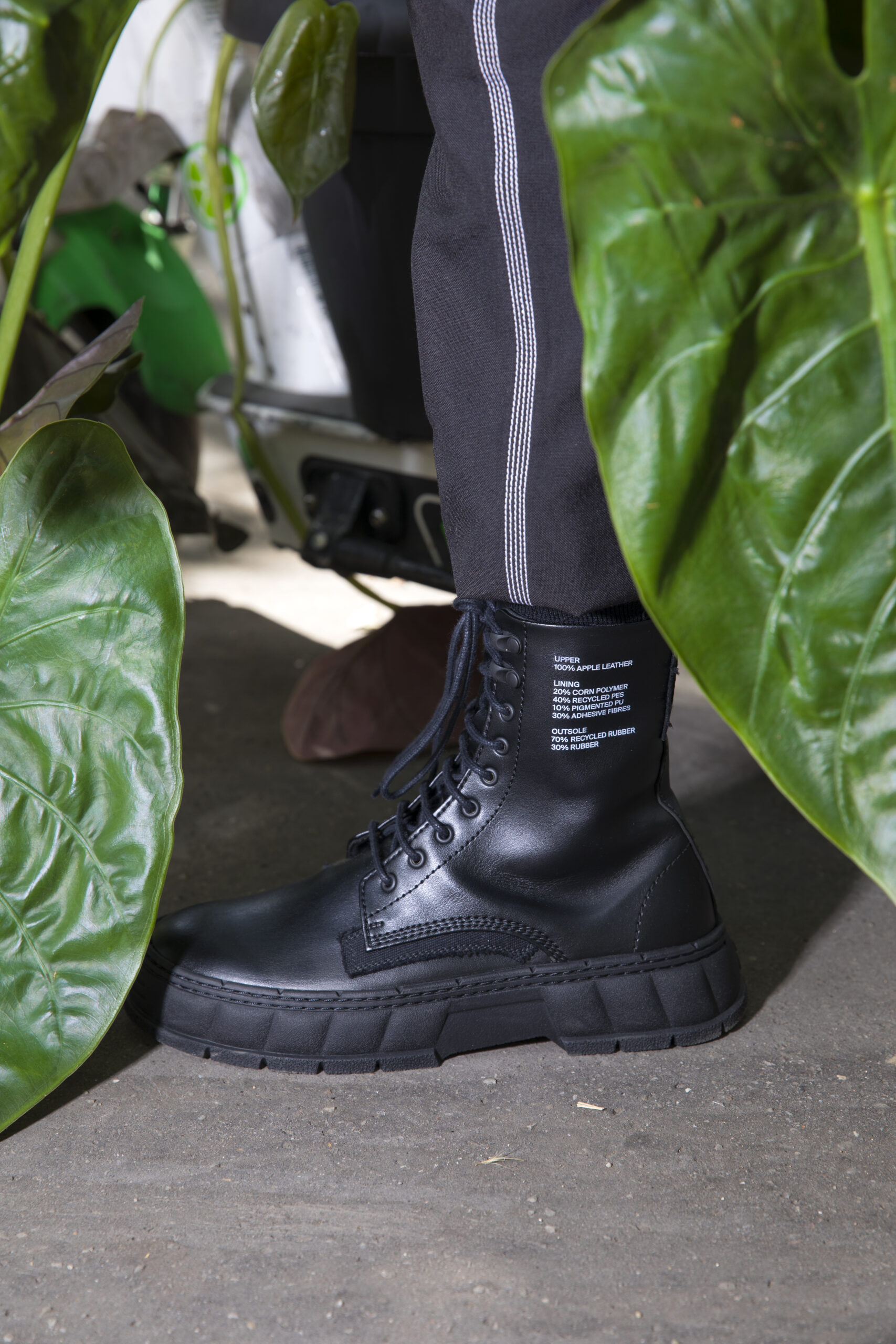 Virón
Designed in Paris and made in Portugal, Virón is a plant-based footwear brand radically devoted to a zero-waste, circular economy. Though their apple and corn leathers do contain polyurethane and polyester, respectively, they make innovative use of industrial food waste, which causes an estimated >6% of green house gas emissions. Their canvas uppers are made of 70% recycled cotton and 30% viscose, and their signature rubber soles may be sent back to the factory and recycled for a pair of shoes. Virón's edgy streetwear style shows how cool it is to participate in ethical commerce.
_______
Never miss a story. Sign up for NUVO's weekly newsletter here.