Six Week Residency Speaks to a New Generation of Misfits
Johnny Jover, the founder and creative mind behind apparel brand Six Week Residency, aims to inspire a generation of misfits. The eccentric ready-to-wear brand holds the door open for those who embrace the beauty in chaos and struggle, emanate a rebellious disposition, or identify as a black sheep. The idiosyncrasies of Six Week Residency tell a story of abandon, exploring the energy of subculture and portraying a lifestyle that gives permission to those wanting to have fun with their wardrobe. Six Week Residency is polished roughness. It's undone, untethered, and deliberate.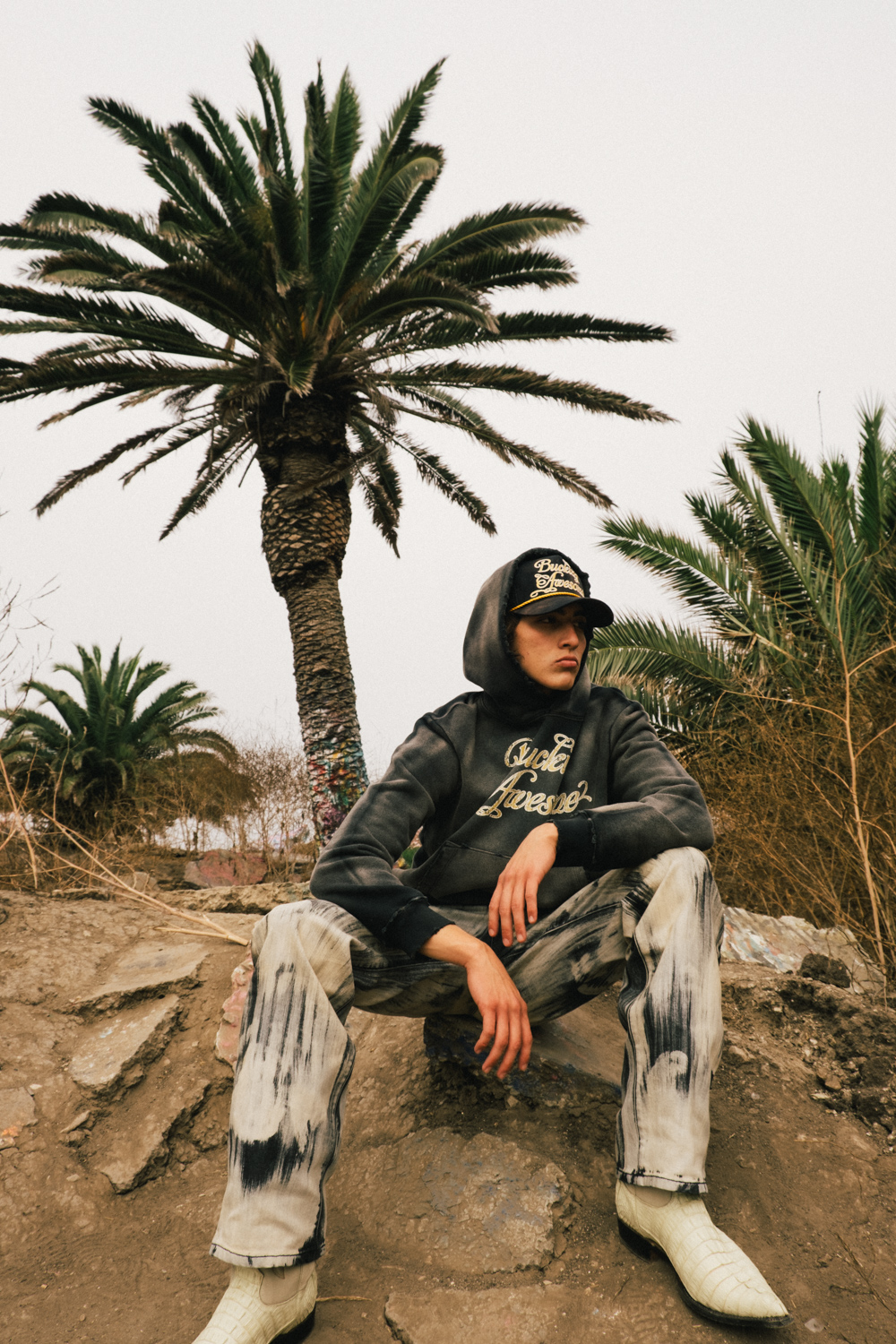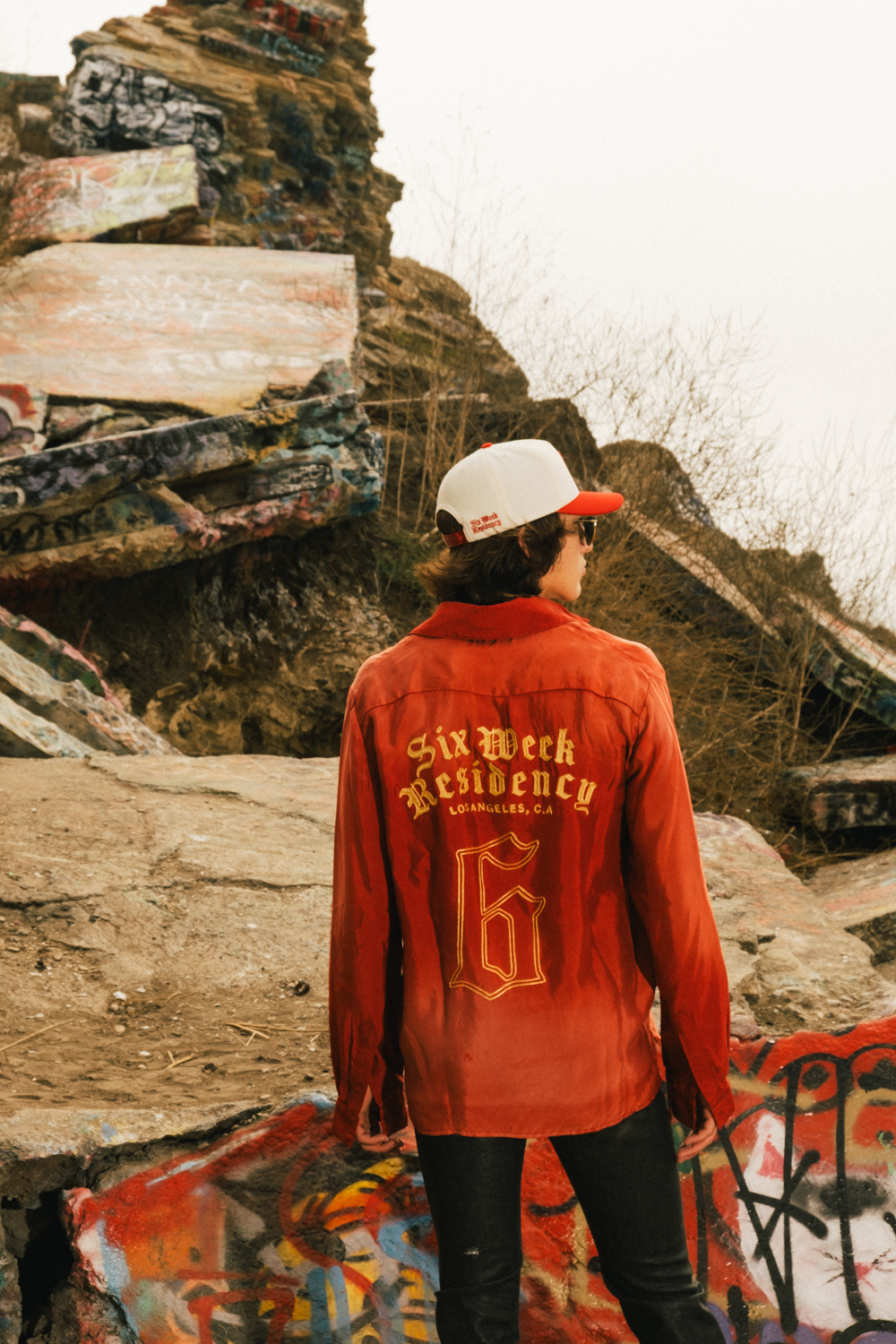 The designer/DJ curates each collection to express a narrative of individuality and portray a lifestyle that gives permission to those wanting to explore their identity through clothes. "The way I view clothing design is a sort of 'living gallery' of an individual. If you wear something enough, it does not only age with your personal character, but it also holds its own life story," Jover says. Growing up the youngest of four in an immigrant family from Barcelona, Jover watched and learned from his older brothers, stealing their clothes and putting together outfits to express himself and process the complicated emotions of adolescence. "I think that's what sparked my interest in fashion," he says. "Self-expression without talking. I'm a pretty quiet guy, so letting my outfit do the talking has always been something that lets me share who I am in comfort."
During his third year studying design at Emily Carr University for Art + Design, Jover did an internship that led him to Los Angeles to work for a luxury menswear brand. Through this experience, he fine-tuned his skills and built up the confidence to embrace his dreams: creating a luxury menswear clothing brand with thoughtful storytelling and design at an honest price. Now, coming full circle and inspired by L.A.'s energy and creativity, he has all Six Week Residency garments made there.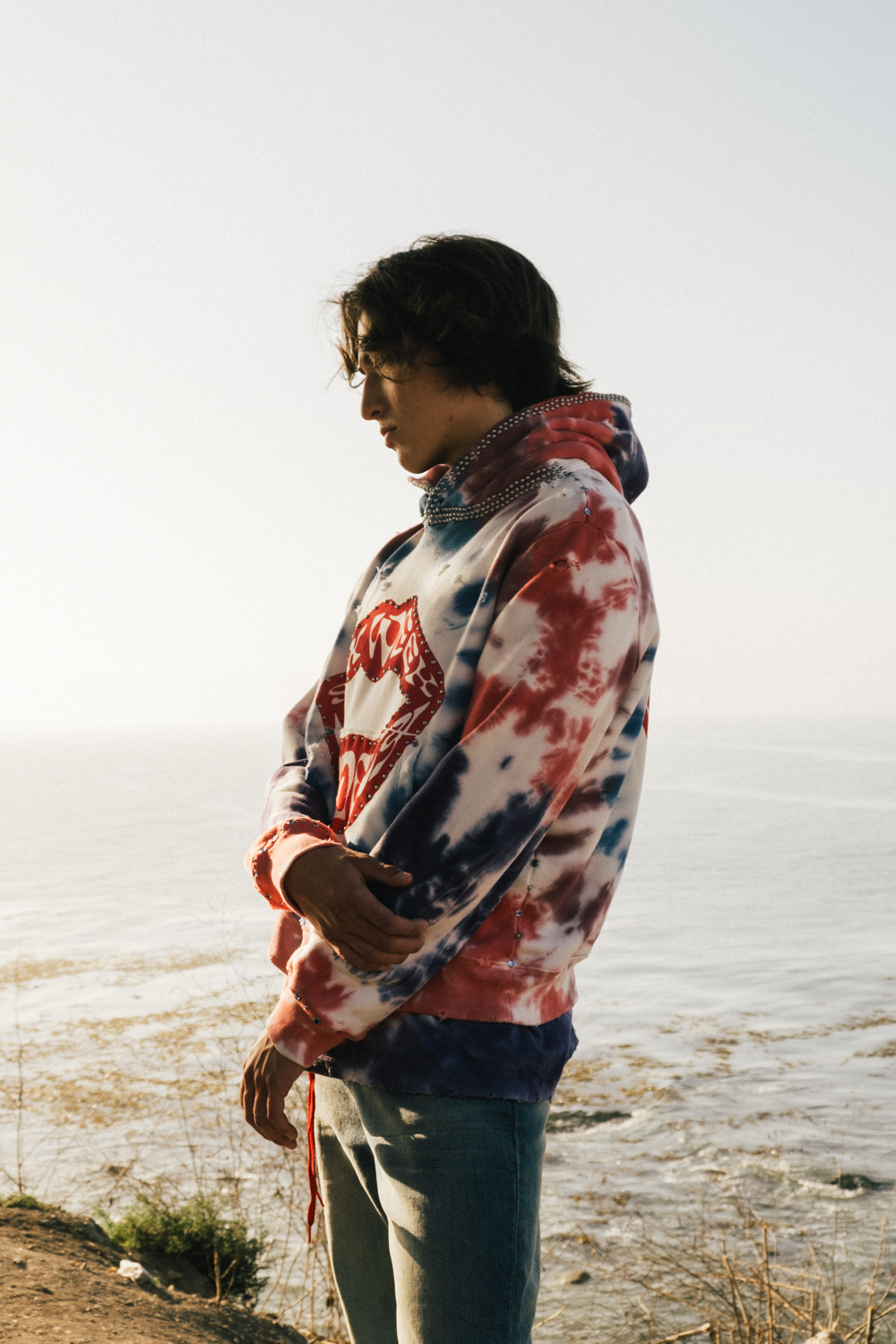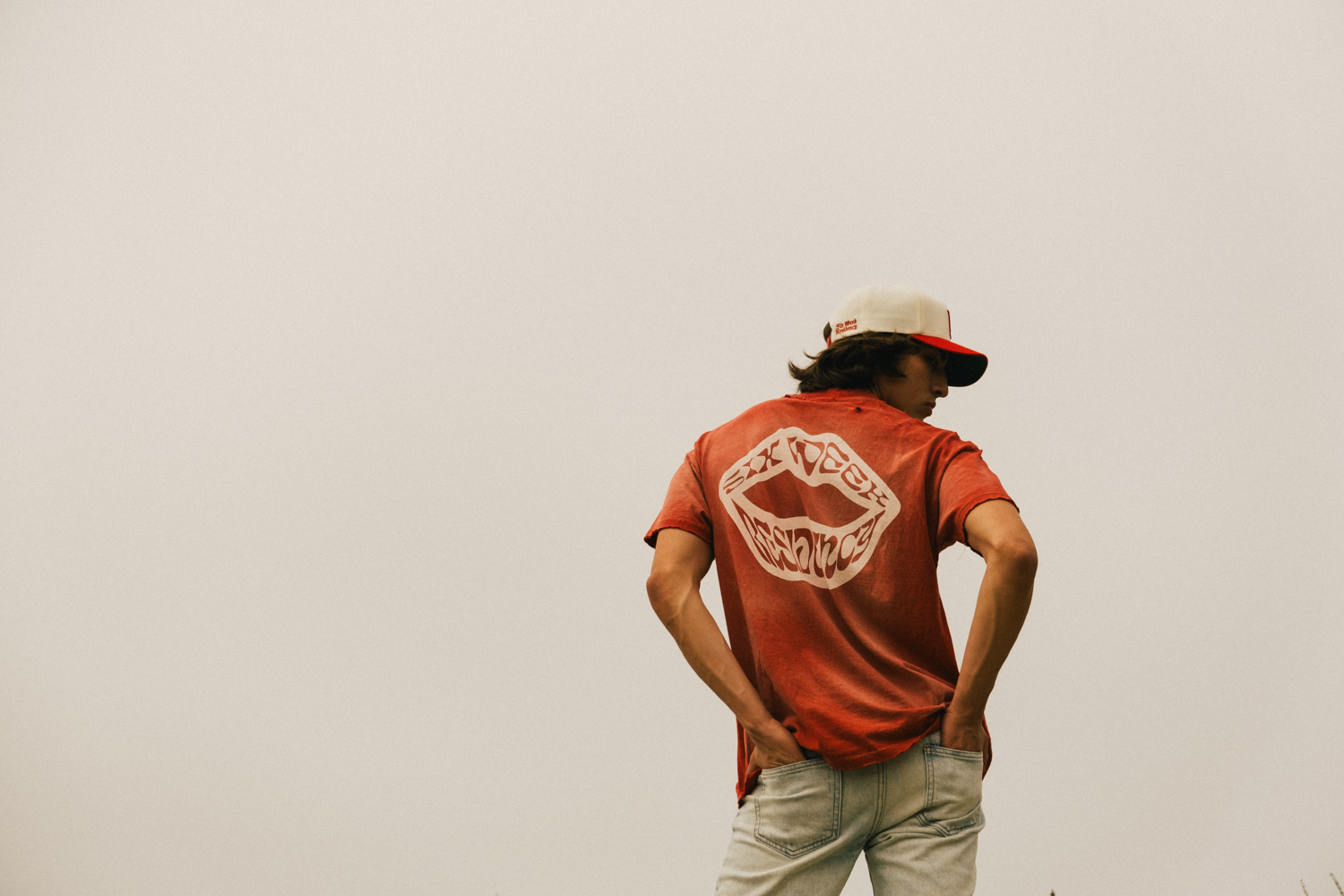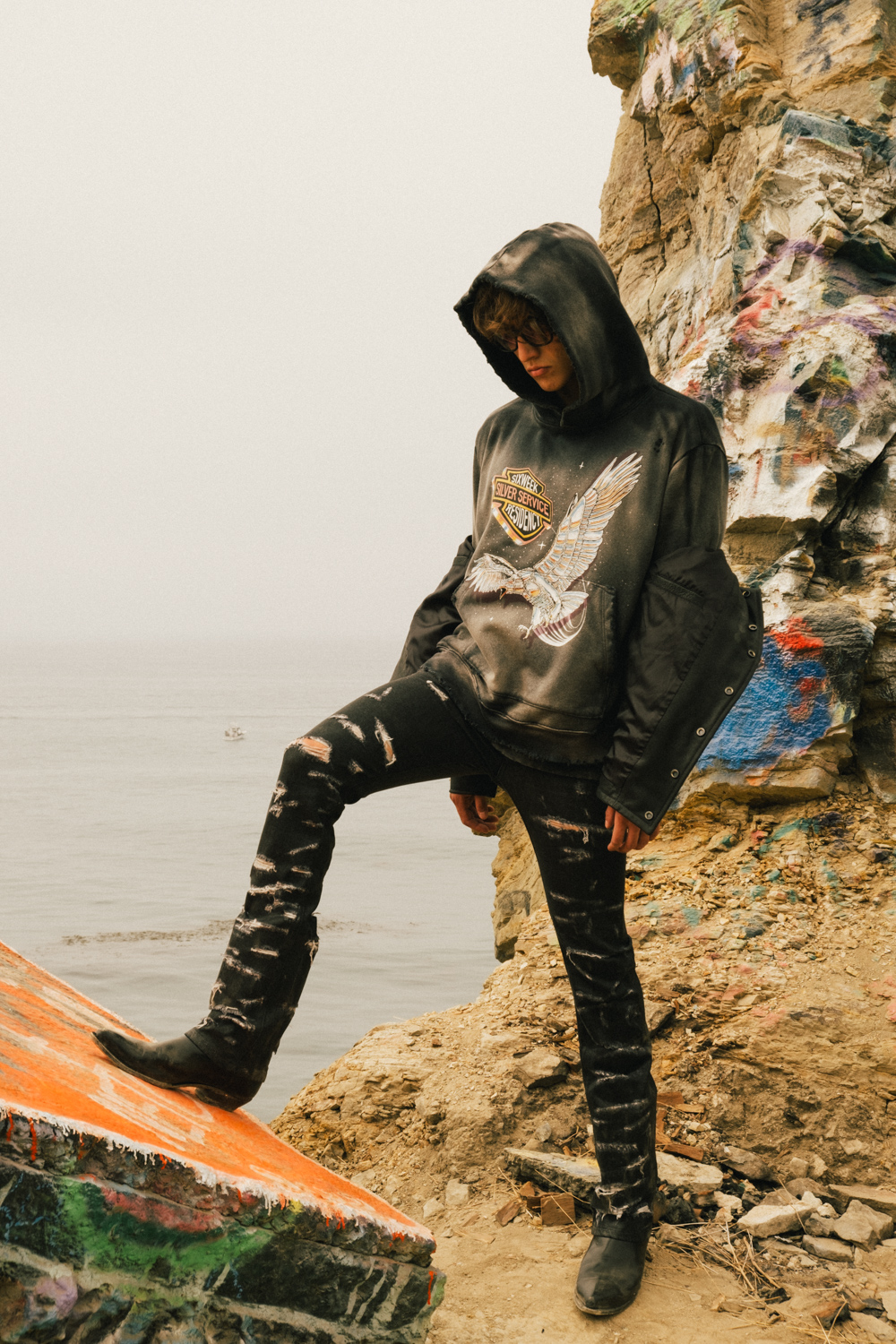 For Jover, the designing process is deeply personal: a rip in denim symbolizes a fall he took skateboarding as a kid, or a graphic represents another significant moment from his past. Each detail reflects his life experiences yet feels somewhat removed from mainstream trends.
Tastefully distressed denim and faded-wash sweaters and tees display another source of inspiration for the designer: his love of vintage clothes and past legends. "I have a weird obsession with the past and dead icons, people like Jim Morrison, Elvis Presley, James Dean, Jimmy Hendrix, and Avicii. Something in me romanticizes the end of a 'story,' and you can see it in my obsession for recreating vintage-style clothing," Jover explains.
Six Week Residency has an air of punk, rock, and all-American spirit, with references to American icons such as the bald eagle, Harley Davidson, and the American flag. "I always considered America the cool older brother," he says. "The amount of cultural influence America has been responsible for is incredible to me. From disco to rock, hippie to corporate, techno to rap, I couldn't help but fall in love with it all."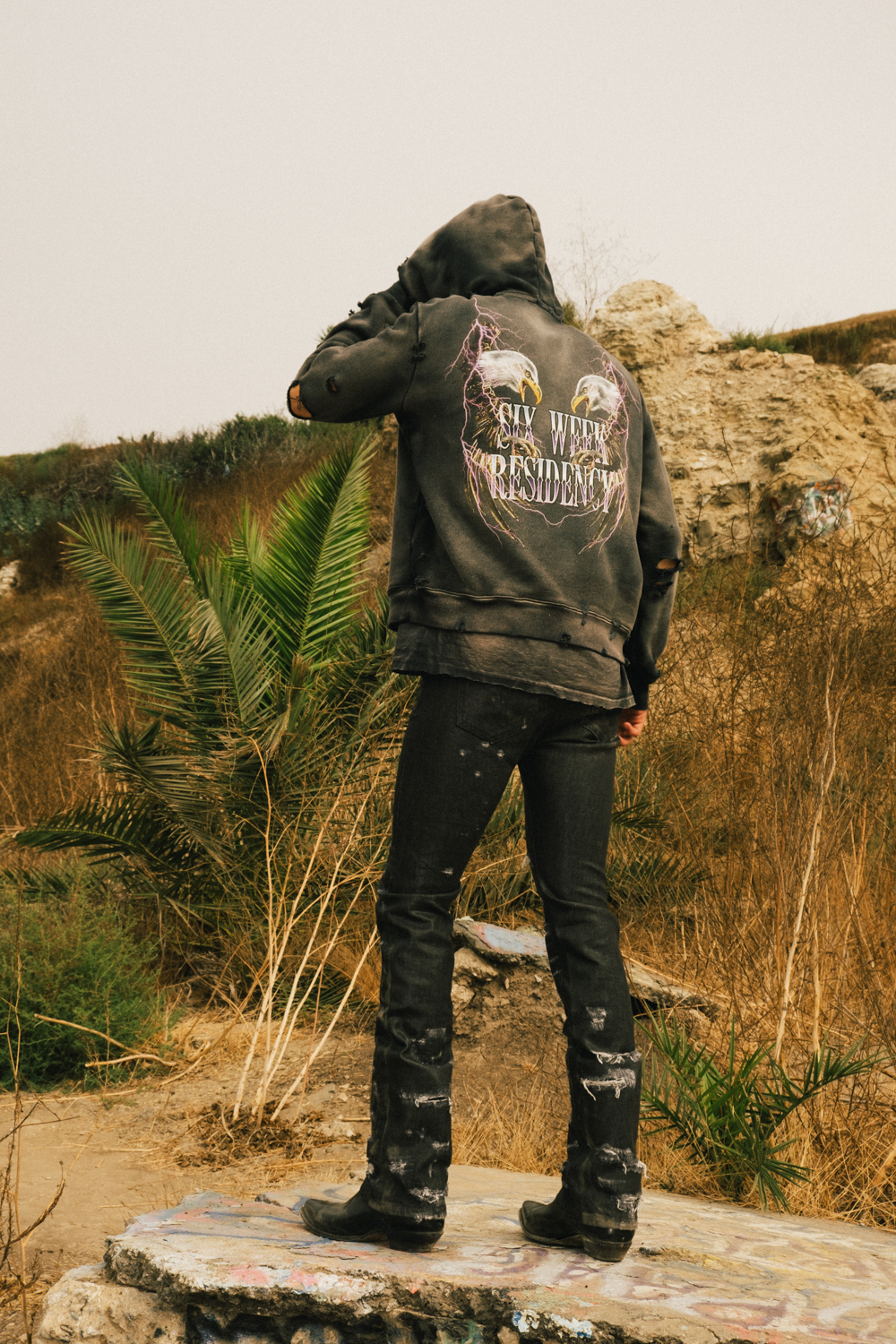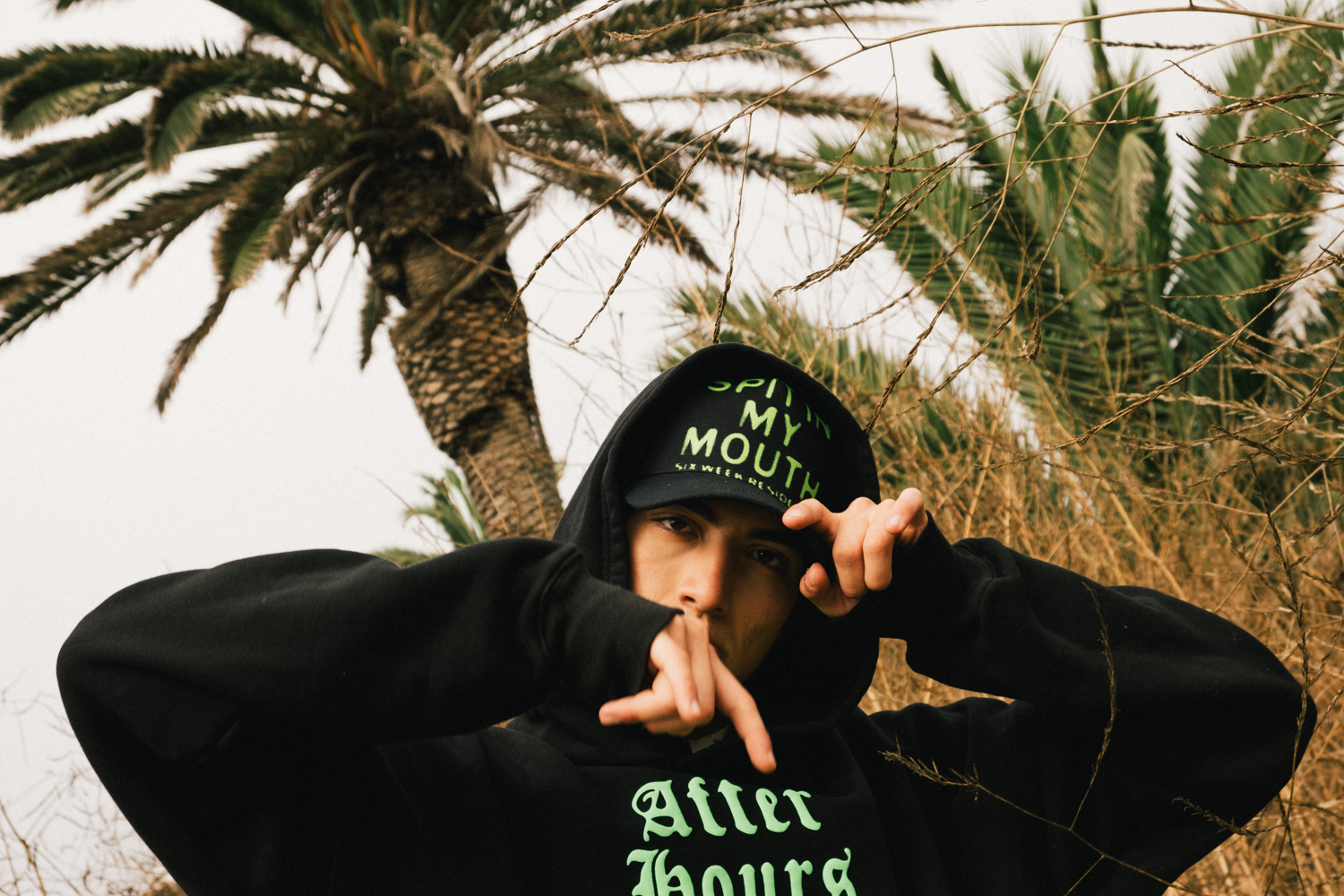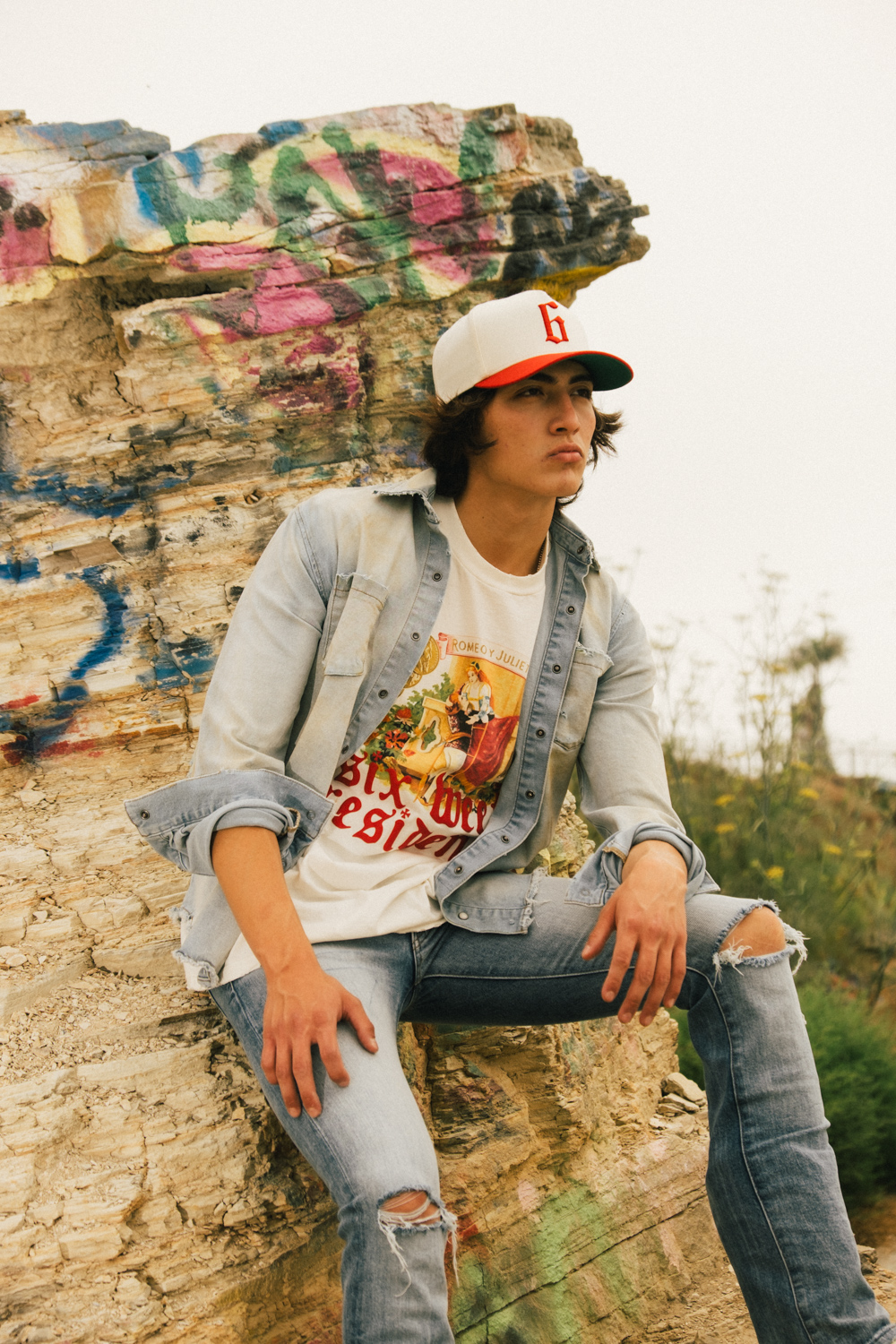 Jover's music career is, in many ways, the catalyst for new ideas. One half of the dance-music duo Glass Petals, he absorbs the convictions of free-spirited ravers. Travelling to new cities and exploring the landscape of dance music is like doing field research, a way to connect with people who embody the spirit of Six Week Residency. "You kind of get to see into the future," Jover says. "These kids at raves are the medium that blossoms trends, and they bring the forgotten ones back from hibernation. If you slow it down enough, it's a world of chaotic beauty."
Pictured is Six Week Residency's spring/summer 2024 collection, available in spring 2024.
Photographer Trevor Brady.