Louis Vuitton Time Capsule in Toronto
The touring exhibition lands in Union Station.
"You don't know where you're going until you know where you've been." It's an old saying getting a style update with Time Capsule, a Louis Vuitton touring exhibition highlighting the iconic brand's history and staying power as a maker of covetable luxury fashion pieces and accessories. Launched last April in Hong Kong and since presented in six other cities around the world, the retrospective exhibition opens today in Toronto for a month-long installation at Union Station that is free to the public.
Toronto was chosen as the first Canadian city to host the six-part visual presentation in recognition of Louis Vuitton's 35th anniversary as a retail presence there. "Just like Louis Vuitton, the city of Toronto embodies the same values of tradition and history all while looking forward to the future," stated the company in a press release. "The historic Union Station is the ideal stage for bringing together Louis Vuitton's values of travel and innovation."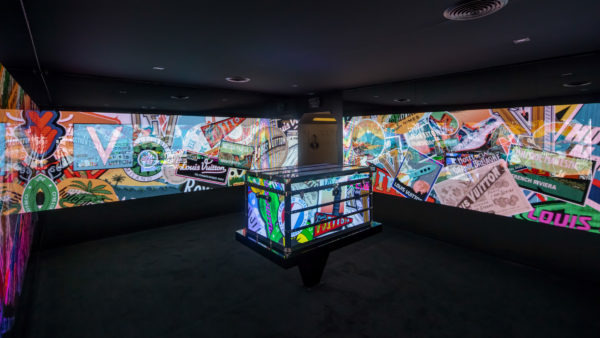 Housed in a brushed aluminum single-storey pop-up building situated directly in front of the terminus, Time Capsule showcases rare and prized objects pulled from the Louis Vuitton archives, and marks important moments in the company's heritage. From past to present, displayed items include the signature Damier check leather trunks originally produced at the company's art nouveau workshop in France 160 years ago, to the Masters collection of handbags done in collaboration with visual artist Jeff Koons and released for the first time in 2017. Also represented are artist collaboration handbags created during Marc Jacobs' 17-year tenure as creative director, in addition to pieces by the current artistic director of womenswear, Nicolas Ghesquière. Among them is the black ruffle dress with embroidered lace which Ghesquière created for Emma Stone to wear at the 75th Golden Globe Awards earlier this year. Stone is the face of Louis Vuitton fragrance.
Time Capsule showcases rare and prized objects pulled from the Louis Vuitton archives, and marks important moments in the company's heritage.
Unexpected curios run the gamut from a special-order bed trunk created for an Amazonian explorer in 1878 to a Monogram Macassar canvas record player box designed by Kim Jones (former artistic director of men's) for the Louis Vuitton 2018 winter collection. The exhibition's Canadian connection consists of a Frank Gehry-designed Twisted Box bag which the Toronto-born architect created in 2014 for the Louis Vuitton Iconoclasts series, as well as a plexiglass Boîte Chapmen Elephant trunk on loan from a Canadian client.
Everything is artfully displayed within glass vitrines backlit with moving video projection images which help to create a transporting atmosphere. Age-old practices like the hand-cutting, stitching and, embossing of fine leather are juxtaposed with satellite imagery of intergalactic travel, suggesting both continuity and progression of tradition. Travel is integral to the identity of a brand that started out as a box-maker for the French aristocracy.
The original Louis Vuitton had been a royal layetier, or clothes packer, for Empress Eugenie, wife of Napoleon III, before launching his first store in Paris in 1854. According to a published history of the company, layetiers were highly prized for their ability to pack clothes so they would not crease on horse-drawn carriage journeys to far-flung destinations. When train and then automobile travel became the vogue, Vuitton revolutionized luggage designs when he replaced the traditional dome-topped baggage made of hog skin with a flat-topped version that could be better stacked one on top of the other. Another innovation was the introduction of wheels to the bottoms of trunks for easy transport. The success of these inventions eventually led Vuitton to move his workshop to Asnières-sur-Seine, northwest of Paris, where artisans have been handcrafting luggage and other travel accessories for discerning adventurers since 1859.
Today, Louis Vuitton boutiques span the globe, from Bucharest to Beijing. Keeping the brand relevant are new technologies like the online chatbot which the brand released on Facebook Messenger last year and the high-tech luxury luggage tracker introduced this past April. Look for their inclusion in a Louis Vuitton Time Capsule of the future.
Louis Vuitton Time Capsule is on display at Union Station until September 30, 2018, 9am – 9pm daily (11am-9pm on weekends). Admission is free. 
Photos courtesy of Louis Vuitton / Paul Warchol.
_________
Never miss a story. Sign up for NUVO's weekly newsletter.