A Peek Inside the 43-metre Superyacht Sunrise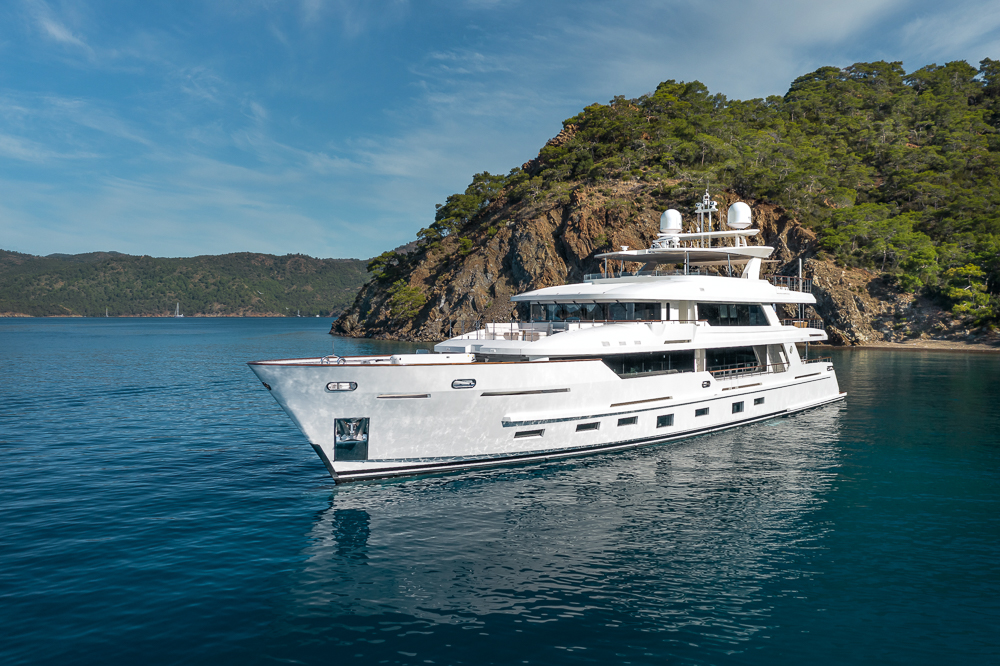 Some yachts stand out because of their sheer size. Others, for their bold, unusual look. And others still for unusual capabilities or equipment, like anti-drone systems or secret submarines.
But for many, the best superyachts are the ones that stand on the strength of their exquisite design and details—like the brand-new 43-metre superyacht Sunrise.
Built in Istanbul by the fabled Yildiz shipyard in collaboration with Ginton Naval Architects, Sunrise soars above its contemporaries by perfectly balancing a timeless exterior design with a distinctly modern custom interior by Milan-based design studio Hot Lab. Like a stately manor house that has been lovingly restored with every modern amenity, it's a combination that guarantees to leave eyebrows arched, jaws dropped, and heads shaking in envy everywhere the superyacht goes goes.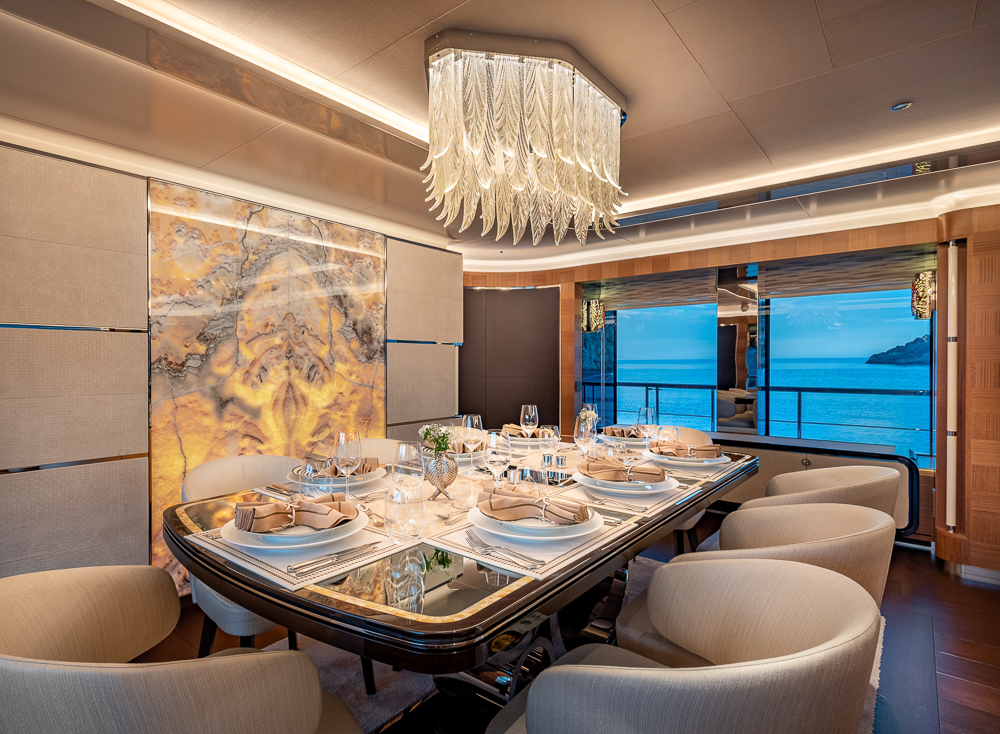 And it can go just about anywhere. With its steel hull and aluminum superstructure, Sunrise only draws 2.6 metres of water, allowing this superyacht to navigate discreet coves and reach private docks where the other big boats just can't go. Three years in construction, Sunrise proves that good things do come to those willing to be patient.
At a hair over 43 metres in length and riding on a generous 9.1-metre beam, Sunrise is a large yacht, yet all that space is shared among just 12 guests who are served by nine crew. Four guest staterooms—two twins and two doubles —offer sumptuous and quiet sleeping accommodations for a peaceful night's rest. They're sweet digs to be sure, but still a far cry from the full-beam owner's suite, complete with its king bed, enormous marble shower for two, and private open aft deck.
As with the sleeping accommodations, the living spaces spare no expense in the pursuit of absolute comfort and design perfection. Elegant curved staircases invite one to explore, or just use the lift, which serves all three decks.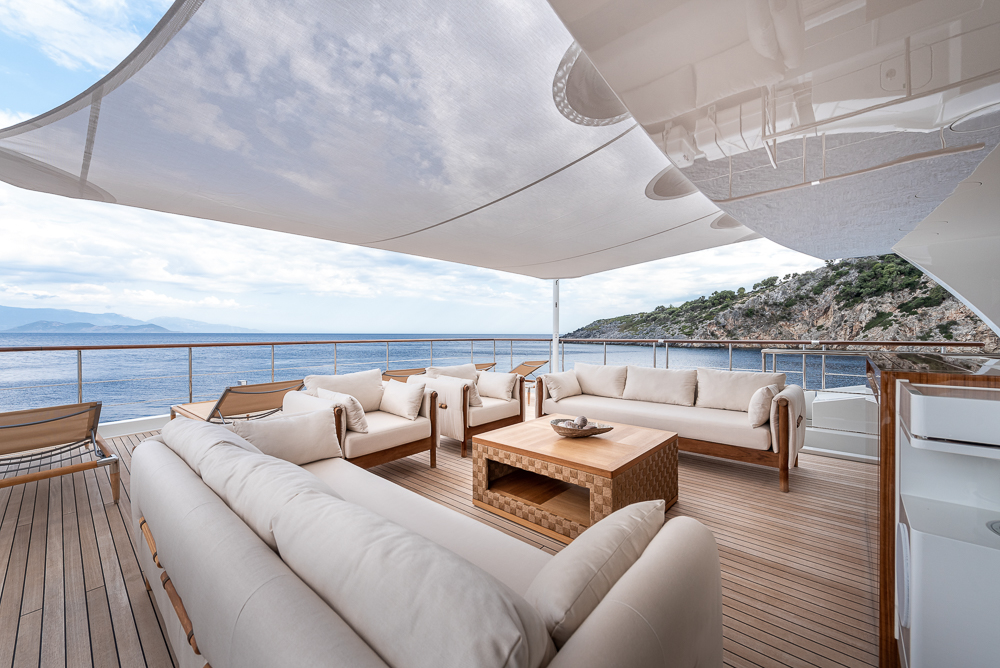 The appreciation of luxury is evident in the yacht's warm, luxurious furnishings, rich carpeting, and imaginative lighting. The attention to detail in Sunrise's interior design treatment sets an entirely new standard, particularly in its magnificent woodwork. Throughout the vessel, the tasteful use of walnut, Macassar ebony and honey afzelia—including beautifully crafted wood panels in a subtle, yet distinctive, checkerboard pattern—are offset by chrome, mother of pearl, light marbles, and woven leather in a stunning fusion of delicate textures and smooth lines. Large windows and thoughtful lighting throughout keep the interior spaces bright and warm, while ensuring guests have full opportunity to always enjoy the views.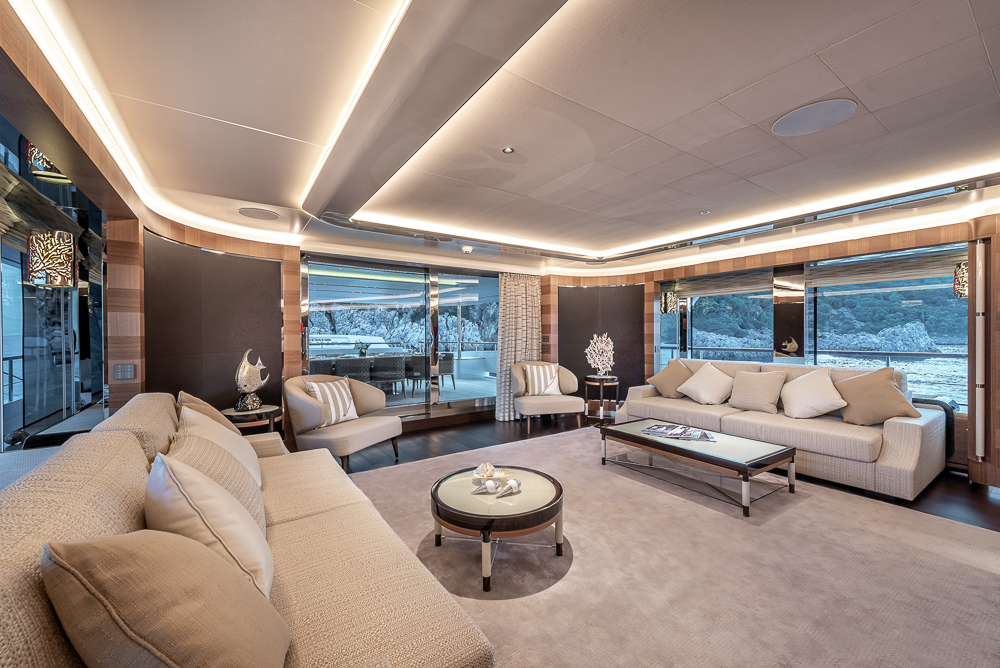 Three elegant dining areas—inside, outside, and upstairs under the sundeck's hardtop—provide the perfect setting for everything from a casual breakfast to a full-on black-tie dinner. The sundeck up top also houses an extremely generous bar area, making it an ideal place for family gatherings and casual parties alike.
Head forward on the main deck to enjoy the open bow seating area, and on your way you'll find a large galley and pantry on the port side. Settle in and you'll spot the toy storage area on the open foredeck. With the tenders and Sea-Doos stored up front in the style of an explorer yacht, Sunrise enjoys a wide-open stern set-up, like a beach club, for uninterrupted enjoyment. Guests can come and go on their watercraft as they please without disturbing anyone soaking up some vitamin D on the swim platform. That's just another way attention to detail sets Sunrise apart.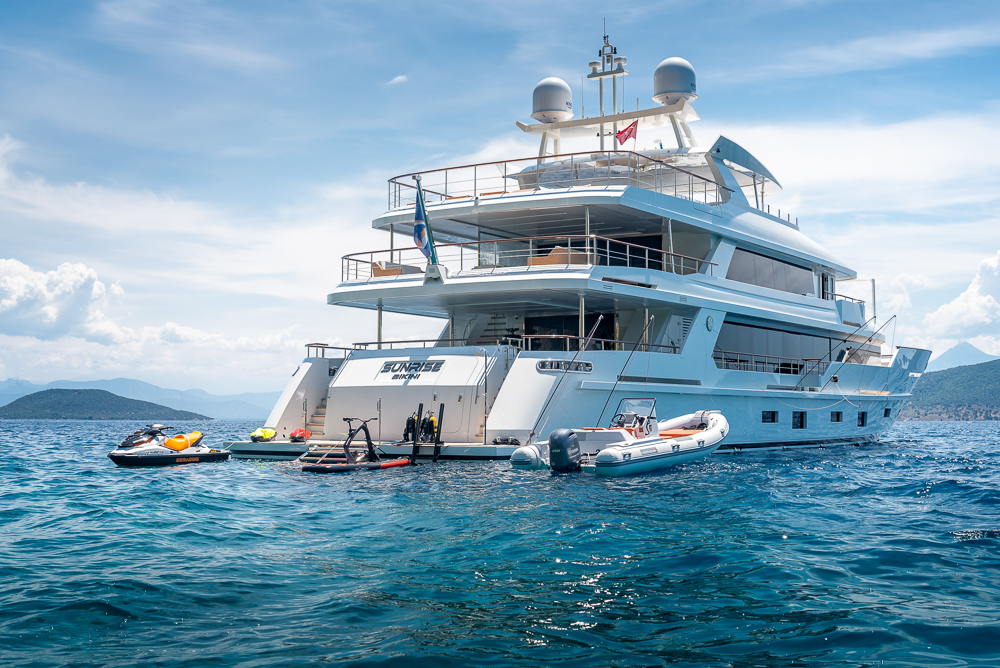 With a cruising speed of around 14 knots and a 38,000-litre fuel capacity, Sunrise can go a long way between fuel stops, giving its owners the ability to escape anywhere in the world—all the while enjoying exceptional comfort and style.
It may not be the largest superyacht in the world, nor does it break ground with an unusual design or planform. Yet Sunrise stands out from the crowd in its own way, with an exceptional sense of design and style and over-the-top craftsmanship.
Maybe that's just the way it should be.