The Ultimate Holiday Cocktail Recipe List for Quarantine Tipples
No judgement here if you drink them all in one night.
We know that Christmas and cocktails go hand in hand. This year, we wanted something extra special to toast with as we say goodbye (or perhaps, good riddance) to 2020, so we consulted the experts. These 10 cocktails come from restaurants, bartenders, and distilleries that know what they're doing. Cheers!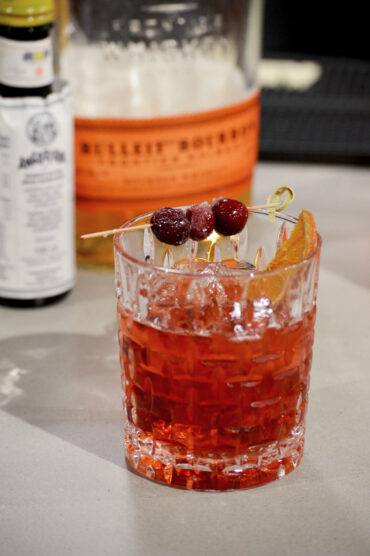 Cranberry Old-Fashioned from Fable Diner
Glassware: Old-Fashioned glass
Ingredients
5–7 sugared cranberries
1 ounce cranberry simple syrup
3 dashes Angostura Bitters
2 ounces Bulleit bourbon
Sugared cranberries and dehydrated orange wheel for garnish
Method
Muddle the 5–7 cranberries, simple syrup, and bitters in an Old-Fashioned glass. Add ice and bourbon. Stir gently.
Garnish with sugared cranberry skewer and dehydrated orange wheel.
The Perfect Storm from Cardero's
Glassware: 10-ounce rocks glass
Ingredients
3–4 ounces ginger beer (to fill the glass)
1/2 ounce lime juice
2 ounces Kraken Black Spiced Rum
Mint sprig and lime wedge for garnish
Method
In the glass, combine ginger beer, lime juice, and ice. Top with Kraken and stir until mixed well.
Garnish with mint sprig and lime wedge.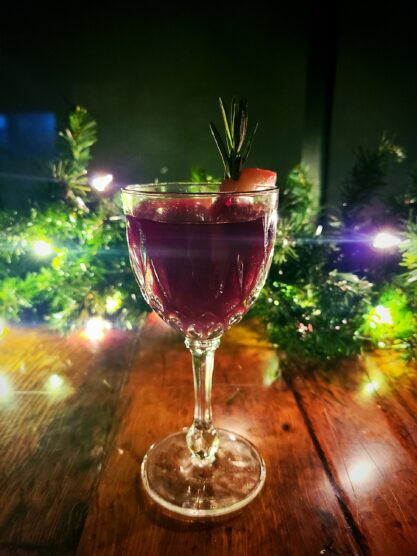 Partridge in a Pear Tree from Straight and Marrow
Glassware: Coupe or similar
Ingredients
For the holiday poached pears and poached pear mulled wine:
1 bottle red wine
1/2 cup honey
1 cinnamon stick
1/3 cup crushed ginger
1 tablespoon whole allspice
1 tablespoon black peppercorn
4 bay leaves
1 tablespoon nutmeg
2 peeled and cored pears
For the partridge in a pear tree:
1 ounce Famous Grouse blended scotch (not a partridge, but close)
1 ounce poached-pear mulled wine
1/2 ounce port
8 millilitres Odd Society Spirits crème de cassis
Fresh rosemary for garnish
Method
For the mulled wine:
Combine all ingredients in a large pot. Simmer on stove for 20 minutes.
Separate the pears and strain all other solids from the mulled wine.
For the partridge in a pear tree:
Pour all ingredients except rosemary into a mixing glass. Stir to desired dilution. Strain neat into a coupe or similar cocktail glass. Garnish with a slice of holiday poached pear and fresh rosemary.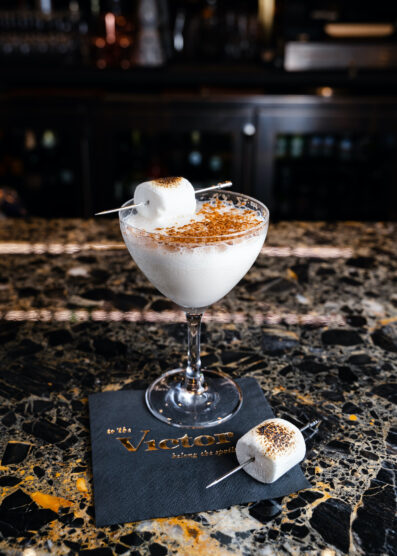 Noël Blanc from The Victor
Ingredients
1/2 ounce Jameson
1 ounce Frangelico
1 ounce Baileys
2 ounces cream
Marshmallow and cinnamon for garnish
Method
Shake Jameson, Frangelico, Baileys, and cream on ice and double strain into a glass. Torch marshmallow and use to garnish on top of the cocktail. Finish with a sprinkle of cinnamon.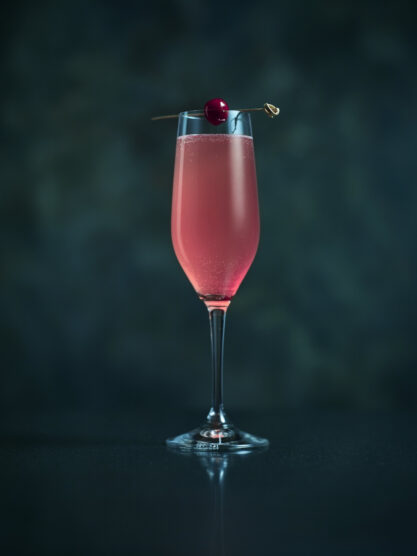 Gotham Girl from Gotham Steakhouse and Bar
Glassware: Flute
Ingredients
1 ounce Bombay Sapphire gin
3/4 ounce lemon juice
3/4 ounce hibiscus syrup
1 dash Scrappy's cardamom bitters
Chandon
Speared brandied cherry for garnish
Method
Combine all ingredients (except Chandon and cherry) into shaker. Shake, then double strain. Top with Chandon.
Garnish with speared brandied cherry resting on rim.
Brandy Alexander from Glowbal Restaurant
Glassware: Coupe glass
Ingredients
1 1/2 ounces Remy VSOP
1 ounce crème de cacao
1 ounce single cream
Fresh grated nutmeg for garnish
Method
Combine all ingredients except nutmeg into shaker and shake vigorously, then fine strain into the glass.
Garnish with fresh grated nutmeg.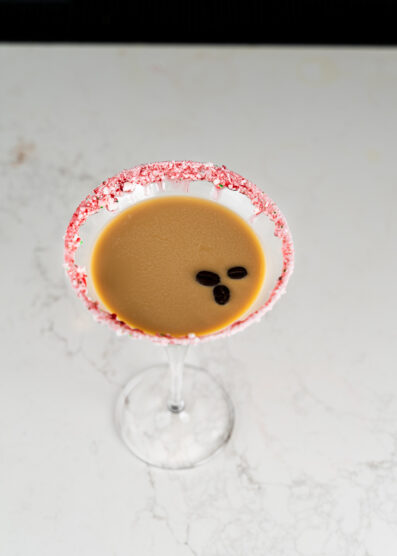 Peppermint Espresso Martini from Honey Salt
Glassware: Martini glass
Ingredients
Candy canes for rim
1 1/2 ounces vodka
1/2 ounce kahlua
1/4 ounce menthe de pastille
2 ounces espresso
Espresso beans for garnish
Method
Crush some candy canes, wet the rim of a martini glass, and dip in the candy canes. Take remaining ingredients except espresso beans and shake over ice until mixed. Pour into martini glass and garnish with espresso beans.
Midnight Fields from Minami Restaurant
Glassware: Coupe
Ingredients
1 1/2 ounces lavender-infused Northern Keep vodka (Note: You can infuse your own by placing dried lavender leaves with vodka in a sealed jar for two days in the fridge.)
1/2 ounce bitter bianco white vermouth
Bar spoon of crème de violette
5 millilitres B'lure butterfly pea extract
Optional: viola flowers for garnish
Method
Stir all ingredients except garnish over ice, then strain into a coupe glass.
Optional: Garnish with edible viola flowers.
Stephen's Hot Toddy from Dachi
Glassware: Mug or old-fashioned glass (seen above)
Being from Northern Ireland, Bushmills is the choice base. You can start with less hot water and slowly add it to your desired dilution.
Ingredients
2 ounces green-tea-infused Bushmills (throw some sencha green tea into your whisky to infuse for 2 hours minimum)
1/2 ounce honey
1/2 ounce lemon juice
5 ounces hot water
Cinnamon stick
Optional: clove-studded lemon wedge
Method
Mix together everything except lemon wedge. Garnish if desired.
Tequila Sparkler from Hornitos
Glassware: Cocktail glass
Ingredients
1 part Hornitos Reposado tequila
½ part lime juice
½ part simple syrup
4 parts champagne
Method
Add Hornitos tequila, lime juice, and simple syrup to an ice-filled shaker. Shake and strain into glass.
Top with champagne.