Roasted Lamb Leg and Creamy Ricotta Polenta
A recipe from Toronto Eats by Amy Rosen.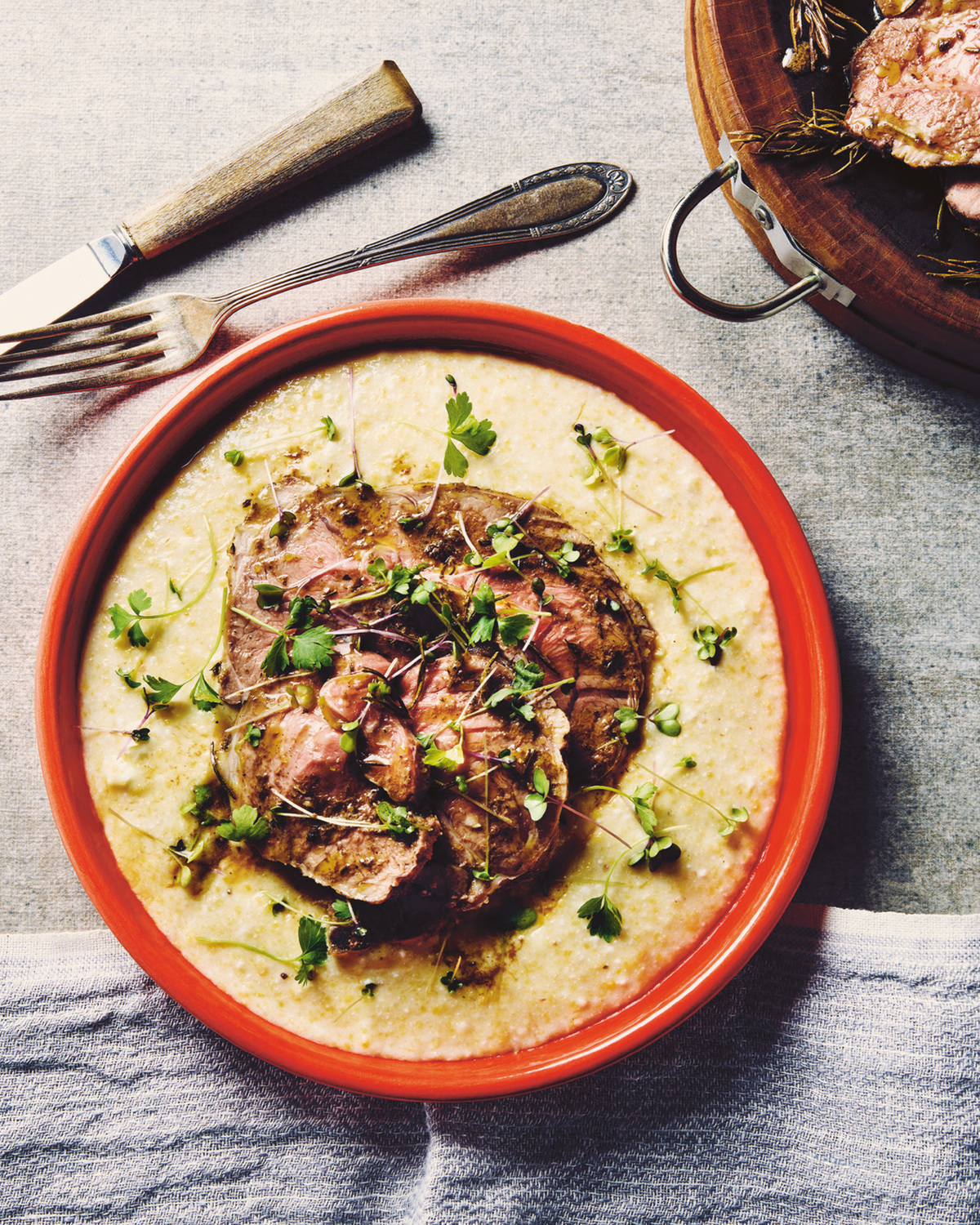 Trinidadian-born, Edmonton-raised chef Roger Mooking draws culinary inspiration from a diverse range of cultures: his family's Chinese and Caribbean roots, the Japanese, French, and Swiss German chefs he trained under. It seems only appropriate, then, that his restaurant would be located at the hub that is Toronto Pearson International Airport. At his restaurant, Twist by Roger Mooking, the chef serves internationally-inspired comfort foods, like fried chicken dusted with chili, chorizo perogies, and, as seen here, rosemary roasted lamb and creamy ricotta polenta.
Roasted Lamb Leg and Creamy Ricotta Polenta
By Roger Mooking of Twist by Roger Mooking.
Serves 4–6
Ingredients
Roasted lamb
1 boneless lamb leg (2 1/2 lbs)
1 Tbsp olive oil
3 Tbsp dried oregano
1 ½ Tbsp kosher salt
1 ½ Tbsp freshly ground black pepper
5 sprigs fresh rosemary
Ricotta polenta
2 ½ cups water
2 cups whole milk
3 cloves garlic, minced
1 cup cornmeal
3 Tbsp ricotta
Kosher salt
Freshly ground black pepper
Method
Roasted lamb
1. Preheat the oven to 325°F. Line a rimmed baking sheet with parchment paper.
2. Rub lamb with olive oil, oregano, salt, and pepper.
3. Place rosemary on the baking sheet, place lamb on top, and roast for 30 minutes.
4. Flip lamb over and baste with pan juices. Roast for another 20 minutes, or until nicely browned and tender.
5. Remove from the oven, loosely cover with foil, and rest for 10 minutes.
Ricotta polenta
1. In a medium pot, combine water, milk, and garlic and bring to a simmer on medium heat.
2. Gradually whisk in cornmeal. Reduce heat to low and cook for another 8 minutes, whisking continuously, until cooked through.
3. Remove the pot from the heat, stir in ricotta, and season with salt and pepper.
4. Transfer lamb to a platter and serve family style with ricotta polenta, or serve plated. Sprinkle with fresh herbs if desired.
For more recipes from Amy Rosen's Toronto Eats, click here, .
_________
Never miss a story. Sign up for NUVO's weekly newsletter.