Elegance and restraint in Kitsilano.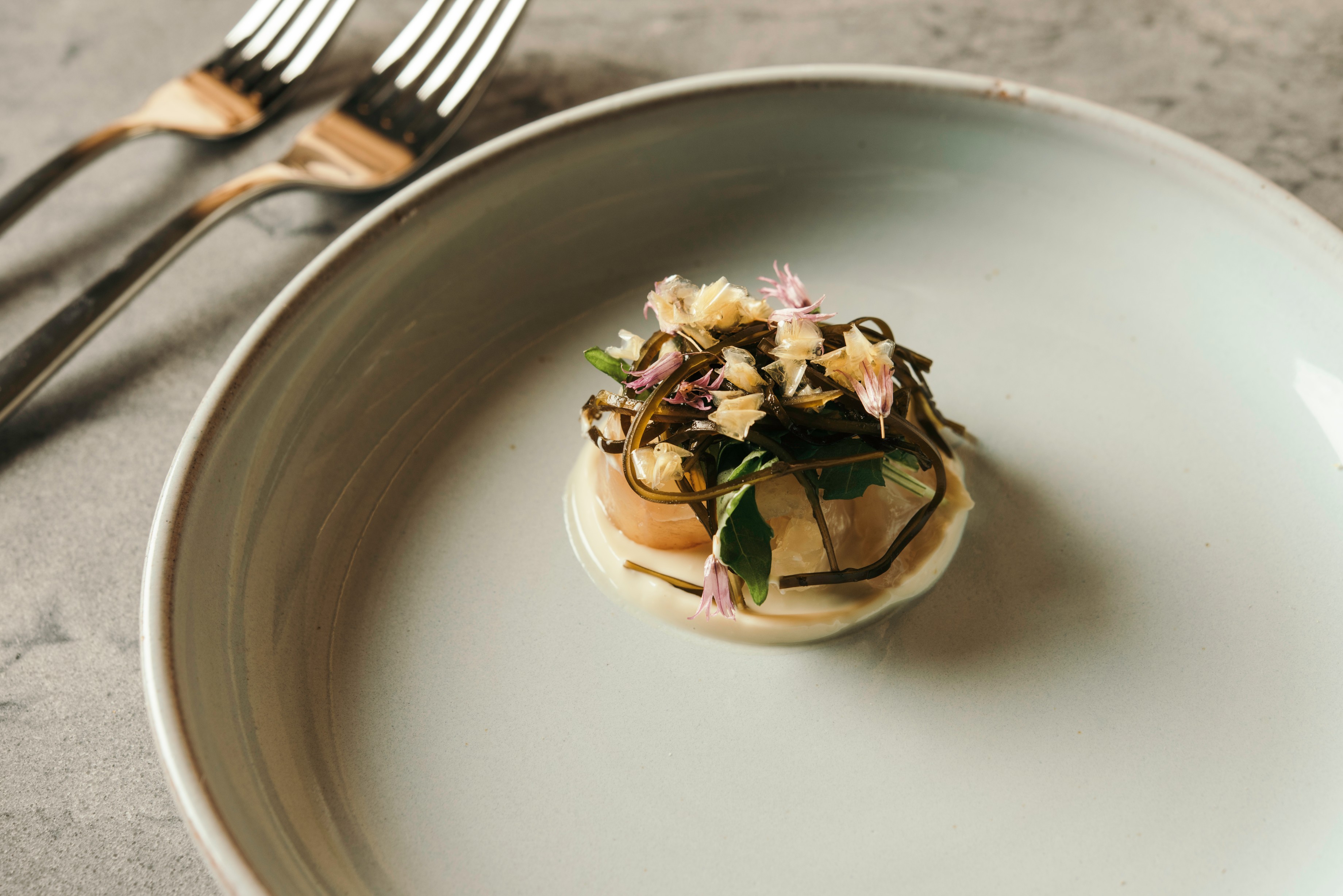 When Mak N Ming opened this year on a block of Yew Street in Vancouver's beachside Kitsilano neighbourhood—an area best known for the summery clamour of patio beer drinkers—the intimate, serious restaurant seemed like the sensitive introvert at a rowdy party. Yet while it may be unusual in this environment, Mak N Ming contains multitudes sure to captivate given the chance.
Twenty-eight seats and a formal set menu assert Mak N Ming's character—this is a place of precision and quiet integrity. "We wanted to be formal, but not so stuffy," says chef Makoto Ono, who runs the kitchen alongside wife and pastry chef Amanda Cheng (whose Chinese name is "Ming," hence: Mak N Ming). "We wanted it to still be comfortable and casual, that's who we are." Tabletops of glaucous blueberry marble, high-backed benches covered with rosy leather, and subtle, earthy design details by Scott & Scott (grey felt curtains, red cedar wall slats, a branch of origami cherry blossoms hanging from the concrete ceiling) set the atmosphere of Pacific Northwest modernism meets an unobtrusive Japanese yūgen sense of beauty.
Dishes see Japanese ingredients and philosophies overlaid a base of classical French techniques, and are served with simple grace. "The space is limited," says Ono of his tiny, four-person open kitchen. "We don't have a lot of room in the kitchen to have garnish components for the plate, and we're limited by timing with eight minutes between each course, so we always have to think—what's the most efficient way to have it come together?" But constraints breed innovation for Ono, whose pedigree includes taking gold at the first Canadian Culinary Championships in 2007, running an eponymous restaurant in Beijing, and opening Vancouver's Pidgin.
"We wanted it to still be comfortable and casual, that's who we are."
On an autumn evening, the rotating chef's menu began with creative interpretation of Ono and Ming's favourite comfort food: ramen. Washington mussels lightly steamed with sake are covered with a fine apple slaw in a tonkatsu pork broth, itself flecked with dark green droplets of seaweed oil. An egg course customarily follows— "We love eggs," says Ono, "especially in French cuisine, egg is such a main ingredient—they say they test a cook's caliber by how they cook an omelette so I always want to feature an egg course." This time, it is a tamago-style egg crepe rolled around a salt cod and potato mixture finished with mentaiko, a Japanese spicy cod roe, sabayon sauce, and herbed tempura flakes for crunch. The textures are exquisite.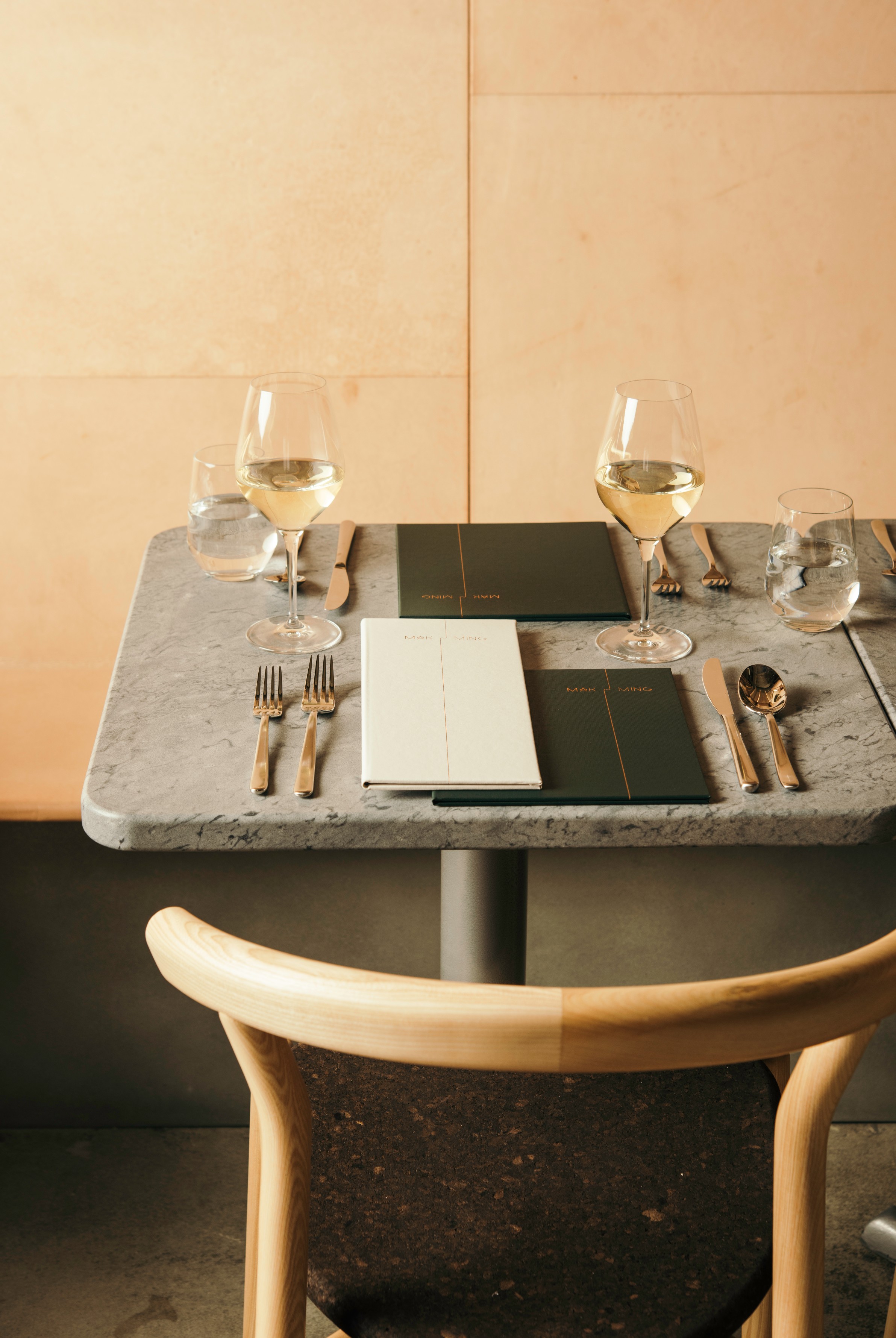 Every dish that follows is thoughtful and lovely—sous vide venison with chestnut mash and pickled chanterelles, a pasta sheet blanketing roast eggplant and shiso chiffonade—and desserts by Cheng, who previously opened West Vancouver's Fraîche and ran Hong Kong dessert bar Riquiqui, are no exception. A cheese course of shredded Ossau-Iraty, a sheep milk cheese from northern Basque, over compressed, caramelized apples is a revelation ("I need more caramelized apples in my life…" sighed my dining companion) and a molten chocolate cake defied convention—trufflelike and served with a devilishly good "ice cream" made with frozen cream and condensed milk and topped with a snowfall of pink peppercorn, it puts all other renditions to shame.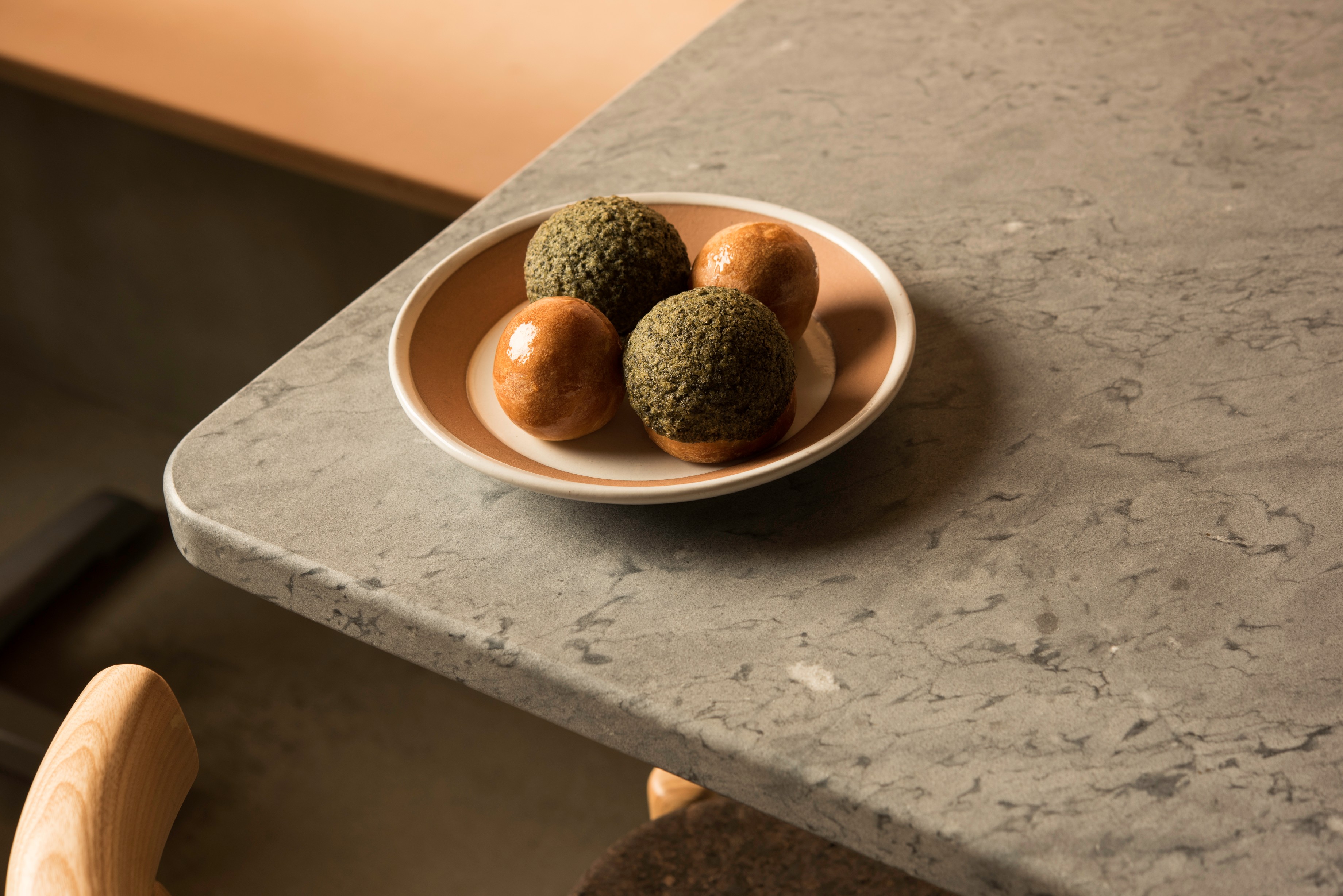 The candlelit dining room feels warm and full well into the night, with a clientele of local tastemakers and well-dressed couples talking business on dates to a mellow soundtrack, and beyond the windows the ocean lies steps away. From this angle, the neighbourhood feels quietly alluring—sophisticated, indeed.
Mak N Ming, 1629 Yew St, Vancouver, BC V6K 3E6.
_________
Never miss a story. Sign up for NUVO's weekly newsletter.