Kachka: A Return to Russian Cooking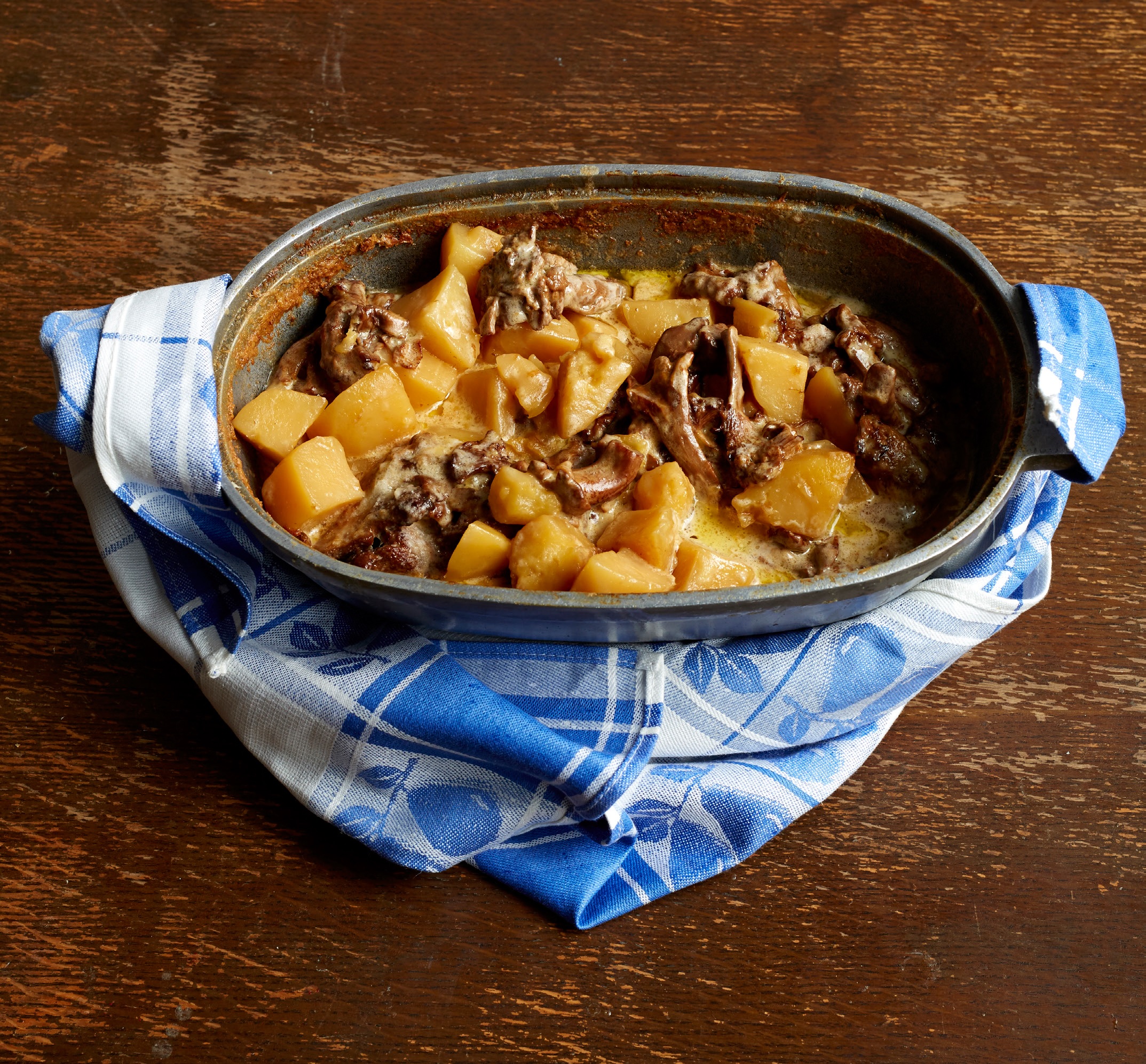 When Kachka, Bonnie Frumkin Morales' ode to Russian cuisine, opened in Portland April 2014, it was intended to both sate the nostalgic palates of ex-pats missing the taste of golubtsi made by babushkas past, and introduce a new audience to the old country's culinary approach. Now, with the release of the new book Kachka: A Return to Russian Cooking, Morales hopes to fill kitchens worldwide with a taste of Eastern European hospitality.
"Kachka's menu is firmly rooted in the Soviet era, with nods even further back to both Czarist excess and traditional rustic foodways," writes Morales, whose family is from Belarus, adding, "…this food, no matter how it is defined, is a soulful celebration in the face of harshness." Indeed, modern yet authentic recipes for cream-braised chanterelles, beans with cinnamon and marigold petals, piroshki, and 12 varieties of infused vodkas, plus whole chapters dedicated to caviar, dumplings, Russian candy, and tea culture, make this book a fortifying tool—and an educational one at that.
Here, we offer a recipe for rabbit in a clay pot from Kachka: A Return to Russian Cooking—a traditional Belarusian dish of hare slow-cooked until melting in a sour-cream based, garlic, porcini mushroom, and dried sour cherry–studded gravy. Have no clay pot, nor a rabbit? Morales thoughtfully notes that chicken legs and a Dutch oven will do just fine.
Garlic Broth
Yields 2 quarts.
Ingredients
2 heads garlic, very well scrubbed and dried (roots intact, as long as they're very clean)
Olive oil
2 quarts water
Instructions
1. Cut the garlic in half (around the equator). Heat a large pot over medium-low heat, and add a slick of oil. Add the halved garlic, cut sides down and cook, stirring occasionally, until aromatic, about 3 minutes. Be careful not to burn the garlic.
2. When the garlic is aromatic, add the water. Bring the pot to a boil, then lower the heat until it's just high enough to maintain a gentle simmer. Simmer until the garlic is fully tender and sweet and the broth is infused with its flavor, about 1 hour. Strain and discard the garlic, add water if needed to replace any that's evaporated, and season to taste.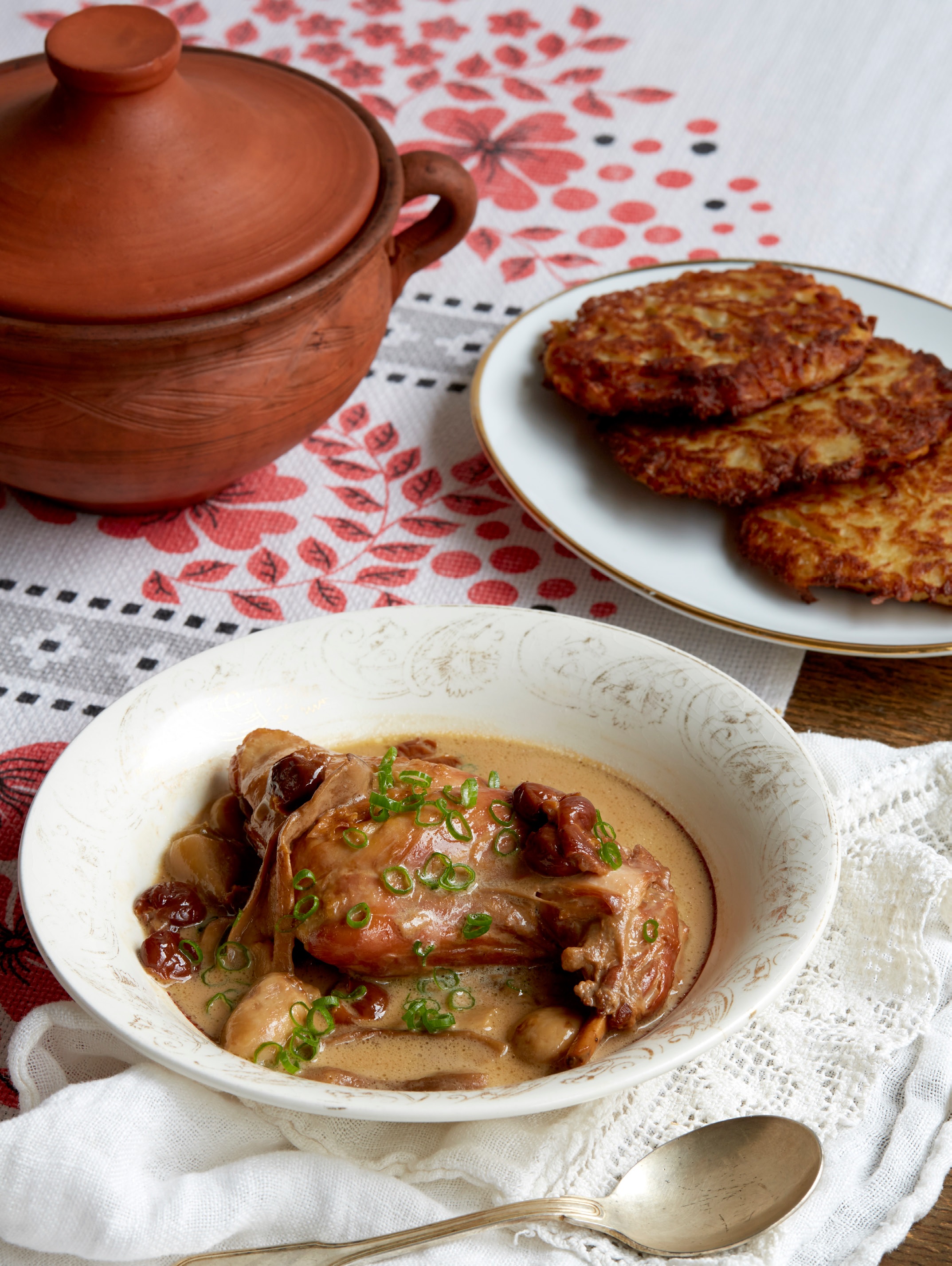 Rabbit in a Clay Pot
Serves four.
There are dozens of classic dishes that get cooked in smetana. To the uninitiated, braising in cultured dairy just sounds wrong. But it's magic. And while the smetana can work its voodoo on the rabbit all on its own, I like cramming in a heady amount of garlic and porcinis, and then balancing all that earthy intensity with the sharp-sweet punch of sour cherries. Serve with draniki (potato pancakes). Or, if you're looking for a quick shortcut, add some potatoes right to the braise for a one-pot meal.
Having trouble tracking down rabbit hindquarters? You can modify this recipe to work with chicken thighs. Simply cook the smetana braising sauce for about an hour on its own at 350°F before adding the chicken thighs, then reduce the heat to 250°F and braise for another hour.
Ingredients
2 cups smetana (page 351) or crème fraîche
1 cup garlic broth (page 345) or water
8 cloves garlic, peeled
⅓ cup unsweetened dried sour cherries
⅓ cup fresh porcini mushrooms (available frozen year-round at Eastern European markets), cut into a ½-inch dice
¼ cup dried porcini mushrooms, swished in some water to rinse off any silt
1½ teaspoons kosher salt, plus more for seasoning the rabbit
High-heat oil (I use refined sunflower oil)
2 pounds rabbit hindquarters (or bone-in chicken thighs)
2 medium Yukon Gold potatoes, peeled and sliced ⅛-inch thick (optional)
Instructions
1. Preheat your oven to 350°F.
2. In a mixing bowl, whisk together the smetana and broth. Add the garlic cloves, dried and fresh porcinis, cherries, and salt. Taste, and add more salt if needed.
3. Heat a large, heavy oven-proof skillet or Dutch oven on high heat, and pour in enough oil to coat the bottom. Liberally salt the rabbit hindquarters, and add them to the skillet, searing on each side until brown, about 5 minutes per side. Remove from the pan, and discard the excess oil.
4. Place the rabbit back in the skillet.* Pour the smetana mixture over the meat, making sure to get some liquid on top of each hindquarter. Cover the pan, and place it in the oven to cook for 30 minutes. After 30 minutes, reduce the heat to 250°F. Braise until the meat is completely tender and easily separates from the bone, another 2 to 3 hours.
* If using potatoes, place them under the seared rabbit before braising, and proceed with the steps as written. If not using potatoes, serve with draniki.
Excerpted from the book Kachka by Bonnie Frumkin Morales. Copyright © 2017 by Bonnie Frumkin Morales. Reprinted with permission from Flatiron Books. All rights reserved.
Photos by Leela Cyd.
Kachka, 720 SE Grand Ave, Portland, OR 97214, USA.
_________
Never miss a story. Sign up for NUVO's weekly newsletter.