Date and Sour Cherry Sticky Toffee Pudding with Tonka Mandarin Sauce
From Mission Hill Family Estate.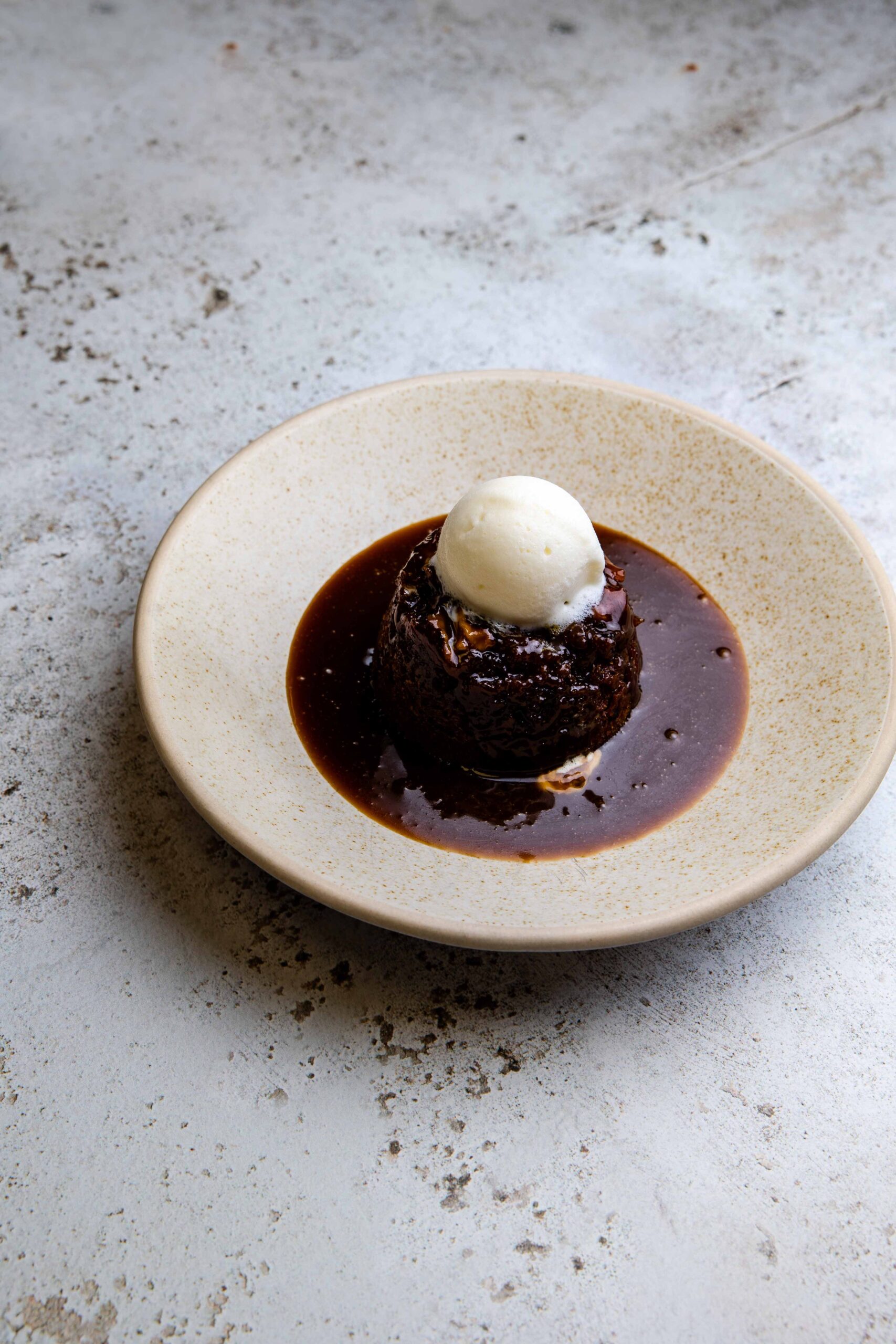 Sticky toffee pudding is a comfort food. A classic dessert that's familiar sweetness harkens back to winters in our childhood. This recipe from Mission Hill Family Estates executive chef Patrick Gayler is family food at its best.
Ingredients
For the pudding:
1 cup dates, chopped
1⁄2 cup sour cherries, chopped
1 1⁄4 cup boiling water
1 teaspoon allspice
6 tablespoons canola oil
4 tablespoons butter, soft
3⁄4 cup light brown sugar
2 eggs
1 teaspoon baking soda
Whipped cream or seasonal fruit for garnish
For the sauce:
2 cups light brown sugar
1 cup cream
3 tablespoons butter
1⁄4 tonka bean, grated
1 mandarin orange, juiced and zested
Salt to taste

Method
For the pudding:
Preheat oven to 320°F.
Grease a deep 20-centimetre-square (8-inch) cake tin or a loaf pan. Line the base with baking paper.
In a large bowl, combine fruit, water, allspice, and canola oil. Let stand for 5 minutes.
Add butter and sugar, and stir until combined.
Add eggs, baking soda, and flour. Mix until just combined.
Pour mixture into prepared tin.
Bake 45–60 minutes or until cooked through.
Be sure to let stand for 10 minutes before turning out of tin/loaf pan.
For the sauce:
Combine all ingredients in a medium sauce pot.
Stir over low heat and bring to a simmer for 1–15 minutes to develop flavours and thicken slightly.
To serve:
Warm pudding in a 250°F oven for 5–7 minutes, then pour warm sauce over top. Allow to sit for a minute or two and reapply sauce as needed.
Garnish with whipped cream or seasonal fruit.