Canadian In-Store Restaurants
Shopping and dining, hand in hand.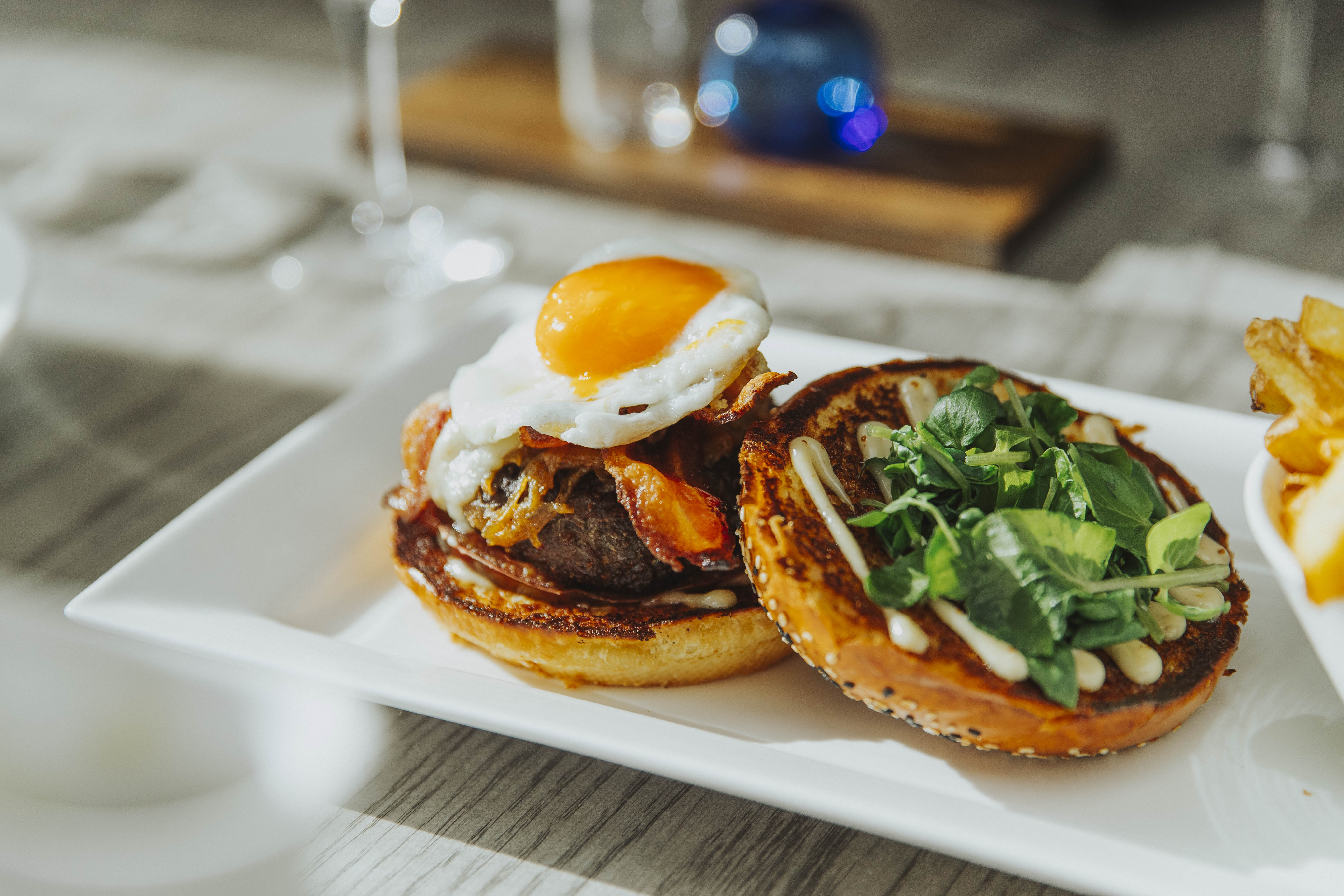 Canadian retail is a competitive market, and companies are seeking ever more creative ways to offer shoppers experiences that feel complete, exclusive, and sybaritic. Key among these flourishes are the additions of dining options to retail spaces; after all, shopping and dining are natural partners, and who doesn't feel like refuelling with a perky lunch post spree, or sipping a cocktail while ruminating on the merits of that Prabal Gurung frock? Here, a few of our favourite shopping-dining crossover spots, running the gamut from luxe department store dining halls to cafes and niches lined with gourmet foodstuffs where you can nab a great sandwich, too. Because one can't be expected to make purchasing decisions on an empty stomach.
Saks Food Hall by Pusateri's, Etobicoke, ON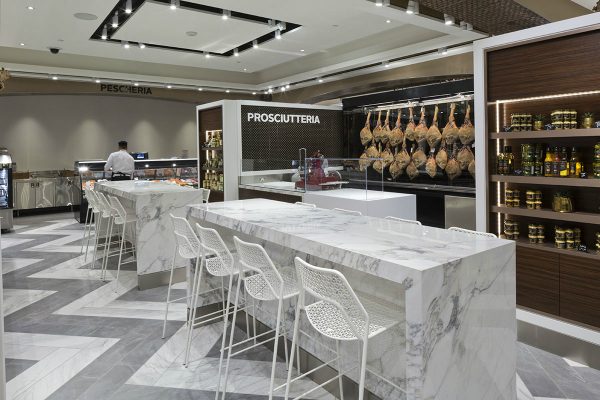 An opulent food retailer, combining groceries and freshly prepared items, Sak's Food Hall by Pusateri's is a one-stop shop for affluent consumers. Upon entering, one is greeted by aisles upon aisles of artisanal goods (think high-end olive oils, truffle pastes, and biscotti). The space is also home to a bakery preparing fresh breads, a prosciutto bar, and food stations, including an elegant sushi bar. A whimsical Nutella café and espresso bar are also favourites, where shoppers may sit to enjoy crepes, cronut sandwiches, and Americanos.
Holt's Café, Vancouver, BC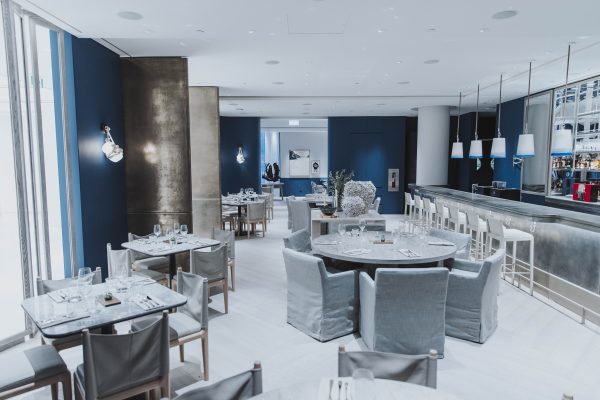 An ideal setting for a business lunch or shopping break, this chic 1,750 square foot Yabu Pushelberg-designed Holt's Café boasts floor-to-ceiling windows overlooking the lights of Granville Street, and a soft, nautical vibe thanks to its pale blue palette and a lovely hand-painted seascape mural by Canadian art studio Moss and Lam. Diners seated in navy leather wraparound banquettes graze on seasonal salads, wagyu beef burgers, local chanterelles on toast, and tuna tataki prepared by chef Nicolas Hipperson. Ahh, luxury.
Sorry Coffee Co., Toronto, ON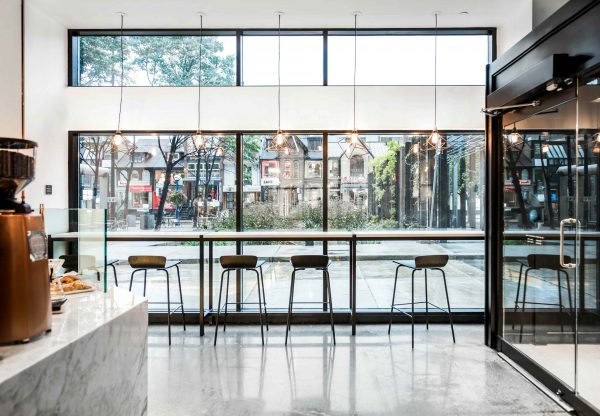 Sorry Coffee Co.'s crisp white interiors complement the minimalism of its adjoining luxury athleisure-wear boutique, Kit and Ace. Offering staple espresso-based drinks (as well as teas, pour-over, and a modest selection of pastries from Toronto bakery Delysées), the café takes after Kit and Ace's initiative to collaborate with locals, partnering with new typographers every few months to design their paper cups.
Edible Canada, Vancouver, BC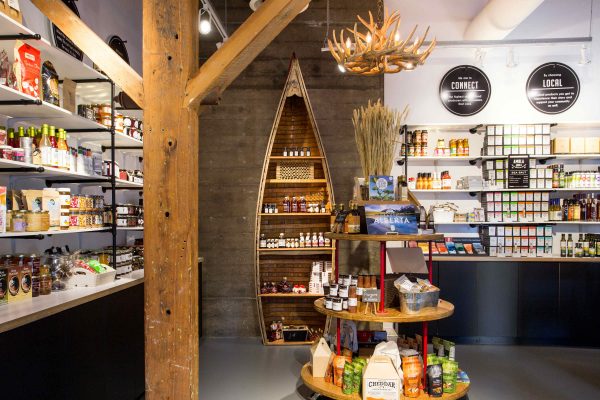 Located on Vancouver's charming Granville Island, Edible Canada's bistro and retail store operate side-by-side, convenient for diners to shop just-sampled ingredients after a delicious meal. The 150-seat bistro (with patio) offers brunch, lunch, and dinner, and is flocked to by locals and tourists alike for its patriotic dishes like Quebec duck poutine and juicy Alberta Angus beef burgers. A side of duck-fat fries is unmissable, and those opting for some of Vancouver's famous seafood (like the West Coast Fish Banh Mi), can be assured it is sustainably sourced and Ocean Wise–certified.
In the adjoining shop, precisely arranged jars of Canadian-made chutney, antipasto, honey, jams, jellies, and all manner of preserves line the walls, giving the space a quaint farmers' market feel. Closer to the front counter, artisanal gift baskets and fresh chocolates tempt.
Bistro Verde, Vancouver, BC

The sleek and modern space of Nordstrom's Bistro Verde is lined by windows overlooking the Vancouver Art Gallery. A menu of fresh salads and sandwiches are ideal for a mid-shopping repose, while those seeking to make an event of an evening of shopping and dining can indulge in such options as filet mignon with Chinese long beans or one of the many Ocean Wise-certified items, such as Thai curry mussels or wild salmon with maple-glazed bacon.
The Dirty Apron, Vancouver, BC

Located in Vancouver's Crosstown neighbourhood, the Dirty Apron Delicatessen's shelves are stocked with ultra-niche Canadian snacks, like Beta5 chocolates, Covered Bridge potato chips, and Sea to Sky trail mix, alongside fine imports from Italy and Spain. Gourmet sandwiches are at hand if all that food-shopping makes you peckish (think fig and brie with balsamic onions or Thai beef with green papaya and lemongrass vinaigrette) and the truly intrepid may sign up for in-house cooking lessons as well.