If you saw the words "Canadian breakfast" on a diner menu, what would they mean to you—a lumberjack plate of eggs and bacon and a stack of maple-lashed flapjacks, perhaps? Or maybe, depending where you were across our country, the concept of a traditional breakfast would conjure a different image—Winnipeg rye toast, a hot bowl of Sunny Boy cereal, a peameal bacon sandwich? Here, we look at what a regionally-specific morning entails in different parts of Canada.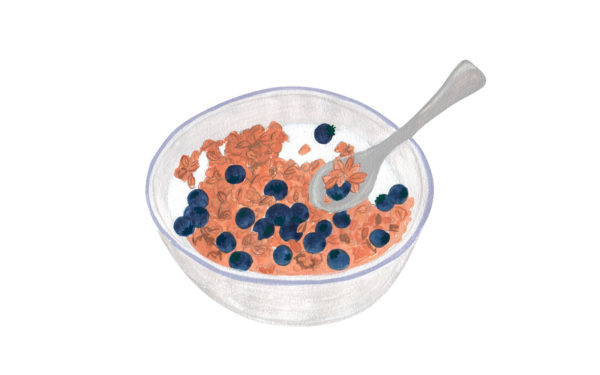 British Columbia: Granola and blueberries.
Pop quiz: what is Canada's top fruit export? It's blueberries, and the tiny pops of antioxidant goodness hail from "bloob" capital British Columbia. So of course, they turn up frequently in local breakfasts, naturally paired with another provincial passion: granola. As its hippie-headquarter reputation would suggest, B.C. is home to an abundance of granola manufacturers using all manner of organic, non-GMO grains and seeds, from the seriously large Nature's Path to the upstart, award-winning Holy Crap (a favourite of astronaut Chris Hadfield).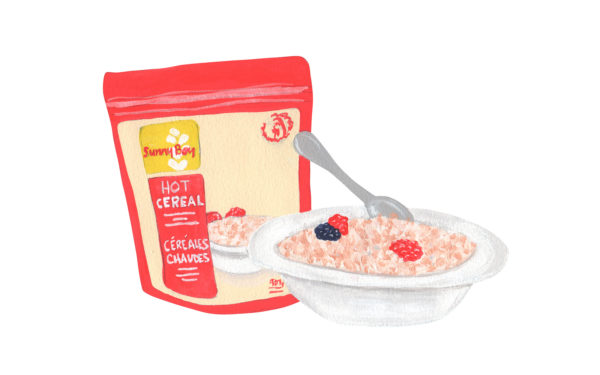 Alberta: Sunny Boy Cereal.
Alberta-grown wheat, rye, and flax in its red and yellow box has been used to craft local company Sunny Boy's nutritious warm cereal since 1929—a breakfast staple for generations who woke up to the grainy bowls (maybe topped with syrup or cinnamon) before heading to school in the winter cold. The cereal is so iconic that when a hitch in new ownership kept it off grocery store shelves for 10 months in the early aughts, shopkeepers had to keep waitlists until its return.
Manitoba: Winnipeg Rye bread with and Mennonite farmer's sausage.
Whether from Kub or City Bakery, true Winnipeg rye is an oval-shaped loaf, less dense than (and lacking the caraway of) typical varieties, and with a lightness that comes from the addition of cracked rye to white flour (rather than pure rye flour). The province also lauds its Winnipeg cream cheese, which is tangy and uncommonly spreadable, and its Mennonite farmer's sausage—an mild, smoky link of pork, salt, and pepper eaten for breakfast, lunch, or dinner.
Ontario: Peameal bacon sandwich on a Kaiser roll.
A type of Canadian bacon, peameal bacon is a tender cured pork loin rolled in yellow cornmeal (or historically, crushed yellow peas) and invented in Toronto, where to this day the gold standard indulgent breakfast consists of a stack, fried and served on a Kaiser roll, maybe with mustard, cheese, or an egg. Critics point to the sandwich's hefty sodium content (a day's allowance, just for breakfast) but perhaps paired with a Macintosh apple—also developed in Ontario—it makes a balanced meal?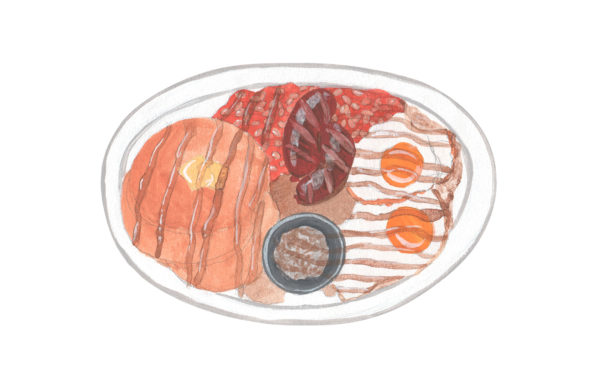 Quebec: A full breakfast with maple syrup.
The key ingredient in Quebecois gastronomy has always been excess—just ask explorer Pehr Kalm, who noted in his 1749 account of life in New France, "The meals of the French in Canada, if I may permit myself to say so, are habitually over-abundant." Even the "father of New France" Samuel de Champlain's boat was stocked to the brim with hams, wine, olives, and fruit. So, a big breakfast is more than habitual in the province—it's traditional. A plate piled with pancakes, beans, eggs, sausage, and cretons, lashed in mahogany maple syrup is a satisfying homage to Quebec's forefathers.
Newfoundland and Labrador: Toutons topped with Crosby's molasses.
A touton is foremost simple—a puck of bread dough, flattened like a pancake and fried in the renderings of back bacon until golden crisp with tender, chewy insides. Sometimes, they are served with "scruncheons"—little crunchy, salty morsels of bacon rind, or a drizzle of Crosby's molasses (the company shares a history in Atlantic Canada that's almost as old as Confederation itself). A pro tip: cook your toutons thick and split them down the middle to use like English muffins in a breakfast sandwich.

New Brunswick: Ployes.
Part of the history and tradition of the Madawaska Valley and surrounding areas, a ploye is a kind of a thin, buckwheat flour pancake or crepe cooked without flipping, a technique which gives it a very bubbled, crater-like top. Ployes are often used in place of bread, to make a sandwich, or are eaten simply with butter, molasses, cretons, or syrup for breakfast. The name, which means "plug", refers to this simple dish's ability to fill one's stomach quickly and effectively.

Prince Edward Island: Lobster Benedict.
For P.E.I., lobster fishing is a top industry (second only to farming) and while any local will tell you that back in the day eating lobster signaled shameful poverty, today the tasty crustacean is celebrated at every meal—and often, quite affordably. That's why at many local diners you'll find generously-filled lobster omelettes and eggs Benedicts on menus.

Yukon: Yukon bacon.

Almost pancetta-like, this style of bacon is sliced very thin and fries up crispy with uneven edges and a rich, smoky flavour. It is, perhaps, more closely related to Irish bacon than Ontario's peameal standard, being cut from the pork belly and loin. This similarity may be due to the tastes of Irish gold prospectors making themselves at home in the region during the Klondike heyday. Don't expect to find Yukon bacon it everywhere in the territory, however—these days, it's a somewhat rare, speciality item served by a smattering of diners.
_________
Never miss a story. Sign up for NUVO's weekly newsletter, here.