The 2019 Rolex Awards for Enterprise
Meet the laureates who are changing the world.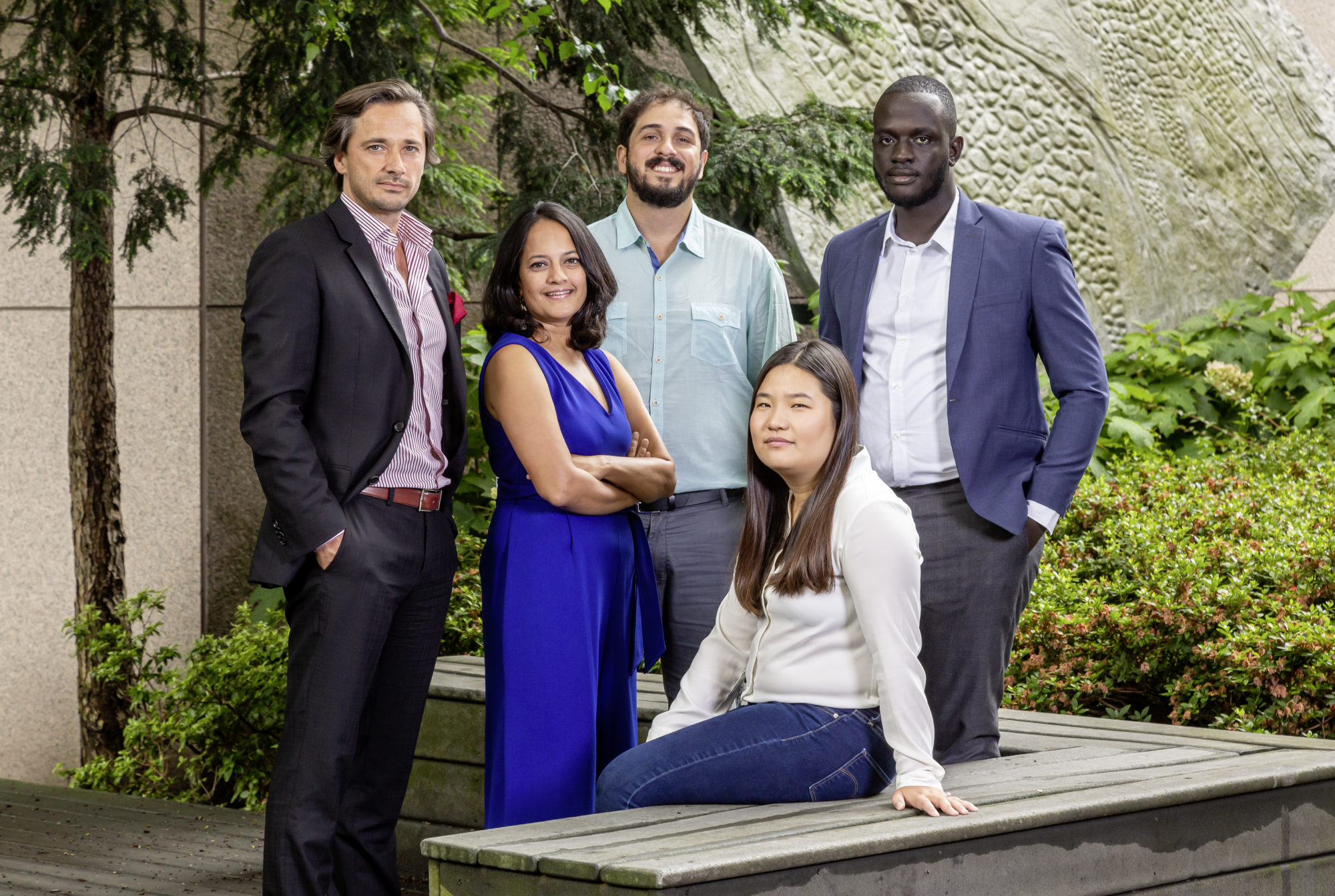 "I thought it was the single most evil thing I had seen in my life," says Miranda Wang, recalling the time when, as a member of her high school's recycling club, she visited a waste management site in her hometown of Vancouver. "'That plant serves my household.' And realizing how much plastic was in there was a huge shock for someone who thought that recycling is doing its job. It is not."
That experience sparked Wang's determination to find a solution. Less than a decade later, her company, BioCellection―co-founded with her school friend Jeanny Yao―has developed groundbreaking technologies to upcycle some of the worst forms of plastic waste into valuable industrial chemicals that can be used to make durable consumer goods. And that has brought the Silicon Valley–based scientist and entrepreneur to Washington, D.C., to be named one of the five laureates honoured by the 2019 Rolex Awards for Enterprise.
The location of this year's ceremony was determined by the partnership between Rolex's Perpetual Planet campaign and the National Geographic Explorers Festival, where the 10 finalists of the 2019 Rolex Awards presented their projects. Perpetual Planet strengthens its efforts to help solve environmental challenges by bringing together several of its existing initiatives: its long-standing partnership with the National Geographic Society; marine biologist Sylvia Earle's Mission Blue project; and the Rolex Awards for Enterprise. Coinciding with the National Geographic Explorers Festival gave Rolex Awards finalists the opportunity to expand public awareness.
The Rolex Awards for Enterprise were established in 1976 to mark the 50th anniversary of the Rolex Oyster. Intended to be a one-off celebration, the Awards have become a biennial event and a pillar of Rolex's philanthropic activities. This year's cohort brings the number of laureates to 150 (from a total of more than 35,000 applicants over four decades), working in science and health, cultural heritage, applied technology, exploration and the environment. Since the first awards were presented in 1978, the impact of the laureates' work has been significant: in the field of conservation alone, 18 million trees have been planted, 23 endangered species and 17 major ecosystems protected, and hundreds of new species discovered. Anyone over the age of 18 can apply for an award, with no requirement for academic or professional qualifications; the intention is to identify individuals who are leading visionary projects—including those who are working outside established scientific and business circles and lack access to traditional funding sources.
That's the challenge faced by 2019 laureate Brian Gitta, a Ugandan IT specialist who realized that many malaria deaths could be prevented if the disease were diagnosed more quickly. He and his team have developed a low-cost, portable device that uses light and magnets to detect malaria, rather than a blood test. "Our greatest obstacle has been the medical professionals who don't trust us, as outsiders, so we have struggled to get backing for further development," he says.
Rebecca Irvin, head of the Rolex Institute, is keen to emphasize that these are not "achievement" awards. They are given to people at a relatively early stage in their careers: "These are awards for people who are on the verge of doing something really important," she says. People like Switzerland-based scientist Grégoire Courtine (2019 laureate), who is working to help people with paralysis walk again, thanks to an implantable electronic "bridge" that re-establishes communication between the brain and spinal cord, restoring control of the legs.
Rebecca Irvin explains that in the field of conservation, the Awards recognize an important distinction between preserving the environment and designing and implementing solutions to environmental challenges. "In all fields, not just conservation, we are looking for people who really have that spirit of enterprise," she says. "Many of the best projects have a sound economic base, and may become financially sustainable."
It would be hard to think of a better description of 25-year-old Wang and her business. She and Yao co-founded BioCellection during their third year at the University of Pennsylvania ("The business address was my dorm room," she says, laughing). They raised some funding but, says Wang, "It was hard because nobody had realized the enormity of the plastic problem—it didn't hit the headlines until the beginning of 2018."
Nevertheless, immediately upon graduating, they moved to Silicon Valley, believing that this would give them access to more potential funders and collaboration partners. They quickly discovered that the cost of being there required them to be extremely focused. The biggest shift Wang made to stay in business was from using a bacterial process to a chemical one, which would be faster and more scalable. "We are effectively reverse-engineering the process of making plastics, focusing on low-density polyethylenes [the type used for plastic wrap and plastic bags] because it is relatively simple and is one of the plastics that can't be recycled."
"In all fields, not just conservation, we are looking for people who really have the spirit of enterprise," says Rebecca Irvin, head of the Rolex Institute.
For any of this to work, it has to make economic sense. Says Wang: "That's [the chemical process is] not just a lower-cost process but a higher-value outcome. And if we're going to solve the plastic problem, we have to play to win. We have 70 years of dumped plastic in landfills. So why not mine them, instead of going deeper and deeper to drill for oil to make virgin plastic? We are going to make that decision much easier."
The value of the Rolex Award for Enterprise is far greater than the 200,000 Swiss francs (roughly $270,00 Canadian) financial grant that comes with it, says Wang. "The external impact is huge—in terms of exposure, credibility, the ability to raise funds…" Before the Award, the company had raised almost $4 million—mostly from angel investors and foundations. "But the internal is just as important. When you're trying to do something that nobody has done before, it's hard, and you want to know that you can. Winning this award tells me that I can. My parents immigrated from China when I was a child; I'm not from a special background, I didn't know people in my field—and for me to have made it all the way here…" She doesn't need words to express what she means.
The laureates for the 2019 Rolex Awards for Enterprise are:
Grégoire Courtine: A French scientist who's helping people who are paralyzed to walk again by re-establishing communication between the brain and the spinal cord using an implantable electronic "bridge".
Miranda Wang: A Canadian scientist and entrepreneur whose California-based company has developed an innovative and efficient process for turning unrecyclable plastic waste into valuable chemicals to be used in the manufacturing of industrial and consumer goods.
Brian Gitta: A Ugandan IT specialist who's developed a low-cost, portable device that diagnoses malaria rapidly, without the need for a blood sample. Rapid diagnosis has the potential to reduce the number of malaria deaths.
Krithi Karanth: An Indian conservation scientist who's working to reduce the conflict between humans and wildlife by raising conservation awareness; protecting crops, livestock, and people; and assisting those affected to obtain compensation quickly.
João Campos-Silva: A Brazilian ecologist who's working with remote communities in the Amazon to save the giant arapaima, the world's largest scaled freshwater fish, from extinction. In the process, he's helping to secure the livelihoods, food supply, and culture of those Indigenous communities.
_________
Never miss a story. Sign up for NUVO's weekly newsletter, here.