Janet Zuccarini's Gusto 501 Is High on the List of Post-Quarantine Destinations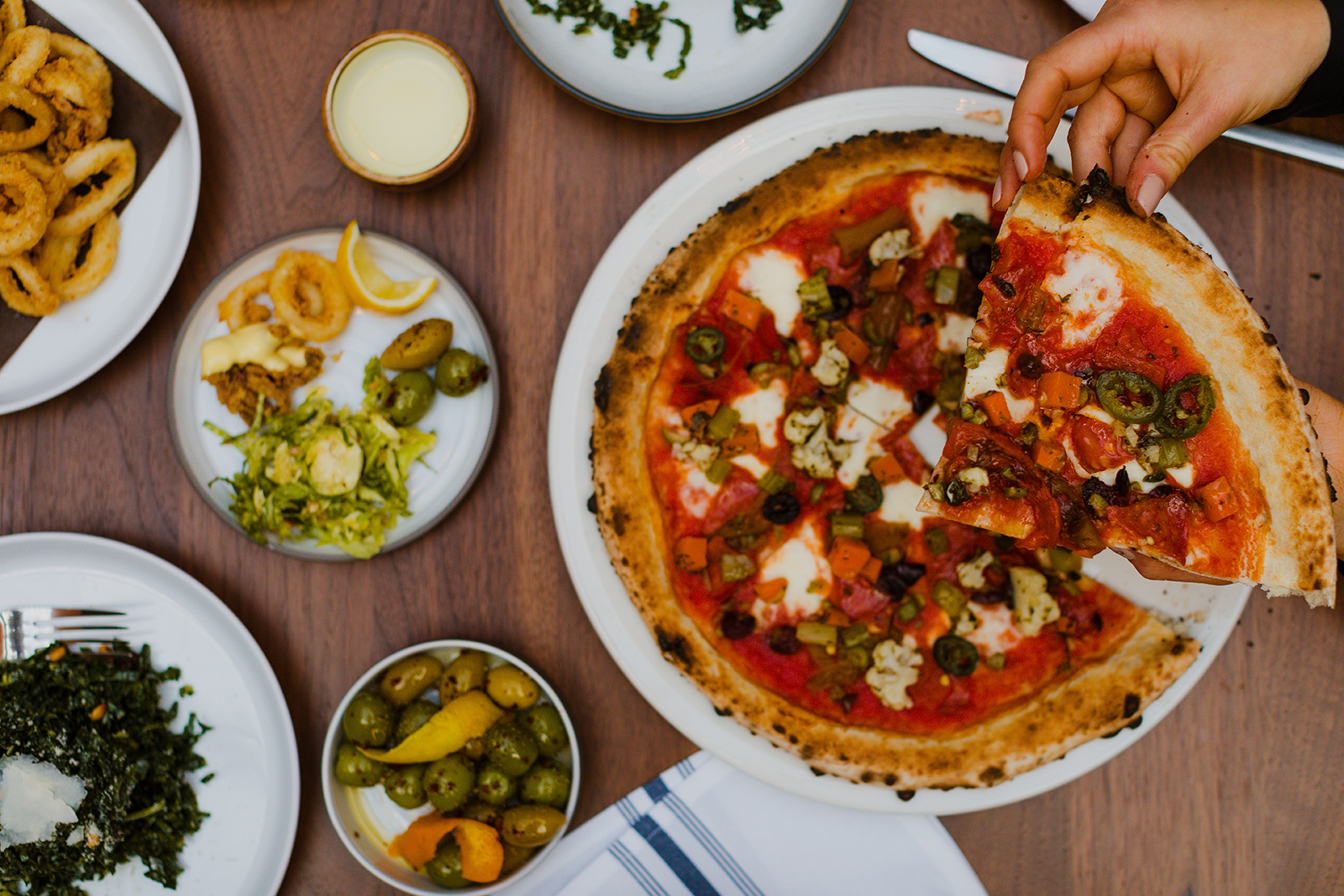 It's 6:30 p.m. on a gloomy Tuesday eve, and Toronto's Gusto 501 is packed. Found on an east end strip, with a view out to an overpass, the brand new Italian eatery has been given a warm welcome by the city's denizens. Baby sister to Gusto 101—the more centrally located people-pleaser—this striking industrial edifice is the latest building block in restaurateur Janet Zucarrini's empire.
Zuccarini first wrote headlines with her Trattoria Nervosa, which brought the original kale salad into Toronto's consciousness. Stars dropped by during TIFF—and continue to do so—and Zuccarini's restaurant prowess was cemented. Since then, she's gone on to open the first Gusto, Chubby's Jamaican Kitchen, and Los Angeles' Felix, which has received all the accolades and is involved with numerous other establishments.
But the restaurateur is perhaps best known for Top Chef Canada. Fans of the show will recognize the poised Zuccarini as one of the judges from their TV screens, taking discerning bite after bite of wannabe winner chef fare. "As a restaurateur, I've always been super dialed into all elements of the restaurant experience—food, vibe, service—but my time on Top Chef Canada has taken it to the next level," Zuccarini says. "When I dine out now, I put every meal through my Top Chef judge filter and can't help but think of what I'd say if I was actually at the judges' table."
Evidently Gusto 501 passed her test. Italian fare is what Zuccarini does best, pairing a bon vivant atmosphere with a menu that soothes the soul. And Toronto never tires of Italiana. "I do think that the love for Italian cuisine is amplified in this city, considering it has one of the largest Italian communities outside of Italy," she notes. "The Italian restaurants in Toronto are the closest you'll get to authentic Italian dining outside of Italy."
For the space itself, Zuccarini enlisted PARTISANS architecture studio and Wendy Haworth Design Studio to work their magic. "Janet is an amazing client because she and her team are committed to investing in innovative design to bring value to the Gusto brand; to provide guests with memorable and charged experiences; and to go beyond the conventional hospitality mindset to augment the city with important neighbourhood landmarks," notes Jonathan Friedman, partner at PARTISANS.
An operable garage-style front window—one of the world's largest—allows for promising al fresco dining come warmer temps. With the natural light and ventilation, this is one of the many smartly sustainable features PARTISANS has woven into the design. Inside, the room yawns open, with a wood-fired pizza oven to the left, a staircase to the right, and a bevy of diners filling in the rest of the gaps. Its stark, weathering steel façade has a conversation with the interior, which exudes warmth thanks to terra cotta brick walls.
Part light fixture, part undulating sculpture, this memorable detail checks off many a box. "Not only are they a natural material, [with a] low carbon footprint, extremely robust, and sourced within 400 kilometres," Friedman says of the bricks, "but they also have the added benefits of absorbing sound and moderating indoor temperature." While PARTISANS' Bar Raval recalls Gaudí's original Sagrada Familia, Gusto 501's details are evocative of the still incomplete portion of Barcelona's most famed landmark.
As the staircase climbs to the next floor, the wavy walls accompany it, landing on a secondary dining room corresponding to the main restaurant. Farther up the stairs, two Wednesday-to-Saturday spaces are centred around bars and sharing plates, promising additional liveliness as the week wears on. Still in the works, the rooftop terrace will offer two views of the Toronto skyline and help our summer dining life inch just a tad closer to that of New York. (Admittedly, there's a way to go.)
But the food! The main menu is filled with comforting fare, including a reasonable amount of veg-friendly dishes to sate those looking to lower their meat intake. To start, there's housemade focaccia and golden arancini, stuffed with squash and fior di latte. The aforementioned kale salad rears its head, but there's a new kid in town. "Our shaved Brussels sprout salad rivals the famed kale salad from Gusto 101 and Nervosa, and I'm all for it," Zuccarini says. A mound of shaved raw Brussels sprouts arrives laden with Brazil nut Parm and plenty of sunflower seeds.
Pizza, pasta, and veg occupy much menu territory. Spaghetti cacio e pepe arrives with just the right al dente chew, however Zuccarini's pick is the lamb ragu lasagna. Rather than a slab cut from a larger entity, it's a cute-as-pie portion unto itself ("the crispy edges are to die for," she says). The restaurateur notes that one of the wood-fired pizzas would certainly make it onto her perfect Gusto 501 hit list; the funghi is one of her favourites. Stand-on-their-own vegetable sides include the roasted carrots, which arrive in a dreamy pistachio and browned butter sauce sweetened with OJ. And for sweet, expect to dig into classics like tiramisu.
While this success story is just getting started, it's not the only new restaurant Zuccarini has in the works for 2020. "We're opening five concepts this year, so my dance card is full!"
A statement from Janet Zuccarini, owner and CEO of Gusto 54 Restaurant Group:
"We want everyone to feel welcome in our restaurants but not at the sacrifice of public health and safety. We currently offer takeout, delivery, and a grocery marketplace and are doing all we can to communicate how we are keeping our team and guests safe."
‌________
Never miss a story. Sign up for NUVO's weekly newsletter here.