Crystal Pite and Khoudia Touré Embody the Craft of Choreography
Rolex Mentor and Protégé Arts Initiative.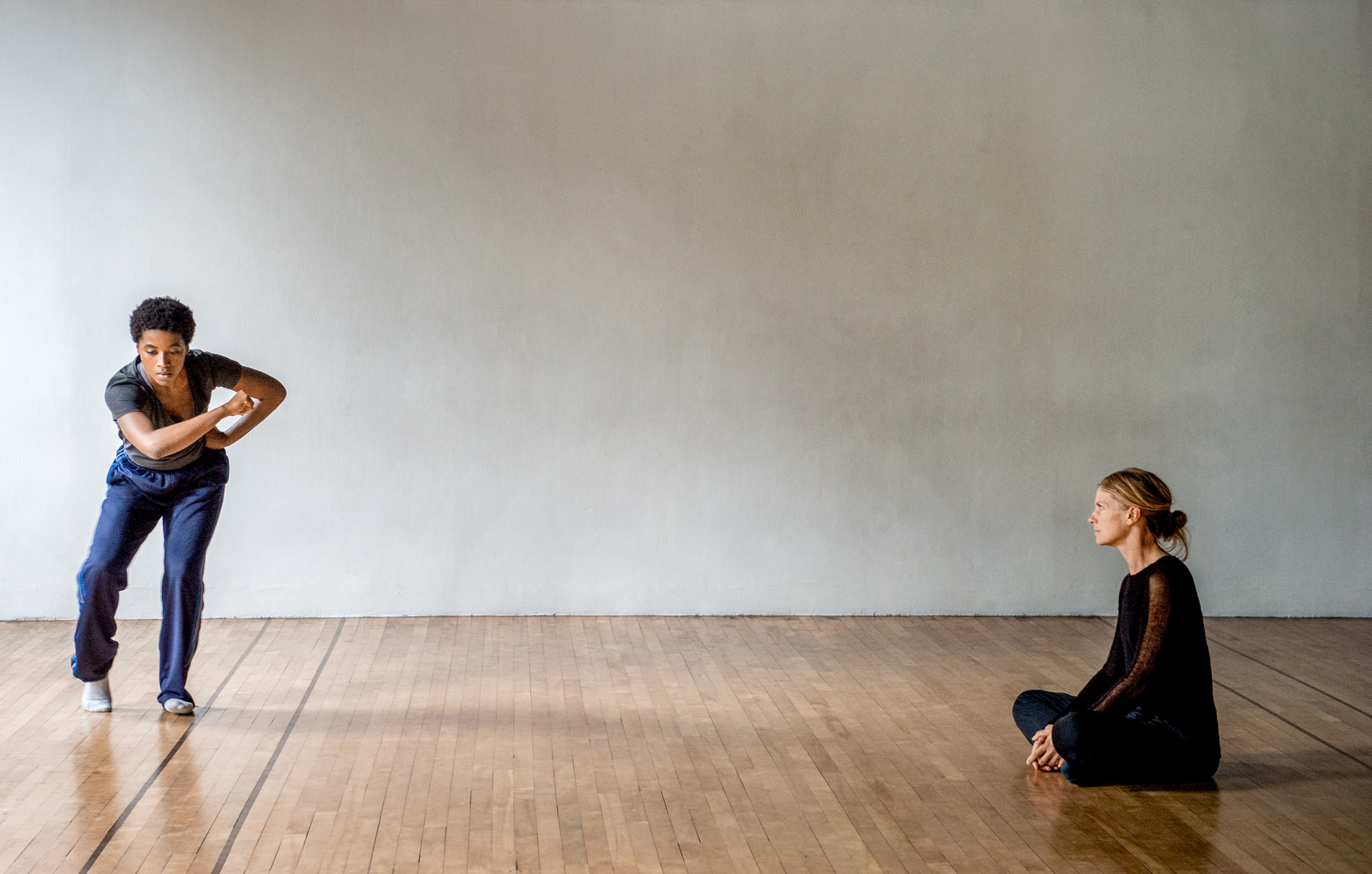 In the Nureyev studio under the dome of the Opéra Garnier, Crystal Pite is setting out lines and patterns. All eyes of the principals and corps de ballet are on the celebrated Canadian choreographer as they listen carefully to her directions. Pite turns, lets herself go to the ground, gets up without effort, rocks, curves her chest and limbs, then stops mid-action. "See where my hands are?" asks the 48-year-old, her hands clasped at hip height. "You want to put your head there as if you are going to grab it."
Pite and these 40 or so Paris Opera Ballet dancers are in rehearsal for Body and Soul, her second work for the company. (Her first, 2016's The Seasons' Canon, was commissioned by Benjamin Millepied during his time as the company's director and established Pite, almost unknown in France, as the new dance star.) "Let's try this again and start from the same place," Pite calls out. The music is cued, and as "gauche, droite, gauche, droite, pieds, mains," bellows from the speakers, the dancers move in unison.
The Rolex Mentor and Protégé Arts Initiative is based on the traditional concept of mentoring in the arts, in which younger apprentices learn their craft alongside more experienced practitioners.
Witnessing her command of the room and quiet focus is Khoudia Touré, a 33-year-old hip-hop dancer from Senegal whom Pite is mentoring through the Rolex Mentor and Protégé Arts Initiative, an international philanthropic program that pairs emerging talent with recognized leaders in their fields. For the past two years, Touré has shadowed Pite—in Holland, London, Vancouver, Montreal, Zurich, Belgium, and Paris—on many different projects, with the Royal Ballet, the Paris Opera, Nederlands Dans Theater, the Zurich Opera, and even Pite's own company, Kidd Pivot, in Vancouver. "It's been really interesting to have Khoudia beside me during many different projects," says Pite, in conversation along with her protégée once rehearsal for Body and Soul wrapped for the day. "Khoudia has seen projects from that first germ of an idea of choreographic works right through to their premiere."
The Rolex Mentor and Protégé Arts Initiative is based on the traditional concept of mentoring in the arts, in which younger apprentices learn their craft alongside more experienced practitioners. "The idea is that art is a continuum and all artists learn from those who went before," says Rebecca Irvin, head of philanthropic programmes at Rolex. Starting in 2002, 54 accomplished masters in the disciplines of theatre, dance, music, visual arts, literature, film, and architecture have worked one-on-one with young artists, helping them to realize their full potential. (Masters have included Robert Lepage, William Forsythe, Brian Eno, Olafur Eliasson, Margaret Atwood, Martin Scorsese, and Sir David Adjaye.) "The goal is to ensure artistic legacy is passed on to the next generation," explains Irvin.
A superstar in Europe, Pite is one of the most exciting choreographers in the world today, known for her passion for communicating ideas, emotions, and stories with wonderful theatricality. Her protégée, Touré, is a pioneer in urban street dance and hip-hop, and is a choreographer in her home country. Upon finishing her studies in France, Spain, and the U.K., Touré returned to Senegal and co-founded Sunu Street, a project funded by the European Union that provides professional dance arts education to Senegal's underserved youth. Compagnie La Mer Noire, the dance collective that she and three other dancers created in 2014, is one of the few dance companies in Senegal. Says Touré, "Being selected as a protégée happened at a point of my life where I had given a lot of myself, trying to share what I knew with my community and people around me. I was in need of more knowledge."
In her home base of Vancouver, Pite runs the company Kidd Pivot; this is where she and Touré spent time discovering new corners in choreography. "The ballet world is completely different," says Touré of her experience, "but Crystal has a way she moves her body, the tension, the energy. When we first met, we actually danced and I was surprised that what she was doing was something so common to me. I just felt we were speaking the same language."
Pite traverses different cultural and institutional contexts with her choreography, and she has found her way to the top of her profession while retaining a mild demeanour. She weighs her words carefully when she speaks. "I wanted to collaborate and work with another creator," she says of her selection of Touré. "Someone who had a choreographic practice, who was building their own vocabulary, who was making shows and working on their dance practice." Every discipline of the Rolex mentoring program has a panel of five or six experts who nominate 20 to 30 candidates per field, after which the nominators meet and collectively decide on three or possibly four finalists. The mentor meets the finalists and chooses a protégé. "I was drawn to work with Khoudia, as I felt I could give her the tools that she needs to be able to continue to do what she does, and bring her work into more of a theatrical setting," continues Pite.
"I wanted to collaborate and work with another creator. Someone who had a choreographic practice, who was building their own vocabulary, who was making shows and working on their dance practice."—Crystal Pite
It goes without saying that protégés come to the attention of a lot of different festival directors and curators during the open-ended collaboration. "This is not a competition," stresses Irvin about the program. "This is about a relationship, and so the mentors choose who they get along with best, who they think they can help the most… there are lots of reasons."
The Terrace-born, Victoria-raised, Vancouver-based Pite has amassed an impressive collection of stellar reviews for her works: Betroffenheit, The Seasons' Canon, Flight Pattern. To her, choreography isn't about stringing together steps, but making sure a piece resonates. "Dance says what words cannot," she expresses. "I am moved when many people are on stage, by their effort to do something together." Pite has long been interested in groups and chain reactions. Along with overseeing Kidd Pivot, she leaves space for commissions from dance companies.
"I was really happy that Khoudia was able to come into theatres with me right away," says Pite of the mentoring experience. "Every possible aspect of what I do, she has been beside me—whether it's remount, tour, creation—and at all stages, from the first meeting at the table right through first rehearsals to technical experiments to residency to previews, premiere, and tour."
And while two years may seem like a long time, "I was feeling like a whole world of information was coming and I had a lot to pick up very fast," says Touré. "I was worried about not being able to contain so many things that were going on. I feel through these two years, it has infused slowly and that this knowledge will resonate for a long time. I have enlarged my vocabulary in dance to have better content to make dance."
Giving guidance, imparting wisdom, sharing insights and experiences—that is the foundation on which the Rolex mentoring program was conceived and continues to create the conditions for creatives to get together. In the case of Pite and Touré, they have danced, they have learned, and they have shared. "We both love a lot of the same things as dancers and as choreographers," notes Pite. "There are certain kinds of isolations in the body that we both love. We share a common interest in movement, and that became a matrix for us to be able to talk about bigger ideas about choreography."
Watching a rehearsal is like getting a glimpse of the creator's mind. As choreographers, "We are always trying to connect with other people and make something that is greater than us," says Pite. Much like the human condition. 
_________
Never miss a story. Sign up for NUVO's weekly newsletter, here.