A culinary homecoming at Fogo Island Inn.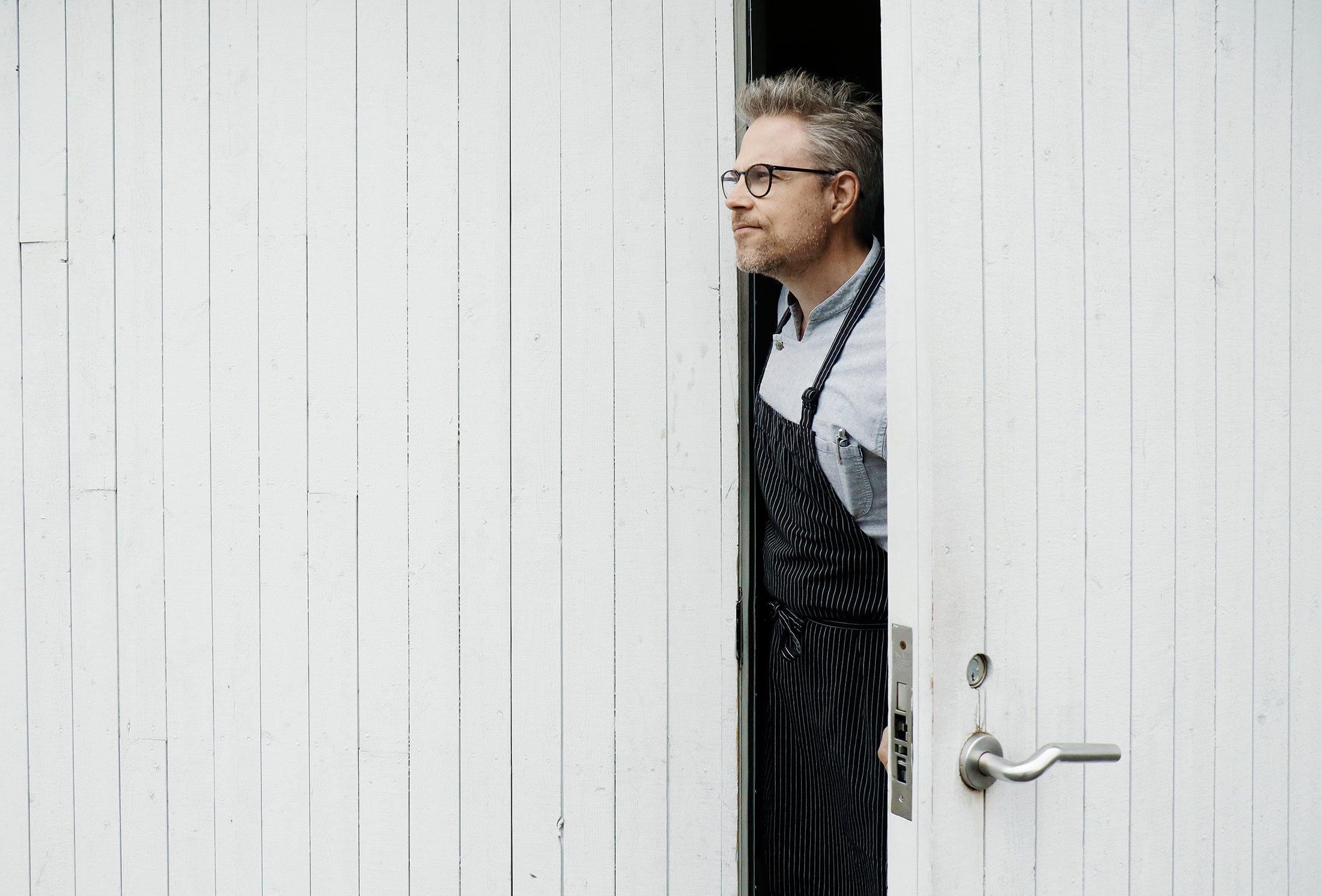 A chef's career can have many twists and turns, yet you'd be hard pressed to find one that has as many as Jonathan Gushue's. Best known as a former chef of the tony Langdon Hall Country House Hotel in Cambridge, Ontario, Gushue began his ascent to cooking's big leagues in his father's kitchen in St. John's, then moved to the far reaches of the world, and today has come full circle to his home province of Newfoundland and Labrador.
Gushue's latest adventure is happening on Fogo Island, the largest island off Newfoundland's northeast coast, where he is executive chef at the Fogo Island Inn. Though he has held the position for less than a year, Gushue is already winning accolades for his cuisine. Remarkable in its sophistication and style, his menu leans heavily on local ingredients, while managing to reach gastronomic heights without an ounce of pretension. The Fogo Island Inn, which opened in 2013, may be one of the world's most magnificent hotels, yet there is absolutely nothing fussy about the place. And Gushue has captured that casual brand of excellence in every bite, from lobster stew with chanterelles at breakfast, to moose salumi on the charcuterie plate at lunch, to slow-poached cod jowls with a honey emulsion at dinner. It takes a chef with serious skills and confidence to pull that off.
Zita Cobb, the visionary businesswoman who dreamed up the project and now describes herself humbly as its innkeeper, chose her chef wisely. "I wanted Jonathan because I thought—and think—that he has the emotional intelligence, mental agility, and poetry in him to understand Fogo Island in a nuanced way," she says. "And he has the technical skill and humility to show the specificity of this place—its geography, history, stories, and dreams—through food. It is also important that he has a deep background in hotels, so he understands the realities and opportunities of caring for people 24 hours a day. And finally, at this age and stage of his career, he is ready to tackle the true potential of a contemporary chef: contributing to community building by being involved in ongoing conversations about food, where it comes from, and how it can sustain us economically, nutritionally, socially, and culturally."
At 47, Gushue has landed a dream job of sorts, in a remote yet magical setting. His route to Fogo began in the same province, but further south in the capital of St. John's. "I've always been intrigued by food, flavours, and tastes," says Gushue one afternoon over tea in the Fogo Island Inn's library. "My mother hated cooking and didn't mind admitting it, but my dad always had a great interest in food. He was a judge, but cooking was his hobby. Saturdays were always food days, when we'd go out on some excursion. I remember one time when he was obsessed with dumplings, which here in Newfoundland are called doughboys. Another time, he drove 80 kilometres to buy basil. There was always some weird adventure."
Gushue, an only child, travelled extensively with his father, especially to England and Italy, which resulted in him developing a deep love of hotels and restaurants. At age 13, he left Newfoundland to attend boarding school, first in Toronto and later in New York state at a school mainly for children with dyslexia, which he had. At 19, wanting to pursue a career in hotel management, he landed at Georgian College in Barrie, Ontario. "When I called my dad to tell him I wanted to be a chef, he hung up on me. And we didn't speak for several months after that. But years later, he told me he admired me for doing something I loved."
Gushue's first kitchen job was at Minaki Lodge, a posh Four Seasons wilderness resort in northwestern Ontario. His position was breakfast cook's assistant, but the setting was what was especially stimulating. "I was fortunate to grow up in and around nature," says Gushue. As well, "There were people coming in from all over. It just blew my mind. I wanted to travel and thought that this [cooking] was my opportunity."
Post-Minaki, as planned, Gushue travelled extensively. First stop, "I was in Japan for two years," says Gushue. "When my visa ran out, I went to England, where I first worked with chef Michael Kitts at the Swallow Royal Hotel in Bristol. I had never even seen foie gras or a truffle before that. Kitts was a master of charcuterie, terrines, and pâtés. That's when I really started learning, but we were only making French food."
From Bristol, Gushue headed to the capital, working first at the Berkeley hotel and then at the Four Seasons Hotel London at Park Lane under star chef Jean-Christophe Novelli. "He showed me the importance of building your flavour library," says Gushue. "I still remember his cassoulet terrine. I was with him for three and a half years. No one taught me more than Novelli."
"When I called my dad to tell him I wanted to be a chef, he hung up on me. And we didn't speak for several months after that. But years later, he told me he admired me for doing something I loved."
At the request of his former sous-chef from the Berkeley, Gushue returned to Canada, this time to Vancouver, to join the Wedgewood Hotel's Bacchus Restaurant as executive sous-chef, a position he then held at the Four Seasons Hotel Vancouver. From there he was transferred to the Four Seasons Hotel Toronto, this time as chef at Truffles restaurant alongside former executive chef Lynn Crawford. Then in 2005, an opportunity opened up at Langdon Hall. "Langdon Hall was on the radar as an up-and-comer," says Gushue. "I was in the right place at the right time. They were open to my ideas and I was given carte blanche. I had a lot of energy when I got there and was surrounded by a group of good people."
But two years later, in January 2013, Gushue made headlines across Canada, not for his food, but because he was reported missing. He was eventually located in Montreal, after going on a 13-day bender. Gushue explains that it was not the stresses of the job that caused this, but an addiction to alcohol that he has been quite vocal about. He has been sober ever since.
Despite his huge success in Canada's high-end restaurant scene, Gushue had never actually owned a restaurant. That changed in 2013 when he left Langdon Hall for Kitchener, Ontario, where he was chef and co-owner of the Berlin restaurant for three years. "I learned a lot as a chef/partner. That was different for me because I never thought I'd be running a farm-to-table restaurant, and it was a great experience."
And then along came Zita Cobb. A Fogo Island resident, Cobb had made her fortune in the fibre optics industry. Worried that her beloved community was slowly disappearing due to the collapse of the fishing industry (Fogo's population dropped from a height of 5,200 residents in the late '60s to roughly 2,300 today), Cobb came up with the inn idea. Architect and Gander, Newfoundland, native Todd Saunders realized her vision. "When the project got going in 2009, I wasn't free," says Gushue. "In November of 2016, I was told there was an opening, and I just had to go."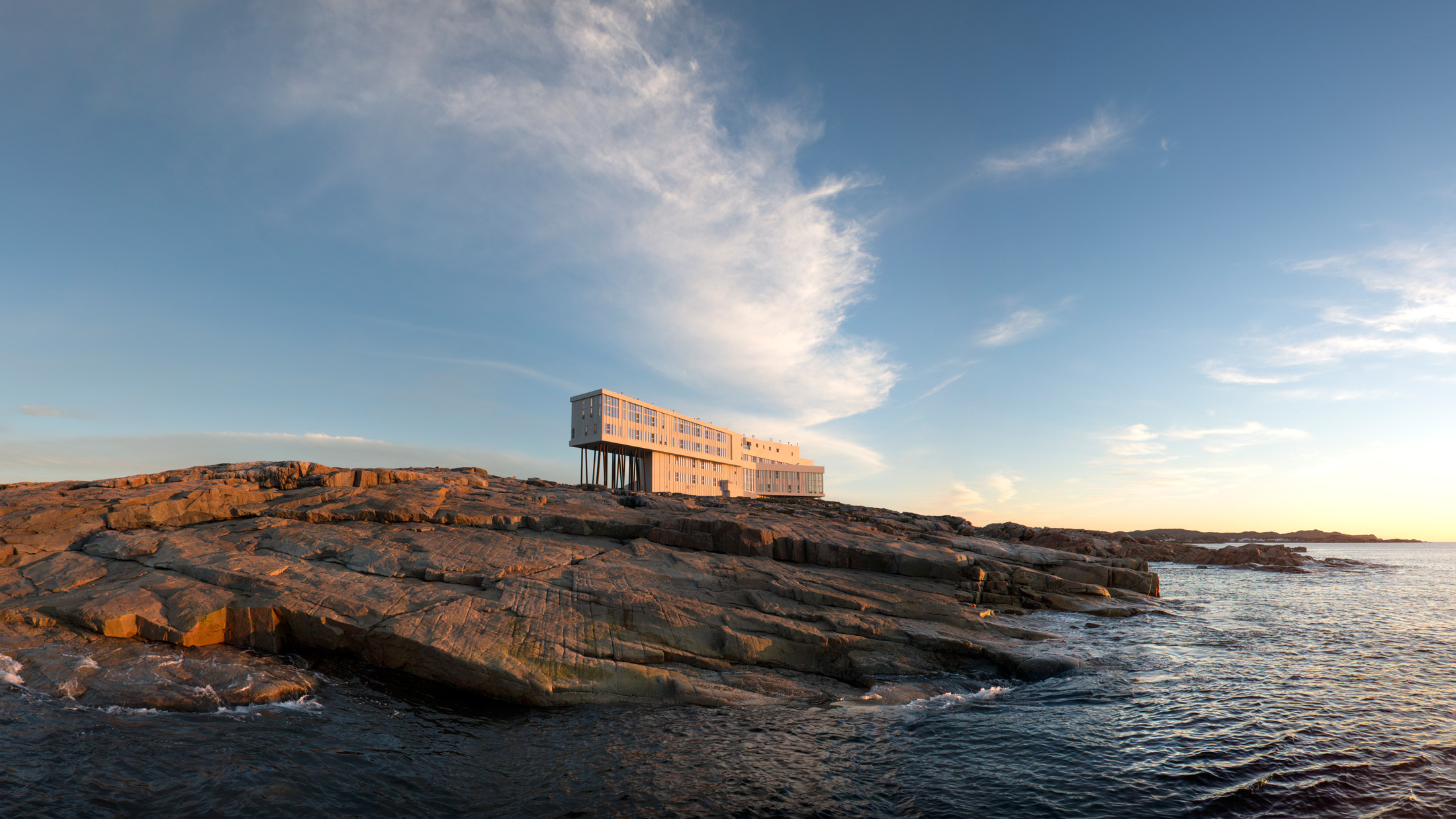 Just five years ago, few were headed to Fogo Island for a gourmet dinner. Simple dishes like cod au gratin or moose stew, for sure, but probably not pan-seared turbot with yellow squash, or partridgeberry chocolate tart with crème fraîche chantilly. But since the opening of the Fogo Island Inn, adventurous travellers have headed to the unique hotel to experience the distinct landscape, traditions, and history of this remote island.
"Fogo is so different, it's like the moon—magical," says Gushue. "There's a real feeling here that you want to use as much as you can for the people, for the inn." Does it make a difference that he's from Newfoundland? "Yes," he says, "but how, I'm not sure. They give me more leeway because I'm from St. John's, but they still say I'm from 'town'."
With restaurants in St. John's like Raymonds and Mallard Cottage receiving accolades for close to a decade, was Gushue inspired by this new wave of Newfoundland fine dining? "My style remains farm-to-table," he explains. "The guests expect everything's made here. If not, you're in trouble. But you just have to look at this building and the land, and you already know how you should cook. I do what comes naturally, relying on my first reaction to a product. And that will evolve."
So in the end, has the boy from Newfoundland rediscovered his home province through food? Says Gushue, "A lot of these ingredients are new to me, like bakeapples and partridgeberries. And the cod here is sweeter than any I've tasted and I wonder why. I want to know why. There are still so many things I want to learn."
_________
Never miss a story. Sign up for NUVO's weekly newsletter.