The Truth About Shade-Inclusive Foundations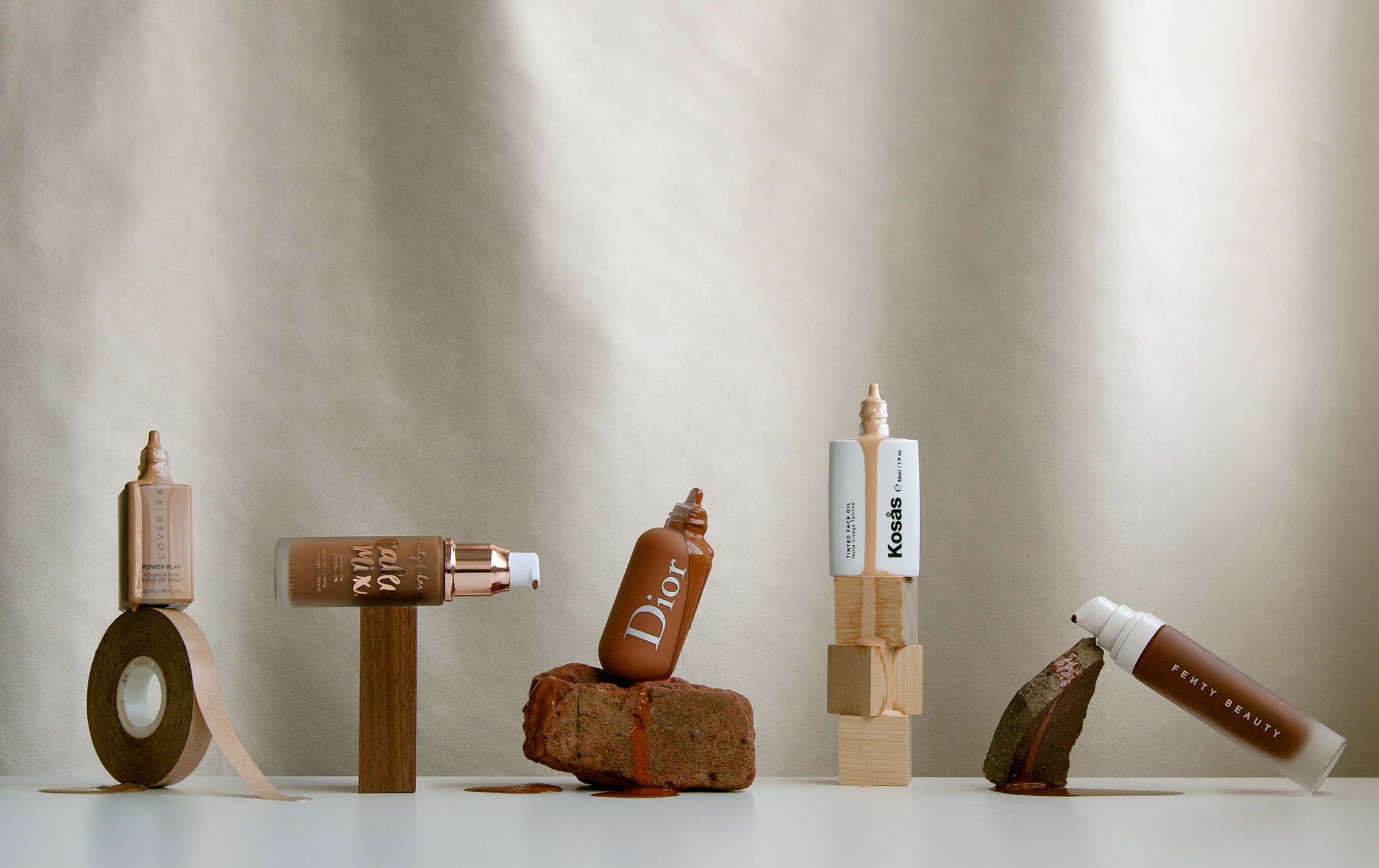 Applying makeup is often referred to as "putting on your face." And the first product many people use is foundation—a powder or liquid cover-up that is meant to be like a second skin, an undetectable veil over your visage. Yet for many women, foundation doesn't even come close to matching their complexion. For decades, those with dark skin tones have been woefully underrepresented in the spectrum of shades. Then along came Fenty Beauty. Launched in 2017, Rihanna's inclusive makeup line included Pro Filt'r foundation, with 40 "boundary-breaking" shades for all skin tones, from light to deep. News of the matte, pore-perfecting foundation went viral on social media and fans stormed Sephora; within days, the store's inventory of darker shades was completely gone. It was something of an earth-shattering wake-up call for other beauty companies, who raced to release double-digit shade ranges and expand their existing collections to 40 colours—or beyond.
And yet is more really more? As women confront increasingly vast foundation charts and expansive drop-down menus, some experts question whether this multitude of shades genuinely addresses diversity (or does it just make for a nice 'gram?). In this post-Fenty world, where every drop of new makeup is intensely hyped, is foundation truly inclusive?
Many makeup artists are skeptical. The problem, they say, is that the quality of formulas hasn't always kept pace with the demand for shades. Celebrity makeup artist Nick Barose, whose clients include Lupita Nyong'o and Priyanka Chopra, finds that while new wave brands might offer 40 (or even 50) shades, they haven't perfected the science behind such big ranges. "It's not just about high numbers—there are more details and nuances [to creating a wide range of shades]." Mastering the undertones, for example, is crucial for getting flattering results. Carola Gonzalez, another noted celebrity makeup artist, notes that many formulas have pink undertones, but "Women with dark skin have mostly red, orange, blue, and yellow—not pink—undertones." She recalls testing one makeup line with a bounty of "inclusive" shades. "I had to give them all away. The undertones were completely off." Texture and finish also matter. "Dark skin reflects light," says Barose, so oily formulas often create too much shine. In the end, he says, some brands are "What I call 'fake inclusive'—most of the darker shades are not well researched or developed, so they miss the point."
A handful of smart, thoughtful upstart brands are taking up the challenge, though, and want to establish themselves as the go-to brands for diverse skin tones. Cover FX, for example, is known to be hyper-attentive about undertones: its latest Power Play Foundation aims to provide matte, all-day coverage in 40 shades with two levels of calibration—first, you choose your complexion (from light to deep) and then you specify your underlying skin tone (with options such as neutral, golden, and golden-plus, which is the warmest and most olive-y of the bunch). And Peter Phillips, creative and image director for Dior Makeup, recently released Backstage Face & Body Foundation, a version of the fluids he mixes by hand backstage at fashion shows to custom-fit models with various skin shades. The 40 lightweight shades are sheer (which makes application simpler), and they can be dabbed on the neck, shoulders, and legs too.
A handful of smart, thoughtful upstart brands are taking up the challenge, though, and want to establish themselves as the go-to brands for diverse skin tones.
Indie brands seem less concerned with the big 4-0. Instead, many offer tightly edited—but expertly curated—ranges. Beauty Bakerie, the makeup line that counts Beyoncé as a fan, released its Cake Mix Demi-Matte Foundation in 30 versatile shades. The buildable foundation strikes that balance between sheer and matte—it can be layered on for more coverage without leaving a grey or white cast behind (similar to an opaque film left behind by sunscreen that doesn't completely blend in with your skin tone). Or consider Kosås Tinted Face Oil, a hybrid botanical serum–foundation made with an artist's eye toward lighting the face. For the medium and dark shades, founder and painter Sheena Yaitanes opted for saturated undertones that are "distinctly olive, or distinctly golden, but never pink," in order to give life to the skin. The fluid only comes in 10 shades, but can be used on more than 30 skin tones thanks to its ability to sink in and let the natural pigments in your complexion peek through—"Unlike other foundations that just sit on top," Yaitanes says.
But what products do makeup artists trust? Many rely on under-the-radar classics—foundations that aren't as flashy as the newest arrivals, but if you're willing to mix and match a bit, they perform extremely well. Barose is a fan of Koh Gen Do's Maifanshi Aqua and Maifanshi Moisture foundations. "They've long been a makeup artist's secret. Although they don't come in a wide range, they have good undertones, so they match a lot of skin." Gonzalez is partial to Giorgio Armani Luminous Silk Foundation, in particular shades 10 and 11 (which she says have beautiful red and orange undertones), and NARS Velvet Matte Skin Tint Broad Spectrum SPF 30, which she applies directly or blends with Glossier Perfecting Skin Tint in Deep for a slightly darker result.
Without a pro by your side, though, one challenge remains: With all this choice, how do you pick the right shade, if not by trial and error, and with the expense of creating bins of unused foundation? Gonzalez concedes that "Foundation is probably the least consumer-friendly makeup product out there," revealing that the only reason she can make accurate selections is that she's a trained professional. Still, there are techniques. For starters, Gonzalez says to shop in person rather than online, so you can sample things in real life. But be prepared: not all stores will stock a brand's entire range of shades, and if they do, you might not find an expert behind the counter to help you match darker complexions—a common complaint, according to Barose. His advice is to test a few different options on your skin, preferably on the cheeks. This way, you know "It will blend in with the rest of your face and jawline." Gonzalez suggests also dabbing it on the décolletage area to ensure your face is in harmony with the rest of you. The rule for picking a winner: "The colour should disappear into your skin—that's how you know you have the right one," she says.
Despite the hurdles that remain around formulas and fit, Gonzalez and other experts agree that the dialogue around foundation is changing for the better. "Yes, please, we need all these shades!" she says. "The improvements we've made from when I was growing up until today is amazing." While there's no single perfect range "yet", she says, makeup brands now realize they have to be more inclusive—or risk getting left behind. And why stop at foundation, argues Barose. He's got a few other items in his kit that he'd like to see improved to flatter more diverse complexions. Concealer, lip liner, blush, he says, rattling off a list. In other words, the conversation has just begun.
_______
Never miss a story. Sign up for NUVO's weekly newsletter, here.