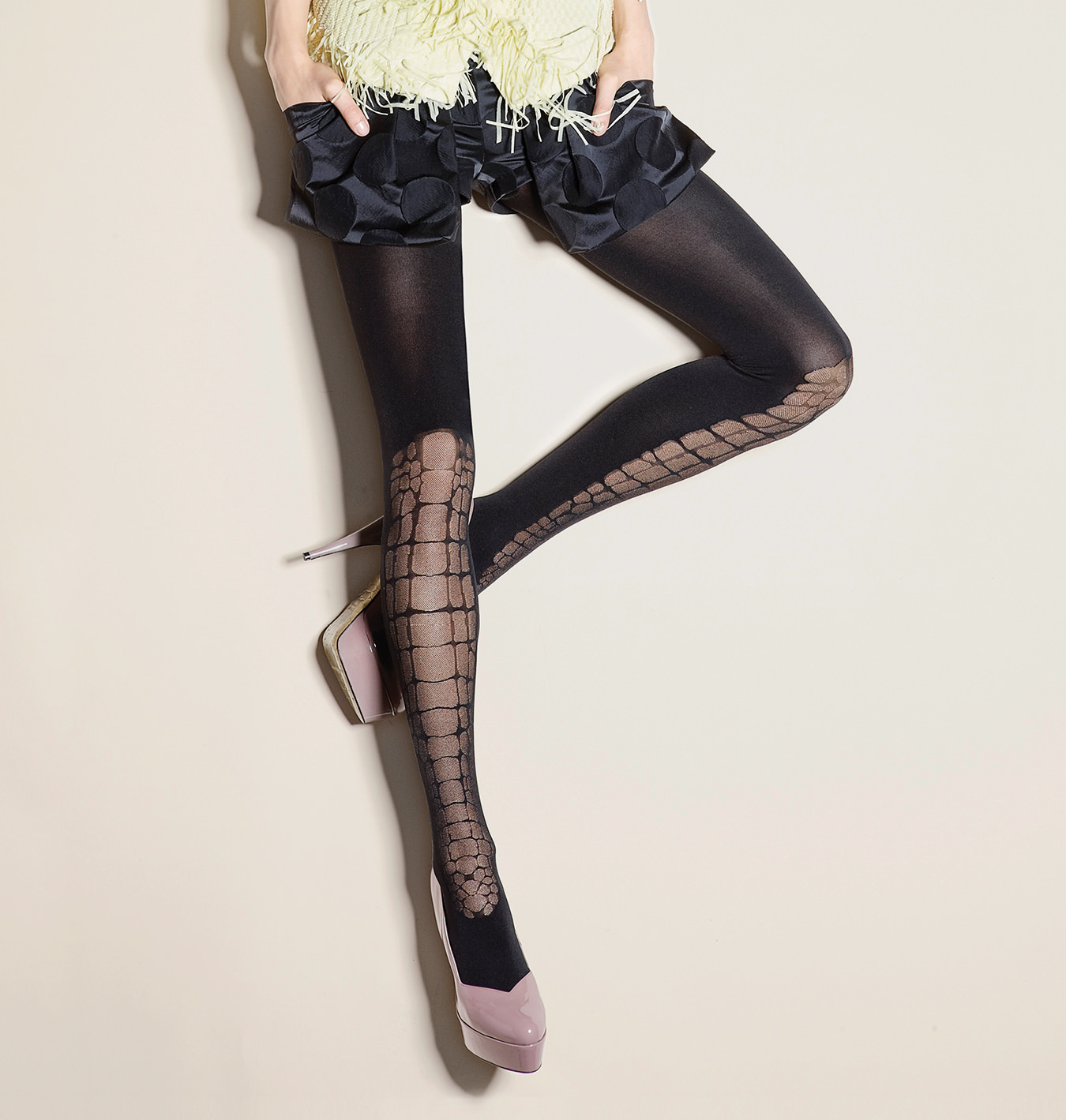 If Alain Regad had it his way, pantyhose would be sold not alongside bras and panties in lingerie departments but as accessories in fashion and beauty aisles. As the president of high-end hosiery brand Gerbe, Regad is transparent about his passion for the French label he bought nearly a decade ago. Between sips of espresso one early morning in Paris, Regad outlines three paramount concepts for Gerbe's success: quality, heritage, and unique style.
Gerbe is considered by many to be the label for haute couture stockings (the most likely competition being Swiss-based Fogal, Austrian brand Wolford, and Italian producer Philippe Matignon); the plant and the hundred or so petites mains based in Saint-Vallier (in the Burgundy region) carefully perform the handiwork—legwork?—on every pair of pantyhose. More precisely, each virtually weightless wonder involves up to 10 finely knit components, which are carefully stitched together by hand. In contrast to mass-production robotics, this human touch allows for unparalleled made-to-measure fit and comfort, explains Regad.
One of Gerbe's top sellers is the Ethnic Colours collection, which features five flesh-tone hues for women of "Asian, Black, European, or Latin" backgrounds—clearly, the definition of "nude" is a subjective one. Gerbe is not the first to tiptoe into multicultural fashion products. For example, Christian Louboutin's Nudes collection (launched in February 2013) unveiled the shoe designer's iconic red-soled high heels in a spectrum of five hues ranging from "fair blush" to "rich chestnut". Gerbe also offers two maternity options (with extra front and back panels and an adjustable waistband), called Duo 20 and Duo 40; another product for "sculpting" (that gives a little lift and squeeze), called Divine; and one called Winter, for colder days.
The "secret" behind the Ethnic Colours collection—which Regad is enthusiastic about sharing—is its thread, which is imported from a company in Japan called KB Seiren, the only manufacturer in the world to produce it. Two compounds—polyamide and elastane—are spun together to create one ultrafine yarn (typically, they remain separate). The effect is a chiffon-like veil that, when matched to a woman's skin tone, can camouflage imperfections much like body concealer or cream foundation. It's easy to imagine why the leg-perfecting properties are so popular on Paris runways.
Besides the couture aspect, Regad was fortunate to inherit the seductive French heritage of Gerbe, which began as a family business in 1904. The brand was backed by a long-time association with Christian Dior from 1970 to 2002 (during which Dior hosiery was exclusively made by Gerbe), and the fashion world's endless fascination with retro garter belts and seams that run up the backside of the leg no doubt also enriched the line's femme fatale connotation.
In 2011, as if to cement the brand's fashion roots, Gerbe joined forces with prêt-à-porter and shoe designer Gaspard Yurkievich, who after three successful capsule collaborations was named Gerbe's creative director in March of this year. Says Regad of the partnership, "If you see a woman wearing tights from Gaspard Yurkievich, you will recognize it." Indeed, the Gaspard Yurkievich by Gerbe autumn/winter 2013 collection isn't for wallflower types: it ranges from the avant-garde Jungle Fever (a reptilian print along the shin shadowed by opaque calves and thighs) to the whimsical Cosmic (with eye-catching rings orbiting a diaphanous background).
Regad is also looking to spread Gerbe's allure outside of France, which currently absorbs about 85 per cent of the company's sales. Asia is the focus of Regad's "big plan" for the next 10 years, and Gerbe is already enjoying healthy returns in Japan, where a freshly minted size zero is selling out in department stores. South Korea, Taiwan, and China are also on the horizon.
Regad believes that "once a woman tries Gerbe, there's no going back." His manifesto clearly values aesthetics over matters of pure practica­lity—a glamorous path that, evidently, has legs. Sitting amid ornate 19th-century decor currently framing his thoughts, he says, "When you buy tights with wool, it's not so beautiful. We don't do that."