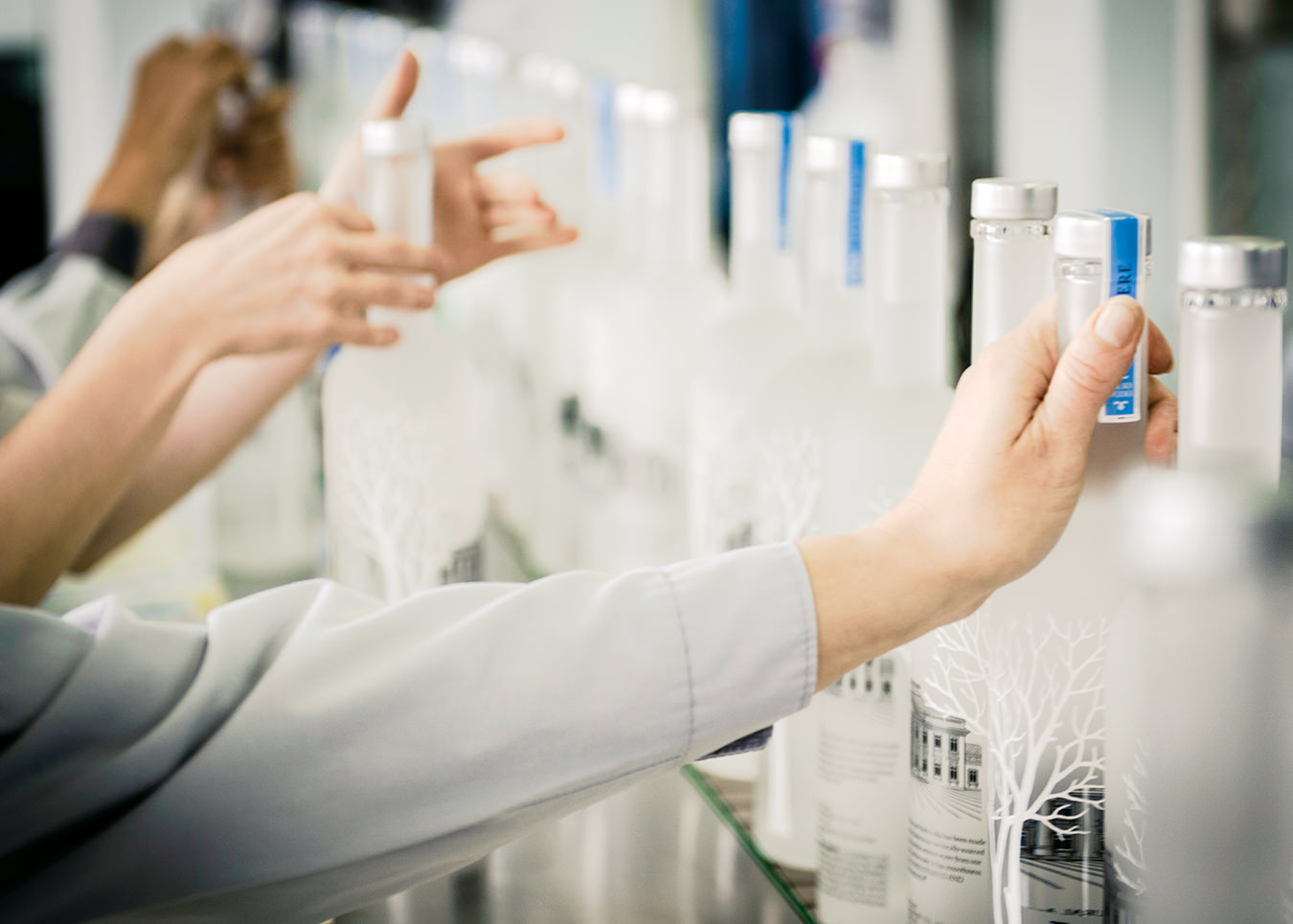 There's a history of vodka subtitled How a Colorless, Odorless, Flavorless Spirit Conquered America. It's a description that drives producers of luxury vodkas crazy, as it treats all vodkas as indistinguishable from the many bar vodkas that are nothing more than vehicles for alcohol. Vodkas such as those in the Belvedere range are anything but odourless and flavourless, and their character and texture are what promote them to the luxury category, even if they are more likely to be consumed in martinis and other cocktails than straight. Belvedere not only rides the wave of popularity of luxury vodkas, but also makes a good claim to having established the category.
The key to Belvedere vodkas is the variety of rye that is used. Dankowskie rye is a winter grain recognized as the gold standard for vodka, and it's the only variety used for Belvedere. It's a naturally sweet grain, and in Belvedere it produces nuanced but defined flavours and an elegant, soft texture. The water (drawn from two artesian wells close to Belvedere's distillery in Żyrardów, Poland, near Warsaw) used in its production cannot be allowed to dilute these qualities, so it is filtered and subjected to reverse osmosis to remove almost all minerals and salts.
In order to be labelled Polska Wódka (Polish Vodka), vodka must be made from specified Polish grains or potatoes and Polish water, and cannot have any artificial additives. Recently, the country created the Polish Vodka appellation to protect the quality of the spirit. Even Belvedere's fruit-flavoured vodkas draw on peel or zest (for lemon and lime), or whole fruits (mango and grapefruit), which are macerated for 10 to 14 days.
A variant rye, Dankowskie Diamond (registered in 2008), is used for Belvedere Unfiltered. It's a bakers'-grade grain that's lower in starches and produces less spirit than many other ryes, and it has natural salinity. Belvedere decided not to subject this more intense and complex vodka to filtering, which can strip out some of the flavours. Tasted straight, Belvedere Unfiltered—which has been called "the whisky drinker's vodka"—is one of the most interesting vodkas around. It shows a hint of saltiness, with added flavours of nuts, brioche, and pepper, and some sweet notes thrown in for good measure. It's best served over a slice of cucumber, with an optional dash of freshly ground black pepper.
The rye for Belvedere vodkas is cultivated by 10 farmers, each of whom has a long-term contract with the company. "We never go to the market for rye," says Wieslaw Pilat, general manager of Belvedere's distillery. "We don't want megasuppliers. We want to know our suppliers and to have relationships with them. We know how to make Belvedere, but we don't know how to grow the rye." Nodding to one of the farmers who produces Dankowskie Gold (used for the original Belvedere Vodka) while visiting his farm at Bartężek in northern Poland, Pilat says, "Jan likes his work and likes to know what we are doing with his rye."
The farmer in question has 250 hectares of rye, and provides about 5,000 tons of it for Belvedere each year. He ferments the grain and carries out the first distillation in his own century-old distillery that was modernized in 2011. This produces a raw spirit with an alcohol level of over 90 per cent, which is then redistilled at Belvedere's distillery. The farmer says he's "very proud to make the raw spirit for the best vodka in the world." It sounds rehearsed, but there's more than a little basis for the claim. At the 2014 International Spirits Challenge, Belvedere Vodka and Belvedere Unfiltered both won trophies, the highest level of award reserved for spirits that represent "outstanding product [and] exceptional quality." Another vodka in the portfolio, Belvedere Intense, won a gold medal for an "excellent product [and] superb standard."
Many small-scale craft distilleries have sprung up in the last few years, but within the world of larger-scale distillers (the company does not reveal its production numbers), Belvedere is a relative newcomer. Vodka has been made in Poland for centuries—the first use of the word dates to 1405—but Belvedere was launched recently, in 1993, soon after the fall of the last communist government in Poland. It's named for Warsaw's Belweder Palace, and the silver birch trees that line the driveway to the palace feature on the Belvedere label.
Recently founded it might be, but Belvedere hasn't hesitated to appeal to vodka's long history in Poland; when Belvedere was first launched in North America in 1996, its advertisements stressed the importance of Dankowskie rye and the traditional craftsmanship inherent in Belvedere's production. Although the distillery at Żyrardów, where the vodka goes through its final distillations, is state of the art, the first distillation at the rural distilleries has the feel of history; these distilleries are housed in older structures whose industrial character stands out from the landscape of pastures and rye fields. Belvedere's bottling line turns out bottles at a good clip, but each is individually and carefully inspected before going on to have official "Polska Wódka" banderoles applied by hand.
Belvedere is owned by the LVMH group (Moët Hennessy Louis Vuitton), and about half (by value) of Belvedere's vodka is sold in the U.S.; although it's a Polish vodka, Belvedere is a small player in Poland's vodka market. Belvedere has, in a sense, been adopted by many North Americans as the vodka for the vodka martini. It might have been sheer coincidence that Belvedere hit stateside in the mid-1990s, just as the vodka martini craze took off, but the pairing has remained solid since.
Photos provided by Belvedere Vodka.
February 4, 2015
Updated: