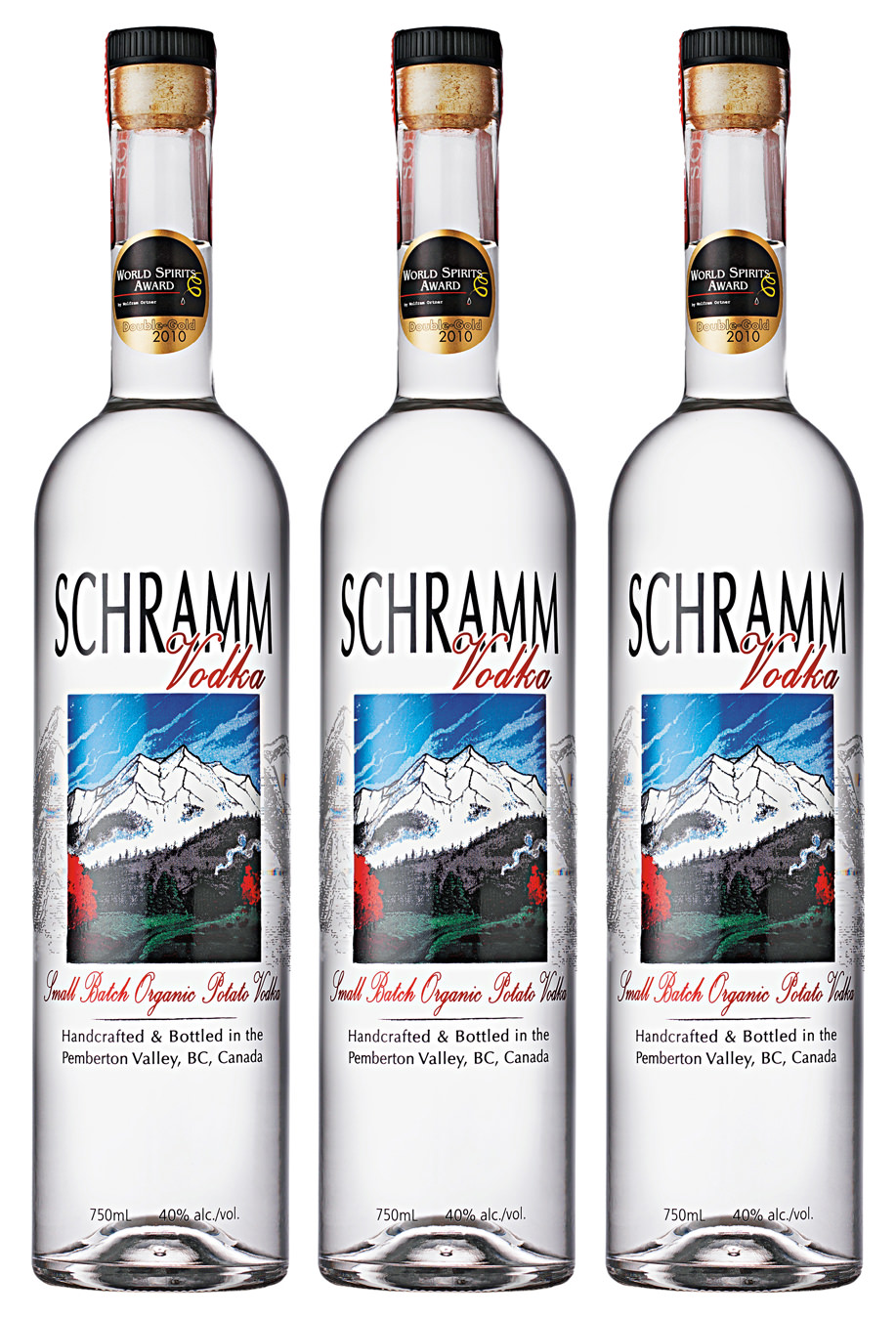 The Sea-to-Sky Highway (Highway 99) that links Vancouver, B.C., to Whistler and beyond is easily one of the prettiest on the planet. Carved out of rock and forest, it hugs the length of Howe Sound before plunging into lush forests, crossing rivers, and passing towering waterfalls as it travels north. Once past Whistler, the highway narrows and leads to the village of Pemberton, about 30 minutes distant.
The Pemberton Valley, the seed potato capital of Canada, is nestled at the foot of Mount Currie, and it is here that family-owned-and-operated Pemberton Distillery handcrafts award-winning, organic, artisanal vodka from local potatoes.
Vodka has a long and storied history, with both Russia and Poland laying claim to its origins, which can be traced back about a thousand years. Recorded lore credits each country equally, and there are similarities in the word vodka—it's voda in Russian, wódka in Polish. Both countries also initially used it for medicinal purposes.
Compared to wine and beer, making vodka is a swifter, simpler process. Water, a starchy base ingredient (grains like wheat and rye, plus sugarcane, potatoes, corn, and beets), and yeast are fermented together, then distilled up to four times in either continuous or pot stills—the same type used to make cognac and scotch. The resulting distillate, pure and neutral in taste, is charcoal filtered to further refine it. Vodka needs no aging and can be bottled and consumed immediately.
Pemberton Distillery is a testament to initiative and single-minded determination. After completing studies at the University of Victoria in 2005, Tyler Schramm—Vancouver-born and raised—moved to the Pemberton Valley where his brother, Jonathan, was growing potatoes on his 11-acre farm. (The potato farm has since been converted to an organic hop farm.) Potato prices were dropping, and they were brainstorming for other uses for the crop. "Potato vodka seemed like a good idea, and I decided to go for it," says Schramm. So began the odyssey that took Schramm from that humble potato field to production of the first bottle of Schramm Vodka.
He headed off to Scotland's Heriot-Watt University to get his master's degree in brewing and distilling, an intense year-long process. His thesis? Potato vodka. Schramm's initial trial batches were produced on the university's pilot still as part of his studies, and the beginnings of an artisan distilling process were formulated. That was in 2007.
Just two years later, back in B.C., the Schramm brothers—Tyler, Jonathan, and Jake—as well as Tyler's wife, Lórien, had built Pemberton Distillery. Upon completion, Popular Mechanics magazine included it among the "5 of the World's Most-High-Tech Distilleries" based on its eco-friendly innovations. Pemberton Distillery was singled out for its use of geothermal energy to run the operation. Installing the geothermal infrastructure "was the first thing we did before we built the distillery," says Schramm. "Distilleries are fairly energy-intensive operations, and I thought it was a good way to offset our energy usage. The system both heats and cools the building, and supplies heated water."
Master distiller Schramm makes the vodka from scratch in small batches—each uses 1,200 pounds (544 kilos) of potatoes—in a hand-operated copper pot still using all-natural fermentation without chemicals or additives. The spirit is distilled three times, slowly and carefully, with the final distillation taking 26 hours. "Three distillations instead of four ensures that it's not stripped of flavour and preserves the character," he says. The spirit is distilled at up to 95 per cent alcohol by volume and is "blended [with water] down to 40 per cent and then lightly charcoal filtered."
To keep the operation as local as possible, neighbouring farm Across the Creek Organics supplies the organic potatoes. These are seconds, or "the vodka line", which are either too big or too small to go to market, according to farmer Bruce Miller. (The certified organic potato mash waste goes to local farms to feed pigs, chickens, and goats, and is used for compost.) Clear, pure mountain water from nearby Birkenhead River is filtered simply before being used in the distillation process. Elegant glass bottles, imported from France, are screen-printed in Vernon, B.C., and Vancouver artist Chris Ainslie created the label's painting of Pemberton Valley's Mount Currie.
Schramm Vodka is North America's only organic potato vodka and one of about 21 potato vodkas in the world—and it's also gluten free. It is rich, pure, and smooth, with gentle aromas of smoky, baked potatoes. Velvety in texture and slightly earthy, it shines when sipped chilled. The operation is, at peak times, a family affair, with parents and in-laws assisting during the labour-intensive bottling time. It takes a full day to hand-fill and label 200 bottles.
Schramm Vodka took top honours in its inaugural competition in 2010 at the prestigious World Spirits Awards in Austria, bringing home Double Gold 2010 (the highest individual product award symbolizing a "world class, extraordinary product") and Spirit of the Year 2010.
Schramm's roster of organic spirits has since expanded, and now includes gin, an apple brandy, and a just-released absinthe. A pair of whiskies—peated and unpeated—is aging in bourbon casks to join the Pemberton Distillery lineup in late 2013.